This article may contain compensated links. Please read disclosure for more info.
Updated: February 2020
When traveling to Paris, it won't be long until you lay eyes on the river Seine and you will be wondering what's the best Seine river cruise!?
The Seine runs through Paris and separates the city into left banks (rive gauche) and right banks (rive droite). Taking a Seine river cruise while you are in Paris will be one of the highlights of your trip. Did you know that Paris cruises are within the top 3 of the most booked activities in Paris?
Seine cruises are one of the most popular activities in Paris!
Not without reason! It's the perfect way to take in the beauty of France's capital as the Seine connects most major sights of Paris: The Eiffel Tower, the Louvre and the Musée d'Orsay, the Cathedral of Notre Dame, and more than 35 bridges.
---
At a glance: the best Seine river cruises in Paris
| | | | |
| --- | --- | --- | --- |
| Cruise | Duration | Commentary | Price |
| | 1h | audio guide on own device | |
| | 2.5h | live commentary | |
| | 2h | commentary and live music | |
| | 2.5h | live music (2nd service) | |
| | 1-2 days | none | |
---
The Seine is generally a very popular picnic spot for Parisians during the warmer days and a lovely place for a stroll during winter. But that's being said, the real magic happens when you are ON the Seine. A Seine river cruise a must-do for everyone visiting Paris!
Are you still hesitant and wondering if a Seine riverboat tour is something you should include in your upcoming trip to Paris? Here are a few reasons that will make it easier for you to make a decision: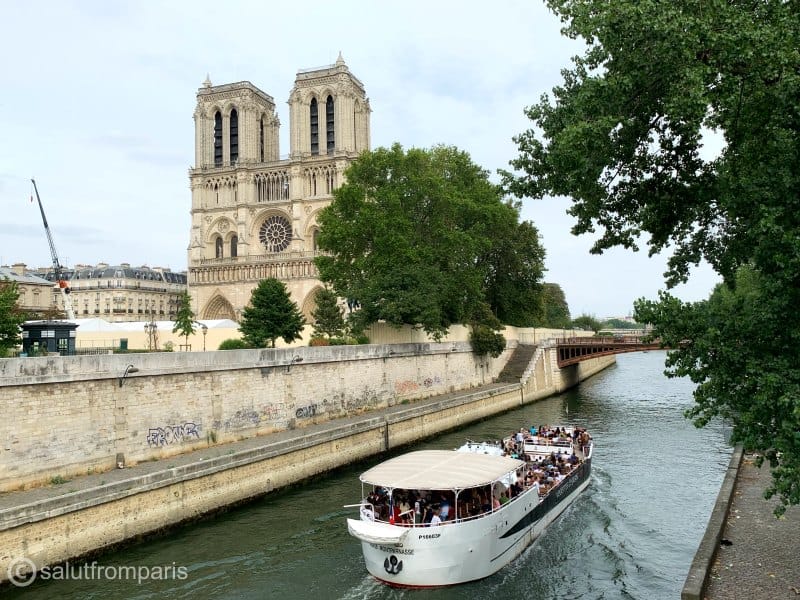 Why you should take a Seine river cruise when visiting Paris
you see many of Paris' major sights
you can relax and recover from jetlag while seeing the best of Paris
it's an activity that can be done in any season as the boats are having outdoor and indoor seating
you get a completely new perspective on Paris
It's not expensive…
.. but you can add features like romantic dinners or Champagne tastings
kids under 3 are cruising for free on many tours
a cruise on the Seine is stunning by day and by night
a Seine River cruise is included already in many tours
It's an excellent spot for taking stunning photos of Paris
the Seine riverboats are leaving so frequently that you are super flexible
Cruises in Paris are barrier-free (wheelchair accessible)
most tours are offering a 24h cancellation policy in case your plans change
if you are holding a Paris City Pass, the Paris cruise is free
Paris boat tour itinerary – what you gonna see?
Many companies in Paris are offering a Seine Cruise and it seems to be difficult to choose which Cruise is the best for your needs and expectation. But as a rule of thumb, they are all covering more or less the same itinerary: from the landing stage, the Paris cruises are sailing left banks up until after the Île Saint-Louis. Then, they turn around and sail right banks back until the Eiffel Tower before heading back to their landing stage.
The only real difference between the different river Seine boat tours is the starting point and the extras you can book when purchasing your ticket.
Sights along the way
You are probably wondering what you gonna see during your Seine boat tour and if it's worth it. I can tell you, it is! Not only because it's a scenic way to see a lot of Paris in a short time, but also because you will pass by most of Paris major sights:
the Tour Eiffel
Musée d'Orsay
Musée de Louvre
Notre Dame
Île de la Cité
Grand Palais
Petit Palais
Your Seine river cruise will also pass through more than 20 bridges – amongst others the Pont Neuf, Pont Alexandre III, and the Pont des Arts.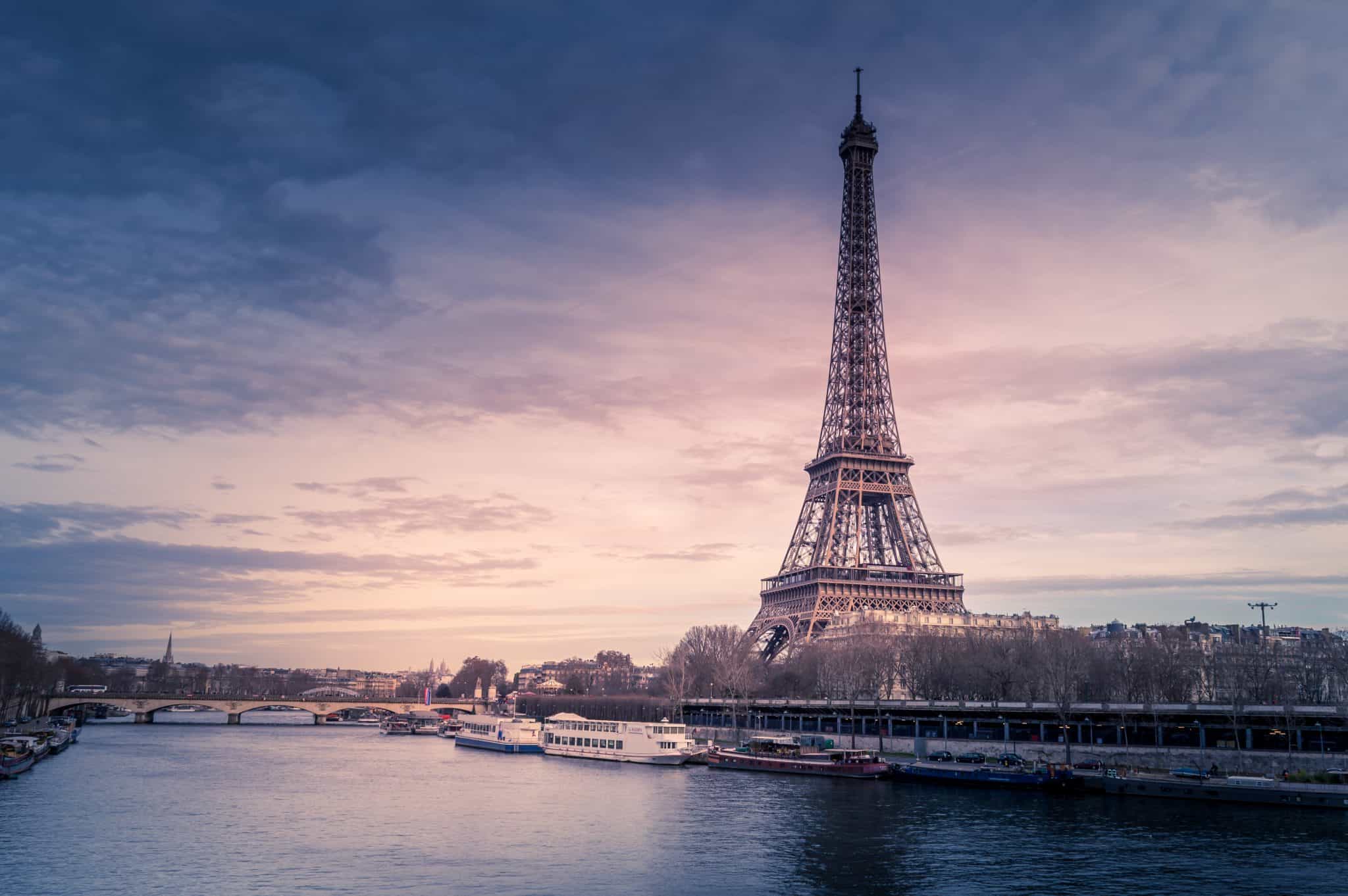 Where and how to buy tickets for the Seine river cruises?
Even though you can buy your Seine cruise tickets on-site at the ticket booths along the river, I strongly advise purchasing your tickets in advance. You save yourself from queues, waiting time, and hassle.
Especially if you plan to treat yourself with a Seine River dinner cruise or lunch cruise, or an illumination cruise after sunset. Those are easily sold out and need to be reserved in advance!
You can purchase your tickets hassle-free in advance and online. Simply click here, select the cruise of your choice and the options if applicable, and proceed to check out.
You'll receive a confirmation email with a mobile voucher. Simply show it when boarding and you're ready to cruise! (Please verify if the cruise you're booking offers this feature. To my knowledge they all do, but better be safe in case something changes)
Find the best Seine river cruises in Paris!
There is only one Seine but quite some options for taking a Seine River Cruise!
What is right for you depends on your needs, your available time, and of course your budget. You can choose the budget River Seine Cruise for just as few as 10€ or treat yourself to a romantic cruise through the illuminated Paris while enjoying french Haut-cuisine – or anything in between!
Check out the different options below and book the Paris cruise that suits you best!
Oh, by the way, is it your first time in Paris? Make sure you also read our post about 15 Paris mistakes you can easily avoid!
≡

The Classic:  1h Sightseeing Cruise on the Seine

budget option
The classic sightseeing cruise on the Seine in Paris is definitely an option where you simply can not go wrong. You'll get to enjoy a 1-hour cruise on the Seine, seeing Paris' most iconic sights from the comfort of your seat and you can be sure not to get bankrupt while doing so. It's a cheap Seine River Cruise with no-frills and It's a great option also for everyone that is not having much time at hand and needing some flexibility: most Seine cruises are leaving every 30-60 minutes throughout the day.
The most popular and best-rated Seine river cruise leaves directly at the foot of the Eiffel Tower and can be booked here. The tour includes an audioguide that covers 14 languages and the Seine tour operator accepts – very conveniently – a mobile voucher – so no need to stress out about printing your ticket! Just show it on your mobile device and you're good to cruise!
Even though it's a classic no-frills sightseeing tour, you'll get to enjoy wifi on board!
Editors Tip:  The Paris City Pass grants you free access to more than 60 museums and activities (priority entrance to the Louvre and the Musée d'Orsay, a wine tasting, access to the Versailles castle, walking tours, shopping discounts …), free usage of public transportation AND a free Boat Tour on the Seine! Check here for rates and availabilities. 
Are you planning to visit the Eiffel Tower as well? Get a combined ticket! Enjoy priority access to the Eiffel Tower and relax afterward while cruising down the Seine! Click here to get more information!
---
≡

Cruise on the Seine and the Canal St.Martin
Reading this post, you probably are well aware that there is a river called the Seine flowing through Paris, right? But did you know that Paris has also a channel called Canal St.Martin? This lesser-known water connects the Canal de Ourcq in the north of Paris with the Seine and is running partially subsurface.
If you are looking to explore Paris off the beaten track, this is the best river cruise you can take. Not many tourists are setting off to explore the canal, hence the tour is only offered from March to November.
Insider Tip
Insider Tip: spend an evening at the Canal St. Martin – the streets along are location of many nice bars and restaurants and the banks are a popular picnic spot for locals. .. Do you want more insider tips?
Check our post about hidden gems in Paris!
The cruise that combines a Seine river cruise with a cruise down the Canal St.Martin is our special tip. During the whopping 2.5h tour you'll discover two very different, but equally enchanting parts of Paris. A tour guide will entertain, and fill you in on the secrets of the Canal St. Martin but also provide interesting information about the majestic sights you'll see along the Seine.
The ride includes the navigation through a lock and a 1-mile ride under the Bastille vault until the Canal St. Martin meets the Seine.
---
≡

Lunch Cruise on the Seine
Imagine.. you are on a riverboat, and while you are taking in the most beautiful sights like the Eiffel Tower or the Île de la Cité, you are also feasting on delicious French food and sipping some wine…  It sounds too good to be true but this 2 hours Seine cruise offers exactly this!
While cruising you get to enjoy live music a french 3-course à-la-carte menu, including an appetizer, starter, main and dessert, and of course, wine! For the complete french experience, book the cheese course as an extra!
The food served on Lunch cruises on the Seine are of gastronomic quality and you can pick from a wide range of French classics like foie gras or duck, different sorts of meat or fish, and of course vegetarian options are also provided.  You can check their menu in advance – click here to see the menu 
Lunch cruises on the Seine are very popular and tables are limited – check here for rates and availabilities and book your spot in advance!
---
≡

Seine Dinner Cruise and Paris by night
If you are coming to Paris and you have at least one romantic dinner on your agenda, you should definitely look into combining a cruise on the Seine with a french 3-course dinner.
Paris by night is a magical experience. As simple as that. Sailing through Paris by night and taking in the illuminated cityscape is a lifetime experience. The various sights along the Seine are illuminated and are offering a breathtaking view.
The sights you get to see during a dinner cruise on the Seine are the same as on any other Seine river cruise: The Eiffel Tower (illuminated of course!), the Louvre, Notre Dame, Pont Neuf.. just to name a few.
The view is spectacular … as is french food! 
The most popular and best Paris dinner Cruise offers 2 services. One at 6 p.m. and one later, at 8.30 p.m.
Late evening Seine Dinner River Cruise – 2nd service 8:30 p.m.
The evening Dinner Cruise leaves the landing stage at 8.30 p.m. and you can be sure to have signed up for great evening entertainment.
During 2.5h you will not only get to enjoy the beautifully illuminated Parisian cityscape – complete with a sparkling Eiffel Tower and illuminated historical buildings and bridges – you will also indulge in a gastronomic french menu. Live music will complete your experience.
During the summertime when days are long and night shorts, you can be sure to see the illuminated Paris cityscape at the end of your cruise.
If you decide to book a late dinner Seine cruise, you can look forward to a delicious 3-course french dinner, including appetizers, starter, main dish, and dessert. You can see what kind of french delices are on the menu here
You also can go big and treat yourself with an upscale service including Champagne, different wines, tasting menus, or an optional extra cheese course.
The Dinner cruise on the Seine takes 2.5 hours and you have enough time to fully enjoy your dinner.  Note that the dress code is smart casual – no shorts, no trainers! Click here to get more info and know more about rates and booking conditions
---
Early Evening Seine Dinner Cruise – 1st service 6 p.m.
The early evening dinner tour cruises past the most famous sights of Paris – the Eiffel Tower, the Louvre, Notre Dame, and many more. However, if you are traveling in spring or summer, it will not be nightfall yet and you'll miss the illuminations and breathtaking sight of the sparkling Eiffel Tower.
However, the early service includes a gastronomic Dinner with a starter, main dish, and dessert. On the menu are different kinds of meats and fish, vegetarian options and of course french classics like foie gras or duck.
The early evening cruise lasts only 75 minutes and does not provide live music or extra options like cheese course or appetizers.  Note that the dress code is smart casual – no shorts, no trainers! Click here to get more info and know more about rates and booking conditions
Note that the dress code is smart casual – no shorts, no trainers! Click here to get more info and know more about rates and booking conditions
---
≡

Bato Bus
Riding the Batobus is a fun way to discover Paris. The batobus is not a classic sightseeing cruise on the Seine, it's rather a shuttle or a water taxi that serves as an alternative to Metro and Bus.
The Batobus provides you with a 1-day or 2-day pass and you can take as many rides as you like – just hop on and off on one of the conveniently located stages and discover Paris at your own pace. Click here for rates! 
The 9 stops are strategically so well allocated, that you can visit most of the major sights just by taking the Batobus. They include the Tour Eiffel, Musée d'Orsay, Saint Germain des Prés, Notre Dame, Invalides, Jardin des Plantes, Hôtel de Ville, Louvre, and the Champs-Elysées.
They are operating every day from 10 a.m. The closing time varies between 5 p.m. and 9:30 p.m. depending on the time of the day and year.
---
≡

Combined Cruises and Packages
If you visit Paris, there are tons of activities to choose from – and chances are high that you will be doing more than just one. It's definitely worth looking into combined tickets (or better: get the Paris City Pass). It's cheaper than buying each ticket as a stand-alone and it saves also some time as you just have to go through the reservation process once.
Popular combined tickets are the following. (Click on the button to get more info on rates and booking conditions)
| Activity 1 | Activity 2 | Activity 3 | price of sightseeing experience |
| --- | --- | --- | --- |
| Paris river cruise by night | Eiffel Tower priority access to 2nd floor | Sightseeing tour by bus | |
| Paris river cruise | revue show at Moulin Rouge | complementary Champagne | |
| Paris river cruise | vintage 2CV city tour | | |
| Paris river cruise | Eiffel Tower priority access to 2nd floor | | |
Seine River Cruise – practical info
don't underestimate the weather: bring sunscreen or an umbrella/raincoat. Consider as well that you might need to queue a little before boarding and those areas are not necessarily covered (you can check an up to date weather forecast here)
check if the tour accepts mobile vouchers. Not all tours do and it can be a hassle to get the voucher printed
if you booked a dinner or lunch tour, check carefully the required dress code to avoid being turned down when boarding
before booking, check if the Paris City Pass is not a better option! The Paris City Pass covers more than 60 activities, free transportation usage, and includes also a cruise on the Seine. As soon as you do a few activities, it usually pays off! Click here to see all the tours and activities that are included in the Paris City Pass
Do you need more input for your upcoming Paris to stay? Don't miss our 4 days in Paris itinerary and our huge list of hidden gems in Paris that you shouldn't miss. You might be also interested in our list of classic Paris activities!
Disclosure: This page contains affiliate links. This means – at no additional cost for you – I will earn a small commission if you click through and make a purchase. I am independent and the opinions expressed here are -if not stated otherwise- my own. 
Pin it now – find it back later!
Sharing is caring!
Prepare your trip to Paris