This article may contain compensated links. Please read disclosure for more info.
Last updated on 14th of February 2023 by Lena
---
Hotel Dieu – a Hidden Gem in the very centre of Paris!
Thousands of people are crossing the Île-de-la-Cité each day. Posing in front of the remains of the Notre Dame Cathedral, dropping a lucky coin on Paris' point zero, or visiting the flower market.
But only very few visitors – and locals alike – are paying attention to the walls left from the Notre Dame cathedral. Most are just walking by the inconspicuous glass portal on place Jean-Paul II, the square in front of the remains of the cathedral.
Honestly, I did it 100 times during the last 16 years. I did not notice the building, neither the glass portal and not even the eye-catching blue wood door just next to the entrance of the Hotel Dieu.
Hotel Dieu – visiting or trespassing?
But then, a few weeks back, by chance, something caught my attention. I peered left when passing by and I got suddenly a glimpse of pillars, ambulatories and statues. I was hit by surprised and stopped, unable to decide what do.
What was that? Is it a public place? Can I simply walk in? And why didn't I notice it before? It took me a moment to realise that it's a hospital and therefore it should be ok to walk in, right?
I wasn't at my comfortable best when walking through the door but the guide at the entrance didn't send me away after I greeted him so I figured it's alright just to walk on. It did feel a wee bit like trespassing though 🙂
Paris Travel Literature for your Trip:
And what should I say? This place must be one of the biggest secrets of Paris, funnily despite it's location in the very centre of Paris!
And that's the reason why you should visit: it's right under everyone's nose, free to get in and stands in a mind-blowing contrast to everything that is around!
History of the Hotel Dieu
The Hotel Dieu is actually not only the first hospital in the city of Paris, but it is also the oldest still operating hospital worldwide. It was founded in 651 AD by Saint Landry but the building as we can see it today was built between 1867 and 1878.
Apart from being the emergency centre for the first 9 arrondissements, the Hotel Dieu specialised in diabetes and endocrine sicknesses and since recently also in ophthalmology.
However, that's hopefully not why you're visiting!
How to visit the Hotel Dieu
When you enter the entrance hall, keep left and enter the court yard. You'll be amazed by the architecture – and the calm! Especially in contrast to the busy and bustling Notre Dame forecourt and the Latin Quarter! Most likely you're lucky and be'll one of only a handful visitors enjoying the surprising deserted silence.
When leaving the place in front of Notre Dame and entering the Hotel Dieu, it seems like entering another dimension. It's quiet, impressive and .. free to go anywhere. Don't hesitate to open (respectfully) doors, explore, peek around and check where your path will lead you!
The Hotel Dieu is located literally in the centre of Paris, just next to the famous Notre Dame Cathedral: if you stand in front of Notre Dame, the entrance to the Hospital Hotel Dieu lies just on your left.
The closes Metro station is Cité, served by line 4.
The Hotel Dieu is not also great for just visiting: if you need some rest or are in search of a quiet spot to enjoy your takeaway lunch, the Hotel Dieu is the perfect place to elude Paris for a moment!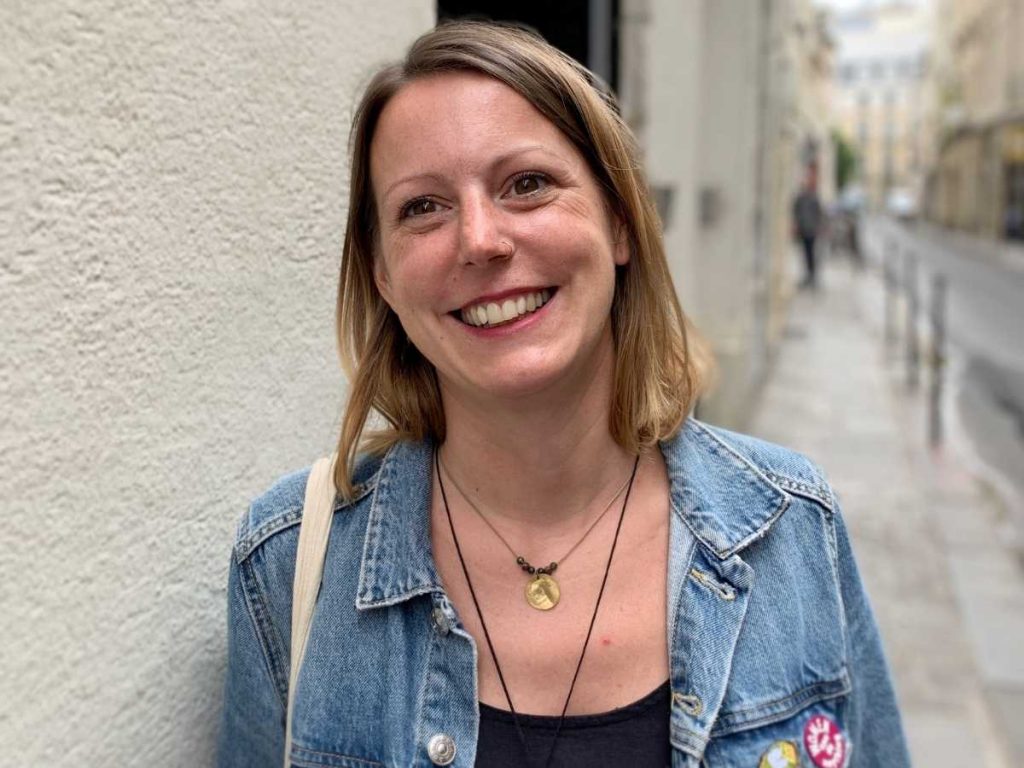 I have lived in Paris since 2005, and I am happy to show you around. Join me on Facebook for updates and news about Paris.
PS: Check out these posts, they will help you plan your trip to Paris
Pin in now – find it back later!