This article may contain compensated links. Please read disclosure for more info.
Last update by Lena on 6th of June 2022
→Click here to join the Salut from Paris Facebook group!
Paris is a city of monumental architecture and imposing buildings. But also a city with hidden gems and secret attractions just as numerous as its cobbled stone alleys and narrow corners.
If you are traveling to Paris for the first time, it's easy to go for a "straight forward been-there-done-that city escape". Please do take time to do so: visit the Eiffel Tower (don't miss our guide!) and climb up the stairs to Sacré Coeur in Montmartre. Even have a stroll on the Champs Elysées! It's lovely and despite all the hype, you haven't been to Paris if you didn't see this part of the city.
Need help planning your Paris Trip? Sign up for our free step-by-step guide:
And then, once you've seen all the obvious, go and look for the secret Paris attractions. Search for the hidden gems of Paris. To make it a bit easier, I assembled a wide list of unusual things to do in Paris for you. Don't miss the best unique places in Paris.
Paris hidden gems – discover the secret places in Paris
Parc de Bercy
---
The Parc de Bercy is a park in the 12th arrondissement. It's located on the grounds of a former wine depot and compared to other parks in Paris, it's rather a young one. It opened to the public only in 1997. However, the parc has different areas and combines a variety of concepts. If you want to see a tourist-free part of Paris, Parc de Bercy is a good place to start your quest to discover the hidden Paris.
Rue de Lévis
---
This little pedestrian street is just a few steps off the beautiful Parc Monceau. It's one of the non-touristy secret things to do in Paris. The villagelike neighborhood comes with plenty of bakeries, butchers, little cafés, and of course a cheese shop!
Visit the Human Zoo of Paris
---
Yes, you've read this correctly – click here for more information about this dark secret of Paris.
Discover Street Art in Belleville
---
Belleville is the Street Art hotspot of Paris and a very fascinating neighborhood that has almost nothing in common with the rest of Paris. I was lucky enough to join the Street Art Tour of Kasia in September 2021 and had a wonderful time. I can only recommend it. Read my review here or check it out directly here.
Rent a Vélib to find Paris secret spots
---
That's one of the nicest things you can do on a sunny day – you can either rent a Vélib (here's my favorite itinerary) and cycle on your own, or you take a guided bike tour as a sightseeing trip – which is completely understandable, the Parisian traffic can be pretty messy!
To make it short: This is Paris' most popular Bike Tour and here's the best value-for-money bike tour in Paris!
Here are some of the best-rated bike tours of Paris if you need more options:
Cour Saint-Émilion
---
Just a stone's throw away from the Parc the Bercy, the Cour Saint-Émilion is a popular spot to have dinner and drinks, or for shopping. Like the Parc de Bercy, the cour is also part of the former wine and spirits depot and due to its industrial flair, it has a special charm. Especially by night.
The Statue of Liberty in the Jardins du Luxembourg
---
The garden in the very center of Paris is one of the biggest gardens in Paris. It's a classical french park with water basins, statues, and plenty of free-to-use chairs to relax, have lunch or watch people. And of course, find the Statue of Liberty!
Parc des Buttes-Chaumont
---
The Buttes-Chaumont is the 5th biggest park in Paris and comes with some interesting features: a waterfall, an extension bridge, a temple, and due to the immense difference in levels a fantastic view of parts of Paris. Especially the view on the Sacre Coeur is breathtaking!
See a movie at the Grand Rex Cinema
---
→ Book a Grand Rex Studio Tour here!
Not only is the Grand Rex the largest movie theatre in Europe, but it's also known to be a landmark for Art Deco architecture. Frankly, the interior is mind-blowing.
Champ de Mars
---
Probably not the most secret place in Paris, but one that comes with a priceless view: the Champ de Mars is just in front of the Eiffel Tower.
The Cours de Commerce Saint André
---
This little half-covered alley between Odéon and Rue de Buci is a wonderful place to have drinks – it's not cheap though. A pint of beer costs easily 10€ and more. However, if you are looking for Paris secrets, you should at least take a peek.
Rodin Sculptures in the Tuileries
---
The Tuileries originally belonged to the Tuileries Palace but became a public parc with the French Revolution. The former royal garden is convenient located right between the Champs Elysées and the Louvre. Besides the pretty landscape, it's also a good place to see some free art. Amongst the numerous statues are 4 of Auguste Rodin. You can find them close to the Musée de l'Orangerie.
→ 4 Statues are not enough? Visit the Rodin Museum! You can reserve your spot here.
Wild Green Parakeets in Parc Montsouris
---
The Parc Montsouris is just next to the Cité Universitaire, the big student residence in the south of Paris. Expect a relaxed atmosphere, sports, and families. Also, look out for the green parakeets that are colonizing the park for some years now.
Rue Nansouty
---
While Rue Nansouty is admittedly not very interesting, but it's a good starting point to discover some of the cutest streets in Paris. Every alley that branches off Rue Nansouty is worth a walk through and perfect for pretty Instagram pictures!
Rocky Horror Picture Show at Studio Galande
---
Just next to St. Michel you can see Brad and Janet! Know that there is no advance sale at the Studio Galande ! Be there 45 minutes early and queue to get admission tickets
Gardens of Albert Kahn
---
The 4 hectares garden is especially nice if you are visiting Paris in the Spring – it's a patchwork of different garden and architectural styles. Hence, you find Japanese, French and English gardens, but also roseries, orchards, and forests. The Albert Kahn Gardens are truly a hidden spot in Paris.
Cinema Harlequin
---
The cinema on Rue de Rennes plays mainly classic movies but also foreign pieces in the original version. Check here to see their recent schedule.
Vineyards and Beehives at Parc Georges Brassens
---
Open-Air Concerts in Parc Floral
---
Throughout summer plenty of concerts are happening in Parc Floral, mainly Jazz and Classic. Many of them are free, however, the park charges a small admission fee.
Live Music at Fête de la Musique
---
Every year on the 21 of June, Paris becomes one big stage. You basically have concerts everywhere: in Parks, bars, venues, or simply on the streets. Most of them are free.
Tip: See our guide with more than 70 ideas on what to do in Paris for free
Chinese New Year Parade at Place d'Italie
---
The Asian community in Paris is quite big and so are the festivities for the Chinese New Year. The most significant is the parade that leads through China Town and starts around Place d'Italie. Get there a bit early to get to a good place.
Fnac Summer festival (Free Event)
---
The Festival "Fnac Live" happens every year in June on the esplanade of the Paris town hall. The 3-day Festival is free of charge.
Open-Air Cinema Session at Parc la Villette (Free Event)
---
Grab a picnic cover and a bottle of wine and enjoy a warm summer night at Parc la Villette. The cinema sessions are usually taking place in July and August.
The Prettiest Street of Paris
---
There are of course many pretty streets in Paris, but the rue de l'Abreuvoir in Montmartre is supposed to be the prettiest one. It is not so much of a hidden Paris gem anymore, but it still deserves a place on this list, I think.
But as you know, there are quite a few beautiful spots in Montmartre and you'll be happy to know that walking tours in Montmartre are great for budget travel – they start at 15€! Click here to see their schedules!
L'As du Falafel
---
This restaurant in the heart of the Marais is the favorite Falafel place of Lenny Kravitz. You can either try to get a seat inside or you simply get a Falafel Sandwich as a takeaway. Don't get put off by the queue though, they are pretty fast.
Interested in the best food in Paris? Check our food guide and know which treat not to miss in Paris!
La REcyclerie
---
La REcyclerie in the north of Paris is a Bar, Restaurant, Shop, and eco project that uses parts of the old railway ring around Paris for its projects. It's a pretty cool and inspiring place. It one of the cool places in Paris, that rarely is visited by tourists.
"Emily in Paris" Original Filming Locations
---
With the confinement, the travel ban, and all this Covid madness, the Netflix Series "Emily in Paris" hit the scene like a bomb. And it's adding a nice itinerary to your next Paris trip! Check out all the original filming locations of Emily in Paris here.
Try Melon Bread or Matcha Brioche from Aki
---
Aki is a Japanese bakery at Rue St.Anne, the Japanese Quarter in Paris… it's also the place in Paris to have the best Ramen.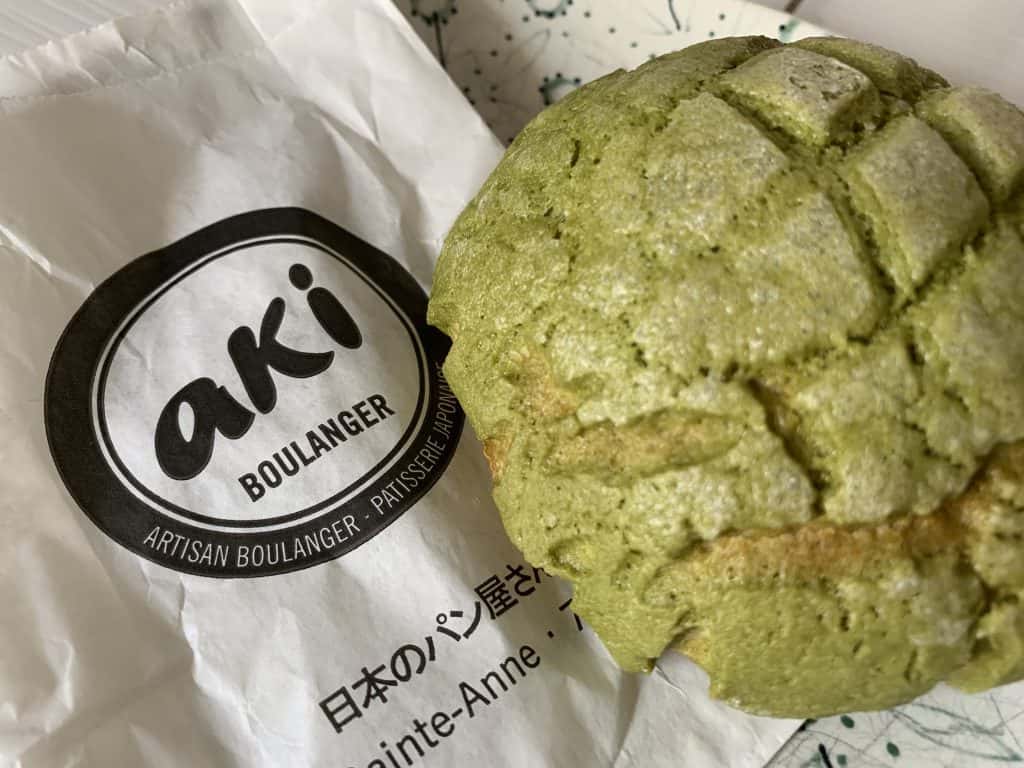 Apéro on the Seine River Banks
---
A very popular – and low-budget – an activity for basically everyone. Beer works as well 🙂 The Jardin Tino Rossi is a good place for it.
Chocolates at Patrick Roger
---
One of the best chocolatiers in Paris! Don't miss it.
Treat yourself at Lafayette Gourmet
---
The food court of the Galeries Lafayette is great to have lunch or just to stroll around and enjoy some free samples. Click here to know more!
Have an award-winning cocktail at a Speakeasy Bars
---
There are a few secret bars in Paris, hidden behind stores, launderettes, or restaurants. A cool experience that you shouldn't miss when on a mission to discover Paris hidden spots. read more about secret bars and speakeasies here
If you are interested in Cocktails, also read our post about the best Cocktail Bars in Paris.
Currywurst at Café Titon
---
This is probably one of the least Parisian things to do (and eat) in Paris but if you are fond of Germany (or soccer matches or Jägermeister or said Currywurst), you should check out this charming little Bar
Flower Market at l'Ile de la Cité
---
This every day and all-day market is famous for flowers – and birds! The latter are only sold Sundays though.
Cheese at Fromagerie Quatrehommes
---
Le Petit Bain
---
A rather unique place in Paris; the Petit Bain is a barge on the Seine that got converted to a bar and little concert venue.
Le Pont des Arts
---
Le Pont des Arts is one of the many bridges in Paris and it is really one of the nicest. It's a pedestrian bridge that is a popular spot to have an apéro and some wine in the evening.
Chinatown in the 13th arrondissement
---
Paris Chinatown is rather an Asian town as it has a very high Vietnamese and Laotian population. And also excellent Pho. Our Recommendation: try the Vietnamese sandwiches from Tang Frère, they are the best you can get in Paris! If you are more up for a seated lunch or dinner, try the Thai restaurant Lao Lane Xang – it's our favorite!
Readings at Shakespeare and Company
---
Shakespeare and Company is one of the most iconic and famous bookstores in Paris and they are hosting free reading sessions on most Mondays. Be there early to get a seat inside and stay a bit late to share a glass of wine with the author.
Find The House of Serge Gainsbourg
---
Real Crèpe Bretonne or Galette at Rue du Montparnasse
---
Montparnasse is the train station that serves trains arriving from the west of France. Hence, folks from Bretagne arrived here back in the days and settled down within the area. That's why it's the best place in Paris to eat authentic Breton Crèpe and Galette!
Hexagone Café
---
This coffee house is a truly hidden Paris gem if you like coffee. Besides the excellent brew, it's a nice work café with a good internet connection, a real offbeat tip if you are in for coffee.
Ramen at Rue Sainte-Anne
---
The Rue Sainte Anne is famous for being the best Japanese restaurant in Paris! You can easily find the best restaurant by just checking the lengths of the queue!
Find the Graves of Jim Morrison and Oscar Wilde
---
.. and many more that are buried in the famous Père Lachaise Cemetery. This graveyard is a wonderful maze, to enjoy it to the fullest, and to make sure not to miss anything, save your spot on a walking tour! It's pretty budget-friendly! Click here to know more
Macaron at Pierre Hermé
---
Besides Ladurée is probably the best Macaron in Paris. They are insanely popular and you most likely have to queue a bit to get some … however, they are as expensive as delicious.
Drinks at Rue Mouffetard
---
A cobbled stone street with about a trillion bars and restaurants. It is a bit off the tourist center of Paris and is mainly frequented by locals and students and a good Paris gem to tick off your "Secret places to visit in Paris" list.
Rum at La Rhumerie
---
Apart from a huuuuge selection of rums of all origins and kinds, they serve very good food as well – don't miss the Accras!
Attend the Salon des Vignerons Indépendants
---
Each year in November winegrowers from all over France are gathering in the Paris Exposition Centre at Porte de Versailles to present and sell their grape juice. Even if you don't plan to buy anything, you can taste A. LOT.
Covered Book Market at Parc Georges Brassens
---
This is one of the best-hidden treasures of Paris. If you are searching for old books, this Paris gem is your place! The little covered book market is next to Parc Georges Brassens, a nice place to have a walk or relax in the sun.
Also, if you want to discover the 15th and 14th arrondissement more in-depth, check our post about the Vanves Flea Market and the Petite Ceinture.
Salon de Agriculture
---
A big trade fair where producers from all over France are presenting their goods. It's mainly a big feast of cold cuts, wines, and sweets (to buy and to sample for free), but also a big exhibition of animals, machines, and merchandise.
Flea Market at Porte de Vanves
---
This flea market is an excellent location to explore the unknown places in Paris – especially if you use this occasion for a walk around the area – check our recommendations and get more info about the Puces de Vanves here
The Grande Mosque
---
The Grande Mosque is one of the biggest mosques in France and well worth a visit. It has a very beautiful lush garden, a library, a gift shop, but also a café and a hammam.
Vintage Fashion in the Kilo Shops in the Marais
---
The kilo shop is probably the most known vintage store, but there are plenty! Check out the Marais, where you find most of the thrift stores in Paris. Or head over to the famous Galeries Lafayette: they have a decent vintage section as well!
Market and Stores Around Rue Montorgueil
---
another cobblestone street with a lot of delis, bars, and restaurants. A good place to either have lunch or to buy lunch to take away and have a picnic somewhere.
Farmers Markets
---
Check this link to get a list of opening times of all markets in Paris. A very nice one is the covered Market "Les Enfants Rouges"
Museum of Modern Art
---
With more than 11000 œuvres the MAM is one of the biggest museums in Paris and: it's free! However, you are kindly asked to donate 5€.
Covered Passages and Galeries
---
Probably one of the nicest walks you can have in Paris – especially if you want to see Paris with the flair of past times. The covered passages are all in about the same area and it makes as well a great destination for rainy days. If you are up for a really good drink, stop by Danico, a cocktail bar in the Galerie Vivienne
Village Flair at Rue de Commerce
---
If you want to do some shopping in Paris, but are keen on discovering a low-key area, head to Rue de Commerce. Many popular stores are having boutiques there but you find also some upscale stores.
Photography at Galerie de l'Instant
---
A tiny gallery with impressive photographs. Admission is free.
Free Museums on the First Sunday of the Month
---
Wanna see art for free? Check out our post about free museums in Paris!
Vampire Museum
---
The Parisian Vampire Museum is run privately by a vampire enthusiast. You need to book ahead to get access.
Sewers of Paris
---
(note: due to renovations it's closed until end-2021)
That might sound odd, but you can actually visit the Sewers of Paris! The museum is open to the public and shows you the underground of Paris.
Good news for holders of the Paris Museums Pass: Admission is free for Paris Museums Pass owners! Click here for more info on the Paris Museums Pass and learn which are the more than 60 Museums around Paris that are included! (Spoiler: priority access to the Louvre and Versailles are in, and so is free public transportation)
Street Art at la Butte aux Cailles
---
The elevated area just next to Place d'Italie is covered with street art. The Butte aux Cailles is also great for having lunch, dinner, or drinks and is not as expensive as many other areas in Paris.
La Nuit Blanche
---
La Nuit Blanche is a cultural event in Paris with installations and events all over town. Most of it is free – as is public transportation that evening!
The Circus Museum: Musée des Arts Forains
---
The museum of circus' and fairs can only be visited with a reservation, so better plan ahead!
Museum Atelier of the Sculptor Ossip Zadkine
---
→CLICK here and find out how to visit the most famous museums in Paris for FREE
Street art at Belleville
---
One of the nicest and most authentic villages in Paris – a bit rough around the edges but with a lot of charm. Also with lots of bars, restaurants and street art wherever you look. Check our guide to Belleville to know more about this gem!
Berges de Seine
---
The riverside promenade is a relatively newly opened park between the Musée d'Orsay and the Ponte d'Alma near the Eiffel Tower. It's also great for skating and biking.
Coulée Verte
---
If you want a see the 12th arrondissement from an unusual perspective, get up the Coulée Verte and walk from Bastille 4.7km. until the Parisian city limits on the elevated promenade on top of the Viaduct des Arts. Click here to know more!
---
Don't miss our itinerary for a walking tour through the completely non-touristic areas of Monceau and Batignolles – click here to know more!
---
Petite Ceinture
---
Alternatively, check out the Petite Ceinture in the 15th – the old railway around Paris got newly reopened for the public and a must-visit for everyone who wants to see a different side of Paris. Read more here
Île Saint Louis
---
The Island on the Seine lays just next to the Île de la Cité, the location of the famous Cathedral de Notre Dame de Paris.
Walk up Belleville and Enjoy the Fabulous View
---
Read our complete review and guide to the wonderful Belleville area here and make sure not to miss the amazing street art that is covering the quartier. Are you rather have a local show you around and get valuable insider views? Click here to see all available Street Art Tours in Paris!
Canal St.Martin
---
The canal in the northeast of Paris is a perfect place to enjoy an outside Apéro or just to have a walk-in a less touristic area.
Check out these walking tours in 2020
The Rooftop at Galerie LaFayette (free)
---
Get up to the rooftop on the 7th floor and enjoy one of the best views over Paris – for free! If you're visiting during summer 2019, you can even get a bite or enjoy a sunset cocktail at the pop-up vegetarian restaurant Créatures.
Statue of Liberty at Allées des Cygnes
---
But it's not the only Statue of Liberty in Paris! There is at least one hidden in the Jardin de Luxembourg … can you find it?
… or the Flame of Liberty
---
You probably know by now that the Statue of Liberty was built in France by no one less than Gustave Eiffel (the name rings a bell, right? :)) and then shipped over to New York City where the lady got assembled.. however, a replica of the Flame of Liberty can be visited in Paris until today – close the Métro Station Alma Marceau!
Street Performers at Sacre Coeur
Just grab some beers (or buy some from the guys walking around selling them), have a seat, enjoy the view over Paris, and life itself. Check out our complete Montmartre guide for more off-beat tips!
See the oldest houses of Paris in Rue de Montmorency
---
Read a Manga in Fnac
---
Their book department has a quite good Manga section and even though it's probably not intended, you always have plenty of people just sitting around on the floor and reading their favorite books.
Buy chocolate and other delices at the Bon Marché
---
Paris' Famous University La Sorbonne
---
well.. you can't just walk in unless you are a student, but you can try to get into one of their tours that are held almost daily. However, even if you just walk around its walls, it's a nice promenade through the Latin Quarter, a quirky area with typical student vibes. Fun Fact: La Sorbonne is one of the oldest universities in the world, founded in 1253!
Find one of the Banksy Graffitis
---
Paris secret spot near la Sorbonne: find the Banksy Graffiti in Rue Victor Cousin!
Colourful Houses at Rue Crémieux
---
Vineyards in Montmartre
---
Did you know that there are vineyards in Paris? The most famous one lays just beyond the Sacre Coeur in Montmartre. If you are in town in September, make sure to visit the annual wine harvest festival. It's basically a big street food festival with loads of wine. Sounds great, right? Click here to get more information on Montmartre – we wrote a massive guide!
Find Point Zero
---
Supposedly in the epicenter of Paris. The plate in the ground is close to Notre Dame and can be easily overseen as it's .. well just a round plate in the ground. However, it's traditionally the point that functions as a reference to anywhere else around France. It's also one of those spots that are known to be granting wishes 🙂
Play Board Games at "Le Dernier Bar Avant la Fin du Monde"
---
Clearly one of the geekiest places in Paris. Apart from playing board games, you can take a seat on the Iron Throne or take a selfie with R2D2. If you're into E-Sports and gaming in general, pass by the Meltdown Bar
Paris Plage
---
Summer in Paris means Paris Plage! During July and August, the Seine river transforms into a laid-back urban beach scene … with changing cultural and sportive offers, pop-up bars, music, and all sorts of animation. Click here to know more about it!
Find Simone de Beauvoir's Grave at the Cemetery du Montparnasse
---
And while you're at it, Jean-Paul Sartre rests just next to her!
Place de la Sorbonne
---
check also our posts about the best locations to stay in Paris to find out why the Quartier Latin is in!
Take a picture of l'Arc de Triomphe from La Défense
---
La Défense is a nice spot to take pictures from the Arc de Triomphe, but also has a great Mall and its own arch!
Hotel Dieu – a secret place in Paris
---
Just next to the famous cathedral Notre Dame lays one of the truly hidden places in Paris. Most people just walk by, not knowing what they're missing! Curious? Check here to know more!
Bibliothèque François Mitterrand and Avenue de France
---
The new 13th arrondissement is nothing like Paris as you know it. It's rather a business and student district with modern glass facades, hip coffee, and Bagel stores. If you visit Paris and would like to get it as a total; you shouldn't miss this are
Visit the l'hotel de Sens
---
Watch out for the cannonball that is still stuck in one of the walls – a souvenir from the French Revolution!
---
---
Go for a swim on the Seine at the swimming pool Piscine Josephine Baker
---
Don't worry, you're not swimming IN the Seine, but in a pool that is installed on it!
Rue des Thermopyles
---
This half-hidden street and very green alley in the 14th arrondissement make a perfect motive for an Instagram post!
Metro Line 6 from Trocadero to Bir Hakeim
---
and have a special Paris-Metro-moment while crossing the Seine just next to the Eiffel Tower. It's probably the nicest Metro track section of Paris, with a stunning view, especially at night. It's the best way to approach the Eiffel Tower – read more about it here
Find All Space Invaders
---
You maybe noticed already that Paris is covered with Space Invaders – little Mosaics on walls, houses, bridges. Some are huge, some are tiny. In total there are more than 1400 of them and you can collect them! It's a fun activity to discover Paris. Download the App FlashInvaders and you're ready to go!
Arènes de Lutèce
---
Who would have thought that you can find a real roman arena in the middle of Paris?! Well, you can! check this guide to get more offbeat tips for the Quartier Latin
If you have any questions about Paris or need some advice and how to plan your trip, don't hesitate to reach out! I created a Facebook group for this matter and I am available to help you out! Click here to join the Salut from Paris Facebook group!
Pin it now – find it back later!
Disclosure: This page contains affiliate links. This means – at no additional cost for you – I will earn a small commission if you click through and make a purchase. I am independent and the opinions expressed here are my own.[/vc_column_text][/vc_column][/vc_row]
Sharing is caring!