This article may contain compensated links. Please read disclosure for more info.
Last updated on 13th February 2023 by Lena
---
The Galeries Lafayette Food Hall, where you find the quintessence of the exquisite French food scene.
Paris is a perfect destination if you are having a soft spot for everything that is pleasing to the palate. No matter if you are in for hearty, sweet, or an extravagant mix of the two, you can be sure that Paris has you covered. The outstanding gastronomic experience that you can find in France even made it on the UNESCO list of Intangible Cultural Heritage of Humanity!
To make it short: if you love food, you'll find heaven in Paris.
A perfect place to explore the French food culture and indulge yourself in delicious treats is the food market of the Galeries Lafayette, called Lafayette Gourmet. The Galeries Lafayette is known for luxury and exclusive brands, and you can expect no less from their food market.
Tip: When visiting the Lafayette Food Hall, visit as well the Galeries Lafayette Department store. The Rooftop is free to visit and grants you some of the best views of Paris.
The Galeries Lafayette is Paris' biggest department store and the food hall is evenly impressive.
On 3500 m² you find a gourmet and fine food selection that has no equal. It's the perfect place to sample Paris' finest pâtisseries. But also to stock up on your favorite tea or spices, and of course – find the biggest and most delicious selection of cheese, wine, cold cuts, chocolate, and simply everything you can imagine. Some of the best bakeries in Paris have a shop in the Food Hall of the Galeries Lafaette.
Check out our Paris Food Guide and know what you need to try in Paris!
Le Gourmet – Galeries Lafayette's food market in Paris
No matter if you are in for sweet or hearty, or maybe both. You'll find it at Lafayette Gourmet!
Be ready to get seduced by an excellent variety of the finest and most delicious foods in Paris: Le Gourmet food market hosts a wide range of delicatessen, from chocolates and macarons to truffle, Pata Negra, and oysters.
Make sure not to miss the wine cellar, either!
In line with the concept of the department store, Lafayette Gourmet hosts only the most prestigious brands. You are probably familiar with Pierre Hermé and Alain Ducasse?
Are you worried about your budget? You are absolutely right to do so – quality has certainly its price!
But the good news is that many booths are offering free samples of their products and, nevertheless, you don't need to buy anything by the dozen.
TIP: It is absolutely acceptable to buy only one Macaron or one piece of Chocolate, and surely also 1 slice of Pata Negra.
Visit the Galeries Lafayette Food Hall for Lunch
The first floor of Le Gourmet is also a fantastic place to enjoy a high-class lunch in a very casual atmosphere. Many food stalls are offering a seating area. Expect a little waiting time before being seated, though.
Alternatively, you can still just grab something for takeaway and have a picnic outside. One of the nicest parks in Paris is just 15 min on foot away: The Tuileries.
Lafayette's fine food grocery store – Lafayette Gourmet épicerie
The basement level of Le Gourmet is probably one of the finest grocery stores in Paris. It's a great place to top up your picnic basket or get culinary souvenirs.
Apart from international delicacies and regional products like foie gras, cheese, and cold meats, you also find rather normal groceries like fresh fruits and veggies, bread, and juices.
The épicerie of Galeries Lafayette offers as well a range of additional services. For example, home delivery, duty-free shopping, or different treats like cheese or sea fruit platters.
Access:
Lafayette Gourmet opening hours:
Monday to Saturday from 8.30 am to 9.30 pm
Sundays from 11 am to 7 pm
Address:
35, Boulevard Haussmann
75009 PARIS
The Closest Metro Station:
Havre Caumartin – Metro line 3 and 9
Chaussée d'Antin Lafayette – Metro line 7 and 9
Opéra – Metro line 3, 7 and 8
If you need any clarification about Paris or need some advice and how to plan your trip, don't hesitate to reach out!  I created a Facebook group for this matter, and I am available to help you out! Click here to join the private Salut from Paris Facebook group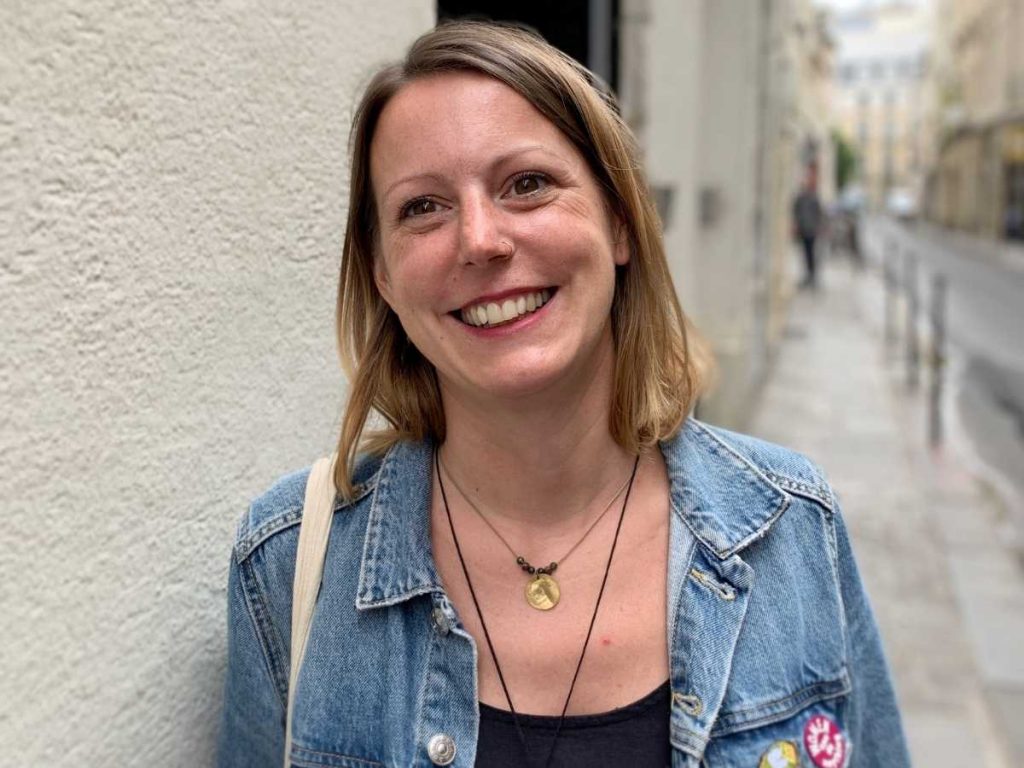 I have lived in Paris since 2005, and I am happy to show you around. Join me on Facebook for updates and news about Paris.
PS: Check out these posts, they will help you plan your trip to Paris
Pin it now – read it later!