This article may contain compensated links. Please read disclosure for more info.
Looking for the most famous streets in Paris is a bulletproof tactic to enjoy the best Paris has to offer. Well done to you! Because if you are aiming to discover Paris on foot, there is a plethora of stunningly beautiful streets that are worth walking.
From small cobblestone alleys with quaint Montmartre vibes to incredible Eiffel Tower viewpoints or impressive Haussman architecture. And of course the best shopping streets in Paris, you can be sure to get it all by strolling around.
But where do you find these often-mentioned cute and pretty streets in Paris? In this article, you find all the answers. I am presenting you with the 41 most famous streets in Paris.
You probably notice that there are quite a few streets in Paris, that pop up again and again on your social media feed. They look just too good to be true. And chances are, that if you don't know Paris very well, you will never find them. Because the drawback with the good spots is, that either everyone and their dog know about it and they're utterly crowded, or they are kept secret.
---
You might also be interested in these articles:
---
So, I am glad you found this article because I will fill you in on where to find the most famous streets of Paris. They are great if you are looking to find a quintessence of a Parisian setting. But also if you are looking for the good shopping streets in Paris, or are simply keen on finding pretty streets in Paris to enjoy.
These are the most famous Streets in Paris
Without further ado, here's my list of amazing streets in Paris that you should put on your agenda.
PS: I added all the famous streets of Paris for you on this map. Save it on your phone to access it when in town.
CHECKLIST for your Paris Trip
So now here you go, the best streets of Paris
#1 Rue de l'Abreuvoir
Origin of the name: Abreuvoir means "trough" and the path once lead to a source that provided water for the area
Rue de l'Abreuvoir is a charming little lane tucked away in the back area of Montmartre. It is known as the prettiest street in Paris. If you consult a map, you'll notice that this curving street is in fact quite short. But it still has several points of interest on it.
At the top of the street, where it intersects with Rue des Saules, is La Maison Rose. It's a lovely restaurant in a cute pink building, that you might have seen on Instagram or Emily in Paris. As you walk down the street, you'll notice the cobblestoned sidewalks and the historic buildings. Many of them have even ivy growing up the sides of them.
These buildings feel very different from the Haussmanian architecture found throughout the rest of Paris.
Rue de l'Abreuvoir is said to be the prettiest street in Paris
At the bottom of the street, where it curves and becomes Rue Girardon, you'll find the Place de Dalida. It holds the bronze bust of Dalida, set on top of a pillar. She was one of the most popular French singers from the 60s to the 80s and lived many years of her life in Montmartre. Also on this square is one of Montmartre's famed staircases.
You find Rue de l'Abreuvoir particularly picturesque if you visit Paris during the fall. It's when the ivy growing on the sides of buildings changes colors and becomes energetic shades of red-orange.
Thanks for the contribution Stephanie, from The Unknown Enthusiast
#2 Rue des Barres
Origin of the name: Barres means barrier and refers to the proximity to the Seine, the last road/house before the Seine
Rue des Barres is a tiny street of only 130m in length. The first time this alley was mentioned in the Chronicles of Paris was already in 1250. Not very surprising though, because Rue des Barres is located in the Marais, one of the oldest parts of Paris.
The reason why this alley is worth your time is the more than 500 years old half-timbered house that you find on number 12. But also take a few minutes to walk to the end of this street as it ends in a cute cobblestone path with a few restaurants and cafés.
#3 Rue de la Bûcherie
Origin of the name: Bûches = log, it was here the firewood was loaded off the boats
This is a small side street on the Left Bank directly across from the Seine River and has lovely views of Notre Dame. The most famous Parisian business on the street certainly is Shakespeare & Company, an English-language bookstore opened in 1951 by George Whitman.
If you've seen the movie Before Sunset, then you'll be happy to know that it's here where Jesse and Celine meet again.
Rue de la Bûcherie is one of the oldest street in Paris
Anyway, the building was originally a monastery dating from the 17th century. But there is only little of that to be found today. For a few years, a cute café is attached to the bookshop where you can grab a coffee and a muffin for breakfast. A nice start to begin your day.
The askew interior is filled to the brim with books of any kind. From poetry, art, travel, and great literature to politics, photography, and children's literature. You also find many used books here. If you decide on buying one as a souvenir, make sure to ask the staff to stamp them for you.
The Street ends at the Square René Viviani and the church of Saint-Julien-le-Pauvre. The latter is even located on the pilgrim route to Santiago de Compostela.
Within the square, you can see an elegant fountain with sculptures honoring Saint-Julien-le-Pauvre, also called Saint-Julien-l'Hospitalier. But the real highlight of the square is the oldest tree in Paris, a locust tree planted in 1601.
A short stroll away you can admire the restoration of Notre Dame after a devastating fire nearly destroyed this iconic Parisian landmark. Many new archaeological discoveries have been made during the repair which has intrigued scientists and historians alike. Notre Dame is expected to re-open in December 2024.
Thanks for the suggestion, Faith from XYU and Beyond
#4 Rue de Buci
Street named after Simon de Buci, who was the premier president of the parliament and an advisor of the King in the 14th century
Whether you heard the name Rue de Buci before or not, I am sure you've seen pictures. That's because Rue de Buci is the street where you find the Maison Sauvage, the restaurant with the breathtaking flower decoration.
Well, by now it feels like every second café is decorated with flowers, but a few years back, the Maison Sauvage definitely set a trend here.
Rue de Buci and the adjacent Rue Saint André des Arts are connecting the Boulevard Saint Michel with the Boulevard Saint-Germain. It's mostly a pedestrian street filled with restaurants and cafés, but also a few ice cream and pastry shops. It's a cool place if you are looking for something to do in Paris at night.
For amazing ice cream check out the Gelateria Grom, and for Ramen Ippudo. Both are excellent. And if you are on a mission to explore the covered passages in Paris, you're covered as well: Le Cour de Commerce-Saint-André is just there.
#5 Rue de la Buttes-aux-Cailles
Origin of the name: butte means small hill and the area belonged once to Pierre Caille and his wife
If you are interested in street art and are keen to experience a very nontouristy part of Paris, then the Buttes-aux-Cailles is for you. It's a little hilltop neighborhood located in the 13th arrondissement and known for its quirky ambiance and lots and lots of art.
The most famous place for spotting street art is here the Rue de la Buttes-aux-Cailles. It's one of the main roads of the neighborhood where you find many alternative and rather affordable bars and pubs and of course: street art wherever you look.
#6 Avenue de Camoëns
Named after Luís Vaz de Camões (1525 – 1580), Portuguese poet
Avenue de Camoëns is one of the most famous streets in Paris, and you can easily add it to your itinerary, as it's just across the Eiffel Tower
The street is one of the shortest streets in Paris, despite the misleading name "Avenue". However, on the south end, you can find a beautiful staircase and a monument dedicated to the namesake of the street, the Portuguese poet Luís de Camões.
What makes the street very special is that you can get a wonderful view of the Eiffel Tower from the street and the staircase, and it is for this reason that the street is one of the most Instagrammable places in Paris. The beautiful houses that are located in the street make the street great too. You can find Avenue de Camoëns in the 16th arrondissement of the city and it is located very close to Trocadéro.
Another interesting thing about this street is that it is mostly a pedestrian-only street, which makes it great for taking pictures.
Thanks, Dymphe from dymabroad
#7 Avenue des Champs-Élysées
The name has its source in Elysium known from Greek mythology
Undoubtedly one of the most famous streets in all of Paris is Avenue des Champs-Élysées. For those who don't know, this is one of the streets that extends from the famed Arc de Triomphe in the 8th arrondissement. The bustling street is roughly 2km long. It is lined with everything from decadent designer stores like Louis Vuitton and Dior to larger department stores like Zara and Nike.
The Champs-Élysées is the most famous street in Paris
In addition, you'll find an array of restaurants, perfect for grabbing a bite to eat, sipping on some French wine, or simply people-watching in a relaxed setting. There are even parks located along the main street that offer a bit of peace in the middle of all the commotion.
So, whether you want to browse through the numerous shops, admire the grandeur of the storefronts, or simply take in the lively atmosphere of one of the most iconic spots in Paris, be sure to spend some time here as it's like no other street in Paris.
Contributed by Kristin of Global Travel Escapades
My tip for the Champs-Élysées: avoid the afternoons on the weekend, it gets unbelievably crowded.
#8 Rue du Chat-qui-Pêche
Paris street names can be a bit odd at times, like here at the Rue du Chat-qui-Pêche, which means "cat that fishes". But the name is not the only odd thing on this little path, because it's the narrowest street in Paris. With a bit of skill, you can navigate a bike through it, but that's about it.
If you wonder how the street got its funky name, it's thanks to a grocery store that existed here once. The shop, which sold mainly fish, had a sign that showed a .. you guessed it right, a fishing cat.
#9 Rue de Chanoinesse
The Rue de Chanoinesse lies in the center of the Ile de la Cité and just behind Notre Dame. And frankly, if it wasn't for an absolutely stunning facade of a restaurant, there wouldn't be a reason to go there. But this facade makes it worth a 100 times and I am sure you have seen it already on social media or elsewhere.
Especially during spring in Paris, when the wisterias are blooming, pictures of this restaurant are all over Instagram. The restaurant is called Aux Vieux Paris d'Arcole and serves traditional French food.
#10 Avenue de Choisy
Truth be told, the Avenue de Choisy is not a place to see great Parisian architecture. Nor is it good for shopping or sightseeing. But if you are keen on sampling Chinese, Thai, or Vietnamese cuisine, then there is no better place in Paris than Avenue de Choisy.
Because it's here, close to Place d'Italie, where you find the Parisian Chinatown and countless restaurants and supermarkets. Perfect for dumplings, Phò, bubble tea, and to stock up on ingredients and staples for your own kitchen.
The best restaurant for Vietnamese and Thai food is Lao Lane Xang, which is even mentioned in the Guide Michelin. Best reserve a table to avoid waiting.
Tip: if you are around, also head to Rue Buttes-aux-Cailles, it's just a few steps away.
#11 Rue Cler
Named after Jean Joseph Gustave Cler, a General in the French Army (died 1859)
The charming street Rue Cler lies exactly between the Eiffel Tower and Invalides and is a perfect spot for you to take a break while sightseeing. It's a pedestrian cobblestone street with plenty of shops and cafés, where you find lots of regional products. Especially if you don't mind high-end grocery shopping.
Rue Cler is known as a famous street in Paris for shopping for French foods. From Macarons and teas to cold cuts, fresh fruits, vegetables, and cheeses. If you are planning a picnic by the Eiffel Tower, this street is certainly your best address to shop.
There are also charming yet quiet cafes in the areas, with terraces that offer diners the chance to people-watch as they sip an espresso or glass of wine. If you visit around Christmastime, you will see garland and lights draped overhead, adding to the holiday spirit.
If you want to try one of the most famous French foods, head to Pralus and get yourself a Brioche Praliné, they also have good chocolate. Alternatively, Boulangerie Liberté is an organic bakery in the nearby Rue Saint-Dominique that offers delicious babka, baguettes, and sandwiches.
Contributed by Amber from Amber Everywhere
Where to find the best streets of Paris?
#12 Rue Crémieux
Named after Isaac Moïse Crémieux, Minister of Justice (1796 – 1880)
Rue Crémieux is a charming and famous street located in the 12th Arrondissement of Paris close to the Bastille neighborhood. The pretty pedestrianized street is known for its picturesque and colorful houses in all different pastels and lively shades. They are making it a unique and popular destination for locals and tourists alike.
Rue Crémieux is one of the most photogenic streets in Paris
Walking down Rue Crémieux feels like stepping into a hidden oasis away from the hustle and bustle of the city. The houses are adorned with beautiful flowers and plants and make for some stunning photos.
If you want to get photos of yourself here with the houses in the background, it's best to visit on weekdays. It is less crowded and you'll have a more peaceful experience. That way you'll be able to fully appreciate the beauty of the surroundings and take your time capturing photos. This street is honestly spectacular!
Rue Crémieux was named after Adolphe Crémieux. He was a French lawyer and politician who played a significant role in Jewish emancipation during the 19th century. It's important to remember that Rue Crémieux is a residential street. So please be considerate of the residents and their privacy and avoid excessive noise.
Thank you for the contribution, Catrina from 24 Hours Layover
#13 Rue Denoyez
Street was named after the tavern Denoyez that existed there back in the days
If you heard about street art in Belleville and want to know more, then Rue Denoyez is where you should be heading to. The little cobblestone alley is filled up to the last inch with graffiti and artwork and the ever-changing canva is absolutely worth the visit.
It's a good starting point for a walk in the Belleville Neighbourhood as it's right by the Belleville Metro Station.
#14 Boulevard Haussmann
Boulevard Haussmann, one of Paris's most famous streets, reflects a blend of history and remarkable architecture. If the name rings a bell, you're right, because it takes its name from Baron Haussmann. He was the visionary prefect responsible for the city's distinct architectural style.
Haussmann's ambitious urban plans involved demolishing the old, unhygienic, and overcrowded medieval houses to make way for grand boulevards and unique Parisian buildings. The perfect example of this outcome is the Boulevard Haussmann.
Boulevard Haussmann is one of the most beautiful streets in Paris
The boulevard is lovely to stroll along, and home to a notable attraction, the renowned Galerie Lafayette. Even if you're not keen on luxury shopping, do visit this big department store. The Art Nouveau cupola is stunning and the view from the free rooftop terrace absolutely breathtaking.
#15 Rue de la Huchette & Rue de la Harpe
Nestled by the charming St. Michel, you'll discover a couple of quaint and endearing streets in Paris, which are some of the oldest in the Latin Quarter and even in Paris. With its cobblestone pathways, this district charms you with its inviting atmosphere, and with the numerous cute restaurants and bars. Especially, as the prices are more than below Paris average.
Many of the cute streets in Paris you find near St.Michel, but it's also very touristy
It is really a lovely part of Paris, but it's important to tread cautiously. It's undeniably a heavily touristic area, hence the word of warning. While the restaurants may offer you incredibly low prices, the quality is mostly beyond average. I advise you to better explore other dining options beyond the boundaries of this adorable street. It is enough if you just walk 100m away to find something better.
#16 Rue Lamarck
A famous street in Paris that shouldn't be missed is Rue Lamarck. Rue Lamarck is located in Montmartre and is known for its quaint architecture and iconic photo spots.
One popular and fun photo opportunity along Rue Lamarck is the "sinking house." The "sinking house" is best seen from the steps leading up to the Sacré-Cœur. Of the two staircases choose the one on the right. You'll see a red and white building slightly covered by a hill. With a slight tilt of your camera, you'll discover the "sinking house."
Another great photo spot along Rue Lamarck is the Lamarck-Caulaincohet metro station. You may recognize the red metro sign and double staircase when you see them. Since this street is a popular place to visit, arrive early to take pictures without (m)any people in them.
When you're not taking pictures of this street, take a little stroll to appreciate its beautiful architecture, admire the quaint cafes, and appreciate some people watching.
Contributed by Chelsea from Adventures of Chels
#17 Rue Lepic
Situated in the heart of Montmartre, one of the most dynamic neighborhoods in Paris, lies a bustling street that epitomizes the essence of this Bohemian enclave. This main artery holds significant importance in the fabric of Montmartre, serving as a central hub for locals and visitors alike.
It is here that you'll stumble upon the iconic Brasserie Café des 2 Moulins, familiar to fans of the movie "Amélie." Delve deeper into history, and you'll discover that Vincent Van Gogh once called this street home, residing here from 1886 to 1888. As you explore further, you'll encounter the two remaining windmills, poignant reminders of Montmartre's storied past.
#18 Main Street – Disneyland Paris
Although it might be an unconventional pick, Main Street is absolutely one of the most famous streets in Paris. If you're unfamiliar with it, Main Street is a long stretch of Disney-fied magic that's tucked away in Disneyland Paris in Serris.
Not only do you get exceptional views of Sleeping Beauty's Castle from virtually every vantage point, but the street is littered with sweet treats, merchandise stores, and decorative lampposts. Plus, you can't beat the peppy tunes that blast out of the speakers to put you in a super good mood.
While you're here, it's worth stopping by the glorious Walt's Restaurant that you'll find to your left as you walk toward the castle. It's a gorgeous celebration of Walt Disney's life and serves superb fine dining fare right in the middle of the park. Seriously, bougie desserts, cocktails, and perfectly cooked mains are abound here!
Whether you're a first-time visitor to Disneyland Paris or an avid returner, you're bound to agree that Main Street is the most magical street in Paris.
Submitted by Grace at www.pixiedustandpassports.com
#19 Rue des Martyrs
Origin of the name: the street heads to Montmartre, which was previously called Mont des Martyrs
There's a reason whole books have been written about Rue des Martyrs in the 9th. It's a beautiful tree-lined street that heads from the neoclassical Notre-Dame de Lorette church all the way up to Montmartre, almost until the famous carousel at the Abbesses Metro Station. Despite its charms, it's not on the typical tourist circuit, and that's one of the reasons you'll love it.
This picturesque street offers food markets, specialty stores, and cafes where locals come for their daily ingredients. From fresh produce to cheese to butcher shops, fishmongers, and wine stores, you can spend the whole day marveling at the local specialties.
But Rue des Martyrs is not just a place to shop; it's also an excellent spot to have a meal. Stop at one of the restaurants or try multiple places by grazing your way down the street. You should definitely try the pastries at the famous Sébastien Gaudard Pâtisserie, or indulge yourself with chocolates or gelato.
Don't miss the chance to buy gourmet souvenirs, including delicious truffle honey from Artisan de la Truffe. If you're looking for a yummy and affordable lunch special, this place won't let you down. The black truffle ravioli even rivals the pasta dishes of Tuscany. Bon Appètit!
Thanks, Denise, from Chef Denise.
#20 Rue Mouffetard
The origin of the name is based on a reading or spelling mistake. It was originally Mons Cetardi (Hill of Cetardi), but the s was similarly written as the f and so it slowly changed into Mouffetard
The Rue Mouffetard is a street located in the 5th arrondissement of Paris. It goes uphill from Place Georges Moustaki until Place de la Contrescarpe for about 650 meters. This old narrow cobbled street is filled with small shops (a lot of food and drinks to be found there), restaurants, and bars.
Rue Mouffetard is one of the best walking streets in Paris
Very lively in the evenings, this neighborhood is close to several high schools and universities which brings a lot of students who want to go out. Things are also happening during the day, especially when it is market day. Whether you are looking for a quick bite or a seat down but even more if you search for an affordable pint, you are in the right place.
Thanks Laurent, from Le Meilleur Rhum du Monde
#21 Avenue Montaigne
Named after the writer and philosopher Michel Eyquem de Montaigne (1533-1592)
Spanning from Pont d'Alma to the iconic Champs-Élysées, this street offers you a seamless journey through the realm of high fashion. If you're on the hunt for designer clothing, look no further. It's a paradise where all the luxury brands have established their exquisite stores.
Avenue Montaigne is one of the most expensive shopping streets in Paris
Notably, Dior holds the distinction of being the first luxury fashion store to grace this street after the Second World War, leaving an indelible mark on its stylish reputation. And amidst this glamorous retail haven, you'll find the majestic Plaza Athénée, counted among the ten palaces of Paris. Prepare to be enveloped by a world of sartorial elegance and refined opulence along this extraordinary street.
#22 Rue Montorgueil
Rue Montorgueil is a famous food street in the 2nd arrondissement. The pedestrian cobblestone street has historic charms with hipster vibes.
As portrayed on The Rue Montorgueil in Paris by Claude Monet, the street has some historical significance on June 30, 1878, a festival celebrating France's recovery from the defeat of the Franco-Prussian War.
But what makes this street worth visiting is the food. There is a good mix of traditional patisseries and chocolatiers, restaurants, bars, and other food shops.
Stohrer, for example, is the oldest patisserie in Paris. Nicolas Stohrer was King Louis XV's pastry chef, and the bakery has kept its traditional recipes since 1730. And he is also the one responsible for creating baba au rhum, a popular French dessert the locals still enjoy today.
Rue Montorgueuil is a famous street in Paris you can't miss
On the street, you can also find other famous patisseries, such as Fou de Patisserie and Jeffrey Cagnes, and a chocolatier, such as À la Mère de Famille. There are also cute patio cafes, such as Au Rocher de Cancale.
The best time to visit this street is after 11 am. Although some shops open early in the morning, you will mostly see delivery trucks and half-empty selves. Some cafes and bars offer happy hours starting around 3 pm.
Contributed by Chloe of Chloe's Travelogue
#23 Square Montsouris
The name goes back to the old hamlet "Moque-Souris" that was located there
Located in the southern part of Paris, near the idyllic Montsouris Park, lies a delightful cobblestone street that embodies the essence of the city. This residential haven brims with lush flowers and charming houses, creating an enchanting atmosphere. It is one of the lovelies Paris cobblestone streets.
Despite being a private street, it graciously welcomes passersby to explore its picturesque surroundings. The architectural styles range from Art Nouveau to Art Deco, the facades are equally splendid. Notable inhabitants have included the duo Vanessa Paradis and Johnny Depp during the 2000s, as well as former President François Hollande. It's a hidden treasure and a nice photo spot for off-the-beaten-track pictures of Paris.
#24 Rue de Monttessuy
Named after Rodolphe, come de Monttessuy, who owned the land in the 19th century
One of the most popular streets in Paris is definitely Rue de Monttessuy. Especially among those of you, who are keen on perfect photo opportunities of the Eiffel Tower. Because the view is what makes Rue de Monttessuy special. The street is perfectly aligned in such a way that the Eiffel Tower is very visible in between the beautiful Haussmann buildings that you find all around.
In the street, you can find several restaurants and shops. Especially, small French bistros with a few tables outside. Which are of course once more a perfect photo spot.
Thanks, Daniel from North Carolina Travel Guides

#25 Rue Oberkampf
Named after Christophe Oberkampf, who became famous for founding the royal manufacture of printed cotton, best known for it's "toile de Jouy"
Welcome to Rue Oberkampf, a jewel tucked away in Paris' dynamic 11th district. It's a magnet for the night owls, boasting a vivacious energy like no other. Rue Oberkampf is where traditional Parisian charm meets modern, eclectic vibrancy. It's a perfect location if you are looking for things to do in Paris at night.
Located on this famous street is Café Charbon, a vintage Parisian cafe with a robust touch of the 1900s. Just a stone's throw away is Le Bataclan, Paris' famous music venue and cultural symbol.
Rue Oberkampf is one of Paris' main streets when it comes to nightlife
As you wander down the street, colorful street art greets you at every corner. You'll find Rue Oberkampf speckled with unique alleyways like Cité du Figuier, Cité Griset, Cité de l'Industrie, and Cité Durmar, each offering its own distinct charm.
And when you get hungry after a long day of sightseeing, the iconic Aux Deux Amis awaits to satisfy your taste buds. It's the place for divine tapas, loved by both locals and tourists visiting Paris. For a breathtaking view of Paris' skyline, head to the top of Perchoir, Ménilmontant's rooftop bar.
Once night descends, Rue Oberkampf really comes alive. Live tunes fill the air from the Nouveau Casino concert hall and Café Chéri(e). Rue Oberkampf is Paris, personified, and is a must-visit while in the City of Light.
Thank you Tiana from Where Tiana Travels
#26 Rue de la Paix
Situated in the heart of Paris in the 2nd arrondissement, Rue de la Paix is one of the city's most famous and historic streets. It is world known as a symbol of luxury and elegance, attracting visitors from everywhere to come shop in its high jewelry houses and luxury shops such as Cartier, Chanel, and Louis Vuitton.
Rue de la Paix was built in the early 19th century to link the Opéra Garnier to the Tuileries through the Place Vendôme. It was named "Street of Peace" to commemorate the signing of the peace treaty of 1814 after Napoleon's defeat by the European coalition forces. Throughout the years, Rue de la Paix has been a gathering place for Parisian high society, and many famous names have frequented its fancy stores to indulge in French fashion.
If you are visiting Paris, you can't miss strolling and window shopping on this street. Although the prices are outrageous, its stunning architecture topped by the beautiful Vendôme Column creates this typical Parisian we all vibe for. And don't worry, you can still have lunch without ruining yourself at La Petite Régalade.
By Nes from Kevmrc
#27 Avenue Rapp
Named after Jean Rapp, who fought several wars with Napoleon
Easily one of the most famous streets in Paris, Avenue Rapp is a fantastic spot from which to take amazing photos of the Eiffel Tower.
After all, Square Rapp can be found along this avenue, in the seventh arrondissement, between 33 and 35 Avenue Rapp.
It features a quaint garden with a gorgeous fountain that is perfectly complimented by intricate iron gates. It is also the perfect place to grab a photo of the city's famed Haussman-style architecture with the Eiffel Tower in the background.
However, the real highlight of any visit here is a stop at the iconic Lavirotte Building, which stands as an immortal symbol of Art Nouveau architecture in the city.
In fact, it was designed by architect Jules Lavirotte and was constructed in the early 1900s with a stunning façade that can be viewed at 29 Avenue Rapp.
What to do near Avenue Rapp: Don't miss the hidden gem called Square Rapp, located. Be prepared to be amazed by one of the best views of the imposing Eiffel Tower from here.
Thanks for the suggestion, Linda from Linda on the Run
#28 Rue de Rivoli
Named after Napoleon's victory over the Austrians in 1797
Rue de Rivoli is a bustling street located in the heart of central Paris and you could even say it's one of Paris' main streets. It is mostly renowned as a vibrant commercial hub, hosting a wide array of shops that feature some of the most prominent and fashionable French brands.
Rue de Rivoli is one of the most famous shopping streets in Paris
Aside from its historical significance, and architectural beauty, Rue de Rivoli is lined with numerous noteworthy buildings. The most important is of course the famous Louvre Museum, which occupies a significant portion of the street. The Louvre's iconic glass pyramid entrance is situated in the inner courtyard of the museum, known as the Cour Napoléon.
Other notable landmarks along Rue de Rivoli include the Hôtel de Ville (City Hall) and the Palais-Royal, and The Tuileries Garden. The latter is the city's oldest and largest garden.
Rue de Rivoli also offers a picturesque setting with its wide sidewalks, tree-lined boulevards, and charming cafés. It offers a variety of dining options for visitors and locals. You can also try the famous Angelina, a renowned pastry shop and restaurant known for its famous hot chocolate and delectable pastries.
Contributed by Imee Magbag from Journey to France
#29 Rue de la Roquette
Not named after the plant "rocket", roquette in French, but after a small rock/stone
Stretching from the lively Bastille to the renowned Cemetery Père Lachaise, this historic street holds tales of a bygone era. It was once home to prisons, with one housing women and young criminals, while the other confined major offenders. The chilling presence of a guillotine added an ominous backdrop to the street's history.
Nowadays, remnants of that past have vanished, leaving behind a lively boulevard adorned with numerous bars, restaurants, and galleries. If you are a beer enthusiast, you definitely need to check out Fauve. It's one of the Parisian Breweries with a great selection of home-brewed beers on the tab.
#30 Rue des Rosiers
Named very straightforward after rosegardens that lined up the street back in the days
Rue des Rosiers is a vibrant, historic street located in the hip Marais district. Here, you'll find stunning architecture alongside restaurants, boutiques, bookstores, and more. Famous for its Jewish heritage, history lovers will want to keep an eye out for commemorative plaques, including one that honors the Jewish Resistance Fighters of WWII.
Rue des Rosiers is a great spot if you are looking for Paris' cobblestone streets
Today, the street's heritage is as strong as ever. Rue des Rosiers is famous for being the home of an incredible Jewish culinary scene. The street is lined with kosher bakeries, delis, falafel joints, and traditional Jewish restaurants. The highlight of it all is L'As du Fallafel, an iconic establishment featured in many of the Marais food tours. Be prepared for a long line, but know that's worth the wait!
After you enjoy a few treats, explore the side streets and hidden courtyards that branch off from Rue des Rosiers. This is one of the best spots in Paris for discovering some darling hidden gems!
Recommended by Sydney of Sydney to Anywhere
#31 Rue Saint-Antoine
As one of the oldest streets in Paris, this storied thoroughfare traces its roots back to the Roman era. Connecting Bastille with Place de la Concorde, it begins near St. Paul Church on Rue Rivoli.
Situated in the bustling Marais district, it holds a prominent position as a Paris main street, as it's the extension of Rue de Rivoli. With large sections designated as cycling lanes, it offers a delightful experience for cyclists to explore the city on two wheels.
#32 Rue Saint-Dominique
Found in the heart of the trendy 7th arrondissement, Rue Saint-Dominique is one of the most sought-after streets in Paris. It is also one of the most exquisite. Its close proximity to Esplanade des Invalides and Champs de Mars allows convenient access to the plethora of premium French boutiques, specialty shops, and contemporary designer stores that line this 1.8 km stretch of road.
This fashionable boulevard has recently risen to prominence as one of the city's leading shopping areas and is constantly buzzing with activity from morning to midnight. Along this bustling street are also plenty of cute cafés, restaurants, boulangeries, and patisseries, so choosing where to eat will be difficult.
The Musee du Quai Branly, the only museum in Paris devoted to local arts, is a noteworthy location worth seeing nearby. Rue Saint-Dominique bears the name of the Dominican Convent and is also one of the city's most popular photo locations. You find here dramatic views of the Eiffel Tower that you shouldn't miss.
Thanks for the suggestion, Rai from A Rai of Light
#33 Boulevard Saint-Germain
Located on Paris's Left Bank, Boulevard St. Germain stretches across the 6th and 7th arrondissements. This iconic boulevard is renowned for its charming cafes, bookshops, art galleries, and lively atmosphere.
This area was once a gathering place for renowned writers such as Hemingway, Sartre, and de Beauvoir, who frequented the legendary cafes and engaged in lively intellectual discussions.
There are plenty of things to do on Boulevard St. Germain. Be sure to stop by Les Deux Magots or Café de Flore for coffee, a bite to eat, or just a snapshot. These are two establishments that have witnessed countless intellectual debates and artistic exchanges throughout history.
One tip for visiting Boulevard St. Germain is to explore the side streets and hidden alleys that branch off from the main boulevard. These quieter corners often hide quaint boutiques and cafes, that are fun to discover.
Boulevard St. Germain is not just a street; it's a living testament to Paris's cultural heritage and intellectual legacy. It's not just the architecture that makes this boulevard one of the most beautiful in the City of Lights.
Thanks for the suggestion, Michelle C. of Intentional Travelers
#34 Rue Saint-Honoré
Running parallel to the bustling Rue de Rivoli, the historic Rue Saint-Honoré resides in the heart of Paris. Renowned for its prestigious boutiques and art galleries, it beckons to discerning shoppers and culture enthusiasts alike. With a timeless charm and rich heritage, this iconic street embodies the essence of Parisian elegance.
Rue Saint-Honoré is a good street in Paris for high-end fashion shopping
Explore Rue Saint-Honoré and immerse yourself in its allure, where high-end establishments and artistic treasures grace its path. Experience the spirit of this remarkable street as you embrace its storied past and timeless beauty.
#35 Rue Saint-Julien le Pauvre
Rue Saint-Julien le Pauvre: a small side street in the 6th arrondissement of Paris with larger-than-life views and charm.
Just steps from the Seine River and the Île de la Cité, Rue Saint-Julien le Pauvre is a meeting point for all kinds of travelers and resident Parisians. It is the gateway to Saint Germaine de Pres, one of Paris's most beautiful and stylish neighborhoods.
Around this quaint street are two of Paris's most unique locations for café-culture connoisseurs and book lovers: Odette and Shakespeare & Co. Odette is one of Paris's cutest cafés and specializes in cream puffs. When you are looking down Rue Saint-Julien le Pauvre from the Quai de Montebello, you have a perfectly framed view of the pastry shop's black & white striped awning and theatrical signage.
Turn to your right and you are met with Shakespeare & Co, one of the most famous and unique bookstores in Paris that also happens to have a café.
But the best view is at the end of Rue Saint-Julien le Pauvre. Walk to Odette and turn around to see the Notre Dame Cathedral, with its towering spires, perfectly framed by the cobblestone street. This is what makes Rue Saint-Julien le Pauvre one of the prettiest streets in Paris.
Contributed by Michela from She Goes The Distance
#36 Rue Saint-Rustique & Rue Norvins
Paris' cobblestone streets are the epitome of romance and charm. And if you're looking for a perfect Parisian postcard moment, you've got to stroll down Rue Norvis and Rue Saint-Rustique in Montmartre.
These two famous French streets will leave you starry-eyed with their quaint buildings and bustling cafes. You can't miss a visit to the renowned Café le Consulat, where you can sip coffee and watch the world go by.
Oh, and don't forget to pose for a photo with the stunning Sacre Coeur in the background. While Rue Norvis might be a bit crowded, don't let that stop you from also exploring Rue Saint-Rustique. It may be just a little alley, but it's full of hidden gems. So put on your walking shoes and explore these special Parisian streets!
#37 Rue Soufflot
Named after the architect Jacques Soufflot, who was in charge to built the Sainte-Geneviève Church, which later became the Panthéon
You find Rue Soufflot between the Luxembourg Gardens and the Pantheon in the 5th arrondissement near the Sorbonne district. The enlarged road has been at the center of all things in Paris since Roman times. In fact, the Roman forums were located in the vicinity and excavated ruins are displayed in an underground car parking lot at the junction to the boulevard Saint-Michel.
Furthermore, Rue Soufflot offers you a very special view. You see the Eiffel Tower at the start of rue Soufflot, in the direction of the boulevard Saint-Michel, and the stunning Pantheon towering over the other end of the street.
Guests and locals alike hang out in the evening hours in the brasseries and restaurants along the road. Spend some time in the rue Soufflot in the evening hours. Look out for the Comptoir du Panthéon, they have great food and wines and the outdoor space gives you a direct outlook to the Pantheon.
Thanks, Paul D'Souza of Paulmarina
#38 Rue des Thermopyles
Tucked within the 15th arrondissement, Rue des Thermophyles unravels as a hidden gem awaiting exploration. This cobblestone street, adorned with lush plants and vibrant flowers, enchants with its serene charm. During wisteria season, it transforms into a picturesque oasis.
A delightful surprise awaits nearby – Of Land and Monkeys, a vegan pastry shop offering tantalizing alternatives to classic French bakery treats. Whether you follow a vegan lifestyle or simply seek new culinary experiences, this establishment beckons you to savor its creative delights.
For me, rue des Thermophyles is the prettiest street in Paris. Especially during springtime.
Venture forth to Rue des Thermophyles and immerse yourself in its tranquil ambiance, a haven for nature lovers and food enthusiasts alike.
At the end of the road, you find a little surprise: at 19 Cité Bauer, you find a true treasure. A gate created by the Hungarian Artist Alexander Mazei.
#39 Rue de l'Université
The Rue de l'université is a perfect street for tourists and locals looking for iconic shots of the Eiffel Tower. The street is just off to the side of the Eiffel Tower and runs parallel to the Seine, and is a short walk from several must-visit landmarks in Paris.
The captivating views of the Eiffel Tower, picturesque architecture, and convenient location are everything needed to make this a must-visit spot in Paris. This street is perfect for views and photos featuring the Eiffel Tower as the perfect backdrop, with cobblestone roads and beautiful Parisian architecture featured on the walls of surrounding buildings.
However, what makes this a great street to visit is that it's hidden off to the side, and due to its close proximity to Champ de Mars, the tower will appear enlarged in photos. Just remember that the street can have cars parked in the background, so it's best to visit early in the morning to limit their numbers. And to avoid the hundreds of social media fans, that are flocking this street all day.
After you finish your photo ops, and if you're in the mood for some divine desserts, head to Les Deux Abeilles for amazing tarts; it's on the same street.
Submitted by Yesenia from The Sisters Who Voyage

#40 Quai de Valmy
Quai de Valmy, nestled along the scenic Canal St Martin in the vibrant 10th arrondissement of Paris, invites you to explore a lesser-known side of the city. Lined with picturesque locks and charming bridges, this street offers an authentic and non-touristy Parisian experience.
It's a haven for those seeking a laid-back atmosphere, with an array of bars, restaurants, and boutique shops to discover. Alternatively, embrace the local way of life by grabbing a beer from a nearby supermarket and joining the locals in leisurely sitting by the tranquil canal. Quai de Valmy promises a delightful blend of relaxation, local charm, and hidden gems.
#41 Rue Vieille du Temple
Rue Vieille du Temple is an ancient street in the Marais District in the 3rd arrondissement. The temple mentioned in the name is no longer in existence, however, the original 12th-century fortress was built for the Knights Templar and sat on Square du Temple.
The Templars were a religious order who protected pilgrims making their way to Jerusalem. They built a monastery and fortress here to protect the treasures of King Phillip of France who later disbanded the group.
Rue de Vieille du Temple is a famous street in Paris to eat middle eastern cuisine
During Henri IV's reign in the early 1600s, Place des Vosges was built and the building boom saw Rue Vieille du Temple become home to many nobles with large townhouses.
Now, the street features some of the best-known fashion names in the world including Karl Lagerfeld and Chanel.
But it's the bistros and restaurants it's most famous for. Au Petit Fer à Cheval owned by Xavier Denamur is one not to be missed and a landmark of this street. Also worth a visit is La Belle Hortense, from the same owner. A combination of bookshop and bar it has a wonderfully romantic feel and is exactly how you imagine Paris should be.
Thanks, Kylie, from Life in Rural France
Voilà, the 41 most famous streets in Paris. If you add these avenues to your Paris itinerary, you can be sure to see the quintessence of Paris and many sights along the way. Enjoy exploring and bon voyage!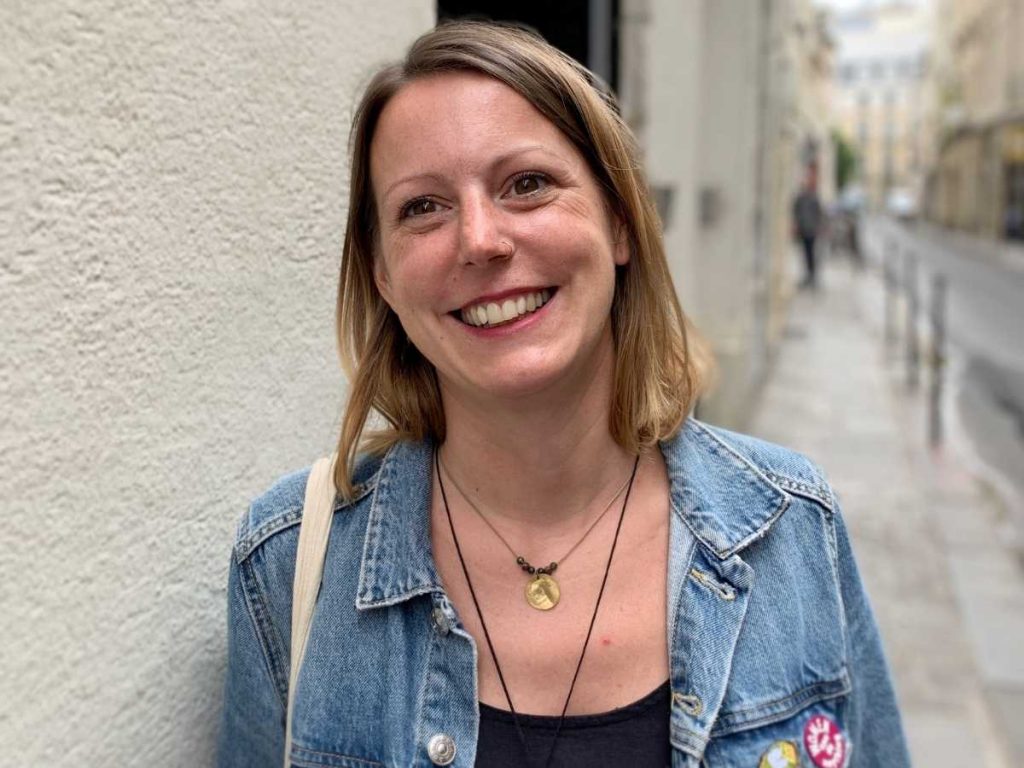 I have lived in Paris since 2005, and I am happy to show you around. Join me on Facebook for updates and news about Paris.
PS: Check out these posts, they will help you plan your trip to Paris
Famous streets in Paris: Pin this post & find it back
FAQ Famous streets in Paris
What are 3 famous streets in Paris?
Paris is full of famous streets, but the most famous streets are the Champs-Élysées, Rue des Rivoli, and the Boulevard Saint-Germain.
What is the most famous street in Paris?
If you are looking for the most famous street in Paris, you are probably referring to the Champs-Élysées. The large avenue is home to many Designer and retail stores and leads up the famous Arc de Triomphe.
What is the prettiest street in Paris?
It's said that the prettiest street in Paris is the Rue de l'Abreuvoir. The street is located in the 18th arrondissement in Montmartre. It's here where you find the Maison Rose and the Buste de Dalida. But also the Rue des Thermopyles and the Rue Crémieux and beautiful Parisian streets.
What is the fanciest street in Paris?
The fanciest street in Paris is the Rue Montaigne. It's here where most Designers have their stores and where you find the most expensive apartments.