This article may contain compensated links. Please read disclosure for more info.
---
Are you planning to spend this autumn in Paris? Then this guide is all you ever need for a magical and unforgettable Paris autumn trip.
Whether you are looking for seasonal travel information and packing tips, or are keen on knowing more about the absolute best things to do in Paris in autumn: I've got you covered.
This year, I am spending my 18th fall season in Paris, and I have a plethora of tips to share with you.
So this article will guide you through everything you need to know, including a curated list of the 14 best things to do during fall in Paris.
Is it your first trip to Paris? The following articles will also be interesting for you:
I will share with you the best things to do in autumn in Paris, but also fill you in on some hidden gems and insider tips.
Plus, after reading, you'll know what certainly should not be missing in your luggage and how to make the very best out of your trip to Paris. Let's start with the basics.
Paris in the Fall: Essentials for your Trip
It's easy to fall in love with Paris in the fall. The weather is comfortably cool, often lit up by warm autumn sun. Golden light and vibrant foliage add a magical touch, enhancing the city's historic sites and museums. Best of all, you can enjoy these attractions with fewer crowds than in summer
But to make your trip to Paris during fall a full success, be aware of a these general seasonal Paris travel tips.
Crowd Alert for Paris in Autumn
There are many good reasons for a trip to Paris in autumn. And fewer crowds are for many the reason No.1.
Indeed, there are fewer crowds in Paris during the autumn months. Especially compared to the vibrant summer and spring months.
But: Autumn is not low season in Paris. Rather shoulder season, with bits of peak season during the European fall holidays. Additionally, events like Rugby matches and Fashion Week attract thousands of extra visitors to Paris, adding a lively buzz to the city's atmosphere.
So, will Paris be quieter than in the spring? Absolutely. But will it be completely empty and free of crowds? Not at all.
Breakdown – Crowds in Paris during Fall:
We have tons of visitors all year round. Especially the beginning of fall is very popular among European visitors for weekend trips and short getaways before winter. In fact, the number of nights booked in September and October is merely a minimum, lower than in summer.
For a Paris experience with fewer crowds, consider visiting in November. This timing allows you to avoid both the hustle and bustle of the Christmas season and the French autumn holidays, which typically coincide with All Saints' Day.
CHECKLIST for your Paris Trip
Bank Holidays and Vacation in Autumn
If you're planning an Autumn 2023 trip to Paris and want to dodge the largest crowds, be aware of the following holidays. These are peak times for both domestic and international travelers, including those from neighboring countries:
Nov 1, 2023 – All Saints' Day
Nov 11, 2023 – Armistice Day
All Saints falls on a Wednesday and Armistice Day on a Saturday. Expect both weekends to be busy, especially All saints, though.
The French school vacations are in 2023 for all of France from Oct. 21 to Nov. 6., and French Families profit as well from visiting the capital during the beautiful fall season.
What's the Weather like in Autumn Paris?
The weather in Paris during autumn varies significantly by month. Late September through October often features mild temperatures and abundant sunshine.
However, by November and December, expect colder, grayer, and rainier conditions. The weather generally cools down as the season progresses, with diminishing sunlight and increased chances of rain.
Evenings start to feel chilly early in the season, regardless of how warm and sunny the day might have been.
For a more detailed understanding, here are the average monthly temperatures:
Paris autumn weather in September: 22°C (70°F) high and 13°C (53°F) low, 7 rain days
Paris autumn weather in October: 17°C (61°F) high and 10°C (50°F) low, 8 rain days
Paris autumn weather in November: 11°C (52°F) high and 6°C (43°F) low, 9 rains days
Paris autumn weather in December: 8°C (46°F) high and 4°C (39°F) low, 9 rains days
Before packing for your autumn trip to Paris, it's a good idea to check the weather forecast. Given the quick shifts in weather and varying temperatures throughout the day, it's wise to prepare a wardrobe of layers.
This way, you can easily adapt to the changing conditions from morning to afternoon to evening.
In Advance: Book your Attraction Tickets
Paris is a very popular destination and, especially during the holidays, tourism is booming. During summer 2022 and 2023, tickets to the Eiffel Tower were sold out for weeks!
Hence, even if fall time in Paris is a tad less busy than summer, I strongly recommend that you source tickets to attractions and sights as early as possible.
Especially if your travel dates are on French holidays and vacation periods.
For your convenience, find below the most popular sights that you better reserve in advance.
Tip: Even if you have the Museums pass or are eligible for free entry to museums, you often need to book a timed entry. Best check on the page of the sight or museum if it applies.
The Paris Autumn Packlist
When traveling in autumn to Paris, it's important to keep in mind that the beginning of fall has only little in common with the end of the season. The end of September can even be summery, while December likely is wintry cold.
As a general packing recommendation for Paris in autumn, be prepared to dress in layers. It can be cold in the shadow and warm in the sun. Temperatures can vary a lot between day and night, and inside and outside.
However, there are a few things that can't be missing in your luggage for you to be prepared.
Versatile Waterproof Shoes
Experience the beauty of Autumn in Paris without worrying about wet feet by investing in a pair of these versatile and waterproof Chelsea Boots.
Not only do they offer top-notch weather protection, but they also effortlessly complement both jeans and dresses, ensuring you're stylishly prepared for any condition.
---
A Small Travel Umbrella
Fortunately, all-day rain is uncommon in Paris, but you'll likely encounter occasional showers. This travel umbrella is your ideal companion for autumn in the city—compact enough to slip into your purse and indispensable when you're caught in a downpour.
Just a note: rain ponchos may be practical, but they're not typically worn in Paris. Stick with more traditional rain gear to blend in with the locals.
---
A Warm Hat and a Scarf
Brace for Paris' chilly autumn evenings and occasional winds with the right accessories. A hat and scarf are must-haves, especially for late-season visits. While a French Beret may sound cliché, it's a Parisian fashion staple.
Alternatively, a beanie like this one offers a cozy, versatile option. Stay warm and stylish as you explore Paris this fall.
---
A lightweight down jacket
A down jacket is my go-to travel essential for every season except summer. Lightweight and easily compressible, it fits right into your purse and is a game-changer for all-day outdoor adventures in fall in Paris —particularly when temperatures drop in the evening.
Layered under your regular coat, a lightweight puffer jacket adds warmth without compromising your style. It seamlessly integrates with your outfit, ensuring you stay cozy and fashionable.
Paris in Autum: 14 Absolute Best Things to do in Paris in the Fall
I've assembled a list of the top 14 things you can do in Paris during autumn to help you make the most out of the season and discover its unique charm.
Whether you're interested in long walks amid vibrant fall foliage, participating in wine harvest festivities, or cozying up in a local café, this guide has got you covered.
And for those inevitable rainy days, I've also included some excellent indoor activities.
#1 Visit the Père Lachaise Cemetery
Discover the haunting beauty of autumn in Paris with a guided tour ➲ book your unforgettable experience today!
Père Lachaise is not only one of the world's most visited cemeteries, but also a unique spot to experience autumn in Paris. As you wander the ancient cobblestone lanes flanked by towering trees adorned with fall foliage, you'll feel the mystic ambiance heightened by the soft glow of the autumn sun.
The cemetery is home to an array of notable graves, including those of Edith Piaf, Chopin, Oscar Wilde, and Jim Morrison.
Moreover, the variety of graves reflects the city's diverse cultural heritage. If you're interested in exploring an otherworldly facet of Paris in the Fall, a visit to Père Lachaise is truly memorable.
#2 Explore Paris' Autumn Foliage
While Paris may not be famous for Indian Summers or vibrant forests, its autumn foliage is nothing short of captivating, particularly when experienced in the city's iconic parks.
Don't miss our guide: The Best Parks in Paris – Beautiful Gardens You Need to Visit!
Top spots for an autumnal walk include the Jardin Luxembourg and the Tuileries, both classic and quintessentially Parisian gardens. If you find yourself there on a sunny October day, take advantage of the free chairs to soak up the season's final warm rays.
Of course, there are many more parks and squares that shine during autumn in Paris. My favorites include:
Place des Vosges
Parc Monceau (read more about it here)
Butte Chaumont
Palais Royal (known for the Netflix Series Emily in Paris)
Parc Floral
Jardin d'Acclimatation with the Foundation Louis Vuitton
#3 Attend the Montmartre Wine Festival
Discover the secrets of French treats ➲ book your Montmartre food tour today!
Autumn marks wine harvest season in France, and Paris is no exception with its array of vine harvest festivals and tastings.
The most renowned is the Fête des Vendanges de Montmartre, centered around the city's oldest vineyard, Clos Montmartre.
Yes, you read that right—Montmartre has its own vineyard!
The event is a celebration of French culture, complete with local cuisine, live music, and, of course, wine. While various French wineries participate, the star of the show is Montmartre's own wine, crafted entirely from grapes grown in the district and aged in the local town hall's cellars.
Mark your calendars: The date for 2023 edition of the Fête de Vendange is set for the 11th to 15th of October 2023.
#4 Indulge in French Comfort Cuisine
Also interesting: 62 Interesting facts about French Food
If there's a season to truly savor the culinary delights of Paris, it's undoubtedly autumn. With an abundance of fresh, seasonal produce and the arrival of cooler weather, fall is the ideal time to indulge in France's hearty comfort foods.
Think Fondue, Onion Soup, Raclette or Boeuf Bourguignon and Cassoulet. You even could treat yourself with Duck Confit or Tartiflette.
These rich and flavorful dishes are simply too heavy for the summer heat but absolutely perfect for a cozy autumn evening. Best with a glass of wine – or perhaps two – and cap it off with a decadent mousse au chocolat for dessert.
Tip: The best place to sample traditional dishes in France is a Bouillon. See here my guide on the best Bouillons in Paris.
#5 Museums & Exhibitions
➲ Click here to book your Paris Museum Pass now!
Looking for enriching things to do in Paris in Autumn? The city's extensive museum scene boasts with over 130 exhibitions, making it an ideal haven for culture lovers. Especially on chilly or rainy days.
You might also be interested in these articles:
Traditionally, the Paris autumn often features exciting new exhibits you won't want to miss. Some new additions this fall are:
Amedeo Modigliani expo in the Musée de l'Orangerie
Le trésor de Notre-Dame de Paris, from the 19th October in the Louvre
Nicolas de Staël, from 15th Septembre in the MAM
Mark Rothko, from 18th of October in Fondation Louis Vuitton
Bollywood Superstars, from 26th September at Musée du Quai Branly
🌟 Pro Tip: Maximize your cultural exploration with the Paris Museum Pass. Gain free, priority entrance to more than 60 museums, letting you delve into art and history without the hassle of ticket queues.
Just be sure to check in advance for any museums like the Louvre that require reservations.
#6 France's Wine Regions: Take a Day Trip
Hassle-free ➲ Book a day trip to a wine region here
Autumn marks France's bustling wine harvest season, a period stretching from August to October. While Paris hosts its share of wine festivals, you might be surprised to learn that three of the country's most renowned wine regions are just a day trip away from Paris.
So, if you're aiming to enrich your Parisian autumn getaway, why not dedicate a day to explore some of France's most iconic vineyards in the countryside?
The most popular wine destinations from Paris in the fall are these:
➲ Bordeaux & St. Emilion
Despite Bordeaux's location about 600 km southwest of Paris, a swift 2-hour train journey makes it perfectly feasible for a day trip. (see my step by step Bordeaux day trip itinerary here)
You'll be transported to one of the world's premier wine regions in no time. If your schedule allows, consider extending your visit into a weekend getaway.
I explored Bordeaux, St. Émilion, and Arcachon during a summer weekend in 2022, and you're more than welcome to follow my footsteps. Take a look at my Quick Weekend Guide for a well-curated itinerary.
➲ Loire Valley: Wine & Castles (Book here)
The Loire Valley is renowned not only for its exquisite wines but also for its majestic castles. This dual allure makes the Loire region one of the most sought-after and easily reachable day-trip destinations from Paris.
However, it's worth noting that the Loire Valley's magnificent Castles are scattered throughout the region.
To ensure you experience the best of both worlds—wine and castles—I strongly recommend opting for an all-inclusive tour departing from Paris. This way, you can take in the breathtaking architecture and sample the local vintages without the stress of planning every detail yourself.
These all-inclusive Loire Valley tours are expertly designed for maximum efficiency, allowing you to experience more attractions and activities than you could ever manage on your own in a single day.
Smart Choice: Wine Bottle Travel Protection
➲ Champagne Region & Reims
Click to know more about the most booked Champagne Tour from Paris!
Champagne enthusiasts will be thrilled to learn that the headquarters of iconic Champagne Houses are just a 40-minute train ride from Paris.
Make your way to Reims to visit its historic cathedral, and don't miss the opportunity to tour famous Champagne Houses like Veuve Cliquot, Mumm, or Taittinger.
For a deeper dive into the world of bubbly, you might opt for a guided tour to explore the surrounding vineyards.
Also read:
#7 Celebrate Halloween in Paris
Be quick ➲ check here if Halloween Tickets are still available
Are you a Halloween fan and spending autumn in Paris? Then you have to know that the go-to destination for Halloween festivities in Paris is undoubtedly Disneyland Paris.
Famous for its elaborate holiday decor and special events, you'll want to book your tickets for the Disney Halloween Festival well in advance. Explore all the available options and time slots here.
Further Reading: 15 Essential Tips for Visiting Disneyland Paris
If you're up for a more intimate, eerie experience, consider the Paris: Dark City Secrets Walking Tour or partake in one of the many annual Halloween events happening in the bars and pubs throughout the city.
#8 Explore Paris' Speakeasy Bars
In the fluctuating fall weather in Paris, you might find yourself looking for cozy indoor options. While the city boasts a plethora of bars and restaurants, for a truly unique experience, consider exploring Paris' speakeasies.
These hip venues stand out with their intriguing concepts, hidden behind unassuming doors, faux mirrors, or even ordinary pizza joints.
Not only do they capture the allure and secrecy of the Prohibition era, but many are also counted among the best cocktail bars in Paris.
Intrigued? Find out which speakeasy you enter through a washing machine! (click here)
#9 Take a Cooking Class and Market Tour
With fall weather in Paris being more unpredictable than in the summer, it's wise to have some indoor activities on your itinerary that aren't weather-dependent.
What could be more memorable than mastering the art of French cooking with a local chef? Autumn is the perfect season to enroll in a cooking class in Paris, as it's the peak time for many iconic French ingredients like truffles and chanterelles mushrooms.
Imagine not just savoring French delicacies, but also learning how to create them yourself! Explore all the cooking class options in Paris here.
#10 Book a cozy Seine Dinner Cruise
➲ See the best Dinner Cruises on the River Seine here
In Paris during fall, the early dusk sets the stage for a magical dinner cruise. Experience the City of Light illuminated against the evening sky while enjoying sumptuous French cuisine.
The early onset of dusk in the fall season offers a unique advantage: while a 9 p.m. cruise in summer might be awash in daylight, autumn allows for an earlier view of the City of Light's dazzling illumination, all while you indulge in a gourmet feast.
As the boat glides along the Seine, iconic landmarks come to life in a new light, creating a romantic and unforgettable atmosphere. Don't miss this chance to see Paris at its most enchanting.
Are you seeking more ideas on what to do in Paris at night? Get inspired here:
#11 Visit the Quaint English Bookstores
See the full list of quirky lovely bookstores of Paris here
Nestled in the Latin Quarter, Shakespeare & Company and Abbey Bookshop are oases for book lovers navigating the fall season in Paris.
Shakespeare & Company, a literary landmark since the 1950s, offers new titles alongside rare editions. If you're lucky, you might even catch an author reading. Just around the corner, Abbey Bookshop serves as another haven for bibliophiles, featuring English-language books in a snug, cozy setting.
Also interesting: 16 wonderful books set in Paris
Both stores provide the perfect respite from unpredictable fall weather in Paris, with labyrinthine aisles and towering shelves inviting leisurely exploration.
These aren't just shops; they're experiences, literary retreats that offer intellectual warmth amid the crisp autumn air. Whether you're looking for a new read or a collector's gem, these charming bookstores offer a quintessential Parisian experience ideal for autumn.
#12 Rainy Day Activity: The Covered Arcades
➲ Check my Guide on the Covered Passages to know exactly where to find them
When Paris skies turn gray, the city's covered passages offer a delightful refuge. Dating back to the 19th century, these arcades once numbered over 180; today, only 20 remain.
Filled with boutique shops, antique bookstores, and charming eateries, they're perfect for a leisurely stroll.
Whether you're seeking a spot for lunch or unique souvenirs, these passages provide a historic and atmospheric setting.
Don't miss the chance to explore these architectural gems if you encounter a rainy day during your Parisian stay.
#13 Visit the Catacombs
Looking for a weatherproof activity during fall in Paris? One, that fits perfectly to the spooky Halloween season? Then venture beneath the city streets to explore the Catacombs.
Important: book your tickets here in advance, there are rarely spots left on short notice.
This labyrinthine tunnel system is a transformation of old limestone quarries, where stones were once extracted for building the city above. When cemeteries became overcrowded in the 18th century, health risks included, the tunnels repurposed as an underground ossuary.
With a constant temperature of 14 degrees Celsius, it's best you bring a jacket.
Offering a haunting yet fascinating experience, the Catacombs make for a unique and eerie outing—especially if you're looking to get spooked on Halloween. Reserve this adventure here.
#14 The Gardens of Versailles: Fall Foliage Galore
Is the fall foliage that Paris has to offer not enough for you? Then take a 40-minute train ride from Paris, and you're in Versailles, where the gardens put on a different kind of show in the fall.
It's less crowded than during the summer months, and the Hameau de Marie Antoinette is particularly stunning with its autumn leaves.
Stroll around, soak in the fall vibes, and of course, don't miss out on the castle itself. It's a laid-back way to experience Versailles, with the added bonus of some seriously good leaf-peeping.
Reminder: Book your tickets for Paris Attractions in Advance!
I can't stress it enough, but If you are visiting Paris this fall, make sure to reserve the sights you want to visit well in advance.
The attractions that sell out super quick, especially in autumn, when many neighboring countries use their fall vacation for a little city trip to Paris, are:
I advise that you check the prices and availabilities on the official landmark pages, to compare. However, often, you will find the official ticket booth sold out, so you have to rely on 3rd party companies to provide you with tickets.
Personally, I only made good experiences with Get Your Guide on my travels, that's why I recommend them.
Paris in Autumn in a Nutshell
Good to know
Bank Holidays: Nov 1st & Nov 11th
Weather: Between 4°C (39°F) and 22°C (71°F) – gradually cooling down
There you have it—Paris in the Fall, a season that offers an enchanting array of experiences, from golden foliage to rich cultural events. Visiting the Paris in Autumn affords you the opportunity to see Paris at its most vibrant and captivating. Bon voyage!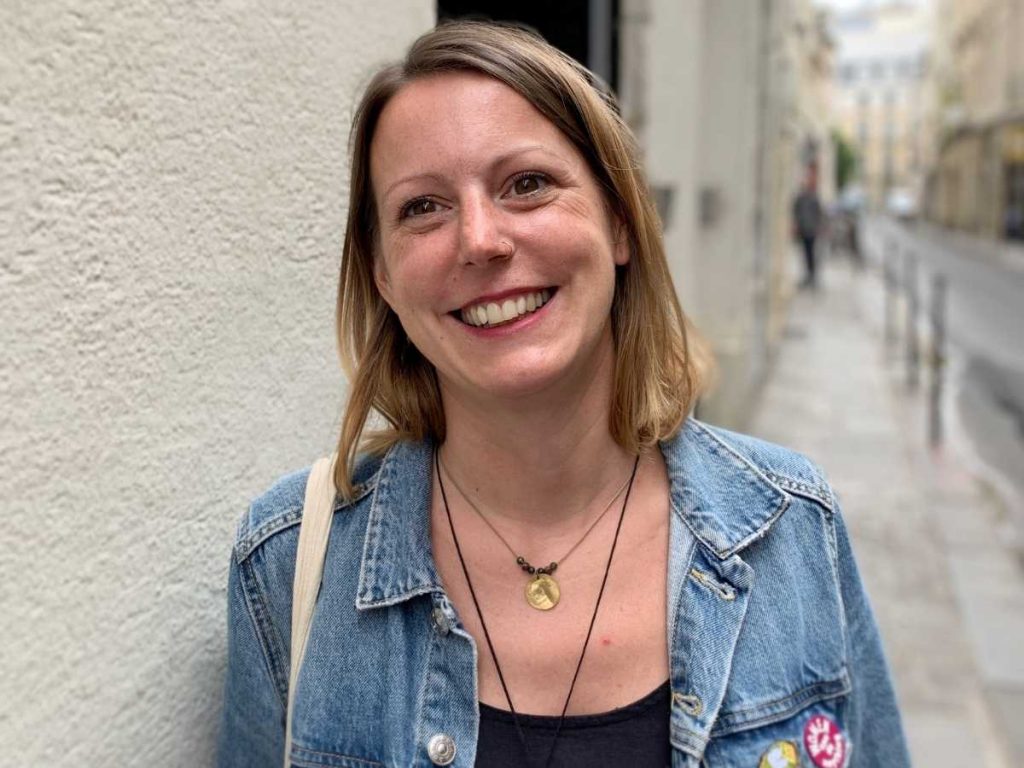 I have lived in Paris since 2005, and I am happy to show you around. Join me on Facebook for updates and news about Paris.
PS: Check out these posts, they will help you plan your trip to Paris
FAQ Paris in Autumn
Is October a good time to go to Paris?
October is the nicest month of Autumn in Paris. It is still mild and often sunny, but the fall foliage starts showing already. It is also a bit less crowded in October.
Is Paris better in September or in October?
September is still a summer month and warmer than October. However, in October the fall foliage starts, and you might find lesser crowds.
Which month is Autumn in Paris? When is autumn in France
The Autumn season in France is according to the metrological calendar September, October, and November in Paris. According to the astrological calendar, Autumn starts on the 22. September and ends on the 22. December.
What is Paris like in fall? Is Paris nice in the Fall?
The temperatures during autumn in Paris range from a maximal 22 °C in September to 4 °C in December. (71°F – 39°F). It can be windy and rainy as fall progresses, with chill nights and shorter days. However, September and October are usually sunny.
I

s Paris better in the spring or in the fall?
Temperatures are more or less the same during fall and spring in Paris. Both seasons are lovely in Paris, but the blooming trees and blossoming flowers are certainly a strong point for Paris during spring.
When can you see autumn leaves in Paris?
The leaves start changing by the end of September, and the best month to witness this natural spectacle is from October throughout November.
Pin this post for later ↓