Spring in Paris – Best tips for traveling to Paris in spring time 
Lena, 2 years ago
15 min

read
This site contains affiliate links. We may receive a commission for purchases made through these links - this comes without extra cost for you, but with a lot of appreciation from me!
Spring in Paris… there is hardly any better time for visiting Paris. You can basically feel how the city comes back to life. Paris in the spring means that folks are outside again. They soaking up the first warm sun rays of the year while sipping coffees (or wine!) on a patio. Having picnics in lush gardens and parks, and are overall enjoying the new and fresh vibes of springtime in Paris.
---
In short: The best activities in Paris this spring 2020!
Vi

sit the beautiful gardens of Claude Monet

Enjoy a Seine River Cruise 

Join a walking food tour through Paris
---
I am very enthusiastic about spring and always have been. It's just my favorite season, but I love it even more since I am living in Paris. Spring in Paris is magical, it's the best time to go to Paris. A wistfully wake-up from hibernation.
• Our top 10 for this spring in Paris
Gardens of Monet
Most Paris visitors are taking a day trip to one of the many sights around Paris and I highly recommend doing so. While there are many options (click here to see the most popular day trips from Paris) one is just the best to visit if you are in Paris in spring: The Gardens of Monet in Giverny.  
If you think of Monet, it's likely that a picture of a painting of waterlilies pops up in front of your inner eye and Giverny is the place where you can see those lilies for real.
The Monet Foundation and the famous gardens are laying just an hour west from Paris. Even though you can reach the property by public transportation – take a train to Vernon and then a bus to Giverny – I recommend taking an organized tour from Paris. It's cheaper, quicker and saves you time.
As Giverny is not too far from Paris, it makes a perfect half-day trip from Paris. Especially if you are short of time. You also have the option to combine the Gardens of Monet with the Versailles Castles. It lays on the way and the castle gardens are also a great destination when visiting Paris in springtime.
Atelier des Lumières
The digital art center It's one of Paris' warhorses. It opened in April 2018 and is sold out weeks in advance ever since! The first immersive show dealt with installations of Hundertwasser and Gustave Klimt, and due to its success, it was followed by Van Gogh in 2019.
The brand new show will be open to the public from the 28th of February 2020 and will be all about Monet, Renoir, and Chagall. If you are in Paris in the spring, don't miss this amazing and magical experience. Get your tickets quick, the first slots are already sold out!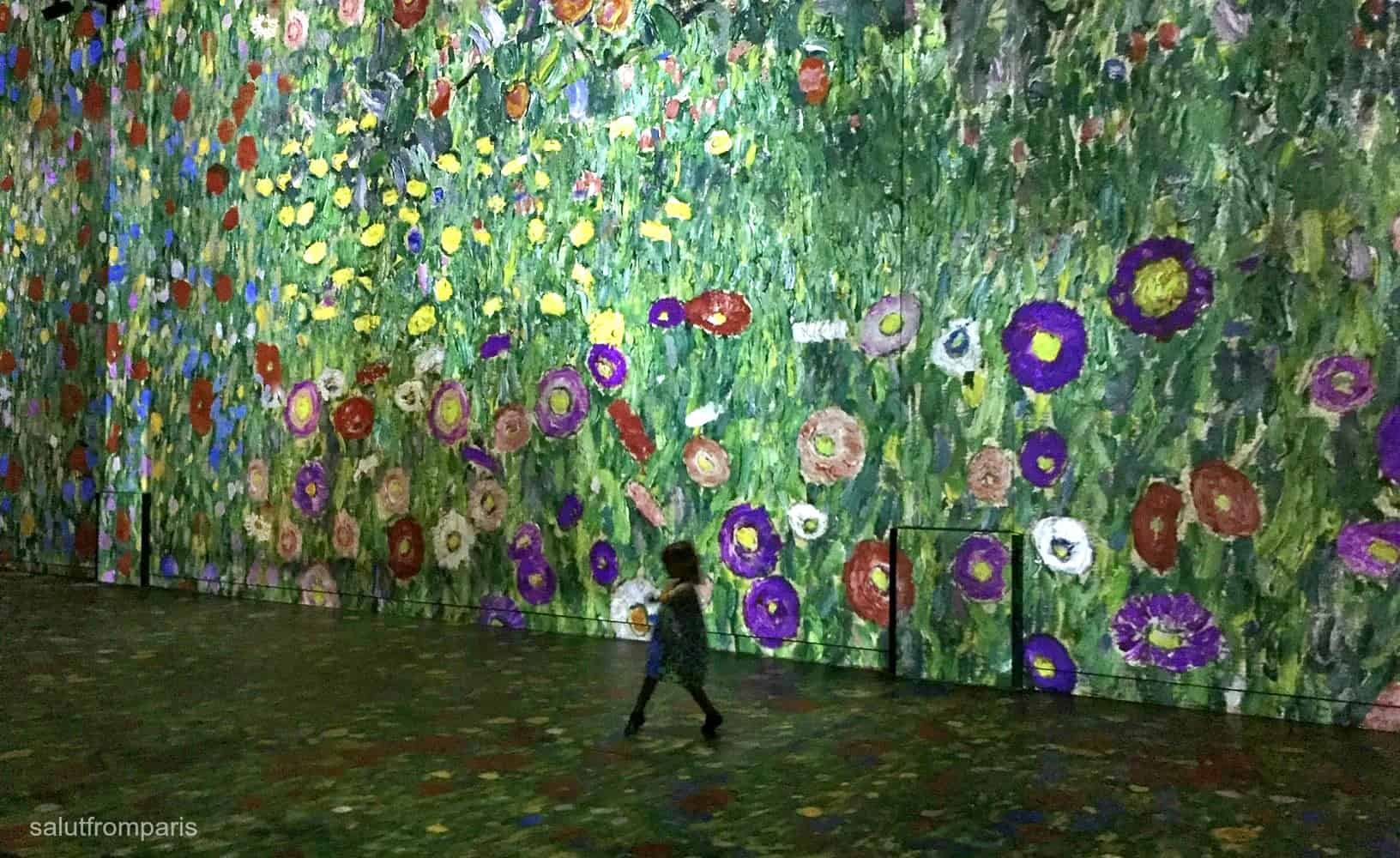 Relax on a cruise on the Seine
It's my all-time first recommendation for everyone who travels to Paris: Take a cruise on the Seine. It's a budget-friendly and most fantastic activity. The change of perspective is mindblowing and really enrichens the "feel" for Paris. A cruise is especially nice during springtime in Paris – you can sit outside and enjoy the warm spring sun while being completely in awe.
Click here to know more about the most popular (and budget-friendly!) Seine Cruise!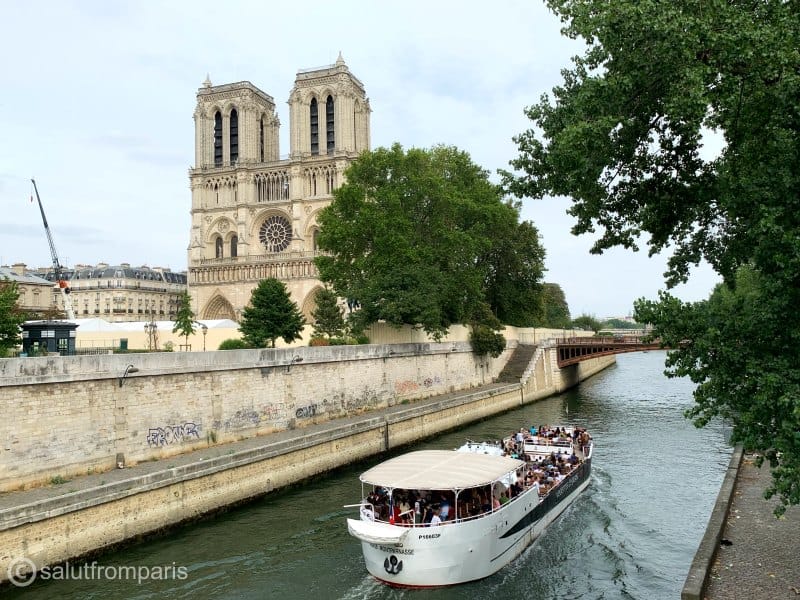 Stroll the Parks
Oh, all the lush greens and a million blossoms… springtime in Paris is just so beautiful. Paris has 421 parks and gardens – from little public yards to world-known gardens like the Jardin du Luxembourg or the Champs de Mars.
Hence the garden density, it's inevitable that you will walk through a few during your time in Paris. However, some parks are so beautiful, that they deserve the extra trip – especially if you are in Paris in the springtime. The following are my favorites:
Good to know: the beginning of April is the best time to see the Cherry Blossom! 
Enjoy an outdoor Apéro
Apéro is without exaggeration the best culinary invention of the French. It's drinks and nibbles that you enjoy before dinner. Usually in the company of friends or family and the perfect excuse reason for having a drink. While you can have an apéro at any time of the year, it's just better in spring. Like everything 😉
Spring in Paris is the time when the apéro moves from inside an apartment to the outside – people are meeting in cafés and on patios, in parks and gardens, at the Seine river banks. The setting is always the same: A bottle of wine, a couple of beers and chips, nuts, fruits, cold cuts.. whatever you like to nibble.
My favorite apéro spot:  The Seine river banks!
I usually just grab some drinks and snacks at a nearby store 🙂  But if that's not your style, don't worry: Apéros are offered in as good as any bar in Paris and there are quite a few nice ones along the Seine river banks as well.
Take a food or market tour
Paris is known to be a foodie paradise, hence it's not surprising that you'll find local food markets and delicacy shops on every corner. There are so many that it's hard to tell – and to know – which are actually the really good ones.
Where can you find high-quality chocolates? Where the best cheese and what about those Macarons? You really need to know your hood to find the best products and the finest tastes – or you rely on the knowledge of a friendly Parisian that shows you around and fills you in. Click here to see all walking and food tours or check our preselection below:
Go on a sightseeing tour by bike
It's always a good idea to take a sightseeing tour in Paris, especially if you are a wee bit short on time, or wish to get an overview. However, while most people opt-in for a classic bus tour, spring time in Paris is THE perfect time to discover Paris by bike. You can easily rent a Vélib or an Uber bike – both are bike-sharing services – and discover the city on your own.
But well, I have to admit it can be a bit intimidating considering the Parisian traffic and crazy rush hours.  If f you are not 100% confident to cycle through traffic, I recommend booking a city bike tour with an experienced guide. Click here to see all Paris by bike tours
or head directly to the best rated and most popular bike tour of Paris: Paris' hidden gems – e-bike tour
check out those exceptional Paris sightseeing tours
Play Pétanque
Imagine a shadowy square. Sycamore trees are hiding the sun, and a light breeze rustles through the leaves. A group of people is chatting away and taking turns in throwing a silver, shiny ball. .. Well, what sounds like a very french cliché is actually happening daily in almost every park in Paris: Pétanque.
The boule game belongs to the french culture like the baguette, red wine, and cheese. The game is played throughout the year but it's especially agreeable in Paris in the spring – when everyone enjoys immensely to be outside again.
A very popular spot to play Pétanque is the Arène des Lutèces and the Luxembourg Gardens. However, you gotta bring your own game though, you can get Pétanque set here.
Or: you join a local, have some wine and learn how to play Pétanque! Click here for more info and schedules!
Walk up the hill of Belleville and enjoy the view
Paris has few hills, 5 to be exact. However, only 2 are making it to a height of 130m – the famous hill of Montmartre and the lesser-known Belleville. The latter is under the radar of most Paris visitors and impresses with local charms and beautiful panoramic views over Paris.
The area around Belleville is known to be home to some of Paris' finest street and is simply perfect for setting off for a stroll to explore a Paris off the beaten track.
Heart of the district is the Parc de Belleville that stretches along the west side of the hill and makes a really nice walk up until the summit.
Related post: Paris hidden gems – 80+ secret tips and well-kept secrets in and around Paris
Don't miss all the sights!!
If you visit Paris in the spring, know that it's not low season anymore. Not only is spring – in my humble opinion – the nicest time to visit, it's also the season with the most bank holidays in France:  Easter, Ascension, Labour Day, VE Day, and Whit Mon.
In other words: there will be quite a few people in town and you definitely need to make sure to make your reservations before you arrive. That the Eiffel Tower or the Catacombs are easily sold out days – if not weeks – in advance isn't a surprise, but did you know that even the Louvre can be full?
Pro Tip:  If you plan to visit many sights and museums, it's worth to look into the Paris City Pass: it grants free admission to most sights and is also a travel card! Click here for more information
Get your tickets in advance and save time!
• Paris in April
If you are visiting Paris in April, you are just in time for the spring kick-off! Life happens more and more outside again. The terraces are getting fuller, the days longer and the sun is not a stranger anymore.
Also, the event calendars are filling up with outdoor events and there is plenty to do in case you're wondering what to do in Paris in April.
The best things to do in Paris in April – April Event Highlights:
The first weeks of April are also the time where the cherry blossoms are at its peak!
5. April • Paris Marathon – a different way of exploring Paris! sign up here
5. April • Free Museums and car-free Sunday
12. April • Easter – egg hunts, chocolates and Easter concerts at the Opéra Garnier
How's the weather in Paris in April?
April is the first month of the year where you have a realistic chance of really nice spring weather.
Temperatures are mild, with a max high of 17°C / 62°F and usually not less than 8°C / 46°F. You might get into some showers and drizzles, on average there are 10 days with some rain in April in Paris. However, don't worry too much about it: it rarely rains an entire day in Paris and April is especially known for frequent weather changes throughout the day.
What should be in your luggage for your April Paris trip?
Many visitors are wondering how to dress in Paris in April – let me help you out! April in Paris can be fresh and windy or warm and sunny, or an alternation of both within a period of 2 hours.  It's best to dress in layers. Bring a few sweaters, a light scarf, and a jacket – and adapt. And don't forget an umbrella and your sunglasses!
Pro Tip: Carry a small tote bag in your handbag to store your jacket or scarf when the sun comes out!
---
Fun ideas for Paris in April
---
• Paris in May
May is undoubtfully springtime in Paris. It's also a month with the most bank holidays. It starts right off with Labour Day – the only day of the year where most businesses are.. closed. A week later, on the 8th of May is Victory in Europe Day followed by Ascension Day on May 21st.
Due to the many holidays, the likelihood of nice weather and the many events that are taking place in May, it's a rather busy month. Make sure to plan a bit ahead
Things to do in Paris in May – May Highlights
01. May • Labour Day – traditionally Lilies of the Valleys are offered to loved ones
16. May • Nuits des Musées- free entrance to many Parisian museums
14. – 17. May • Taste of Paris – Food Festival in the Grand Palais
16. – 25. May • Saint-Germain-des-Près Jazz Festival
24. May – 7. June • Roland Garros, French Open
26. May • Mothers Day
How's the weather in Paris in May?
If you're traveling to Paris during the month of May, it's likely that you get spoiled with warm and sunny spring weather. The temperature in Paris in May during daytime ranks usually between 11°C / 52°F and 20°C / 68°F. Even though May is one of the wetter months – you can expect between 9 and 12 days with some rain – it very rarely rains an entire day. You can expect some alternation between showers and sunshine.
What to wear in Paris in May?
May is mild during day time but still chilly at night. However, you won't need any REALLY warm gear. Temperatures at noon are rarely less than 15°C / 60°F and you want to avoid too warm clothes when walking around Paris the entire day. However, you should pack a sweater for the evenings.
Due tue the high chance of showers, do pack an umbrella but don't forget your sunglasses either. Most days you'll be fine with a t-shirt and potentially a light jacket.
• Paris in June
June in Paris is the month of outdoor music- and film festivals, of parades an art. Most events are not announced at the time of writing, but I will update it as I go.
Things to do in Paris in June – June Highlights
11. June • Street Art Festival in the 13th arrondissement
21. June •  Fête de la Musique
27. June •  Paris Pride Parade
How's the weather in Paris in June?
June is the onset of summer and you can expect temperatures between 14°C / 57°F and 23°C / 73°F. Even though it's still a relatively wet month with around 10 days with *some* rain, you can be looking forward to mostly warm and sunny weather!
What should be in your luggage?
How to dress in June in Paris is simple: more T-shirts, summer dresses, and sandals and fewer sweaters and jackets. I always would still pack a light jacket and/or sweater, just in case or for the evening though.
Like for all spring months – don't forget an umbrella and your sunglasses!
---
More ideas: Things to do in Paris in June 
---
Don't miss our seasonal Paris guides if you are unsure when it's the best time for your trip!
FAQ
When is spring in Paris?
Springtime in Paris starts on the 20th of March 2020 and ends on the 20th of June 2020.
How to dress for spring in Paris?
The weather is rather mild, but do pack a sweater, a light jacket, and a light scarf, especially if you are traveling at the beginning of spring. If your travel time is May or June, you can leave your scarf at home but bring a few t-shirts instead! Spring is also one of the wettest seasons and it's best to have an umbrella with you at all times.
When do spring flowers bloom in Paris
The peak time for flower blooming is usually the beginning of April
Related posts