This article may contain compensated links. Please read disclosure for more info.
Last updated by Lena in February 2023
---
Spring in Paris, there is hardly any better time for visiting Paris. You can basically feel how the city comes back to life. Paris in the spring means that life finally happens outside again.
This article provides you with specific travel tips for your upcoming trip to Paris during springtime and gives you many ideas about activities and unmissable things to do in spring in Paris.
---
In Short: The best activities in Paris this Spring 2023
| Activity | Booking & Prices |
| --- | --- |
| Visit the beautiful gardens of Claude Monet | |
| Enjoy a Seine River Cruise  | |
| Join a walking food tour through Paris | |
I am a spring enthusiast and always have been. It's just my favorite season, but I love it even more since I am living in Paris. Spring in Paris is magical, it's the best time to go to Paris. A wistful wake-up from hibernation that you will surely love as well.
5 Quick Tips for your Trip to Paris in Spring
Spring is a very versatile, even unpredictable season. What's predictable though are the crowds and that Paris is getting fuller by the week. Read on to know our quick 5 tips that help you to make the most of your vacation to Paris in the spring.
Tip No. 1: Reserve your tickets for the Louvre, Eiffel Tower, etc. in advance
Click here to get direct access to the most popular sights of Paris
No matter at what time of the year you travel to Paris, you will never hit really a low season. There is simply no such thing. Expect Paris to be either packed or rather full, but it's never without crowds. Also keep in mind Easter, it is high season!
You possibly won't notice the masses when strolling down the Parisian boulevards, you certainly will though when attempting to book a ticket for a landmark or museum on short notice:
Popular sights like the Eiffel Tower or the Catacombs book out weeks in advance, year around
Some ticket booths on site require you to queue for hours
If you book your tickets with GetYourGuide, you remain flexible because most tickets are refundable
Hence, I strongly recommend reserving your entrance tickets in advance to avoid disappointment or wasting time queuing.
Below, you find the sights that you absolutely need to book before you arrive in Paris. For your convenience, I added links to Get your Guide, my most trusted ticket provider with amazing flexibility. They offer mobile tickets and grant you a 24h cancellation and refund policy.
Sights in Paris that sell out quickly:
You also can purchase tickets directly on the sights homepages. However, the downside is that they, unfortunately, usually don't have a cancellation policy. Not only do Covid-19 restrictions require some flexibility, but unpredictable weather changes do as well. No one wants to tour the gardens of the Versailles Castle in the pouring rain or be stuck in a cloud when on top of the Eiffel Tower.
Tip No. 2: Book a hotel that is close to everything
Click here to find out which are the best budget hotels in Paris
Paris is just the perfect city for you to ditch the Metro and the Uber rides and enjoy your time strolling around.
If you are looking for a hotel, you'll be also interested in these posts:
With cherry blossoms, sunshine, and the special vibe that comes with the season, spring invites you to discover Paris walking. Hence, picking a hotel that is close to everything is definitely the best you can do. And if it's raining, you are quickly home as well—it's a win-win!
Before hitting up booking.com and getting lost in the immense offer of hotels in Paris, take a look at our recommendations. With a bit of luck, they are available on your travel dates:
Tip No. 3: Pack a down jacket for your trip to Paris in spring
You know already that spring is a somewhat unpredictable season: It could be cold, warm, sunny, raining, drizzling, or even snowing and if you're lucky, you might even get the full range in one day. A true challenge when you are packing for a trip.
If you travel in March, April, or even May to Paris, I strongly recommend packing a lightweight down jacket. The temperature gap between day and night is usually huge, but just not enough to pack a winter jacket – it takes up too much space anyway, doesn't it?
That's why I am a big fan of down jackets. You just wear them under your usual light coat without that they are ruining your outfit and thanks to their minimal format, you can easily store them even in your purse.
Tip No. 4: Know about the public holidays during spring in Paris
While early spring in Paris is relatively quiet, the high season takes off by mid-April. Easter is the first big holiday of the year and often comes with mild temperatures. Many European visitors use this public holiday for a short weekend getaway to Paris. Expect Paris to be packed, and absolutely make sure to buy your attraction tickets way in advance!
But Easter is only the beginning of the many bank holidays that are happening in spring:
Easter Monday: Monday, 10th of April 2023
Labor Day: Monday, 1st of May 2023
Victory Day 1945: Sunday, 8th of May 2023
Ascension Day: Thursday, 18h of May 2023
Whit Monday: Monday, 29th of May 2023
The only public holiday that you will feel the most in Paris is the 1st of May. You can expect to find everything closed: sights, museums, restaurants, and shops. For the others, however, most shops will be closed, but museums, sights, and restaurants remain mostly open.
For more information on what's on in the different months of spring, also check our monthly Paris guides:
Tip No. 5: Have a backup plan for rainy days
Take a look at your options here
The weather in spring can be very inconsistent. Hence, when are looking into things to do in Paris in the springtime, it's honestly best, if you plan in some flexibility.
Even though it's rarely raining an entire day, it's certainly a bummer if you planned to visit the truly magnificent Garden of Monet or book a spot on a walking tour through Montmartre.
For your peace of mind and flexibility, you go best with booking your tickets with a provider like GetYourGuide.com.
Contrary to purchases issued directly with the museums or sights, GetYourGuide.com offers a 24h cancellation and refund policy. You also will be surprised to find easily tickets for already sold-out shows and events, and the mobile tickets are coming in super handy as well.
Our top 10 for this spring in Paris
Paris is one of the most visited cities in the world and the range of things to do is endless. While most of the activities are wonderful no matter the season, some are particularly nice when visiting Paris in springtime.
Here's our top 10 list:
#1 Visit the lush gardens of Claude Monet
Like most Paris visitors, you probably think about taking a day trip from Paris to one of the many sights around the city. Frankly, I highly recommend doing so. While there are many options (click here to see the most popular day trips from Paris) one just stands out as the very best to visit if you are in Paris in spring: The Gardens of Monet in Giverny.
If you think of Monet, it's likely that a picture of a painting of waterlilies pops up in front of your inner eye, and Giverny is the place where you can see those lilies for real.
The Monet Foundation and the famous gardens are just an hour west of Paris. Even though you can reach the property by public transportation – take a train from Paris to Vernon and then a bus to Giverny – I recommend taking an organized tour from Paris. It's cheaper, quicker, and saves you tons of time and stress.
As Giverny is not too far from Paris, it makes a perfect half-day trip from Paris. Especially if you are short of time. You also have the option to combine the Gardens of Monet with the Versailles Castles. It lies on the way, and the castle gardens are also a great destination when visiting Paris in springtime.
This tour is very popular, it includes transportation, entrance fees to the Versailles Castle and Garden, the Monet gardens, and very convenient: Lunch as well! Click here for more information.
#2 Get enchanted at the Atelier des Lumières
This digital art center is one of Paris' most popular museums. It opened in April 2018 and is sold-out weeks in advance ever since!
The first immersive show dealt with installations of Hundertwasser and Gustave Klimt, and due to its success, it was followed by Van Gogh in 2019, Monet, Renoir, and Chagall in 2020, and Gaudì and Dalì in 2021.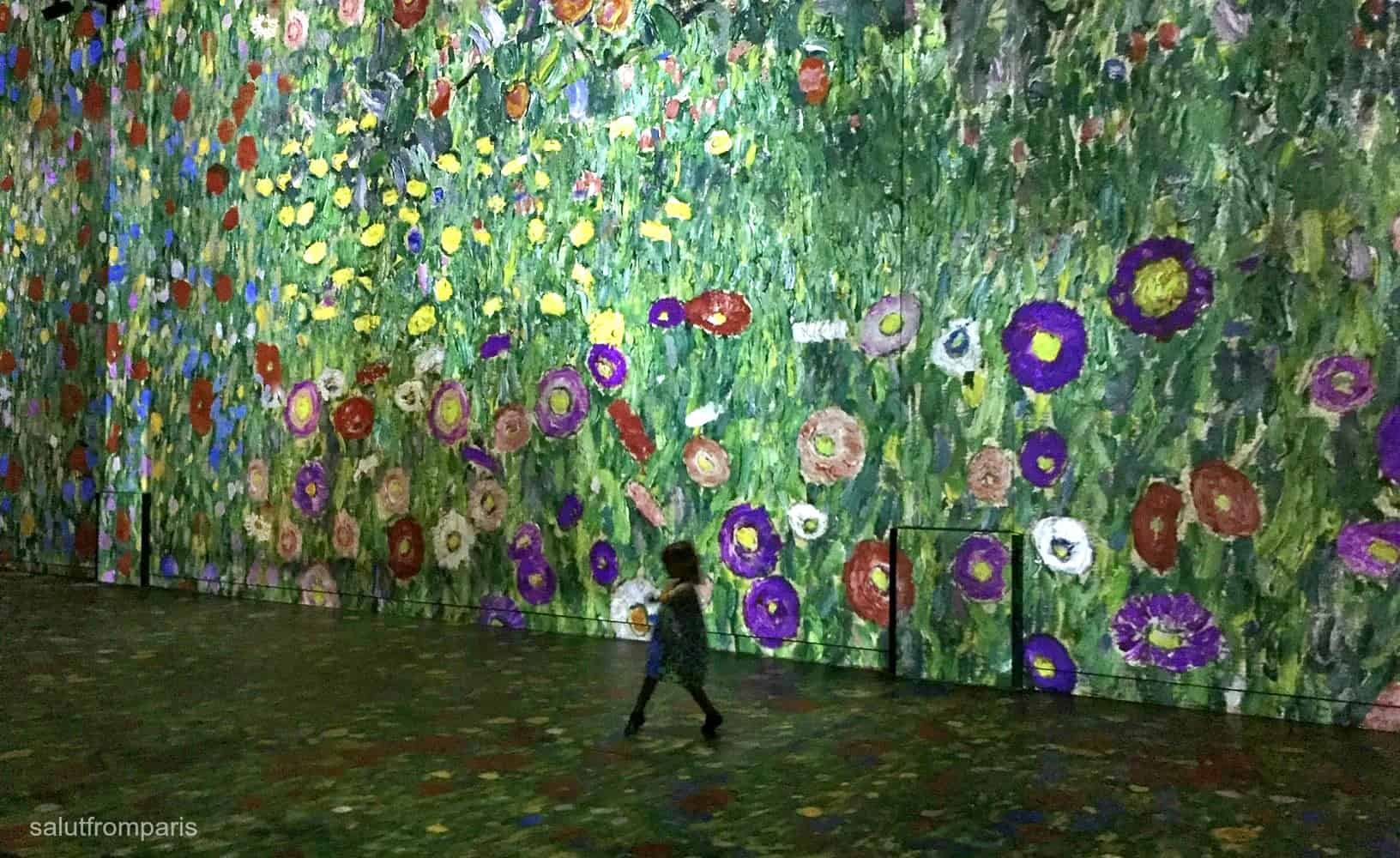 The current recent show launched in February 2022 and will run until January 2023 and is about Cezanne
The 2023 agenda got just announced: Paul Klee and Marc Chagall!
If you are in Paris in the spring, don't miss this outstanding and magical experience. Get your tickets before it sells out!
#3 Enjoy spring in Paris by Bike
Click here to see all bike tours available in Paris
It's always a good idea to take a sightseeing tour in Paris, especially if you are a wee bit short on time, or wish to get an overview. However, while most people opt-in for a classic bus tour, springtime in Paris is THE perfect time to discover Paris by bike.
Below you find a brief overview of the most popular bike tours of Paris. The good thing with booking one of these tours is that you can cancel until 24h before: a lifesaver in case of rain!
| Bike Tour Theme | Prices | Booking |
| --- | --- | --- |
| | from €39 | |
| | from €29 | |
| | from €59 | |
You can as well easily rent a Vélib or an Uber bike – both are bike-sharing services – and discover the city on your own.
But well, I have to admit it can be a bit intimidating considering the Parisian traffic and crazy rush hours. If f you are not 100% confident to cycle through traffic, I recommend booking a city bike tour with an experienced guide. Click here to see all Paris by bike tours
or head directly to the best-rated and most popular bike tour of Paris: Paris' hidden gems – e-bike tour
#4 Relax on a Cruise on the Seine
→ Book your fabulous Seine cruise right here
It's my all-time first recommendation for everyone who travels to Paris: Take a cruise on the Seine. It's a budget-friendly and most fantastic activity. The change of perspective is mind-blowing and truly enriches the "feel" for Paris. A cruise is especially nice during springtime in Paris – you can sit outside and enjoy the warm spring sun while being completely in awe.
Click here to know more about the most popular (and budget-friendly!) Seine Cruise!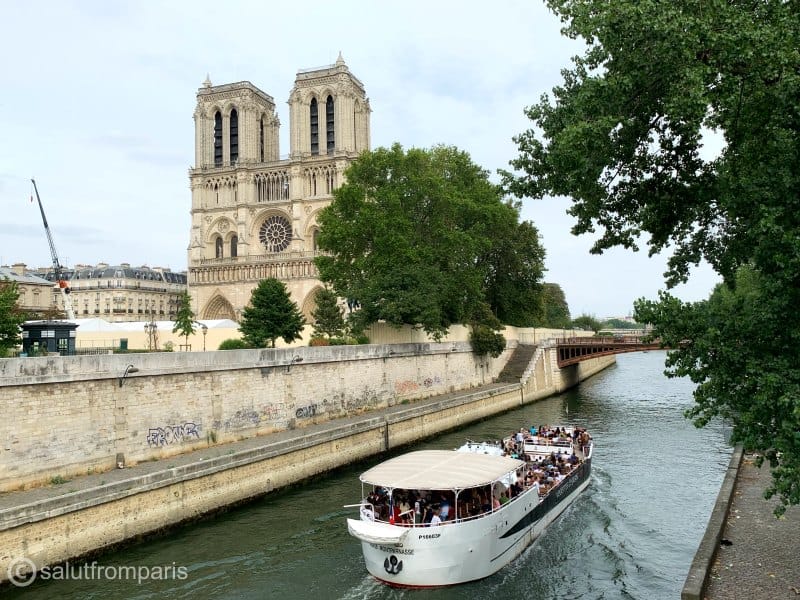 #5 Enjoy the Parisian Parks and the spring blossoms
Oh, all the lush greens and a million blossoms… springtime in Paris is just so beautiful. Paris has 421 parks and gardens, from little public yards to world-known gardens like the Jardin du Luxembourg or the Champs de Mars. Browse through our post about the most beautiful gardens of Paris to know what to expect.
It's inevitable that you will walk through a few during your time in Paris. However, some parks are so beautiful, that they deserve the extra trip. Especially if you are in Paris in the springtime. The following are my favorites:
Good to know: the beginning of April is the best time to see the Cherry Blossom. But if you are visiting Paris in March, prepare to see beautiful Magnolias!
#6 Take an outdoor Apéro
Apéro is without exaggeration the best culinary invention of the French, I am sure you love it. It's drinks and nibbles that you enjoy before dinner. Usually in the company of friends or family and the perfect excuse reason for having a drink. While you can have an apéro in France at any time of the year, it's just better in spring. Like everything 😉
Spring in Paris is the time when the apéro moves from inside an apartment to the outside. People are meeting in cafés and on patios, in parks and gardens, at the Seine river banks. The setting is always the same: A bottle of wine, a couple of beers and chips, nuts, fruits, cold cuts.. whatever you like to nibble.
My favorite apéro spot: The Seine river banks!
I usually just grab some drinks and snacks at a nearby store 🙂 But if that's not your style, don't worry: Apéros are offered in as good as any bar in Paris and there are quite a few nice ones along the Seine river banks as well.
#7 Treat yourself to a food & market tour
Take a look at the best tours here
Paris is a foodie paradise; hence it's not surprising that you'll find local food markets and delicacy shops on every corner. There are so many that it's hard to tell – and to know – which are actually the excellent ones. Ok, to be fair, even the random ones usually come as a treat.
Where can you find high-quality chocolates? Where the best cheese, and what about those Macarons? You really need to know your hood to find the best products and the finest tastes – or you rely on the knowledge of a friendly Parisian that shows you around and fills you in. Click here to see all walking and food tours or check our preselection below:
#8 Play Pétanque
Imagine a shadowy square. Sycamore trees are hiding the sun, and a light breeze rustles through the leaves. A group of people is chatting away and taking turns in throwing a silver, shiny ball. .. Well, what sounds like a very French cliché is actually happening daily in almost every park in Paris: Pétanque.
The boule game belongs to the French culture like the baguette, red wine, and cheese. You can play the game throughout the year, but it's especially agreeable in Paris in the spring – when everyone enjoys immensely being outside again.
A very popular spot to play Pétanque is the Arène des Lutèces and the Luxembourg Gardens. However, you have to bring your game though, you can get Pétanque set here.
Or: you join a local, have some wine and learn how to play Pétanque! Click here for more info and schedules!
#9 Walk up Belleville and enjoy the View
Paris has few hills, 5 to be exact. However, only 2 are making it to a height of 130 m – the famous hill of Montmartre and the lesser-known Belleville. The latter is under the radar of most Paris visitors and impresses with local charms and beautiful panoramic views over Paris.
The area around Belleville will surprise you. It has not much in common with the rest of Paris and is also home to some of Paris' finest street art. I recently joined a street art tour in Belleville and can only recommend it.
Belleville is perfect for setting off for a stroll to explore a Paris off the beaten track.
The heart of the district is the Parc de Belleville that stretches along the west side of the hill and makes a really nice walk until the summit.
Related post: Paris hidden gems – 80+ secret tips and well-kept secrets in and around Paris
#10 Don't miss all the sights in Paris in Spring
If you visit Paris in the spring, know that it's not the low season. Not only is spring – in my humble opinion – the nicest time to visit, but as you know it is also the season with the most bank holidays in France.
In other words: there will be quite a few people in town, and you definitely need to make your reservations before you arrive. That the Eiffel Tower or the Catacombs are easily sold-out days, if not weeks in advance, isn't a surprise, but did you know that even the Louvre can be full?
Pro Tip: If you plan to visit many sights and museums, it's worth looking into the Paris City Pass: it grants free admission to most sights, tours, and public transportation!! Click here for more information
Prebook the sights below to be sure to get a spot
Voilà, here's to spring in Paris. My favorite season to explore France's capital. I am sure you'll enjoy it, too.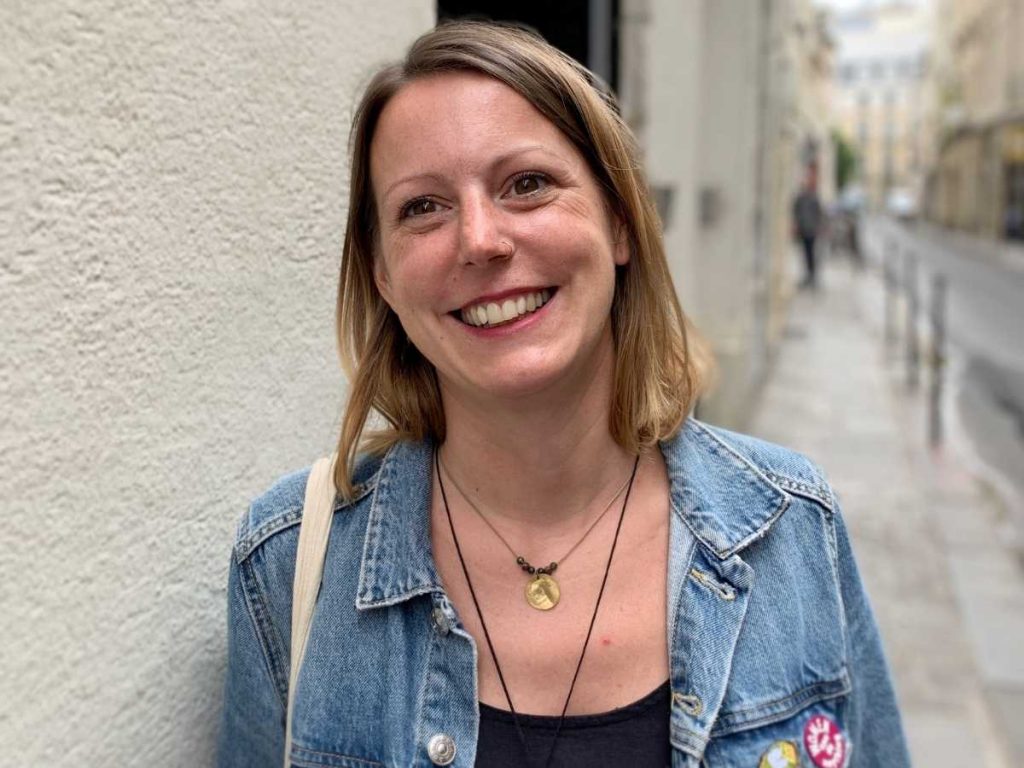 I have lived in Paris since 2005, and I am happy to show you around. Join me on Facebook for updates and news about Paris.
PS: Check out these posts, they will help you plan your trip to Paris
FAQ Spring in Paris
When is spring in Paris?
Springtime in Paris starts on the 20th of March 2020 and ends on the 20th of June 2023.
How to dress for spring in Paris?
The weather is rather mild, but do pack a sweater, a light jacket, and a light scarf, especially if you are traveling at the beginning of spring. If your travel time is May or June, you can leave your scarf at home but bring a few t-shirts instead! Spring is also one of the wettest seasons and it's best to have an umbrella with you at all times.
When do spring flowers bloom in Paris
The peak time for flower blooming is usually the beginning of April