This article may contain compensated links. Please read disclosure for more info.
---
Vélib is Paris' bike shared bike renting service, that allows you to explore Paris by bike. But how to use these green and blue bikes? And is Paris by bike safe?
I am a regular user of Vélib and cycled already hundreds of miles through Paris. In this guide, I am explaining to you exactly how to rent a Vélib. You'll learn where to sign up, how to pay, how to get your hands on a bike, and how to return it.
I am also sharing with you all the important dos and don'ts when it comes to cycling through Paris and what to watch out for when renting a Vélib. And as an extra, I provide you with some safe alternatives if you are hesitant if biking through Paris is the best thing to do for you.
Who would have thought that renting a bike in Paris would ever be a good idea?
The days when cycling in Paris was mainly something for the brave, the drunk, or bicycle couriers are finally over! I won't lie, Paris is not Amsterdam. But thanks to the mayor's focus on eco-friendliness and sustainability, more than 1000 km of cycle paths got created within the last few years, and a few hundred more are already planned. You can see the entire network here.
Good Idea: Join a bike tour in Paris
Overview: Click here to see all bike tours in Paris
Even though you can easily rent a Vélib bike in Paris on your own, I advise against it if you are not an experienced city cyclist.
However, if you are enjoying a bike ride but aren't 100% certain that the Parisian streets are for you, join a tour. It's the most convenient, fun, and safe way to go on a bike tour in Paris.
It's the perfect combination of a fun bike ride and an interesting sightseeing tour. A local guide will not only make sure that you're safely navigating your bike through Paris, but they will also share with you tons of facts and anecdotes about Paris.
Just pick one of the following bike tours and enjoy Paris a bit differently:
| TOUR THEME | DURATION | BIKE | BOOKING |
| --- | --- | --- | --- |
| | 4h | Electric⚡ | |
| | 3h | Standard | |
| | 3h – 4h | Standard | |
| | 4h | Standard | |
If you are visiting Paris with kids or teenagers, please verify, if the tour you are keen to join has kid bikes available.
Exploring Paris by bike has become extremely popular during the past years, and you find bike tours with different themes and as well different levels of fitness. Some operators are running their tours even exclusively with e-bikes. For a full overview of available Paris bike tours, you can check Get Your Guide here.
CHECKLIST for your Paris Trip
Bike Rental Paris: Joining a bike tour or renting a Vélib?
The big plus point of signing up with a guide is that you will not only learn interesting facts about Paris, but the tour also includes your bike and most important: helmets! When cycling through Paris and road traffic, safety is obviously a big concern, and helmets are strongly recommended.
However, if you are a tourist in Paris and rent a bike at a low-cost bike-sharing service, helmets are not provided, and your trip can easily become a risky adventure.
Decision Helper: Tour or not?
To help you decide whether you should opt for a guided tour or an individual rental, check the overview below:
| | Organized Tour | Bike on your own |
| --- | --- | --- |
| Duration | 3–5 hours | 1–7 days |
| Price | from €29 | from €3 |
| E-Bikes Available? | Yes | Yes |
| Safety Equipment | helmets included  👍 | none |
| Local guide and sightseeing? | Yes | you're on your own. |
| | | |
Personally, I was hesitant to rent a Vélib for a long time, but really started to love it some years ago. Today, it's my number 1 means of transportation, and I experience every day how easy it became to navigate Paris by bike after I got used to it. But this being said, I do have a driver's license and am familiar with Parisian traffic and rules.
And I am not alone, moving around Paris by bike is as popular as ever and so are the bike-sharing services.
The biggest and most popular sharing service is Vélib'. With around 1,100 stations all around Paris and more than 20,000 bikes available for rent, it's the most accessible bike service in Paris. Some other companies tried to take root in Paris, but their bikes disappeared as quickly as they appeared. Only Uber is still providing bikes to rent, but compared to Vélib' they are rather pricey.
Paris Bike Rental: About the Vélib' Bikes
There are a few things you need to know before renting bikes in Paris.
Firstly, the bikes come in two colors: green and blue. The green ones are standard bikes and the blue ones are e-bikes. The e-bikes still require you to paddle, but you are supported by a motor and cycling is rather effortless. You can choose on the display (the V-box) how much support you need and choose between 3 settings.
All Vélibs are dock bikes, and you must bring your bike back to a station to finish your ride. If you are not locking your bike properly, you will face a fee.
I recommend downloading the Vélib app to find the next station, free docking points, and also available bikes. Recently, users have the option to rate the bike they used, and you can see this information before renting.
All bikes are equipped with front and rear lamps, a basket, mudguards, and a lock. For your safety, I advise checking your bike carefully before setting off to explore Paris by bike. The service is heavily used, and many bikes have some defects.
You will find more tips on how to rent a Vélib and best practices on riding a bike in Paris further down in this article.
Renting a Vélib as a tourist in Paris: a good idea?
Many locals discovered their bikes as a real alternative to the Parisian Metro, and the improvement of the bicycle lanes is playing in their favor. Moving around Paris by bike is not only the cleanest way of transport, but it is also, surprisingly often as well, the fastest.
Paris is a surprisingly small city, and bike lanes connect all major points and axis. This makes it quite safe and quick to move around. But it is also very convenient to navigate if you don't know the city, and its streets very well.
To give you an idea: If you are about to travel from the Eiffel Tower to the Louvre, you are in for a 30-minute ride on public transportation, including one switch of lines. The same distance by bike would take you only 12 Minutes on secured bike lanes along the Seine.
How to rent a bike in Paris as a Tourist? (Updated 2023!)
No matter if you decide to use your bike as your main means of transportation in Paris or if you are just in the mood to take a leisure cycling tour around Paris. You need to sign up online to use the Vélib Service. I show you in the following exactly how this works.
Pick the best plan for your journey
Before you can rent your bike, you need to sign up online. As a tourist, you have the choice between 4 options: the TicketV for a single ride, Pass 24h classic or electric, or the 3-day pass.
The TicketV is the single-ride option. You rent a Vélib for one ride only. You take it, cycle around, drop it and that's it.
The other options are short-term plans (24h or 3 days) that allow you to rent up to 5 Vélib simultaneously and go on as many bike rides in Paris as you like.
The base price allows you to rent a bike as often as you like during a certain timeframe. However, you will still need to pay for the bike rental in Paris itself – unless you stick to standard bikes and never ride for more than 30 minutes.
Note that a Vélib deposit of €300 will be blocked on your credit card. Below you find an overview of the different prices.
| | TicketV | Pass 24h classic | Pass 24h electric | 3 Day Pass |
| --- | --- | --- | --- | --- |
| Duration | 1 ride | 1 day | 1 day | 3 days |
| Base price for 1 bike (rides not included) | €3 | €5 | €10 | €20 |
| Base price for 2, 3, 4, 5 bikes (rides not included) | n/a | €10, €15, €20, €25 | €20, €30, €40, €50 | €40, €60, €80, €100 |
| rental price standard bike | first 45 min. free, after €1/30 min. | First 30 min. free, after €1/30 min. | First 60 min. free, after €1/30 min. | First 60 min. free, after €1/30 min. |
| rental price e-bike | first 45 min. €1, after €2/30 min. | First 45 min. €2, after €2/30 min. | 6 rides free (>45 min), after€1/30 min | 6 rides free (>45 min), after€1/30 min |
Example Calculation: How much you pay for a Vélib
To explain better how the pricing structure of the Vélib service works, here is an example. You sign up for one bike with the Pass 24h electric plan and pay €10 upfront to use the service. You then take 7 rides in Paris.
5 rides are less than 45 minutes, and you pick an electrical bike. 1 ride takes 45 minutes with a standard bike and your final ride brings you home in the evening, it takes a little over an hour and only a standard bike was available. Your credit card will be charged an additional €1 on top of the €10 you paid upfront.
What you need to pay and why:
€10 for the service (paid upfront)
€0 for the 5 rides with the electric bike because they were less than 45 minutes
€0 for the 45-minute ride with a standard bike because you have the first 60 minutes free
€1 for the long ride in the evening, which was just a bit over 1 hour. Because you extended the 60 free minutes that were included in your plan and had to pay €1 for the additional time.
How to activate your Vélib plan and unlock a bike
Once you are signed up online, you will be provided with an 8-digit ID number and be prompted to choose a pin code. Keep that information safe, you need them to activate your subscription and rent your bike.
For renting a bike, simply use the V-box (the display located on the handle of each bike) to enter your ID number and pin, and press the green check button. It will take a few seconds until a "Go!" pops up on the display and the bike is unlocked. You can then simply pull it out from the dock and start your journey.
How to return a Vélib bike to a station
Once you finished your journey, you need to bring your Vélib back to a docking station. Simply push it back in and wait until a "Stop" sign appears on the display. The display will turn off shortly after, and you can leave. You will also get a notification on your phone that indicates that your ride is finished.
You have then also the option to rate your bike and indicate if you experienced issues and the bike requires maintenance.
If you did not push your bike correctly in the station, just pull it out again and try until it locks.
Top Insider Tips on Renting a Vélib Bike in Paris
The green bikes are standard, the blue ones are e-bikes
a Vélib' with a saddle turned around is broken. It's a friendly indication from the previous renter that you better don't take this one. Don't forget to return the favor if you pick a faulty bike yourself.
Before you rent a Vélib', check if the brakes and chains are working. For testing the chains, just lift the back wheel and step on the paddle. Also, check if the tires aren't flat
When ending your ride, and you park your Vélib at one of the stations, wait until the display on the Vélib indicates that you parked correctly
download the Vélib app to easily find stations near you
If you are on a budget, only use standard (green) bikes and switch them before the free 30 minutes are over. Like this, you won't be charged more than the base fee.
My favorite Itinerary for Sightseeing in Paris by Bike
Apart from moving from A to B, I do take some leisure rides through Paris from time to time. One of my favorite bike itineraries in Paris is a ride from the very east to the very west of Paris, just following the Seine. Most of the journey is on bike lanes, and it's overall straightforward to ride. And you see some of the most important sights in Paris along the way.
Cycle through Paris from East to West along the Seine
You can start your tour at Porte de la Gare in the very east and cycle until Pont de Garigliano in the west. When I did this tour for the first some years ago, my idea was to follow the Seine from the point where it's entering Paris until it's leaving.
Back then, it was a bit scratchy in terms of bike lanes, but things evolved. Today the entire stretch is covered by a bike lane, and you can take this tour by just comfortably cycling on the street level if you like.
Let's go: Here's the exact itinerary
Starting at Porte de la Gare, the first stretch goes until Jardin des Plantes. It is a more industrial area than classic Parisian scenery. However, it is still an interesting part of Paris, with the new quarters within the 13th arrondissement. The cycle lane is fully developed, and you should be able to leave this part quickly behind you.
If you are short on time, you could also just skip this first section and start directly at the Jardin des Plantes and the Tino Rossi Park. This garden lies along the Seine and is open to cyclists. It's not a big stretch, but it's a lovely garden where you can see (and join!) South American dancers during nice weather. It also offers an excellent view of Île Saint-Louis and the back of Notre-Dame Cathedral.
From the Louvre to the Eiffel Tower by bike
In the next section, you'll cycle on the bike lane along some fabulous sights: Notre Dame, Shakespeare & Company, St. Michel, and the Pont-Neuf, just to name a few. You can also cross the Seine and take a little stop by the Louvre to see the Pyramid.
Then, from Pont Royal, just before the Musée d'Orsay, you can access the Berges des Seines and enjoy a car-free cycle path along the Seine. The Berges is a car-free section following the Seine below street level. It was once an inner-city freeway that is today a pedestrian area with different sorts of activities, bars, and picnic spots.
From there you can cycle all the way down to the Eiffel Tower, the Bir-Hakeim bridge, and the Square des Martyrs Juifs, a memorial for the deportation of the Jews during WW2. You can even extend your tour until Pont Garigliano and pass by the Ballon de Paris in Parc André Citroen.
Video: Crossing Paris
See my video to get an impression of what to expect from the track along the Seine and see a few of the sights and landmarks that will be crossing your way.
Quick Details about this Itinerary
Distance: 14 km
Duration: 1-2h, longer if you do sightseeing
Vélib stations on this track: around 30
Sights and landmarks (among others)
Jardin de Plantes
Jardin Tino Rossi
île Saint-Louis
île de la Cité
Shakespeare and Company
Cathedrale de Notre-Dame
Saint-Michel
Pont-Neuf
Pont des Arts
Louvre
Tuileries
Pont Royal
Musée d'Orsay
Place de la Concorde
Grand Palais
Eiffel Tower
Trocadero
Ballon de Paris
Voilà, now you know how to rent a bike in Paris. Cycling through Paris is simply a lovely way to explore the city, and I want to highly encourage you to try it. But if you are hesitant to cycle through Paris on your own, a guided bike tour might be just perfect for you. It's a fantastic experience either way.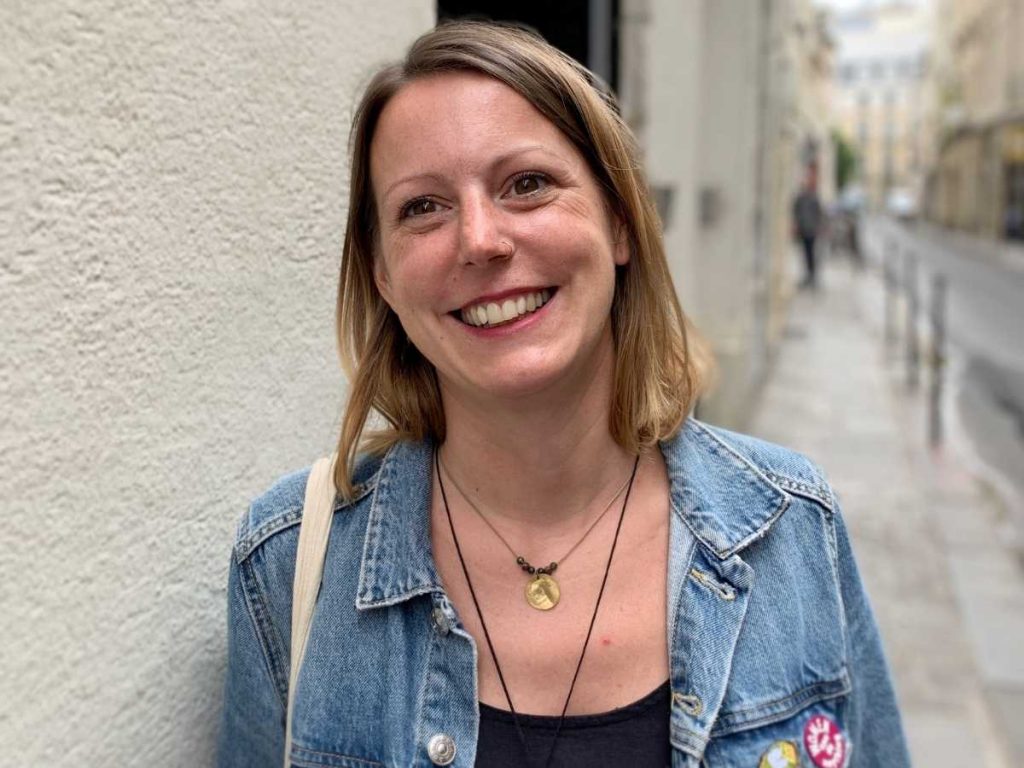 I have lived in Paris since 2005, and I am happy to show you around. Join me on Facebook for updates and news about Paris.
PS: Check out these posts, they will help you plan your trip to Paris
FAQ: Renting a bike in Paris
How much does it cost to rent a bike in Paris?
If you rent a bike through the Paris bike rental service Vélib, single rides start at €3 and day passes at €5.
Does Paris have bike rentals?
Yes, you can rent bikes in Paris. The shared bike Service Vélib is easy to use and prices start at €3 one time use and €5 for day passes. You can choose between normal bikes or e-bikes.
Can tourists use Vélib in Paris?
Tourists have the option to rent Vélibs for single rides or to sign up for day passes or 3-day passes. Simply sign up online and select the option you like. Then go to one of the many docking stations, activate your bike, and enjoy Paris.
How to rent a bike in Paris?
Renting a bike in Paris is the cheapest and easiest by using the bike-sharing service Vélib. You sign up online, pick the plan that suits you best, and then simply take a bike from one of the more than 1000 docking stations.
Pin it now – get back to it later! (and know where to find it!)