This article may contain compensated links. Please read disclosure for more info.
Visiting Paris with kids is awesome. As simple as that. Already the obvious sights like the Eiffel Tower, the Champs Élysées, or Montmartre are cool spots to see with your kids, but there is so much more to explore. They impossibly can find Paris boring. But visiting a city like Paris with family requires a bit more than just sights hopping and cultural overkill. Kids also need activities where they can be what they are: kids! Where they can run and play, be as loud as they want, and where they have the possibility to discover Paris on their own terms.
Are you visiting with older kids or teenagers? Check out this post! 
My two boys are born in Paris. In the beginning, I could hardly imagine raising them here; I am not a countryside girl, but Paris… well it was a wee too much city for my idea of raising a child. But, with time I learned that Paris offers so much for children, you just need to know where to look for it.
Prepare your kids for their Paris adventure!
You know how it is with kids: if a trip is a success or not heavily depends on their excitement and on how much they are engaged to their destination. It's possible that they even never heard of Paris and there's no better time for some Paris-hype than before actually leaving with your kids to Paris!
kid movies about Paris
[amazon_link asins='B000VBJEEG,B00421IR5I,B0089MUDM6|B00TEMEJDE,B014XABI3A,B077BXKSRB|B000XFRJK6,B006LNA5W8,B00005NYXO|B0010V4S2O,B009DH34TA,B00IKBW87O|B000VBJEEG,B003FTM19G,0767819659′ template='ProductCarousel' store='fouronaworl0f-20|fouronawor0e6-21|fouronaworl06-21|fouronawor0e7-21|salutfrompari-20′ marketplace='US|DE|FR|UK|CA' link_id='343d0154-4555-11e8-bdf9-f5f7a676a741′]
Books and Travel Guides about Paris for Children
[amazon_link asins='1760342246,0989226743,1400005167|3829744919,3955591069,3942491524|2373950405,2816149080,2918861081|1760342238,0241306558,1910994057|0989226743,149967774X,B01HHK80YS' template='ProductCarousel' store='fouronaworl0f-20|fouronawor0e6-21|fouronaworl06-21|fouronawor0e7-21|salutfrompari-20′ marketplace='US|DE|FR|UK|CA' link_id='fad330c4-4543-11e8-a12d-4127aa6168af']
Paris attractions that you should not miss either way
There are some attractions, you should not miss when visiting Paris – no matter if you have 5, 25 or 55 years under your belt.
The Eiffel Tower – a must-do and if you can, get up! Seeing Paris from the bird's perspective is a once-in-a-lifetime view. Click here to know how to plan your visit
Montmartre and the Sacre Coeur – one of the old quarters of Paris, cobblestoned and not necessarily great for strollers but a place that should be on every Paris bucket list  read more about Paris' hilltop here or book a family tour through Montmartre for not missing any secret – click here to get more info
Champs Élysée – a shopping paradise – for both; deluxe brands and mainstream shopping. You also can shop your kids to Disney-heaven in the Disney store or see the newest cars from Renault up close. Every 1st Sunday of the month the Champs Élisée are car-free.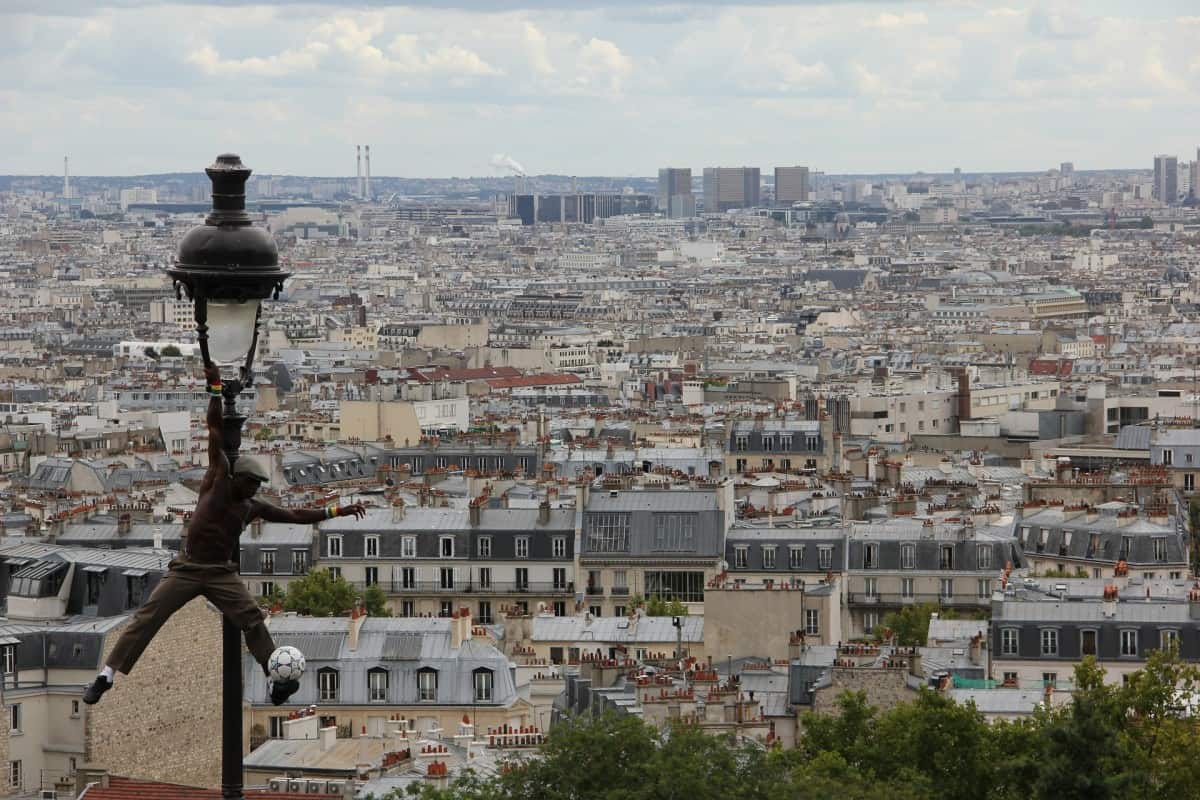 Our top activities for visiting Paris with Kids
---
Jardin d'Acclimatation
One of our favorite parks in Paris. It costs a little entrance fee (5€ p/P) and marry-go-rounds, workshops and high ropes cost extra. But even without those, you can easily spend an entire day there. Bring your own food and have a picnic, visit the little zoo, have a walk in the gardens, relax in deck-chairs while your kids are having fun at the various playgrounds. In summer they can even splash on a water playground.
Access: The Jardin d'Acclimation is located within the Bois de Boulogne area. During peak times between 2 and 5, it can be tricky to find parking if you're coming by car. Otherwise, you can always take Metro Line 1 until Les Sablons. For more info, check out our post about the Jardin d'Acclimatation!
---
Berges de Seine (Free Activity)
This public park along the banks of the Seine is located on a former freeway between Eiffel Tower and Louvre. The 2.3km long promenade is nice for having walks or going for a run. It's also really great for skating! The area is also equipped with several floating gardens, picnic areas, exhibition spaces, playgrounds, sports facilities, and some cafés (many are closed during winter though).
---
visit the famous Louvre – yes, with kids!
No matter if you choose a private skip the line tour for families or if you are visiting the world's biggest museum on your own (still check for simple skip the line tickets, the queues can be huge) – it's definitely worth it. Sure, an art museum is not always the most obvious choice to occupy your kids, but if your kids are just a little bit nerdy, get the audio guide! It's actually a Nintendo DS that shows you around; guides you through themed walking tours or gives you information on many of the exhibits.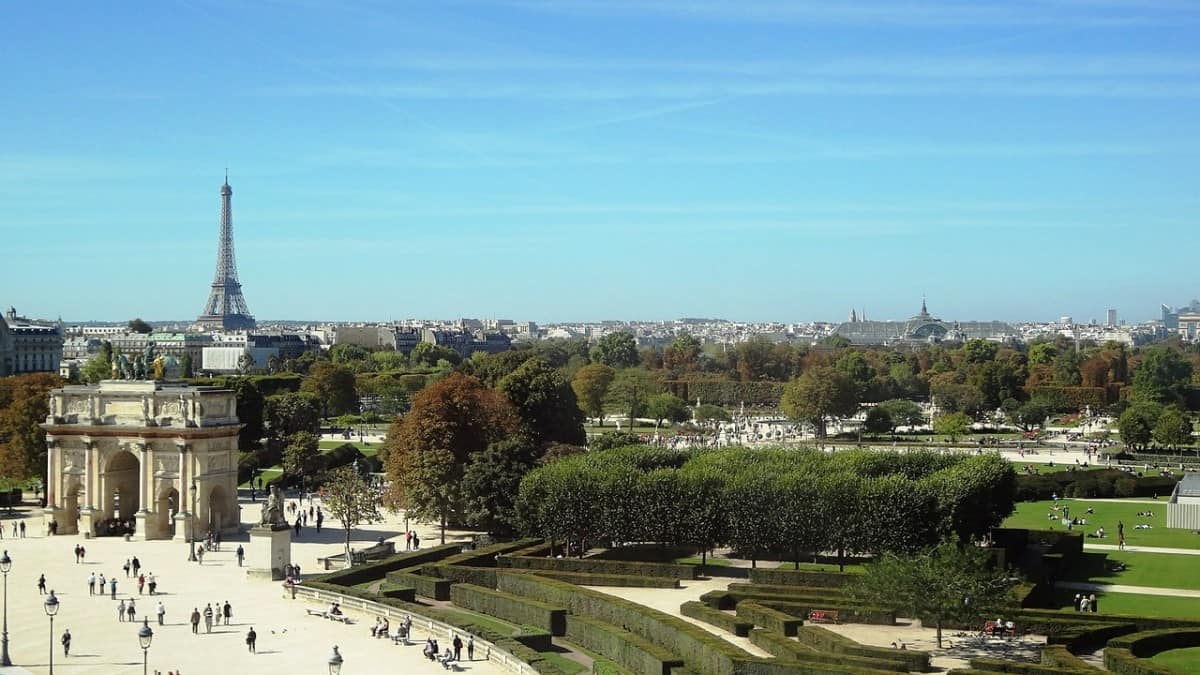 Access: As the Louvre is very central, public transportation is your best choice: Metro Line 1, Palais Royal Musée du Louvre. The museum is free for everyone under 18 and from October to March for everyone on the first Sunday of the month.
Tip: The queues around the entrance at the iconic pyramid can be really long at times. There is another entrance inside that is usually less busy. If you are pregnant or traveling with a small infant, don't hesitate to approach the security guards, you are entitled to priority access!
---
Cité des Sciences et l'Industrie
The name does not tell, but one section of this science exhibition is solely dedicated to kids; the Cité des enfants. 2 permanent exhibitions (one from 2-7 years and the other from 5-12) that are running in sessions of 1,5h are allowing your child to experiment and experience science in the most interactive way possible. An educational and fun way to spend a day. Click here to pre-purchase your ticket and skip some queues.
Access: within Parc de la Villette, Metro Line 5 or Tram 3b, exit Porte de Pantin
---
Grande Galerie de l'Evolution
It ́s big and it's old and it ́s impressive. The Grande Galerie de l'Evolution was created as a museum in 1793 and has a huuuuge collection of species from all over the world, from all eras, and of all sizes. Exploring the 5 levels of the exhibition can easily take you a couple of hours and more. It ́s dedicated to kids and you can find activities all around to interact with the exhibits; there are puzzles, fun activities, or educational programs on iPads everywhere.
Access: The museum is located very central, close by St.Michel and la Sorbonne. However, the closest metro station might be Place Monge of Line 7, but you have also Bus, RER, and Velib Stations all around
---
Take a cooking class
Activities are the best way to make memories – why not in form of a cooking class with your family?
If you are traveling with kids older than 10, you have plenty of options. What about learning how to bake Croissants and impress your family at home? Get more info here
You could also go on a Sweet & Chocolate Family Treasure Hunt, where you will not only be able to taste 10 of France's best sweets, your kids will also make their own chocolate bar! Click here for more info, prices and schedules
---
Palais de la Découverte
This is the perfect place for every little nerd out there. This science museum has permanent exhibits and hands-on activities about chemistry, astrology, geology, physics… It even has a Pi-room! Just know that most explanations and animations are in French only. For more info, check here.
Access: Metro Champs Elysée Clemenceau – Line 13 and 1
---
Take a cruise on the River Seine and the Canal St. Martin
While it's almost standard to take a cruise on the Seine while being in Paris, including the lesser-known Canal St.Martin, it is quite a unique experience. The inner urban Parisian channel leads through a nontouristic part of Paris, along with brides and chestnut trees, until Parc La Villette where you could continue your trip by visiting the Science Museum.
For more information on a classic Seine Cruise (that I really really recommend, it's beautiful!) read our review here or click here for schedules and prices.
---
Aquarium tropical du Palais de la Porte Dorée
There are 2 Aquariums in Paris (plus one near Disneyland); this is the lesser-known one and in my opinion the nicest one. It's maybe not as fancy as the one in Trocadero, but the building is no less impressive and it has a broad selection of fishes, (little) sharks, turtles, and crocodiles. The Museum is also hosting temporary exhibitions that are partially free, cloakrooms are free of charge as well. Admissions are family-friendly, a family of 4 (with 2 children under 18) is paying 11€ (at the time of writing).
Access: The Aquarium has no assigned parking places and it can be tricky at times to find a place, especially if you are not familiar with the area (we always found a place though, but I suggest looking for a place rather in Bois de Vincennes as it ́s just around the corner). However, it ́s just next to Metro Station "Porte Dorée" on Line 8.
---
Musée de la Magie
This rather small and privately run museum has a very interesting collection of historical magic devices and materials and entertains its visitors also with a magic show. It's a big hit for most kids and inner kids – no matter if you are into magic or not.
Access: The Musée de la Magie is very centrally located between Notre Dame and Rue Rivoli with the best Metro accessibility; Line 1 exit St.Paul or Line 7 Sully-Morland. Click here for more information.
Fancy a Disney trip with younger kids? Get all the tips here!
Pin it now – read it later
Disclosure: this page contains affiliate links. This means – at no additional cost for you – I will earn a small commission if you click through and make a purchase. I am independent and the opinions expressed here are -if not stated otherwise- my own.
Related posts
Prepare your trip to Paris