This article may contain compensated links. Please read disclosure for more info.
Paris on a Sunday, are worried about finding most things closed and looking for things to do? Then, I have good news for you: Paris on Sunday is everything but boring. It's rather the opposite, actually. There's a plethora of activities and things to do in Paris on a Sunday. In this article, I share with you the most exciting and authentic ways to spend a Sunday in Paris.
Expect buzzing Paris attractions, hidden gems, and many tips on how to spend a Sunday in Paris like a Parisian.
What is open on Sundays in Paris?
If you're looking to spend a wonderful Sunday in Paris, you'll be happy to know that a whole range of locations and activities is open. And most of them are perfect for both: enjoying Paris and all its most beautiful sights, and spending a lazy and laid-back Sunday in Paris.
First of all, Museums and sights are open and even an extremely popular thing to do on a Sunday in Paris. So if you are keen on joining tourists and Parisians alike, make sure to reserve your tickets ahead of time.
If you are keen on eating out on a Sunday in Paris and trying one of the many restaurants, you're happy to know that most restaurants and Cafés are open on Sundays as well. Even many grocery stores and bakeries are open, especially in the morning.
These posts will also be helpful for your Paris travel planning:
Yet, if you are up for spending your Sunday in Paris with more than just window shopping for clothes and accessories, you need to know a bit more precisely where to go. Because little stores and boutiques will mostly be shut close.
However, the big department stores like Galeries Lafayette and Les Halles are open and so are most shops on the Champs-Élysées.
CHECKLIST for your Paris Trip
How busy is Paris on a Sunday?
As the morning light peeks through, you'll hardly see a soul on the street. Except for the occasional sportive and tired Parisians lining up at the Boulangeries, Paris is deserted. Things start to get livelier from 10, and by noon Paris is humming.
Especially the popular neighborhoods like the Marais, the Latin Quarter, and Montmartre fill quickly up with tourists and Parisians alike.
But even the local and residential areas become quite lively. Families take advantage of their time off to do their grocery shopping at the neighborhood markets or meet friends for brunch and picnics.
After lunchtime and throughout the afternoon, the center of Paris is a busy place. Weekend travelers and Parisians are flocking to museums, and parks, and enjoying time with their loved ones and the wonderful things Paris has to offer.
Are the Paris Museums free on Sunday?
If you're an art enthusiast, what better way to spend a Sunday in Paris than at the many free museums? On the first Sunday of every month, some mighty impressive museums in Paris offer free admission: Musée d'Orsay, Musée National de l'Orangier, and Picasso Museum are just a few of them.
During the winter months, certain monuments, such as Arc de Triomphe, Musée Rodin, Pantheon, and Sainte-Chapelle all have free entrance on the first Sunday of each month as well—talk about a bargain! So why not make the most out of your weekend exploration and head over to one or more of these iconic attractions for an unforgettable cultural experience?
21 fantastic things to do in Paris on a Sunday
Here's for you, without further ado, a list of 21 absolutely delightful and entertaining things to do in Paris on a Sunday.
#1 Visit a Museum
Also, see my articles about the best art galleries in Paris and the best free museums.
Visiting a museum on a Sunday in Paris is always a great idea. With so many world-renowned museums to choose from, you're sure to find something that tickles your fancy. You'll be glad to know that the majority of Parisian Museums are actually open on Sundays, although it's their busiest day.
This means it can get very crowded, especially in the afternoon, so if you want to avoid massive queues and wait times, try to arrive as early as possible. Whatever time you manage to swing by, it'll still be worth checking out one of the outstanding museums on offer in Paris – just make sure you grab your tickets ahead of time.
#2 Take a Cruise on the Seine
⮕ Book your relaxing sightseeing cruise here
If you're looking to unwind on a Sunday afternoon while visiting Paris, an afternoon cruise on the Seine is the perfect way to do it.
You'll have the chance to sit back and relax on board on one of the famous bateaux mouche with either a cozy cup of coffee or, if feeling fancy, some bubbly Champagne.
As you proceed along on your lazy voyage, take in all the hidden gems that can be found here in Paris. From gorgeous views of Notre Dame, to the architecture of Pont Neuf up front and center; not forgetting your photography must-have shot – the breathtaking Eiffel Tower – this leisurely experience will show you why this city's earned its name as the city of love.
#3 Visit the Parisian Parks
When the sun is shining in Paris, there's nothing quite like spending a beautiful Sunday outdoors, and there's no better way to do it than with a leisurely stroll in one of the city's great parks. From the luxuriously manicured Jardin du Luxembourg to the Tuileries or any of the countless small neighborhood spots, Parisians flock to these green oases when temperatures allow.
Take some time to unfold a good book and sink into one of those iconic metal chairs that adorn every park — it's an activity that has become an enduring tradition for locals and visitors alike. So if you're looking for ideas on what to do on Sunday in Paris, be sure to include a tranquil afternoon among some of the city's loveliest green spaces.
My favorite Parisian parks are these ones:
#4 Buy Lunch at one of the many Paris Sunday Markets
Running errands can take away from enjoying a Sunday, but the Parisian way to make it enjoyable is to head to their local market. Every neighborhood will have a Sunday market, and it's the perfect place to grab some fresh ingredients for a picnic. See the list of all markets and schedules here.
All you need is some cold cuts, cheese, fresh fruits, and of course a freshly-baked baguette. With these few simple items in tow, you'll be able to relax and enjoy your Sunday afternoon al fresco.
#5 Explore Paris by bike
Don't miss my guide on how to rent a Vélib Bike in Paris
Exploring the beautiful scenery while getting some fresh air: what could be better? Riding around this amazing city on two wheels is one of the best ways to take it all in. And don't worry if you don't have a bike – there are plenty of options at your disposal.
You can choose to join a guided tour and hear the stories of the locals, or you can grab a Velib and explore on your own. Either way, hopping onto two wheels will make for an unforgettable experience.
Especially since there are bike lanes popping up everywhere around town. You can cycle from Bastille to the Arc de Triomphe without leaving the bike lane.
#6 Have Brunch in a Parisian Café
Are restaurants in Paris open on Sunday? Yes, they are as popular as ever. Especially brunches in Paris are a must-do! Indulge in the delicious treats available and sip a fresh glass of bubbly or a cup of coffee, while catching up with friends. Brunch is a very popular thing to do in Paris on a Sunday. You find brunch options in many restaurants in Paris.
However, due to its popularity, Brunch spots in Paris fill up quickly, so make sure you reserve ahead of time to guarantee yourself a spot. Or be prepared to queue – it will be worth it in the end!
I like the Restaurant Colorova and Baguett' Café for Brunch by the way.
#7 Explore the Covered Passages
See my guide on where to find the most gorgeous covered passages of Paris
Have you always wanted to explore Paris like a flâneur? Sunday is the perfect opportunity to do just that! One of the quintessential activities in the city of lights on this day are the hidden covered passages. These early-19th-century shopping malls were a symbol of wealth back in the day.
A place where upper-class locals could run their errands without having to worry about getting their clothes dirty from the city's muddy streets. Today, only some remain, such as Galerie Vivienne, Passage des Panoramas, Passage Joffroy, and Passage Verdeau – all ideal spots for taking in the sights.
Good to know: The Passage de Choiseul and the Passage du Grand-Cerf are closed on Sundays.
There are plenty of cool things to do in Paris on Sunday
#8 Get some fresh air in a Parisian Forest
Did you know that Paris has two beautiful forests to explore? Visit the Bois de Boulogne in the west and the Bois de Vincennes in the South East on a Sunday, when you wonder what to do in Paris. In these massive estates, you can take long walks surrounded by nature and greenery, go for hikes, and even bike rides along winding paths.
The perfect way to get closer to nature, just outside of one of Europe's most vibrant and exciting cities. If you decide on visiting the Bois de Vincennes, take some time to visit either the Parc Floral or the Jardin Tropical. The latter is free and it's here where you also can find the "human zoo".
#9 Aquarium de Paris
Get your Aquarium tickets here in advance
A great activity for the family and kids when visiting Paris is to check out one of its great aquariums. The huge Aquarium de Paris, located near the Trocadero and Eiffel Tower, offers a breathtaking experience for everyone, as it's full of various species with more than 10.000 fishes. It even has a touch pool.
However, if you're in Paris on a budget, you can also take a trip to the smaller Aquarium Tropical at Porte Dorée! It still has lots of amazing ocean creatures and aquatic plant life, but costs much less than the bigger one – making it the perfect option for those with money in mind. Both aquariums are recommended activities if you're in Paris with kids!
What to do on Sunday in Paris?
#10 Visit the famous Parisian Neighborhoods
On a Sunday in Paris, you can't go wrong with taking a leisurely stroll through one of the iconic neighborhoods. The Marais, Quartier Latin, and Montmartre are popular spots for visitors and locals alike. Aside from the rich history, these neighborhoods come alive on Sundays.
What better way to spend your day than taking in the culture surrounded by casual cafés and timeless architecture? The good thing is that most streets in these areas are blocked off from traffic. A pedestrian paradise.
Just be sure to get an early start. While these quarters are quiet and peaceful in the morning, the Sunday afternoons get quite busy.
#11 Walk on the Coulée Verte
Read my post about the Coulée Verte for more information
Are you looking to explore a different side of Paris on your Sunday outing? Then why not take a trip to the 12th arrondissement and walk along the Coulée Verte. Once a rail route, it has been repurposed as a leisure path leading to the edge of the city – and if that's not enough for you, then you can keep going until the Bois de Vincennes.
The Coulée Verte is also known as the Highline of Paris, and in fact, it was inaugurated even earlier than the famous High Line in New York.
#12 Have fun at Parc Asterix
Book your tickets for this iconic amusement park in advance here, it's often booked out
Are you looking for a fun day out in Paris on a Sunday? Well then, Parc Asterix should definitely be at the top of your list! This theme park is based on the much-beloved adventures of Asterix and Obelix. So if you're seeking an unforgettable experience steeped in French tradition and culture, you won't go wrong with this magnificent amusement park.
There's something for everyone – young or old – so why not round up your family and head to Paris's very own version of Disneyland for a Sunday full of exhilarating excitement?
#13 Visit the Covered Market of Antique Books
104 rue Brancion, Metro Line 13 or Tram 3 | 9 am – 6pm
A visit to the book market in Paris on a Sunday is perfect for all book lovers. Located in the old halls of a former slaughterhouse, it offers a remarkable selection of used and rare books, comics, and even some collector's editions – if you're lucky.
The market is open from 9 am to 6 pm, so you should easily be able to fit it into your Paris itinerary. And once you're done hunting for gems between the bookshelves, you can take a stroll through the stunning Georges Brassens Park nearby.
What to do in Paris on Sunday?
#14 Go to the Movies
If you're looking for a more low-key Sunday activity among the hustle and bustle of Paris, why not take in a movie? With dozens of theaters to choose from, you can opt for the luxury recliners at some of the larger cinemas (my favorite: Pathé Parnasse) or go indie at one of the city's smaller independent theaters. You can see what's on here.
Even if you're worried about language barriers, there's no need to be! The French love original versions and plenty of movies are available in English – just watch out for "VO" in the title, it stands for version originale, or VOST, version originale with French subtitles.
#15 Go Shopping in Paris on a Sunday: Champs-Élysées
Looking to spend some money? You gotta head to the Champs-Élysées. This iconic avenue is known for its designer boutiques and luxury stores, where you can find pretty much anything your heart desires. You also have a Zara and a H&M, if Louis Vuitton is not your thing.
By shopping here on a Sunday, you can spree with ease knowing that all coveted establishments are open for business. But be prepared: it might get pretty crowded here in the afternoon.
Tip: The Cafés on the Champs Élysées are on the pricy side of things, and the waiters might try to make you believe that tipps are somewhat mandatory. They are not.
Other locations where you can go shopping on Sunday in Paris:
Galeries Lafayette Haussmann (upscale and luxury)
Les Halles Westfield (highstreet and a bit upscale)
Printemps Haussmann (upscale and luxury)
Les Quatre Temps Westfield (La Defense) (highstreet and a bit upscale)
La Bon Marché Rive Gauche (upscale and luxury)
#16 Take a day trip from Paris
Do you need inspiration? Check out my sections about the best day trips to take from Paris
Sunday afternoons in Paris can be busy and hectic, and every so often you just need some fresh air. Luckily, that doesn't mean you need to wander too far! Escape the city energy and take a two-hour drive down to one of the beautiful beaches of Normandy. Or immerse yourself in the culture of Monet's house and gardens at Giverny, all within an hour's ride from Paris.
If wine tasting is your thing, Reims is less than two hours away from the capital, where you can sip some delicious bubbly as you appreciate the unique Champagne-making process. So don't be stuck in Paris on Sundays. Explore what France has to offehttps://www.salutfromparis.com/day-trip-to-reims-from-paris/r outside the big city.
Tip: You won't be the only one with this idea, so if your trip requires you to buy tickets, do it in advance.
#17 Enjoy a Picnic in a park or by the Seine
On those lucky occasions when you're graced with beautiful weather on a Sunday in Paris, why not head out and enjoy all that the city has to offer? Pack up a picnic basket and find a spot in one of the lovely parks or by the River Seine.
Stroll through one of the vibrant markets, pick up a few snacks, and join the Parisians celebrating their time outdoors. If that sounds appealing then this is definitely what to do in Paris on Sunday!
#18 Visit the Flea Market on Sunday
My favorite: the flea market at Porte de Vanves
If you're looking for some fun and unique things to do in Paris on a Sunday, why not check out the local flea markets? Going through these markets is a great way to explore the renowned Parisian culture while on the hunt for either bargains or unique souvenirs.
On Sunday, you have your pick of flea markets – whether you're interested in large and lively Porte de Saint Ouen in the north or the cozy flea market at Porte de Vanves – all offering their own distinct charm. Make sure you take a look around for some brocantes, too – just search for the little street flea markets that are popular at the weekend. Happy bargain hunting!
#19 Visit Disneyland Paris
For the best experience: Read our 15 Quick Tips for Visiting Disneyland Paris
If you're a Disney fan, then visiting Disneyland Paris should be an absolute no-brainer during your time in France. Located just a short train ride away from Paris, this iconic park is open on Sundays, making it the perfect destination for a fun-filled and action-packed day.
Important: Book your tickets here in advance to save time
Imagine all the memorable experiences you can have – meeting your favorite Disney characters, enjoying the shows, taking classic Disney-style photos with your family and friends – you don't want to miss out on! So gear up and get ready to have an amazing time at Disneyland Paris because it will be one of your favorite memories when looking back on your trip to Paris.
#20 Explore Paris non-touristy areas
Sunday in Paris can be a whirlwind of activity, with travelers and locals alike taking to the streets (and riverbanks) to make the most of their time in the city. But if you're seeking a calmer experience on your Sunday tour of Paris, why not explore some of its lesser-known areas?
Stroll through Belleville for stunning street art; discover local life in the 14th and 15th arrondissements, or take a feast-filled journey to Chinatown in the 13th for some of the most delicious Phó to be found in Paris. With all these exciting discoveries around every corner, your Sunday exploration of Paris's hidden gems is sure to entertain.
#21 Climb up the Eiffel Tower
Make sure to secure your tickets in advance, it's often booked out on the weekends
And finally: visit the Eiffel Tower. A visit to the Eiffel Tower is a must when in Paris, and it's open every single day, including Sundays. Naturally, as one of the most iconic sights in the world, taking up a Sunday to take in its splendor is a sure way to make the most of your stay.
Just be sure to book your tickets before you go – with so many people visiting on Sunday, it can really get pretty crowded.
Exploring Paris on a Sunday offers endless possibilities for relaxation and fun. Whether it's visiting any of the acclaimed museums, taking a cruise on the Seine, dining in one of the many Parisian cafes, exploring non-touristy areas, or simply walking by the Coulée Verte park, Sundays in Paris guarantee an unforgettable experience.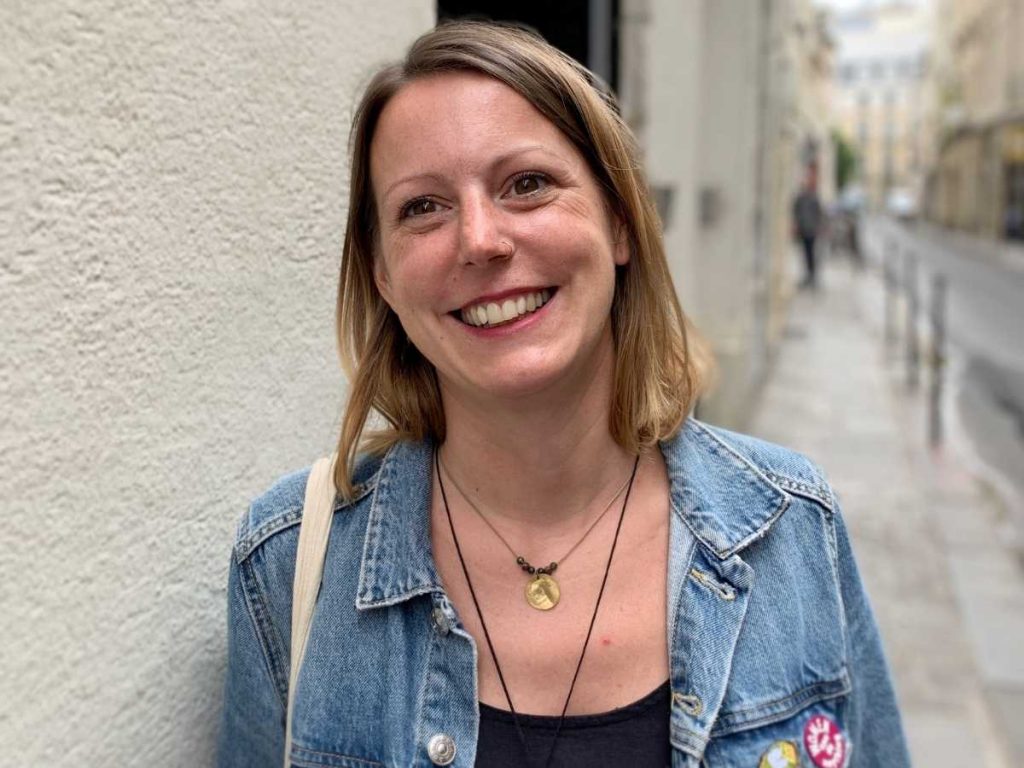 I have lived in Paris since 2005, and I am happy to show you around. Join me on Facebook for updates and news about Paris.
PS: Check out these posts, they will help you plan your trip to Paris
FAQ Things to do in Paris on a Sunday
Is anything open in Paris on Sunday?
On a Sunday in Paris, most things are actually open: sights, museums, landmarks, many restaurants and bars. Only shops tend to be closed on Sundays in Paris. However, if you feel like going shopping in Paris on a Sunday, you can.
The big department stores and shopping malls are open. Hence, head to the Champs-Élysées, the Galerie Lafayette, or Les Halles and you shop until your drop.
Is it worth visiting Paris on Sunday?
Yes, absolutely. Be it for sightseeing, dining, or strolling the streets of beautiful Paris, it's totally worth it to visit Paris on Sunday.
Is Paris quiet on a Sunday?
The areas outside the center can be a bit quiet, however, the center of Paris is humming on a Sunday. Parisians and tourists alike flock to the center of Paris on a Sunday to enjoy their time.
What do French people do on Sundays?
Many French people meet family and friends, and spend a relaxing time in the park, in forests, or generally in nature. Many use the time as well to visit museums and exhibitions.