It's possible you never heard of the Vanves flea market. It's not the world famous antique market Puces de St.Ouen that you find in the north of Paris and it's not even remotely as big. But if you are a vintage bohemian fan or if you're searching for a change from sightseeing, visiting a flea market in Paris is something I strongly recommend to everyone who's coming to town. And if you are up for some off beat adventure, come to Porte de Vanves flea market and ramble around the about 300 stalls of the Puce de Vanves.
Paris has several flea markets (marché aux puces in french) and historically, they are all located just outside the city gates. In earlier days, rag and bone men set up their stalls outside town to avoid taxes and fees. They offered items and trinkets found in the trash of the elite and eventually grouped up to attract more customers. In the late 19th century Les Puces de Saint-Ouen became officially the first flea market of Paris.
our recommendation:
If you want to dive into the jungle of the flea market at St.Ouen, you'll profit best from it by taking a guided tour with a local.
Check out this Flea Market bargain tour
! During this 2 hours walking tour you'll visit hard to find stores only locals know, learn how to sniff out the best bargains and meet market traders who will tell you their tales
.
Until today the Parisian flea markets are an institution and famous among antique lovers, bargain hunters and all those in search for something they know nothing about yet. The biggest flea markets are the Puces de Saint-Ouen/Puces de Clignancourt in the north (it's actually the same market under two names, even if they are often referred to as two different places), les puces de Montreuil in the east and lastly the Puces de Vanves in the south. It's hard to figure out the best Paris flea market though, as they all have different features:
While the Puces de Saint-Ouen can be intimidating by it's size and the crowds (up to 180.000 visitors per weekend), the flea market at Porte de Vanves is a valid and laid back alternative. If you are shopping for furniture or equally big items, that might not be your place though – the Flea market in Vanves is more a place to find knick knack and hotchpotch: vintage dinnerware, all sorts of collectibles, old photographs and some vintage clothing.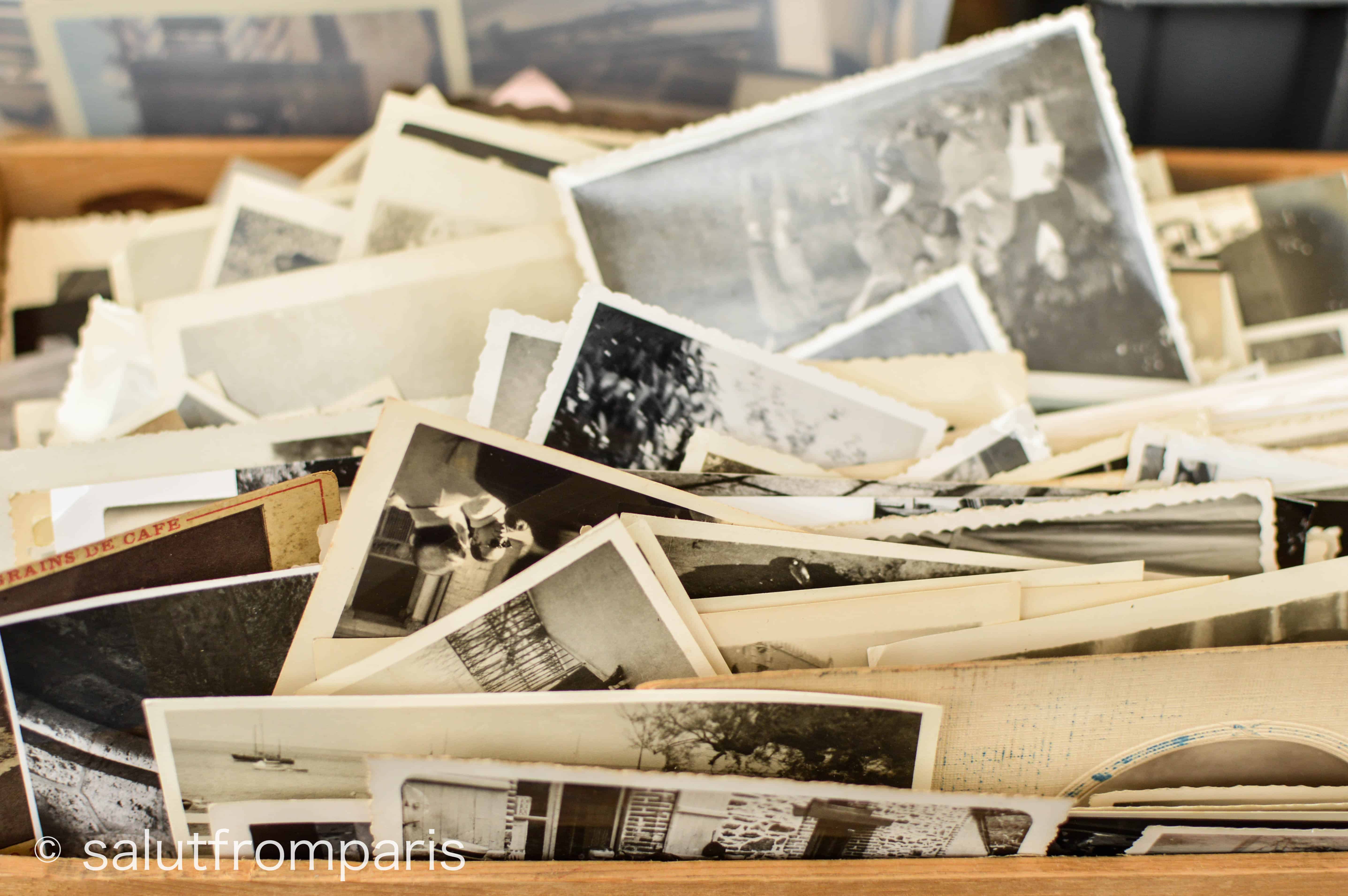 Access to the Vanves flea market
The Flea market is located in the south of the 14th Arrondissement of Paris on Avenue Marc Sangnier and Avenue Georges Lafenstre, just between the Porte de Vanves and the tramway station Didot
How to get there:  closest public transport stations are Porte de Vanves or Didot of Tramway line 3 or Porte de Vanves by Metro Line 13. Check our post about the Parisian public transportation system if you need help
Opening times: every Saturday and Sunday from 7h-14h (many vendors packing up for lunch time though and aren't coming back after, so better be there early)
Money: pack some cash and if you need more, there's an ATM at Porte de Vanves at Sociète Generale
Safety: Like on all public places with crowds, pickpockets aren't far – take care of your belongings!
Where to eat nearby the Vanves Flea Market?
The area around the flea market in Vanves is known to be a rather calm, residential neighbourhood. You won't find any touristic places or restaurants that are trying to rip you off – restaurants in the 15th and 14th arrondissements around the flea market are places for locals and residents – hence: Restaurants and bars where it's important that guests are coming back.
French Restaurants near Porte de Vanves
If you just need a break and a refreshment, around the Park Georges Brassens and a little further around the Metro Station Pernety (2 stations away) are plenty of nice Bars and Cafés that are usually open all day.
What else to do in the area?
Visiting the Puce de Vanves is a good destination if you are looking into discovering a less touristic area of Paris. The market at Porte de Vanves is located in the very south of Paris and from a touristic point of view rather off beat territory.  Nevertheless – or perhaps for exactly that reason it's worth to come by. If you spent days of seeing world-famous monuments and art, it's time to touch base with the people's site of Paris. A Paris of it's inhabitants. Where people have lunch with friends, spend Sunday mornings in a park or buy their groceries in the neighbourhood Saturday market. Set off for exploring the 14th and 15th Arrondissement of Paris.
Marché de Brune
The farmers Market "Marché de Brune" is located just next to the Flea Market and takes place on Thursdays and Sundays from 7h-15h. You'll find a high variety of fresh fruits and vegetables, meat and fish but also local bread, pastries and loads of cheese.
Parc Georges Brassens
Named after the famous french singer and poet Georges Brassens the parc is the perfect place to relax after a busy market morning. It's a very family oriented park with many playgrounds, but also greens, a duck pond, a vineyard and even a beehive.
Book Market
The antique and old book market is located in an old slaughterhouse just adjacent to Parc Georges Brassens. On Saturdays and Sundays from 9h-18h you can browse through ancient books, papers, magazines, documents and other written words. Don't fear rain – the market is covered.
La Petite Ceinture
The abandoned railways of the petite ceinture are partially open to public. It's a super non touristy activity and a cool activity for everyone who wants to explore Paris off the beaten path. Read my post about the Petite Ceinture to know more
Catacombs  get tickets
Not too far away from the Puce de Vanves are the Catacombs – about 20 meters beyond the streets of Paris lays the last resting place of approximately 6 millions Parisians. The labyrinth-like galleries of bone arrangements are open to public and a popular tourist attraction.
If you are planning to visit, you should purchase your billet in advance – not only to save some queue time but also as on very busy days, admission is not always guaranteed if you're not having your ticket already.  click here to secure your spot and skip the line
If you are at Porte de Vanves, take the Tramway 3 until Porte d'Orléans and switch to Metro Line 4 until Denfert Rochereau
Check this post to prepare your trip to Paris
Disclosure: this page contains affiliate links. This means – at no additional cost for you – I will earn a small commission if you click through and make a purchase. I am independent and the opinions expressed here are my own.
Are you planning a bit ahead? Pin this post now and find it back later!