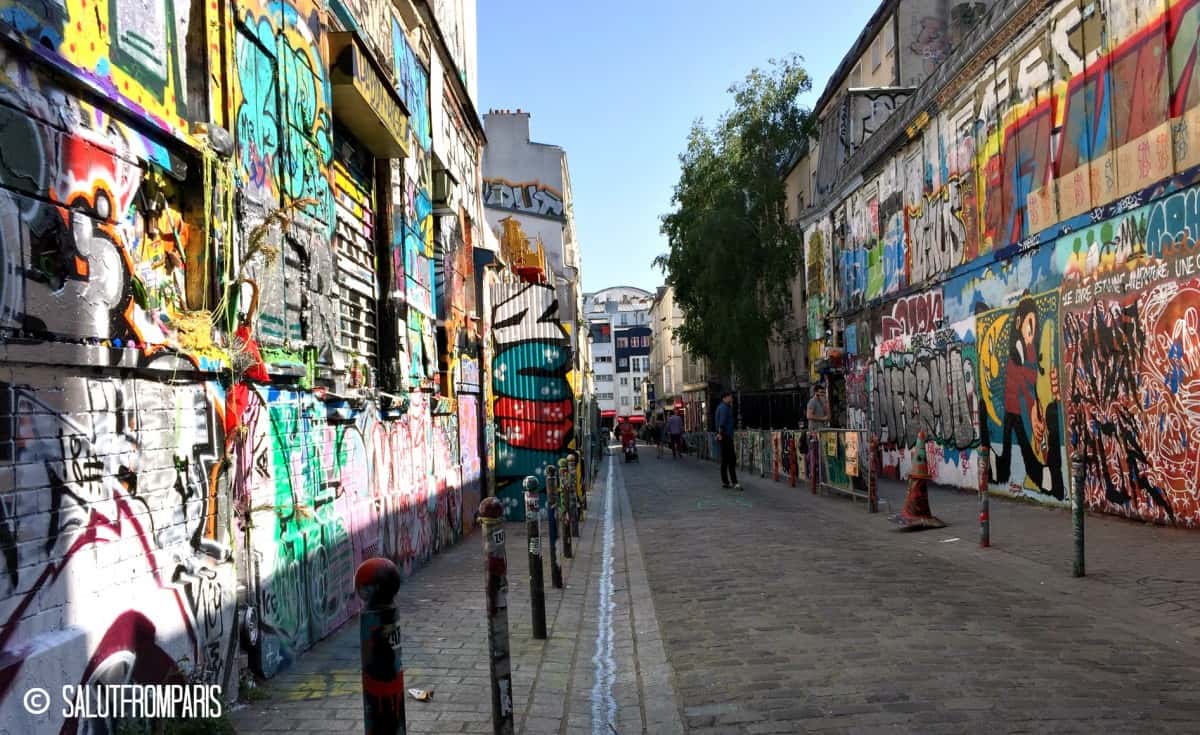 This article may contain compensated links. Please read disclosure for more info.
Last updated on 17th September 2021 by Lena
Belleville – the village in the east of Paris
If you spent a few days in Paris already and decided to visit Belleville, you realize as soon as you step out of the Metro that Belleville is nothing like the rest of the city. You won't find any classy Haussmann buildings or fancy storefronts in this part of Paris, neither pompous streets nor in-crowds. Belleville is a colorful and friendly working-class district shaped by migrants, artists, and musicians.
Gentrification isn't a stranger to Belleville, but until today, rents are still ranking along with the lower Parisian average and the spirit of the area remained pretty unique compared to the rest of Paris.
Since the 80's Belleville also emerged as the second Chinatown of Paris. It is smaller than the famous Chinatown in the 13th arrondissement between Place d'Italie and Porte d'Ivry. But it's rather a low-key gem of Paris, but with plenty of great restaurants and of course a Parade for the Chinese New Year.
If you're traveling on a lower budget or want to experience Paris as a local, Belleville is a great neighborhood to set as a base when traveling to Paris. Find your hotel here.
Belleville is one of the most interesting quarters of Paris and also one of the (few) nontouristic areas of Paris. A perfect place if you are searching for Paris experiences off the beaten track. But what are the things to do in Belleville? Read on!
Why should you visit Belleville?
Belleville was initially an independent commune that got annexed to Paris in 1860. It has a lot in common with Montmartre – both quarters are built along and on a hill (the two highest in Paris) and have a strong artistic and working-class background.
But while Montmartre is swayed by the Belle Époche at the turn of the last century, the Belleville of today is rather influenced by the zeitgeist of newer times. What's Picasso and Hemingway for Montmartre, is Street Art for Belleville. It's also one of the few places – that I have seen at least – where urban gardening is actually really a thing.
Belleville is Montmartre without tourists
Best things to do in Belleville
Spot the best Street Art of Paris in Belleville
Belleville is basically the Parisian heaven of street art, the center of urban art. It's one of the best street art locations in Europe. You find it across the entire quarter, in every corner, and on every wall. From graffitis, that covers an entire sidewall of a multi-story building to a 2-inch patch half-hidden beyond a trash can. The most famous spots to see graffiti in Belleville are Rue Denoyez and the Place Frehel. But keep your eyes open and watch out for the little hidden treasures that are hidden everywhere.
know more about Belleville
Place Frehel at the corner Rue Julien Lacroix and Rue de Belleville is also home to a little urban garden and the Culture Rapide. A popular local bar with a spacious outside area, poetry slams, and a laid-back atmosphere (plus affordable beers).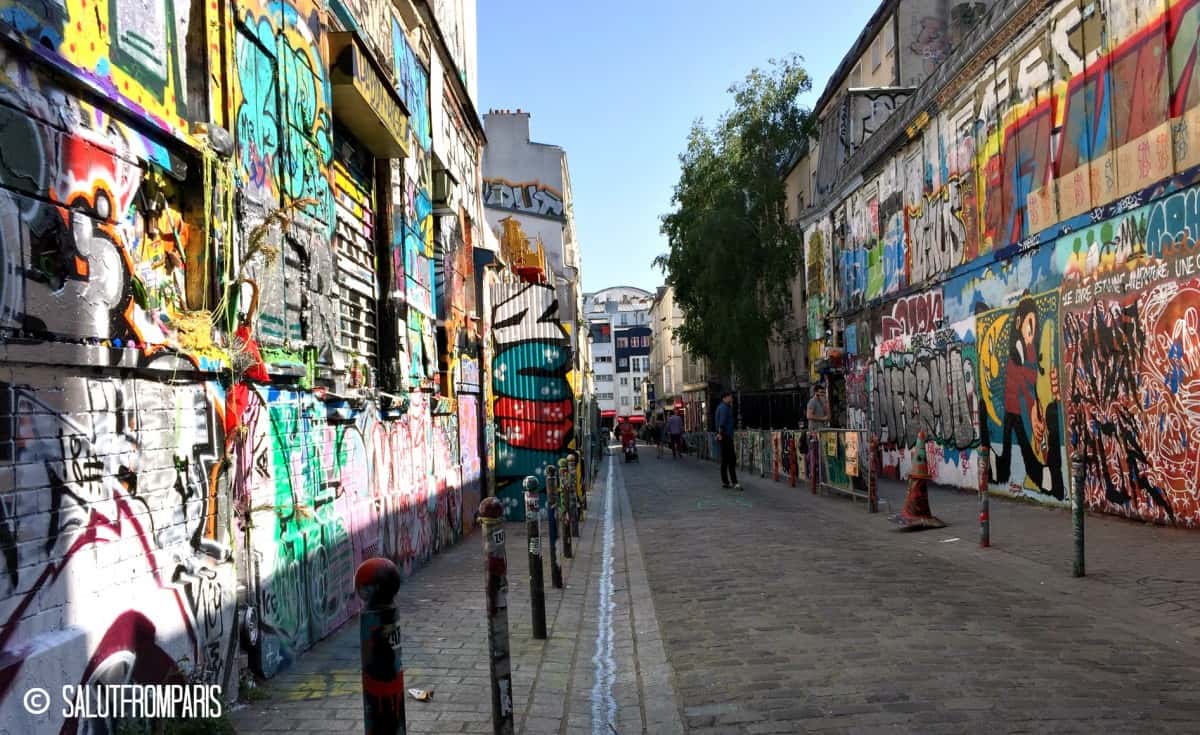 Musee Edith Piaf and her childhood house
Belleville is the birthplace of one of the most famous French singers: Edith Piaf. Rumors are saying she was born on the pavement of number 72 Rue de Belleville and a plaque is honoring this event from the 19th of December 1915 (her birth certificate states differently though). However, it is certain that she lived in a little apartment at 5 Rue Crespin du Gast before she became famous. Today, the apartment hosts a privately run museum at her honor and displays personal items, photographs, letters, and her famous black dress.
The visit to the Edith Piaf Museum is free of charge, donations are excepted though. Note that you need a reservation and the tour is in French only. Check here for more free museums in Paris!
Parc de Belleville
Knowing that Bellville is located around a hill you can be sure there is also a hilltop with a beautiful view. And what a view! The Parc de Belleville is covering one slope of the Belleville hill and apart from a stunning panorama, it has nice playgrounds, cascades, and even a vineyard.
What else can you do in and around Belleville?
---
♥ Don't miss our most popular article: 75 hidden gems in Paris – discover Paris off the beaten track!
---
Where to eat and drink?
You'll notice quickly that Belleville is not an area of stay-at-homes: you have bars and pubs on every corner and when the weather is nice, certain areas turn basically into a big beer garden. Due to different waves of migration, you find a lot of great Asian, middle east and Indian restaurants in Belleville – click here to see the full range and profit also from a discount of up to 50%
Aux Folies
Located just at the corner of Rue Denoyez, the "Street Art Mile" of Belleville, this bar is an institution within the neighborhood. Aux Folies is situated in an old cabaret from the '20s and it's today a typical Parisian Brasserie. It's always busy, no matter if you'd come for breakfast or a last drink before heading home (they're open from 7 am to 2 am, every day!). Good to know: the prices are reasonable.
Le Vieux Belleville
This old-style bar and restaurant are situated just on the hilltop of Belleville. It comes with three main features: an absolutely awesome patio that is just inviting you to stop by and have a nice glass of wine or a cold beer (especially if you just marched up the stairs to the summit of Belleville).  Second, Le Vieux Belleville has a lot of musical events going on. If you want to attend an Edith Piaf evening or sing French songs on one of the sing-along evenings (they hand out song sheets :)),  Le Vieux Belleville is your place! Click here to see their program And lastly, they are serving really good food!
---
check out also our post about vegan restaurants in Paris!
---
Les Mesanges
If you climbed up the Parc de Belleville, the Les Mesanges lays just downhill on the other side. If you walk down the Rue de Couronnes you'll arrive at a little round-about that resembles more the center of a countryside village than actually a place in Paris. Les Messages offers very yummy French food with a slightly Asian influence in a nice ambiance.
Where to stay?
If you want to experience a Parisian neighborhood where you live alongside locals, drink your beer next to locals and see generally more Parisians than tourists, Belleville might be absolutely your neighborhood. It's a colorful mix of all sorts of people, maybe a little rough at the edges, but full of charm and authenticity. The density of hotels within Belleville is a bit lower than in the rest of Paris – which I personally see as a good thing – but it leaves you less choice as well.
stay amongst locals in Belleville: book an Airbnb!
However, even though there are fewer hotels in Belleville, it doesn't mean that there aren't some really nice place to spend a good time:
The hotel is greatly situated to explore both: the Parc de Belleville and the rest of Paris. The park and also the next Metro station are just a few steps away. The stylish and modern Hotel Scarlett is equipped with air-con and free WiFi. They also have family rooms, facilities for disabled guests and you can bring your pet!
---
With its location just at the Cemetery Père Lachaise, the Mama Shelter is not exactly IN Belleville but very close by. Mama Shelter is definitely one of the coolest hotels in Paris. It's a stylish designer place with a rooftop bar and an iMac in each room. No need to say that you have free WiFi. They have also an in-house Brasserie and Pizzeria.
---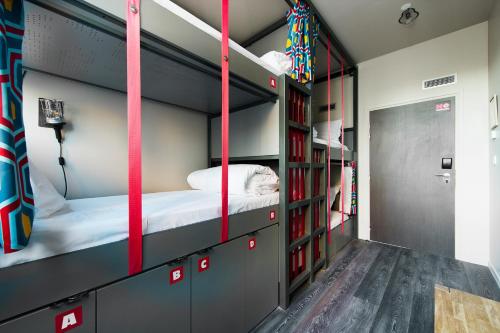 The Hotel is located just on the foot of the Belleville hill. Due to its location in between the Metro stations Belleville and Couronnes, it grants easy access to the rest of Paris.
The hotel has dorms but also private double rooms – the best feature is however the roof top terrasse with stunning views over Paris. See here if you're travel dates are available
You find some lonely places in Belleville
Did you like this guide? Don't miss our full list of neighborhood guides!
Pin it now, read it later!
Disclosure: This page contains affiliate links. This means – at no additional cost for you – I will earn a small commission if you click through and make a purchase. I am independent and the opinions expressed here are -if not stated otherwise- my own.
Sharing is caring!