This article may contain compensated links. Please read disclosure for more info.
Last updated on 2 February 2022 by Lena
Traveling to Paris with teens… I won't start this post by saying how tough it can be to travel to Paris with teenagers because it's not true! Well, at least not constantly! You "just" have to keep them engaged!
Honestly, if there is a place teenagers will easily fall in love with, it's Paris!  Browse through the fun activities with teenagers that you can book in Paris, or take a look at the very convenient Paris City Card!
The Paris City Card combines the 3 top Paris activities in one card: The Eiffel Tower, The Louvre, and a wonderful cruise on the Seine. It includes as well an audio sightseeing tour through Paris to make sure you are not missing any highlights. Click here for more information.
Know why teenagers love Paris:
there is a range of fun activities in Paris for every gusto
Paris looks just like in the movies – it really does!
it's easy to keep them engaged in Paris
the food is delicious, even for fuzzy eaters – who can resist a fresh Croissant?
Paris is perfect for shopping
there are many cool things to do in Paris with teenagers
Paris, it's a once-in-a-lifetime experience
maybe they even can show off their French?
Traveling abroad is always a life-enhancing experience
a trip to Paris is expensive, and they know they won't be able to fund a trip to Paris anytime soon on their own
What fun things to do in Paris with Teenagers
First, don't skip the basics! Go on a classic Paris sightseeing tour!
Sightseeing is usually not the most compelling activity in the world – but this is Paris! Sightseeing means climbing the Eiffel Tower, seeing the most famous painting of the world, or descending the catacombs! It's the opposite of boring and a highlight of every family trip to Paris.
So, what is there to see that your teenager will love? What are the fun things to do in Paris?
≡

The

Louvre – know how to keep your teenager engaged!
I can literally see every teenager rolling their eyes now. True, the section of the Etruscan Antiques is very niche, and you probably don't want to spend an hour observing the Coptic Egyptian section neither – nor observe anything for an entire hour really. But: A visit to the Louvre is a pretty engaging activity, even for those that are not into art.
But just don't go there and hope for the best. The Louvre is HUGE and you won't come very far without a plan. And you best book your ticket in advance, it can be sold out! Click here for rates and availability.
Covid-19 update: to respect social distancing regulations, tickets are strictly limited and ticket booths on site are closed. It is mandatory to purchase a ticket here in advance. 
►▷  Don't book a tour when visiting the Louvre with teens
The tours are great if you want a big takeaway, but probably kind of wasted on most kids and teenagers. Plus, and this is the main reason: the entrance to the Louvre is free for everyone under 18 (26 when living in the European Economic Area), why would you spend €50+ on a tour when you just could get the audio guide for a fiver?
In my opinion, it's best to visit the Louvre independently when visiting Paris with young adults. You can either check the free visitor trails (check them here, they even have a Beyoncé trail, or get the official Audio Guide. (the official ones, not the ones that are offered with tours by 3rd party tour companies!)
►▷

Get the Audio Guide!
The Louvre has a wonderful audio guide! It really has. It's in cooperation with Nintendo and comes as a Nintendo 3Ds. You can rent the Nintendo at the Louvre for 5€.
I am not a teenager, but I am heavily NOT into art, so I do think I can count as a reference. I visited the Louvre a couple of years back and envisioned 2h max. I did not even realize how time flew when I walked around with my audio guide; I have been there for 6h – watching, understanding, AND enjoying art! Hence, you shouldn't hesitate heading to the Louvre when wondering what to do in Paris with teenagers.
►▷

Plan ahead!
The Louvre can be sold out, It's best to purchase your tickets in advance. "Skip the Line tickets" are not letting you skip actually really a line, they just save you from the long ticket queues. It's still worth it, especially if you visit on a weekend. However, you will still need to queue for security checks.
Covid-19 update: to respect social distancing regulations, tickets are strictly limited and ticket booths on site are closed. It is mandatory to purchase a ticket here in advance. 
Pro Tip: Avoid the entrance at the glass pyramids – the queues at the other entrances are always shorter.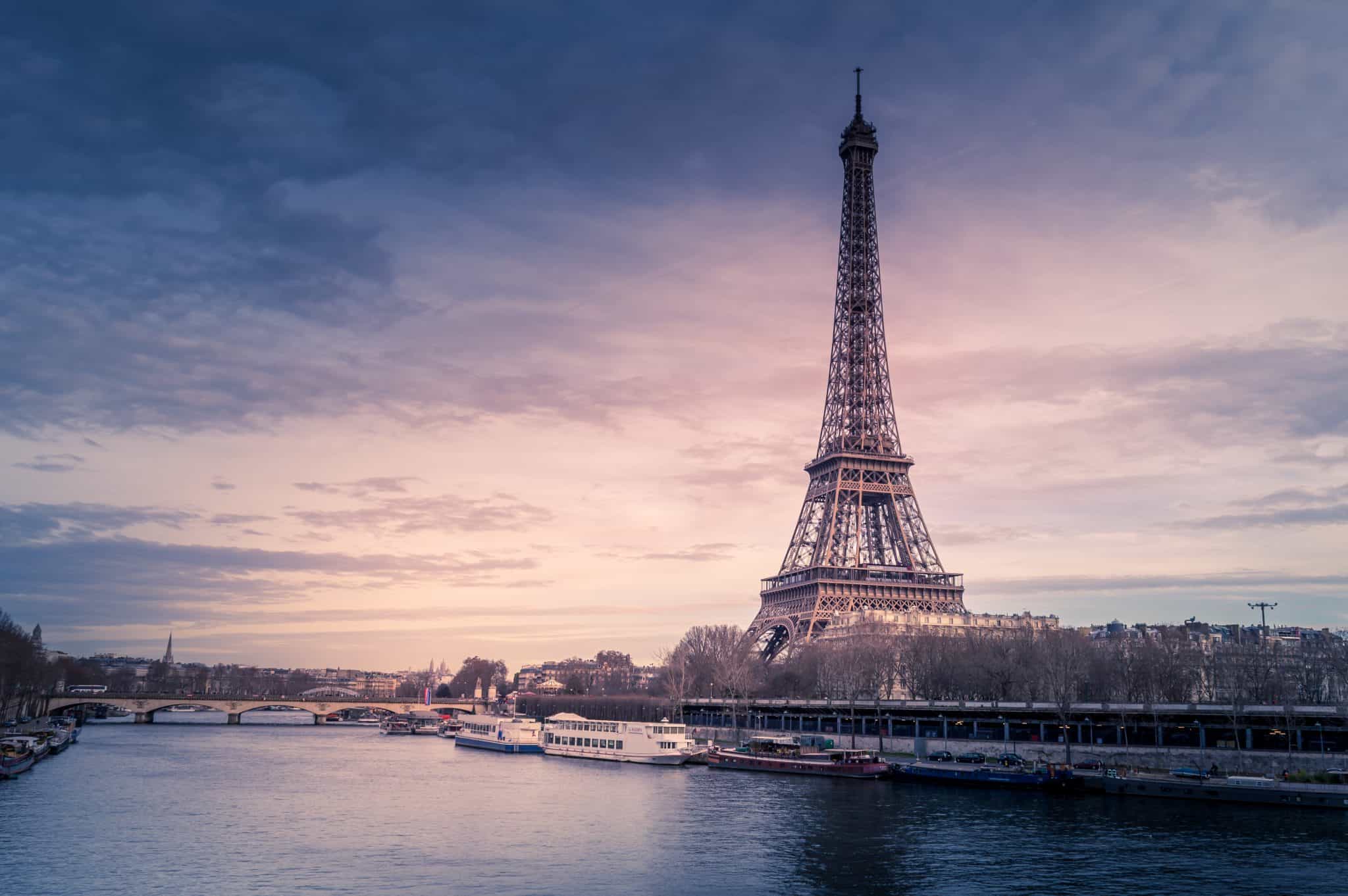 ≡

The Eiffel Tower – a must for everyone
Visiting the Eiffel Tower when traveling to Paris with teenagers is a no-brainer, and I am positive that it doesn't require much motivation to get your kid up the iron lady.
However, to save yourself from disappointment, you need to purchase your tickets in advance. The tickets queue at the Eiffel Tower is huge. Huge, like in: up to several hours waiting time! You can purchase your tickets here directly.
►▷

You have several options to do save yourself from that misery!
The official Eiffel Tower ticket shop sells tickets up to 60 days in advance. Pick your time and the floor choose whether you want to walk or take the lift and off you go. It's the best option you have, but you need to be quick, tickets sell out fast!
You also can purchase your tickets from a 3rd party web page. They tend to be a bit more expensive, but they are usually available also on late notice! If you don't get tickets anymore at the official page, that's where you should check. Personally, I like to buy tickets at Getyourguide.com and can recommend them based on my experience. Click here to see the Eiffel Tower tickets they offer!
Good to know: no matter the kind of ticket you get in advance, you still will need to queue for a security check!
Tip: If your teens are competitive and/or energy-loaded, let them take the stairs!! It's cheaper and great if you are searching for fun things to do in Paris with a teenager.
≡ 

Catacombs de Paris – A creepy underground adventure in Paris for teenagers
Click here for prices and ticket options
How does visiting the world's largest grave sound?  The catacombs of Paris are exactly that: a massive graveyard that holds the remains of more than 6 million people. It's part of an underground tunnel system beyond the streets of Paris. It's half creepy, half fascinating, and a pretty cool activity in Paris for teenagers.
If your teenager is binging Netflix, like my teenager surely is, they probably heard of the French Netflix series Lupin. The catacombs are playing a big role in the 2nd part of season 1!
►▷

What are the Catacombs?
The catacombs are former quarries that were used in the 18th century to bury the dead. The Parisian cemeteries were overflowing at the time. Later, the tunnel system was also used over centuries for mainly illegal activities – underground parties, events, or movie screenings.
Once, even a fully equipped restaurant was discovered down there by the police, and during WWII the French Resistance used the tunnels as their headquarters!
Pro Tip: Visit also the Resistance and Liberation Museum just across the street, it's free!
However, today, parts of the ossuary are open to the public and are actually one of the most visited museums in Paris! Hence, purchase your tickets well in advance.
Due to Covid-19, on-site ticket counters are mostly closed, and you need to prepurchase your ticket in advance.
►▷ Good to know: Admission for visitors under 18 is only €5!  If you buy your ticket here, the admission for your teenager will be €5 and can be still paid on site.
Previously, the best rates were available at the official catacombs' website. However, they changed their pricing structure, and now you can buy them for the same price but better conditions at getyourguide.com.
I visited the Catacombs a few years back and have to admit, that I didn't like their audio guide that much. I possibly was spoiled by the amazing Louvre audio guide, but I simply did not understand when I had to push which button and gave up shortly.
However, alternatively, you can book a tour with a guide. Those tours are usually super fun and interesting and include also access to parts of the catacombs that are usually not open to the public! Click here to check availability and rates!
≡

Take a cruise on the Seine
I am not revealing a secret when saying that it's somewhat cheesy and touristic, but it is actually super nice! (read more about it here!)
The perspective on Paris from a boat is just stunning and entirely different from what you get if you walk around. A great plus for teenagers: they can leave their headphones in and continue listening to their Spotify playlist. And that's alright!
►▷ There are several cruises with plenty of extras you can take, but frankly, the basic one is just as good. Click here for schedules, pricing and booking!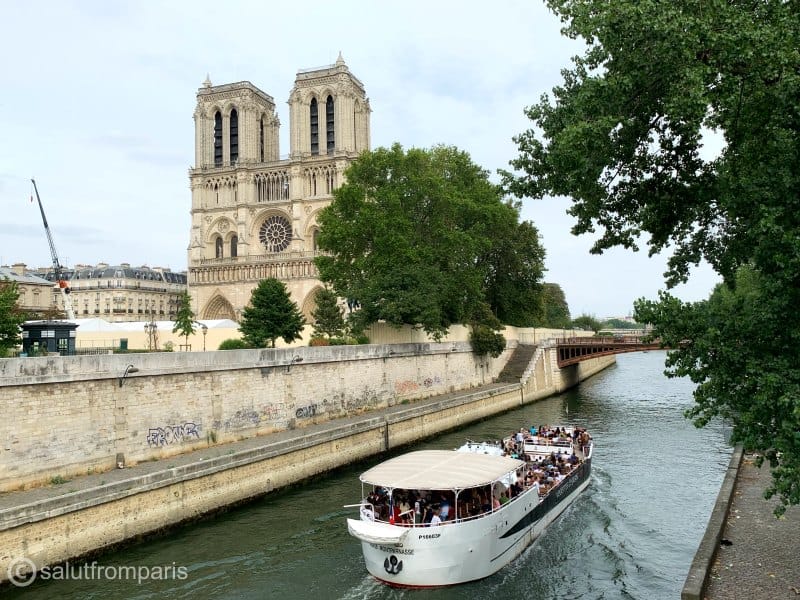 ≡ 

Disneyland Paris or Parc Asterix! A must when traveling with teenagers to Paris
No Paris trip with teenagers is complete without visiting one of the two: Disneyland Paris or Parc Asterix. Both are spectacular, and your family will have a blast. It's one of the most fun things to do in Paris, France. It's just very hard to decide which one to choose, isn't it?
Parc Asterix is surely more original, it's not a chain, and Asterix itself is a French icon! It's also slightly cheaper. You can click here to know more about their rates.
However, if you are really into Disney, you probably don't want to miss the occasion. Either way, you can't do anything wrong, regardless of which one you pick.
Note: Parc Asterix closes during the winter months, except the week around Christmas and New Year.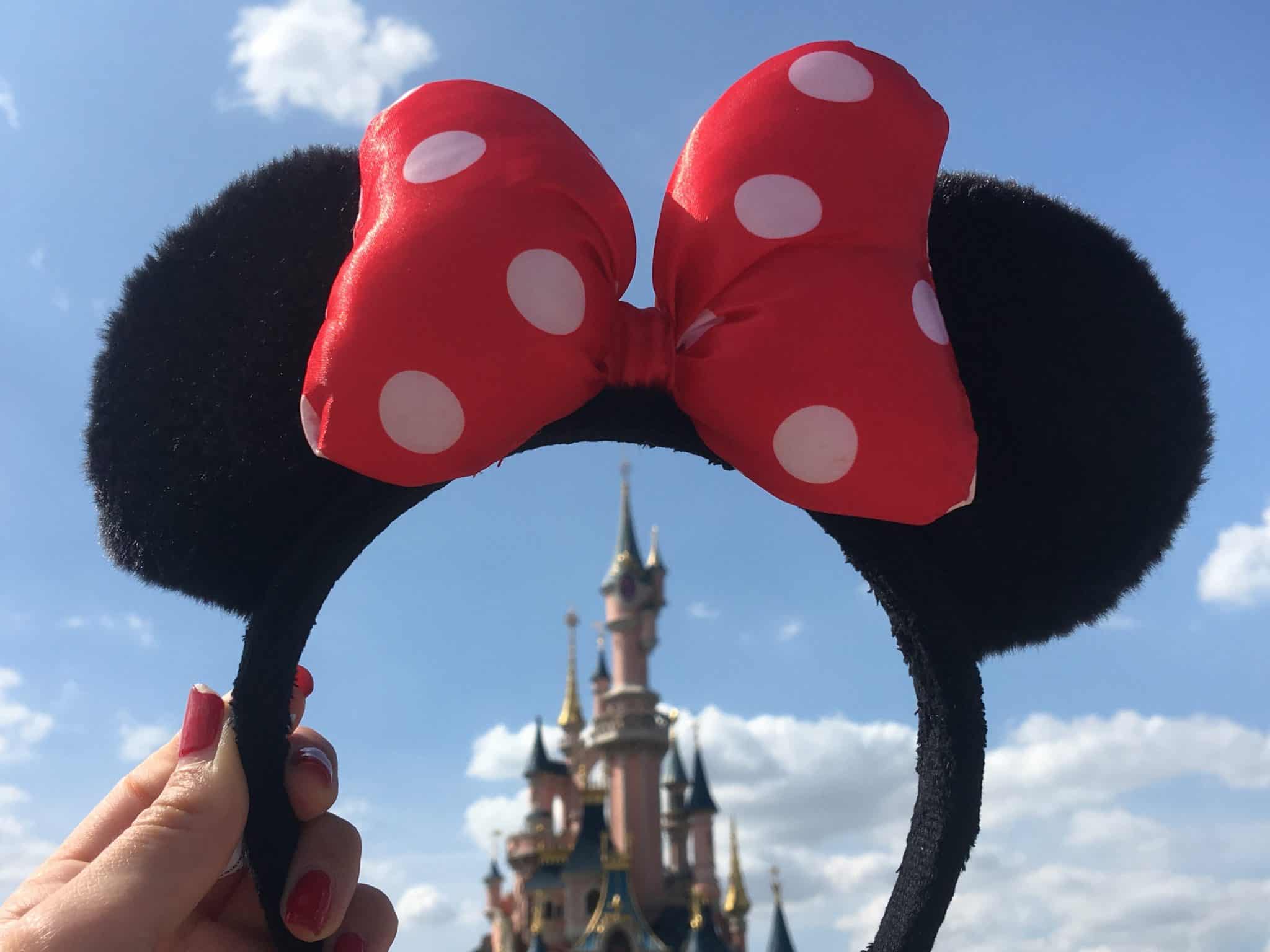 ►▷ Visit this page for more information on Disneyland Paris. Click here to know more about Parc Asterix!
≡

Le café des chats – the cat café
It is what it sounds like – a tea house that is home to a few cats. Eleven of them to be precise!  It's a classic Parisian tea house with a good choice of teas and coffees, and of course cake and pastries.
However, they do serve as well classic french brasserie dishes like Croque Monsieur or a salad with goat cheese. If that's nothing your kid would possibly eat – they do serve burgers as well, even veggie burgers! Certainly, an interesting address if you're looking for eateries in Paris for teenagers.
If you are seeking fun restaurants in Paris, don't miss our post about the most quirky restaurants in Paris!
≡ 

Visit the filming locations of Netflix' "Emily in Paris"
If you visit Paris with teenagers, they've probably binge-watched "Emily in Paris". Hence, it's really one of the good fun things to do in Paris with young adults to visit the filming locations. Don't worry, I have them all listed down for you. Follow this guide to see all the locations from Emily in Paris.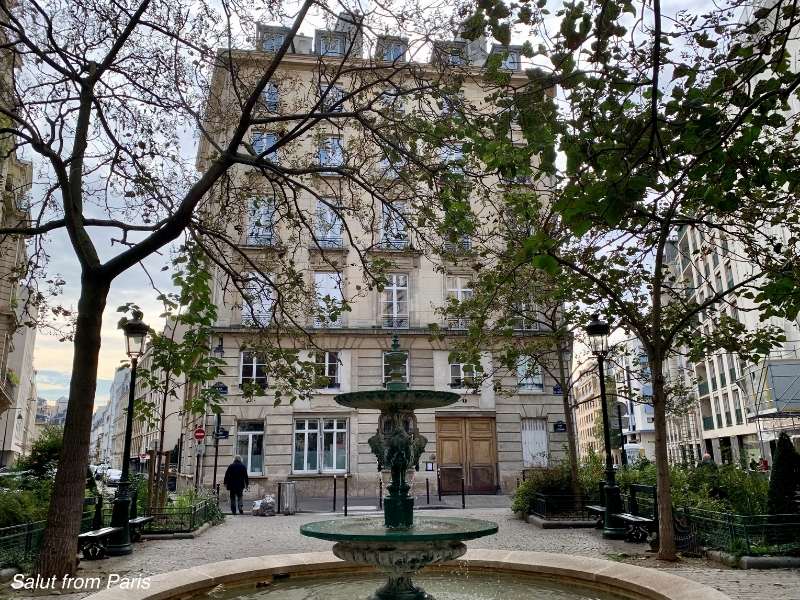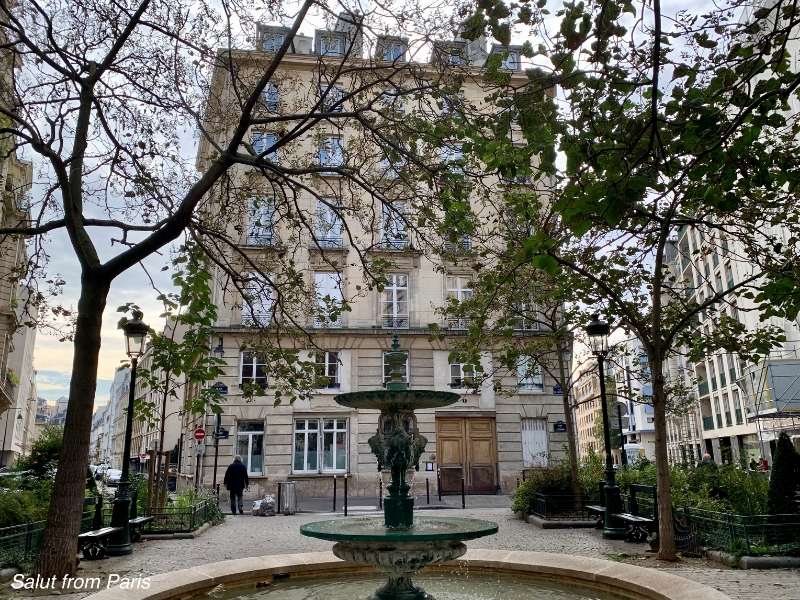 ≡ 

Take a virtual reality flight over Paris
If you or your teen are up for some thrills, and you are looking for some fun things in Paris, you'd love this one! (Virtually) fly over Paris and explore the city from a bird's perspective! Click here to know more.
►▷ Click here to know more about 80 hidden gems in Paris that most people don't know about! 
≡ 

Make your own perfume!
If you'd love to share an experience with your son or daughter and like a personal souvenir from Paris, a perfume workshop is a perfect activity for you! Create your own fragrance as a souvenir from Paris! Click here to know more about the popular 2h perfume workshop!
≡

Play some games at La Tête dans les Nuages
Never heard of La Tête dans les Nuages? Likely, but know that it's the biggest game room in Europe! It's in the very center of Paris and great if you are looking into fun activities to do in Paris.
Of course, not only when traveling with teens to Paris, it is great fun for everybody: They have bowling, racing simulators, pool tables, video games, arcade games, games for kids, and they also serve food. The entry is free, but you obviously need to pay for the game tokens.
≡

Learn how to bake Macarons 
A skill is the best souvenir from your trip to Paris with teenagers, especially when you've learned it together with your teenage kid! Join a Macaron baking class and learn how to create those little pieces of pure deliciousness – click here to know more about the baking classes! Or check out our post about the different pastry baking classes in Paris!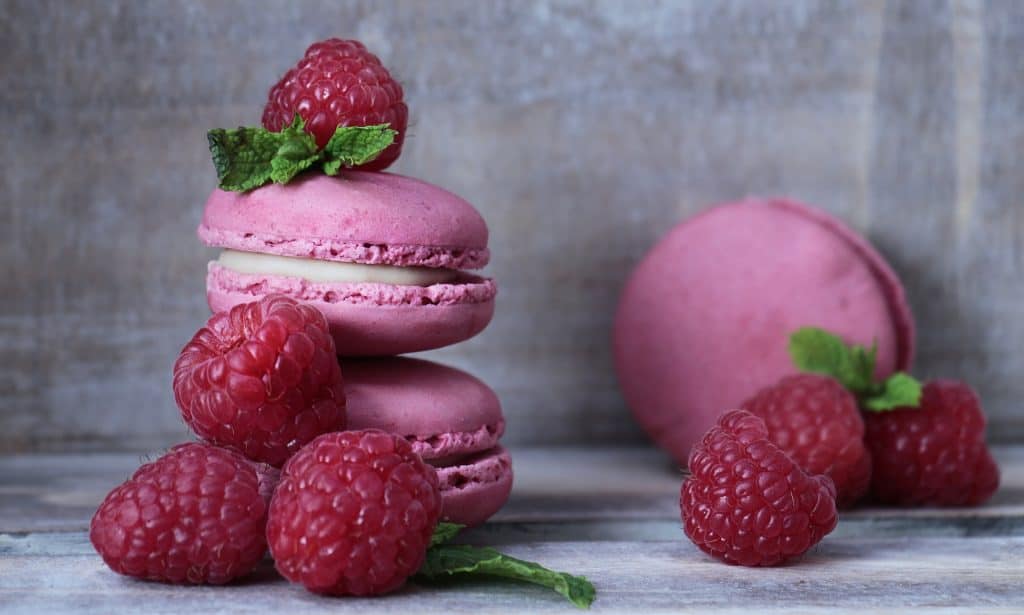 ≡

Cheer for Paris – visit a Soccer Game



Click here to join a behind-the-scenes stadium Tour
The Parisian soccer club is PSG – Paris Saint Germain – and many of the players are world-famous! Not surprisingly, they did win the world cup in 2018!  You could just visit the fan shop on the Champs-Élysées on your Paris trip, but why not see a match together with your kid? PSG is playing during the season every other weekend in Paris.
But even if they are not playing, you can still join a behind-the-scenes stadium tour of the Stade de France (not the PSG stadium) or book the PSG Premium Experience on Parc-des- Princes – click here to know more!!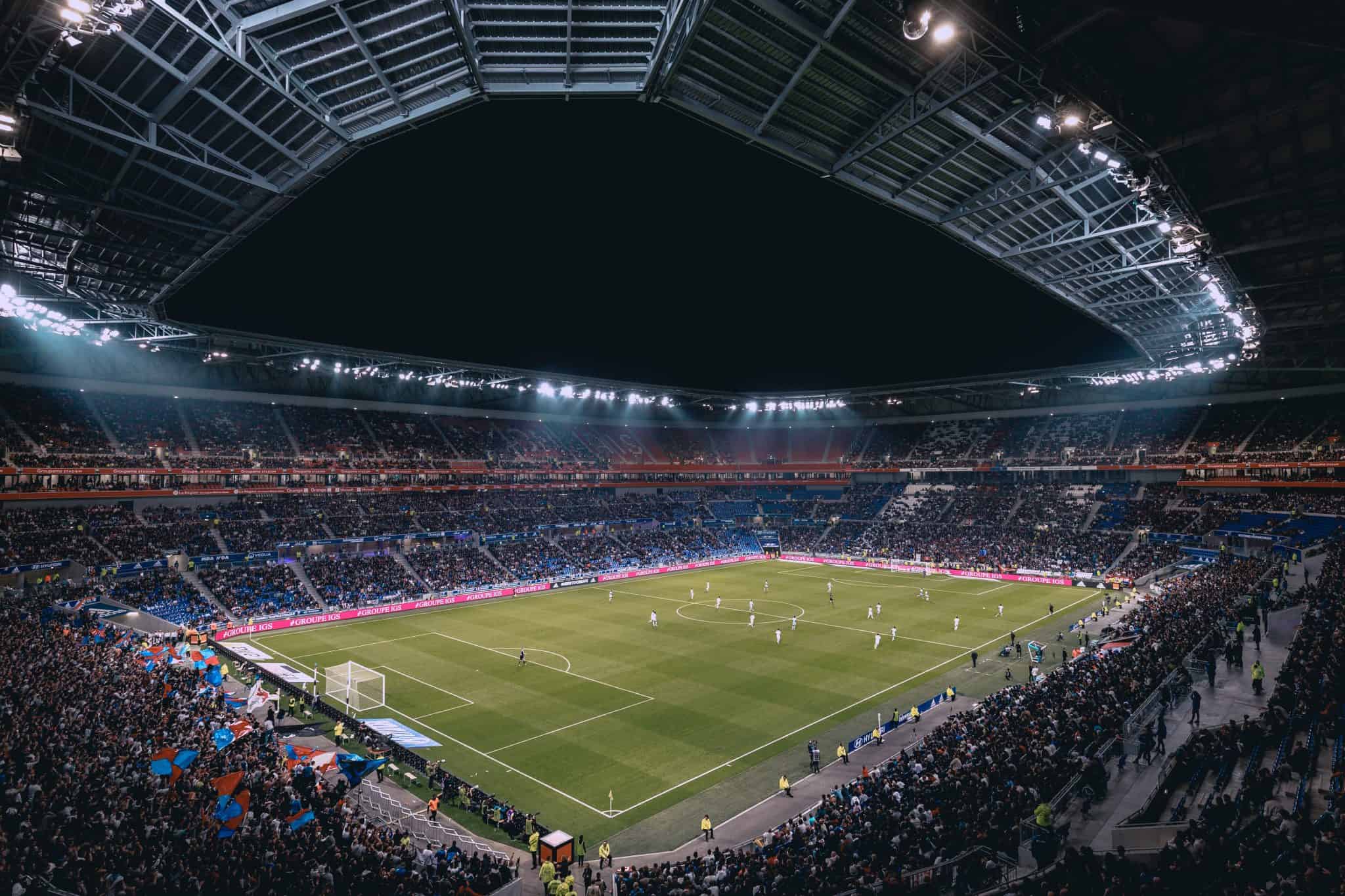 ≡

 Have a hot chocolate at Angelina
This place is an institution in Paris and has supposedly the best hot chocolate in town. Angelina is also one of those places that look great on Instagram, too. The fancy tearoom often has long queues, but the wait is well worth it!
≡

L'Atelier des Lumières – get enchanted!
This place is pure magic. L'Atelier des Lumières is an immersive exhibition of images and sounds, that cover the entire location, from floor to ceiling on an area of 3,300 m². It's hard to describe, but imagine yourself not only seeing a painting of Klimt or van Gogh but actually floating through it with the perfect background music. No, they are not handing out drugs with your admission ticket, no worries.
You can buy your tickets here. Currently, they are showing Gaudí and Dalí and is one of the most fun places to go in Paris.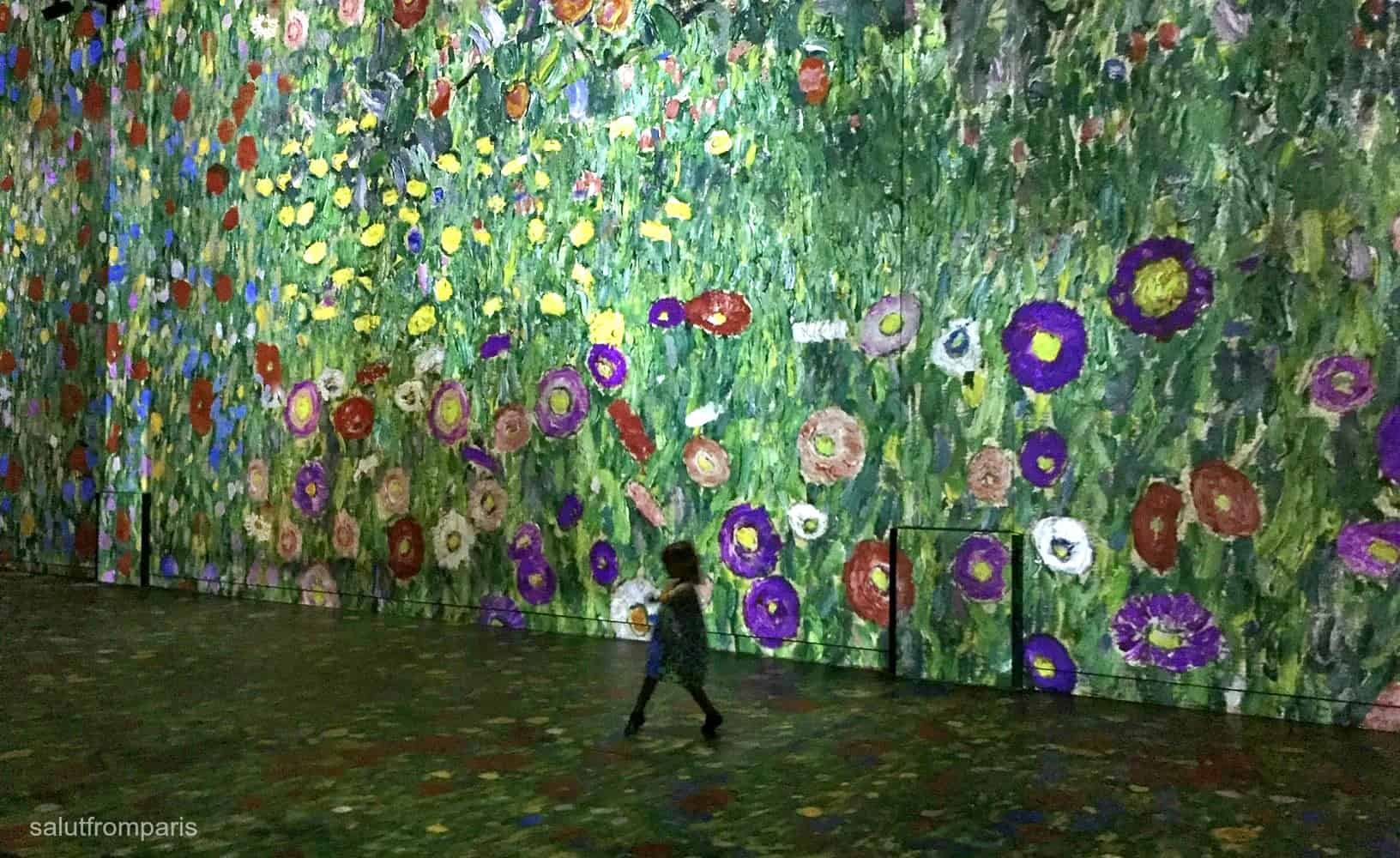 ≡

Shakespeare and Company – the most beautiful bookstore
Probably THE most famous book store in Paris, and clearly one of the nicest. It's perfect for just having a look, but also a nice spot to take some Instagrammable photos. Or you can just sit there and pet the cat that lives upstairs.
However, they also host quite frequently free author readings (in English) that you could attend, too. They are always in the evening and good if you are chasing after fun things to do in Paris at night.
≡

Visit one of the big conventions in Paris with your teen
There are a few conventions held in Paris that are very popular. For example, the Paris Games Week, Paris Manga, and the Paris Comic-Con. But we've also got the Salon de Chocolat if comics and geek stuff are not really your kid's thing.
≡

Admire Parisian Street Art 
Yes, Street Art! There is plenty in Paris! The areas where you can find the most are at Butte-aux-Cailles and Belleville. Both neighborhoods are pretty much off the beaten track and well worth a visit if you search for things to do in Paris with tweens. They kept their authentic village charm and are perfect for a little afternoon walk. For the full experience, book a Paris Street Art tour! Click here for rates and more information.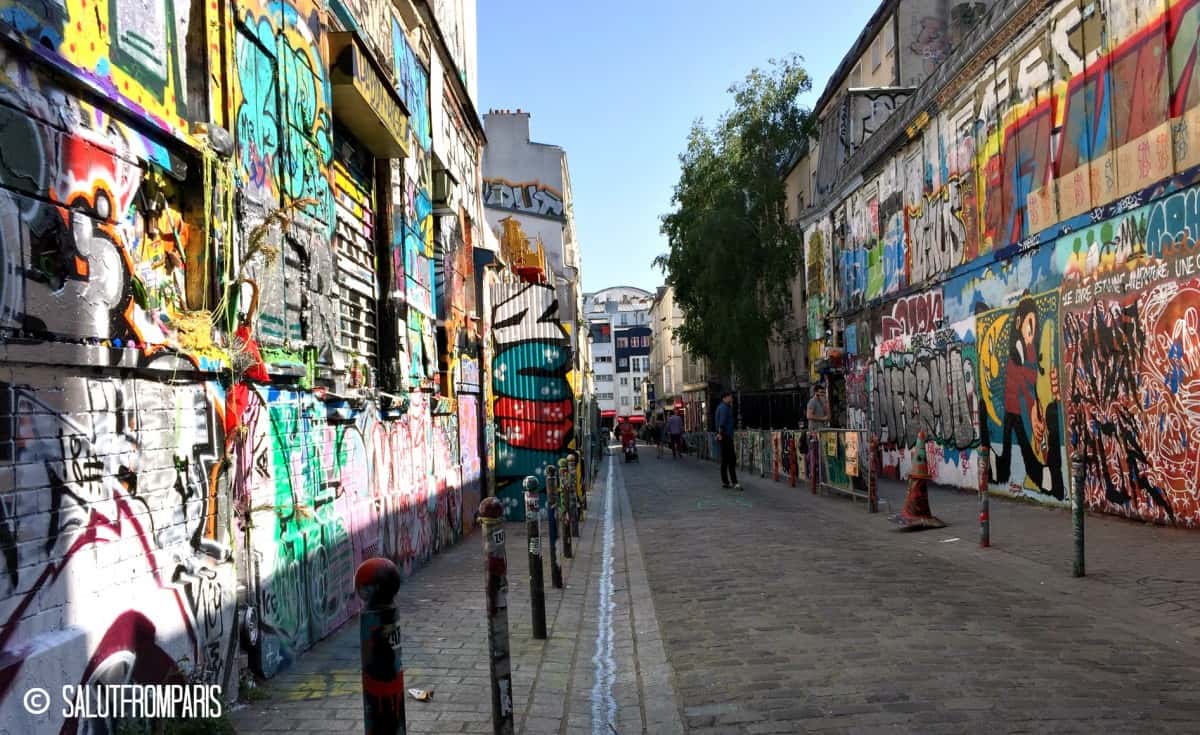 ≡

Grévin Wax Museum
Ever wanted to take a selfie with Mbappé? Or pose next to Angelina Jolie? That's your chance! The Grévin Wax Museum is a fun and entertaining place to take pictures with celebs and to strike cool poses. A cool activity if you search for things to do in Paris with teens.
≡

Cité de Science 
No less than the biggest science museum in Europe, with 5 million visitors a year. It features a planetarium, a submarine, an IMAX theater, and many more themed areas for kids and teens.
≡

Shop comics at Rue de Dante
If your teenage kid is up for comics, rue de Dante is a great address. It's a little street in the Latin Quarter with quite a few comic book stores. Many also sell collectibles, like figurines of Asterix and co.
≡

Have fun on a Segway sightseeing tour through Paris!
Sitting hours in a Hop on Hop off Bus is probably a teenager's worst nightmare, but luckily, there are way cooler ways to explore Paris! If you are looking for entertaining things to do in Paris with teenager travel buddies, join a Segway sightseeing tour!
≡

Shopping in the Marais and Montmartre
Those quarters are not famous for high street fashion but for little boutiques and stores where you can find literally everything: jewelry, clothes, bags, decoration, candles, soap, tea, vintage fashion, all sorts of pastries and candies, souvenirs, hand-made items, you name it. A great Paris teenager activity!
≡

visit Les Halles, Paris most popular shopping mall
Right in the center, close to Châtelet, is Les Halles. A newly renovated shopping mall and a number 1 destination if you want to go shopping for teens in Paris. Back in the days, Les Halles was a food and wholesale market, today it's a shopping paradise with more than 160 stores and 150,000 daily visitors.
≡

P

lay video games: Meltdown
Another geeky place in Paris, with a high focus on video games and e-sports. Just note that the Meltdown is a regular bar that serves alcohol, but obviously, your child won't be allowed to drink any. However, if you want to avoid the nightlife scene, simply come early. They are opening at 5 pm and at this time you don't have to fear encountering any party people.
They are having several gaming PCs, different consoles, and arcade machines – all are free to play as long as you are buying drinks/food.
≡ 

Explore Paris by bike!
See all bike tours if you search for fun stuff to do in Paris
Are you keen to do a sightseeing tour, but do you fancy something more active than just sitting on a bus for hours? I got the perfect solution: Join a bike tour! Ride with an experienced guide through Paris and enjoy the beauty of this town! It's super fun and some even have e-bikes!!
Cycling through Paris may sound a bit frightening but don't worry – most big streets have bike lanes and you're with an experienced guide! Alternatively, you could get a bike from a bike-sharing service like Vélib. Read our guide to know how to rent a Vélib in Paris!
►▷ What you should not do: Rent an e-scooter!
If you are in Paris, you will notice the black and green e-scooters that are standing around everywhere. I know many are suggesting this as a really cool activity when traveling to Paris with teenagers, and it surely is. Just, it's not allowed. The minimum age for electrical rental scooters in Paris is 18, and it is also prohibited to use them by more than 2 people.  And frankly, it can be quite dangerous, especially if you're riding without a helmet!
Want to know more things you shouldn't do in Paris? Don't miss our "Paris Mistakes" Post 🙂
►▷ Like it? Pin it for later! 
Disclosure: This page contains affiliate links. This means – at no additional cost to you – I will earn a small commission if you click through and make a purchase. I am independent, and the opinions expressed here are -if not stated otherwise- my own.
Related posts
Prepare your trip to Paris