This article may contain compensated links. Please read disclosure for more info.
You are planning a trip to Paris with Teenagers? And you are now looking for the absolute coolest things to do in Paris to keep them happy and engaged? You came to the right place because I am a Parisian mom of a teen and a tween, and in this article, I am sharing my best tips with you.
I tell you where you find the best stores, where the coolest street art is, where to eat and what, and which sights and activities you and the teenager you're traveling with shouldn't miss. I fill you in on everything you need to know to make your trip to Paris a smashing success.
To make planning easier for you, I will also share a few recommendations regarding accommodation, transportation, and a few packing, and safety tips, so nothing goes wrong.
Paris for Teens. We all know that teenagers can be a tough crowd. While their brains are getting rewired, their mood can swing faster than the carousel in front of the Eiffel Tower. And before you know it, they're trailing grumpily behind you, earphones in. Eyes rolling.
It can be a bummer to travel with a powder keg. But I do love traveling with my children. And some trips ago, I figured that we as a family are always only as happy as the unhappiest kid. Thus, my remedy against bad mood became planning primarily activities that the kids are keen on.
You might also be interested in these articles:
I may not be able to visit all the museums or shops, but I get to spend time with my happy teens. It's a win-win after all, and I take what I can get, honestly. Because I can travel there once more and do all the museums I want, but probably not again with them in tow.
Ok, OK, before I start tearing up and telling you how much I wish they were still small, let's get back to traveling to Paris with teenagers and all the outstanding things you can do in Paris with young adults.
Because that's actually the best reason to travel to Paris with teens: you can choose between a gazillion of activities that are fun and engaging and that will guarantee a memorable time for you and your teenage children.
⪼ see this fun wishlist for family-friendly activities & attractions that I created for GetYourGuide
Paris with Teens: Know before you go
But before we dive into my extensive list of things to do in Paris for teenagers, let's start off with a little travel planning basics. Because nothing matters more for a great vacation than a good start.
Where to stay in Paris with Teenager
When traveling to Paris with teens, finding good accommodation to set up a base is crucial. There are thousands of hotels in Paris to choose from, and it can be tough to find a good location in Paris, that is close to the sights and in a safe area. Shops, restaurants, and bakeries in proximity are a plus as well.
To help you find a good spot for your family and save you time and energy, I went ahead and put together a list of hotels that you can book without thinking about it twice. They are all in safe locations, convenient for sightseeing, and perfectly equipped to make your and your teenager's time in Paris a memory to cherish.
For more ideas on where to stay in Paris, also take a look at my hotel guides, with plenty of choices for all budgets. Please note that prices may change according to demand.
How to get around in Paris with teens
Paris is a small city and surprisingly walkable, but you'll still need to know what's the best way of getting around in Paris. Especially if you would rather not rely on Uber, Bolt, or regular Taxis.
But first things first.
Airport Transfers in Paris
My recommendation: book a private transfer with Welcome Pickups
When you arrive at the airport, you have a few options on how to get to your hotel. Whether you are arriving at the Charles de Gaulle Airport in the North or the Orly Airport in the South, the cheapest is to just hop on the next train. The Parisian airports are very well-connected to the center of Paris and you shouldn't run into issues.
If you are worried about being too tired after a long flight to deal with the local trains, you can also take a taxi from the airport. Just make sure that you are taking a taxi from the official taxi stand. It is a popular scam in Paris to approach travelers in the arrival hall and offer a ride. Those a not legitimate taxis, and they will cost you a fortune.
However, to be on the safe side, I can personally recommend Welcome Pickups. I used their service a few months ago when coming back with my son from a trip to the USA, and it was outstanding. Stellar communication, meet and greet in the arrival hall, and the price wasn't much higher than a regular taxi.
It was worth every cent. Click here to calculate the price to your hotel and compare.
Is the Metro in Paris safe for young adults?
Once in Paris, the most convenient, cheapest, and most reliable means of transportation in Paris is, after all, the public Metro service. With more than 300 stations and 14 lines, the next Metro stop is never far away. And, you rarely wait more than 5 minutes for the next train.
I understand if you are concerned about safety when traveling to Paris with tweens or teens, though. For what it's worth, I have never felt unsafe in the Paris Metro, whether I am alone or with my kids. No matter even the time of the day, or late at night. My teenage son rides the Metro alone by now.
However, do know that the service stops shortly before 1 and is not picking up before 5 am. You also have to watch out for your belongings because it's a popular spot for pickpockets.
Take a look at my recommendations on travel accessories further down in this article to know how what you can do to reduce your personal risk.
Which ticket do you need for the Metro?
For a detailed overview of which Metro Pass to get in Paris, see my article about the Parisian Metro as a reference.
But in a few words: the single ride ticket costs €2.10. A bundle of 10 paper tickets is €19.10 and if you get a Navigo Easy Pass, you only pay €16.90 for 10 tickets (+ a non-refundable €2 activation fee).
With a few exceptions, I believe in most cases, this is the best ticket to get around in Paris. Just note that each person in your party needs their Navigo Easy Pass and the reduced fare for kids only includes kids until 9 yo included.
Furthermore, know that you need a different ticket for Versailles, Disneyland, and the Airports are
Paris with Teenager: Packing Tips
If you wonder what Teens wear in Paris, I can tell you: what teenagers wear everywhere. In 2023, this means sneakers, jogging pants, sportswear, caps, apparel that looks like from the 90s, and of course, crop tops.
However, apart from the style, there are a few things you should keep in mind when packing. Paris is hot in summer and cold in winter. Lately, many summers have been burning hot with temperatures over 30 °C (86 °F), and the winter temperatures are often looping around 0 °C (32 °F).
But there is much in between and Paris is, more than everything else, often humid. It rarely rains an entire day, but you have to expect to see some showers.
You might also be interested in these articles:
It can also get chill even on an otherwise warm day. It's always best to dress in layers and to have a little extra layer in your bag.
Things you should pack are a down jacket, which is almost invisible under a normal coat, and a little umbrella.
Necessary Travel Accessories for Teens in Paris
I mentioned it before, but Paris is plagued by pickpockets. Especially in Metros and around attractions. You even have them at Disneyland and the Louvre. So one thing you have to make sure your teenager understands is, that they can easily become a victim of theft.
→ Read my post about scams in Paris to know what to watch out for.
I am not sure about your kids, but mine are carrying their AirPods and phones in their loose and unzipped jogging pants pockets, and they are driving me nuts with it. Of course, they got their stuff stolen already, and I wish I could say "lesson learned"…. If only.
A bag like this, many Teenagers in Paris wear:
Hence, to spare you from stress and anger, I strongly strongly STRONGLY advise you to have your teen in Paris wear a little cross-body bag to carry his valuables. I know it's not the coolest thing on earth. But many kids wear it in Paris, and losing your phone while on vacation is certainly less cool than a bag possibly can be.
Typical bags teenagers in Paris wear are these:
Alternatively, you can also get your teenage kids a phone chain or a pop socket, to add a layer of safety while discovering Paris.
Essentials, your Teenagers will need in Paris
Apart from a bag, you also need to think about a portable phone charger and a travel adapter. Photo opportunities in Paris are plenty and they are sucking your phone dry. Unfortunately, there aren't many (any?) public chargers, and you will have very little occasion to charge your phone when out and about.
Hence, a portable charger is a MUST. My son and I use this one when traveling, and it never let us down.
You also might need a travel adapter, to be able to plug your electronics. That's because the power plugs in France are standardized type E sockets, while the USA, for example, uses type A and B. We have this model and can recommend it.
Honestly, if there is a place teenagers will easily fall in love with, it's Paris! There is so much to do and see, it's impossible to get bored. And compared to many other international destinations, Paris is very convenient. Plus, contrary to their reputation, most Parisians are utterly friendly and do speak English.
Student ID and a (copy of) ID for free admission for teenagers in Paris
In Paris, national museums like the Louvre, the Arc de Triomphe, the Musée d'Orsay, and many more are free for everyone under 18. And also for those under 26 if holders of a European Passport. If this applies to you or your children, make sure they are carrying an ID with them to prove their ages.
Paris Travel Literature for your Trip:
What are the most fun & unique things to do in Paris with Teenagers?
I believe I mentioned already once or twice that there are plenty of things to do in Paris with teens. So, now, without adding more travel planning and without further ado, here's for you the list of the best things to do in Paris for young adults, teens, and tweens.
Visit the Top Sights & Landmarks in Paris
Sightseeing is usually not the most compelling activity for kids and teenagers – but this is Paris. Here, sightseeing means experiencing world-famous landmarks firsthand: Climbing the Eiffel Tower, seeing the most famous painting in the world, roaming the streets of Montmartre, and descending the catacombs. It's the opposite of boring and a highlight of every family trip to Paris.
That's just a small selection of attractions that are included in the pass. In total, you can pick up to 7 from more than 50 of the most popular things to do in Paris. Click here to see everything that is included in the Paris Explorer Pass.
#1 The Louvre
→ Buy your tickets ahead of time for the Louvre on GetYourGuide or Viator
The Louvre is the world's most famous museum and a must-visit in Paris. When you are with teens in Paris, they're probably not overly excited by the idea of looking at art for hours. And good for you: they don't have to.
Take the Masterpieces Tour. It is a free self-guided walk for ticket holders through the museum that shows you in 1,5h the most important artworks of the Louvre. An efficient in and out without missing the quintessence and taking up too much time of your time in Paris.
Good to know: The Louvre is free for everyone under 18. Under 26 if you are holding an EU Passport. But even if free access applies to you or your group, you still have to reserve a time slot here. (within the "individual ticket" section)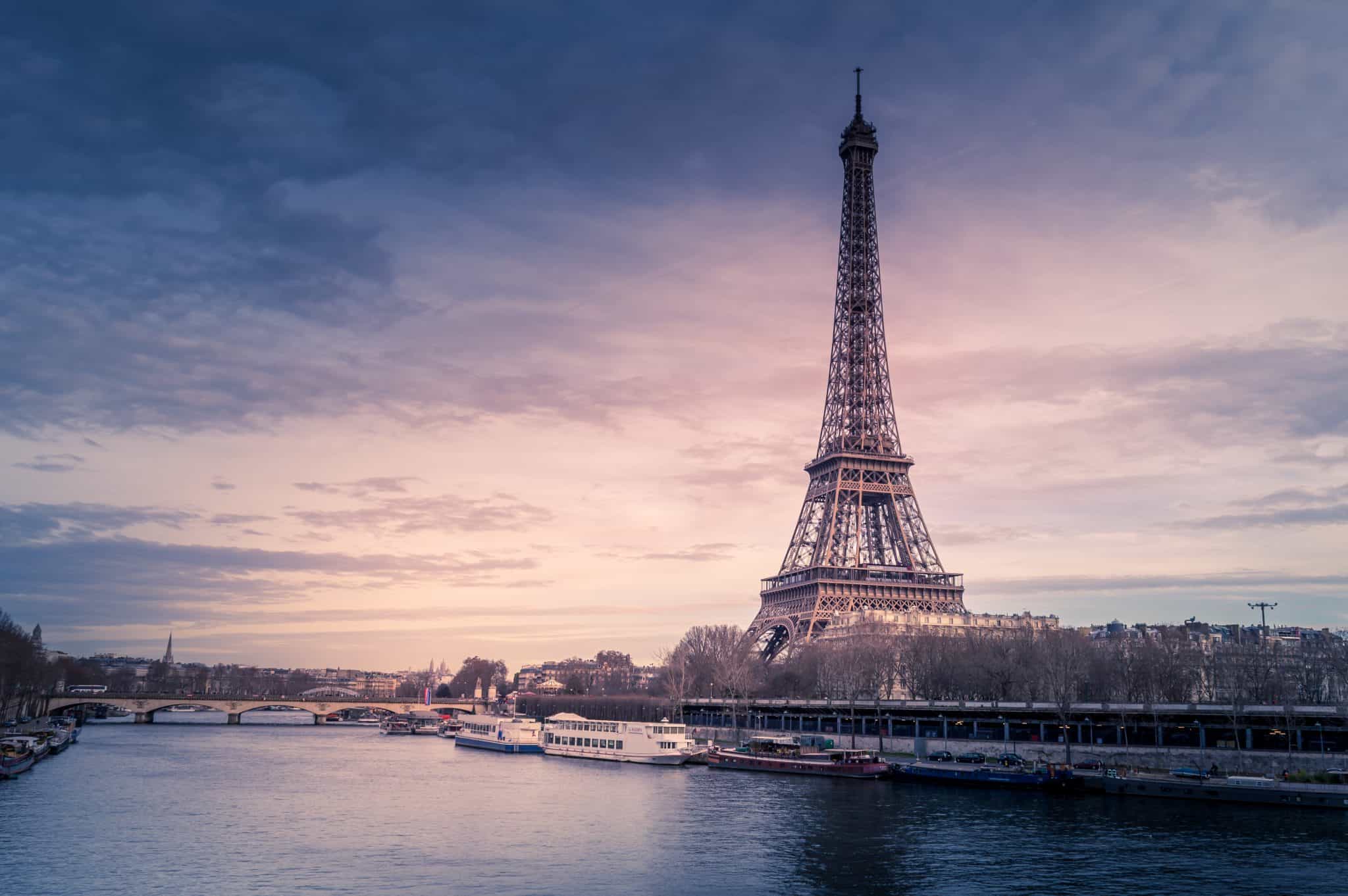 #2 The Eiffel Tower: a must for teenager in Paris
→ Buy your Eiffel Tower Tickets here, they sell out quickly
You have this one probably already on your bucket list: Visiting the Eiffel Tower. When traveling to Paris with teenagers, the Eiffel Tower is simply a no-brainer.
However, you need to purchase your tickets in advance. Especially during peak season, it can be tricky to get your hands on tickets to the summit. The Eiffel Tower is often sold out. And if there are tickets left, the queues are huge. Huge, like in: up to several hours waiting time! You can purchase your tickets here ahead of time.
⪼ don't miss the fun wishlist for family-friendly activities & attractions that I created for GetYourGuide
#3 The Catacombs of Paris
One of the most popular & sold-out activities in Paris: book here in advance
How does visiting the world's largest grave sound? The catacombs of Paris are exactly that: a massive graveyard that holds the remains of more than 6 million people. It's part of an underground tunnel system beyond the streets of Paris. It's half creepy, half fascinating, and a pretty cool activity in Paris for teenagers.
#4 Take a Cruise on the Seine
Buy your Bateaux Mouches Tickets here to secure your spot hassle-free from home
If you are looking for relaxing but also fun things to do in Paris for young adults, definitely take a ride on one of the famous Seine river boats: the bateaux mouches.
The perspective on Paris from the cruise boat is just stunning. Especially during the evening, when Paris is illuminated, and you can see the sights in all their sparkle and glory. If you time it right, you might even get a glimpse of the twinkling Eiffel Tower during your tour.
#5 Make your own Perfume
Find out here if spots are still available to create your personal fragrance
If you'd love to share an experience with your kid and like a very personal souvenir from Paris, a perfume workshop is a perfect activity for you.
Learn from a professional perfumer the secrets of perfume making, and create your own personal fragrance as a souvenir from Paris.
Here are for you the most popular perfume-making workshops in Paris:
Workshop in Paris: Create your own Perfume (book here)
Budget Option: Fragonard perfume workshop & museum visit (book here)
#6 The Canal St. Martin: Cruise through the locks
→ Save your seats on the boat here
Did you know that there are 2 rivers in Paris? That's right, the Seine and the Canal St. Martin. The latter connects the Seine with the regions North of Paris. It winds through nine locks and even a underground tunnel beneath the Bastille.
#7 Disneyland Paris for Teenagers
→ Save time and book in advance on GetYourGuide or Viator
There are only a handful of holiday destinations that are lucky enough to have a Disneyland, and Paris is one of them. So whether you are just a massive Disney fan, are from one of the plenty of regions without a Disneyland or you're just looking for things to do with teens in Paris: Disneyland is one of the most fun Paris teenager activities.
Disneyland can be pretty packed at times, so I recommend reserving your admission tickets in advance and avoiding the weekends.
To best plan your trip to Disneyland Paris, take a look at these articles: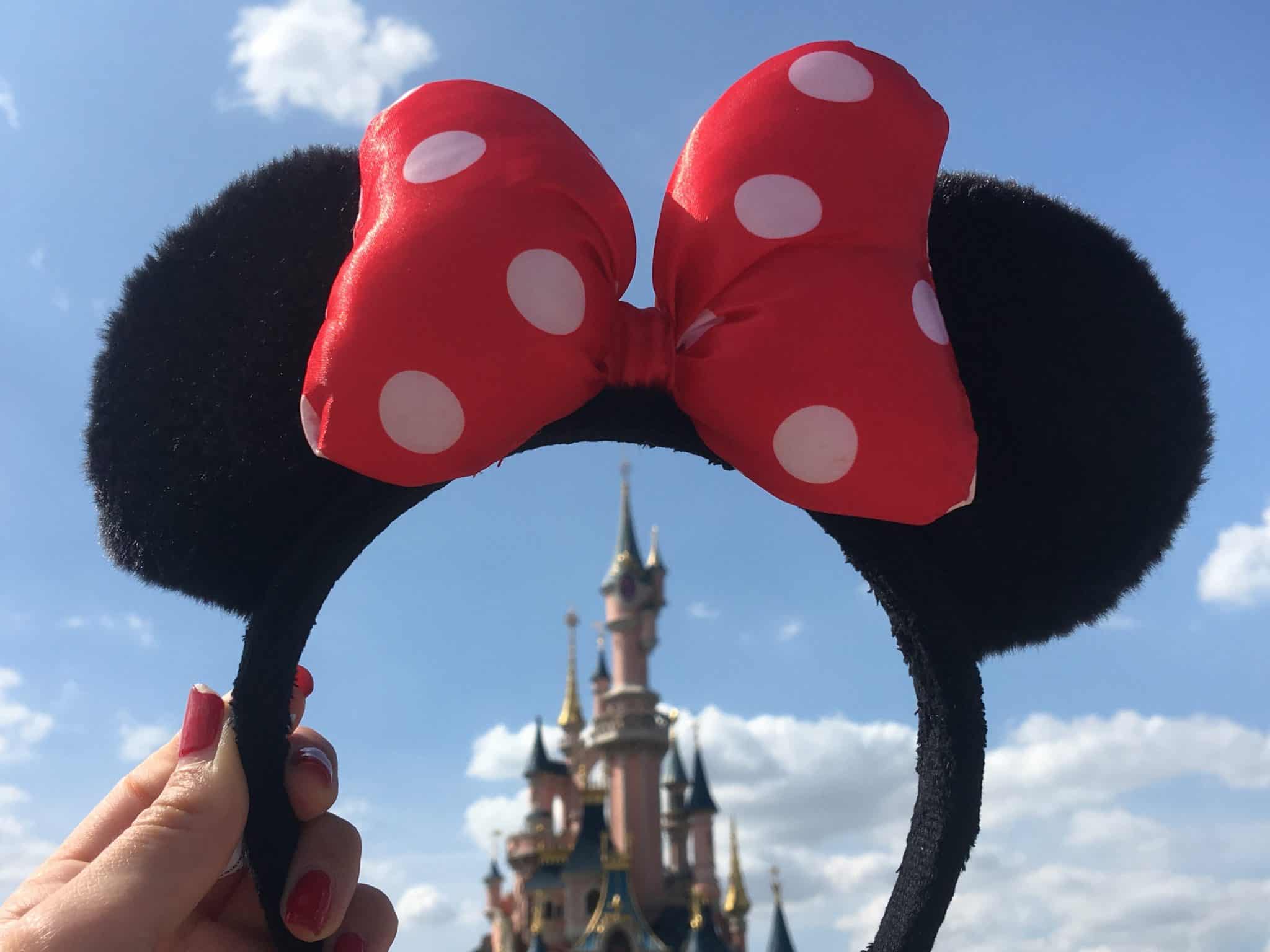 #8 Visit the Upside Down at The Stranger Things Experience
Book this fantastic immersive Stranger Things Experience here, it sells out quickly.
If your kids (or yourself) are fans of the Netflix Show, then you cannot miss the Stranger Things Experience in Paris. I have been there with my 15-year-old son and we both absolutely loved it.
I can't tell you too much because it would spoil the fun, but what I can say is, that it's an immersive event with live actors, escape room elements, and 3D animations.
Following the storyline, you take part in a sleep study in the Hawkins Laboratory, which goes terribly wrong, and you'll be joining forces with Mike, Max, Dustin, Will, Lucas, and Eleven to fix it. Sounds cool? It is!
After the event, you get to visit Hawkins: Including the Arcade, Scoops Ahoy, lots of 80s vibes, and plenty of opportunities to take cool pictures and to stock up on some Stranger Things Merch. Or you just enjoy the 80s vibes while sipping a cocktail (or mocktail), eating a corn dog, or some ice cream.
The only thing you need to keep in mind: it's in French. However, most things were completely self-explanatory, and you can pick up on what's going on even without understanding French. (I speak French, but I didn't listen carefully and just went with the flow, still had a total blast!)
The event runs on Wednesdays, Fridays, Saturdays, and Sundays and is insanely popular. Better get your tickets in advance.
Good to know: the event only runs until mid-July 2023, but the organizers, Fever, have more cool activities running. See the full catalog here.
#9 Emily in Paris: Visit the original locations
Join this Emily in Paris walking tour to find all the hidden spots you know from the show
If you visit Paris with teenagers, they've probably binge-watched "Emily in Paris". Hence, it's one of the best fun things to do in Paris with young adults to visit the filming locations.
Gabriel's Restaurant, her apartment, the agency Savoir and also her and Mindy's favorite hang-out places. All are real places within Paris that you can visit and where you can take great pictures for your social media channels.
How to find the filming locations of Emily in Paris?
#10 Take a Virtual Reality Flight over Paris
→ book your departure time slot here
If you or your teen are up for some thrills, and you are looking for some fun things in Paris, you'd love this one! (Virtually) fly over Paris and explore the city from a bird's perspective! Click here to know more.
#12 Play Games at La Tête dans Les Nuages
Never heard of La Tête dans les Nuages? Likely, but know that it's the biggest game room in Europe. It's in the very center of Paris and great if you are looking into fun activities to do in Paris.
But not only when traveling with teens to Paris, it is great fun for everybody: They have bowling lanes, racing simulators, pool tables, video games, arcade games, games for kids, and they also serve food. The entry is free, but you obviously need to pay for the game tokens.
#13 Learn to bake Macarons with teenagers in Paris
→ You can book the same workshop that we did right here
A newly acquired skill is the best souvenir from your trip, especially when you've learned it together with your teenage kid. It's a great bonding opportunity when with teenagers in Paris.
And if you like baking and Macarons, there is no better place than Paris to combine, both. And good for you, you have quite a few options when it comes to Macaron workshops. From budget courses to exclusive pastry classes.
Here are for you the most wanted Macaron classes in Paris: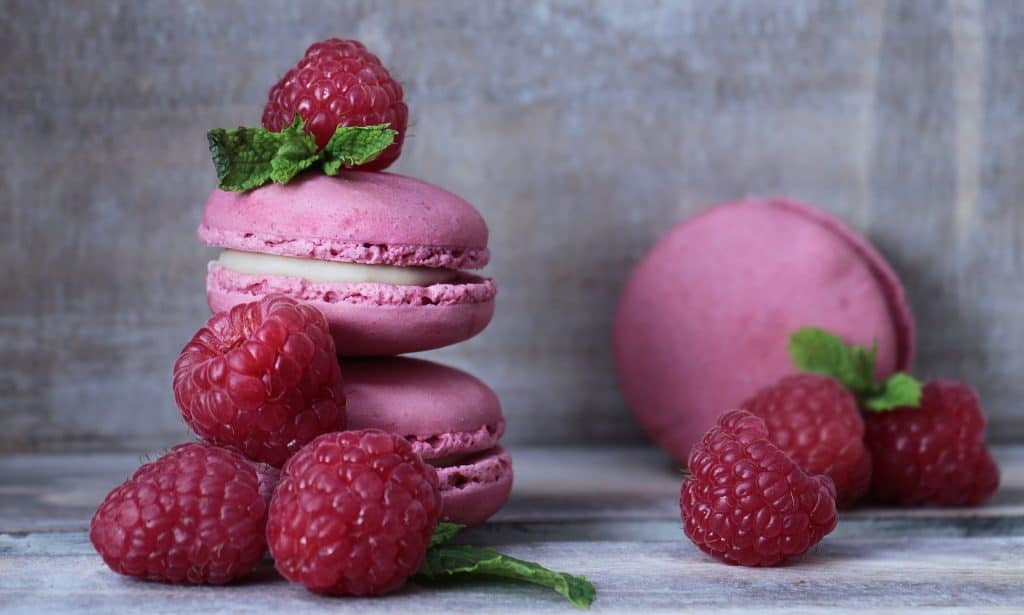 #14 Attend a PSG Match at Parc des Princes
#15 Have a Hot Chocolate at Angelina
This place is an institution in Paris and has supposedly the best hot chocolate in town. Angelina is also one of those places that look great on Instagram, too. The fancy tearoom often has long queues, but the wait is well worth it.
Unfortunately, they don't take reservations. You find their tearooms in different locations throughout Paris:
Musée des Invalides
Musée du Luxembourg
Rivoli Paris (the most famous & prettiest one)
Musée du Louvre
Versailles, Pavillon d'Orléans
Versailles, Domaine Trianon
But if you are not up for queuing, but simply want to know what the hype is about, you can also get a box of Angelina Chocolate Mix. You find it, for example, in their boutiques or at the Grande Épicerie
#16 Visit the Magical L'Atelier des Lumières
This place is pure magic. L'Atelier des Lumières is an immersive exhibition of images and sounds, that covers the entire location. From floor to ceiling on an area of 3,300 m². It's hard to describe, but imagine yourself not only seeing a painting of Klimt or van Gogh but actually floating through it with the perfect background music. No, they are not handing out drugs with your admission ticket, no worries.
You can buy your tickets here. Currently, they are showing Chagall and Klee, and it's one of the most fun places to go in Paris.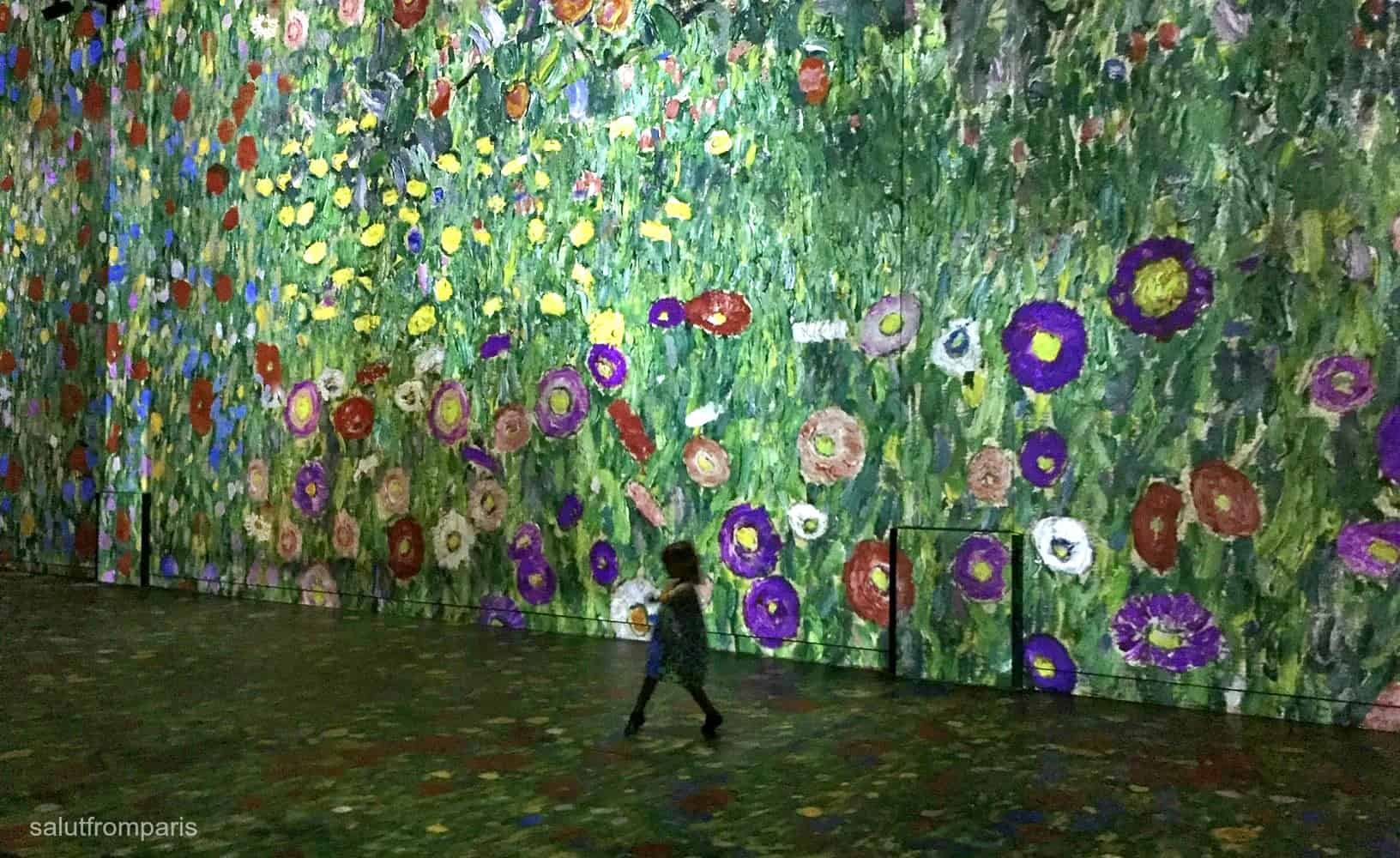 #17 Shakespeare & Company: the most beautiful Bookstore
Probably THE most famous English bookstore in Paris, and clearly one of the nicest. It's perfect for just taking a look, but also a charming spot to take some Instagrammable photos. Or you can just sit there and pet the cat that lives upstairs.
However, they also host quite frequently free author readings (in English) that you could attend with your teenager, too. They are always in the evening and good if you are chasing after fun things to do in Paris at night.
My tip: Start adding some Paris-themed literature to your reading list before your trip. For inspiration, see my collection of favorite books set in Paris.
#18 Visit one of the big conventions in Paris with your teen
There are a few conventions held in Paris that are very popular and well worth the visit. Especially if you are coming from an area, where conventions are not really a thing. Yearly events are;
Paris Games Week
Paris Manga
Paris Comic Con
Salon de Chocolat
#19 Discover the Parisian Street Art
→ Copy me: I did this tour and I loved it
Did you know that there is plenty of street art in Paris? You find smaller artworks all over Paris, but the best areas to spot street art are certainly the Butte-aux-Cailles and Belleville.
Both neighborhoods are mostly off the beaten track and well worth a visit if you search for unusual things to do in Paris with tweens and teens. Both areas maintained their authentic village charm and are perfect for a little afternoon exploration.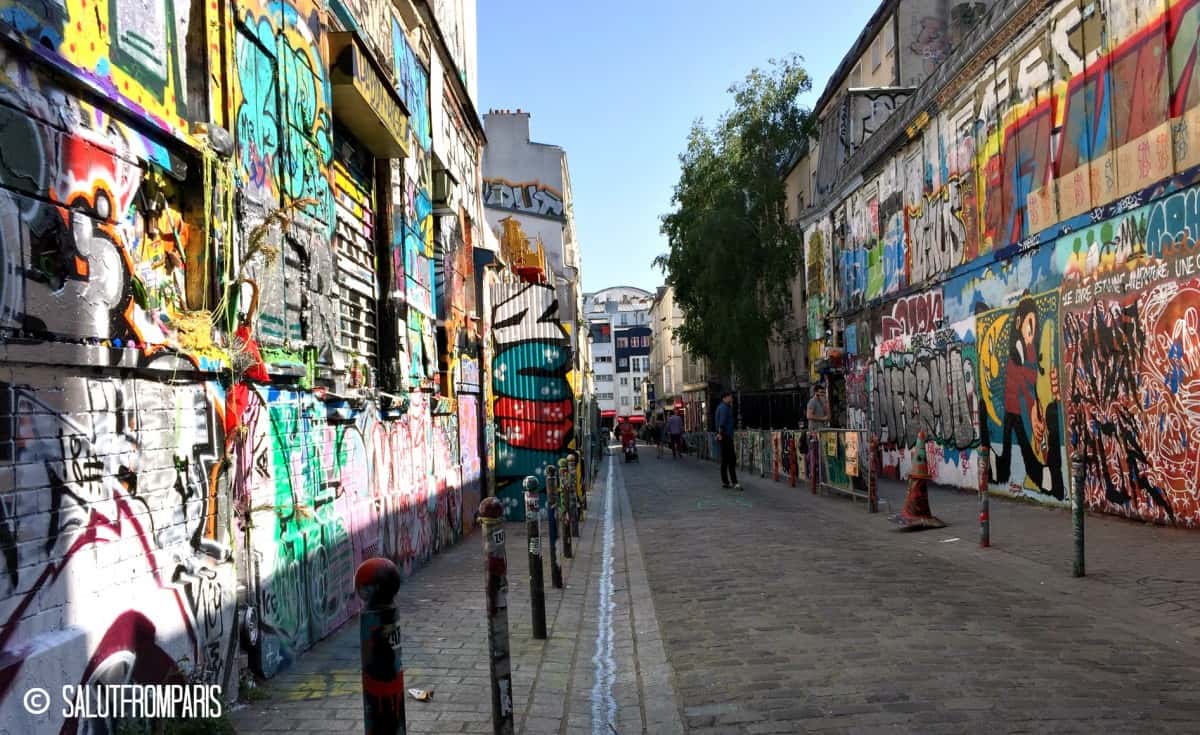 #20 Parc Asterix: Fun Paris Teenager Activities
Check Asterix' availabilities here, the park is often booked out during peak times
Parc Asterix, an amusement park located just outside Paris, offers you a unique and original experience that sets it apart from Disneyland. Unlike its globally recognized counterpart, Parc Asterix is not part of a chain but rather celebrates the iconic French comic book character, Asterix.
So if you are looking for something typical French but don't want to sacrifice the fun you'd have at Disney, Parc Asterix is perfect for teenagers in Paris.
I would even go so far, that, if not a total Disney fan, Parc Asterix is the better choice for young adults. With its action-packed rides and attractions, the park appeals especially to teenagers seeking thrills and adventure.
Important: Parc Asterix is not accessible by public transportation from Paris. Best to book a private transfer:
Good to know: Plan their trip between spring and autumn, as the park is closed during winter, except for the special holiday season around Christmas and New Year.
#21 Visit the Grévin Wax Musuem
Book your tickets here and meet your favorite celebrities
Ever wanted to take a selfie with Mbappé? Or pose next to Angelina Jolie? That's your chance! The Grévin Wax Museum is a fun and entertaining place to take pictures with celebs and strike cool poses. A cool activity if you search for things to do in Paris with teens.
#22 Visit the Cité de Science
Book your tickets to Parisian science museums here
No less than the biggest science museum in Europe, with 5 million visitors a year. It features a planetarium, a submarine, an IMAX theater, and many more themed areas for kids and teens.
My tip: You can combine this museum perfectly with the tour of the Canal St. Martin, as the boat leaves/arrives just a couple of minutes away. If you visit the museum, you have to reserve some expositions and activities separately when there.
#23 Shop Mangas in Rue de Dante
If your teenage kid is up for comics, Mangas, and the very French BDs (bandes dessinées), rue de Dante is a great address. It's a little street in the Latin Quarter with quite a few comic book stores. Many also sell collectibles, like figurines of Asterix or Tintin, but also games and books.
#24 Visit a free outdoor Gym in Paris
If your teenager is of the sportive kind and is keen on mingling with the local youth, head to one of the many outdoor gyms that you find all over Paris.
In fact, many parks are recreation areas are equipped with workout stations. You even have one at the very top on Île-aux-Cygnes. Including a fabulous view of the Eiffel Tower, and surprisingly, a replica of the Statue of Liberty.
Alternatively, you can also head to the Berges de Seine, the river banks between the Eiffel Tower and the Musée d'Orsay. You find some workout stations all along the way.
#25 Have fun on a Segway Sightseeing Tour
This is the best-rated and most-booked Segway Tour in Paris. Are they available on your dates?
You probably don't have to ask your teenage kid twice, if they are up for a Segway sightseeing tour in Paris. It's one of the most perfect things to do in Paris with teenagers: it's fun, action-loaded (but not too much), and you discover Paris on the way.
#26 Shopping in the Marais
One of the popular things to do in Pars for teenager is certainly a shopping trip. And here I can tell you that the Marais is a top-notch address for boutique and souvenir shopping. It is not necessarily cheap high street fashion, but not nothing high-end either. But you also find many concept stores and a lot of vintage and thrift shops.
Here are a few addresses to help you know where to start:
But apart from these stores, you find in the Marais literally everything: jewelry, clothes, bags, decoration, candles, soap, tea, vintage fashion, all sorts of pastries and candies, souvenirs, hand-made items, you name it. A great Paris teenager activity!
#27 Food Tour in the Marais
The Marais is not only a great location for shopping, but also to sample some of the most delicious treats Paris has to offer. The Marais is one of the oldest districts in town.
It is a charming upscale neighborhood with a rich history, a large Jewish community, and the Parisian center of LGTBQ+ culture. And with history and people come delicious food. Not surprising that you find here the oldest covered Market in Paris: the Marché des Enfants Rouge.
If you are keen on discovering the culinary side of Paris together with your family, the Marais is one of the best places for it.
This is the best Food Tour in the Marais: with up to 10 food stops and tastings in a small group. Remember that the legal drinking age in France is 16 when in the presence of an adult.
#28 Climb the Arc de Triomphe
Budget Tip: Get an Arc de Triomphe & Seine Cruise Combo ticket and save 10%
The Arc de Triomphe, one of Paris's Big Five monuments, certainly belongs on the bucket list of your Paris trip. Especially if you want to add a few educational things to do for teenagers to your itinerary. The massive Arc was created by Napoleon to celebrate military victories, and you find it on top of the Champs-Élysées.
It also houses the Tomb of the Unknown Soldier, a poignant memorial for the fallen soldiers in World War I. This bit of the arc is free to visit, and you find it just beneath.
But aside from all the history, the monument grants you and your teen a spectacular view. Especially at night, it offers a mesmerizing panorama of the Eiffel Tower.
Important: Do not try to cross the big roundabout to reach the Arc de Triomphe. There are underground passages to assure safe crossing. You find one next to the Big Bus stop on the right side of the Champs-Élysées.
#29 Shop on the Champs-Élysées
The Champs-Élysées is Paris' most famous street and is mainly associated with designer shopping such as Louis Vuitton and Longchamp. But that's not all. There are plenty of stores that are especially appealing to teenagers in Paris.
For example, the Nike House of Innovation, Paris. There are only 3 standpoints worldwide where you can get a glimpse of the future of athletic sportswear, and in Paris, you are lucky enough to have one of them. So if you are traveling with a Nike Fan, then this is a place to put on your agenda for things to do in Paris with your kids.
But there is more on the Champs-Élysées that your family will probably be interested in:
Apple Store
Citadium
Stranger Things Store
Sephora
Foot Locker
Zara
The PSG Fan Store
Adidas
Atelier Renault (temporarily closed)
Until earlier in 2023, there was also a Disney Store on the Champs-Élysées, but it's permanently closed now.
#30 Have breakfast on the Tour Montparnasse
Or: book your tickets to the 360° Oberservation Deck here for fantastic views
The Tour Montparnasse may not be known for its aesthetics, but it offers you a fantastic view of the Eiffel Tower. With its 360° observation deck, it provides you with the absolute best vantage point to admire Paris.
As the tallest skyscraper in the city with 60 floors, it's an impressive sight. Of course, sunset is the ideal time for you to visit, as the changing colors of the sky enhance the experience. But if you can't get tickets for this time of the day, I have a special tip for you: go there for breakfast!
My recommendation: book a table at the Ciel de Paris Restaurant located on the 53rd floor for breakfast. It is usually a very upscale restaurant, but its breakfast is surprisingly affordable. It is even cheaper than tickets to the observation deck. Plus, you get a stellar view of the Eiffel Tower while enjoying your croissants.
#31 Père Lachaise Cemetery
Also read my visitor tips for this peaceful part of Paris
The Père Lachaise Cemetery is the largest cemetery in Paris and exudes a wonderful atmosphere. It resembles a park and is the resting place of famous figures like Oscar Wilde, Jim Morrison, and Edith Piaf. It's a serene sanctuary with graves and mausoleums, some are more than 200 years old.
The cemetery unveils the rich cultural heritage of the city, making it a unique and captivating destination. It also allows a bit of quiet time after all the buzz that you and your teenager experience in Paris.
#32 Do a Hop-On Hop-Off Sightseeing Tour
Book your bus tickets here. The Tootbus Tour is the best in Paris.
The Hop-on Hop-off sightseeing tour in Paris is an excellent way for you and your family to experience the essence of the city in a short time. It's especially perfect for starting your trip when you're tired from a long flight. It helps you get an overview, without overdoing it and ruining the mood of the tired members of your party.
This comprehensive tour covers the heart of Paris, including iconic landmarks like the Eiffel Tower, Notre Dame, and the Louvre. You have the flexibility to either sit back and enjoy the tour or disembark at specific spots for sightseeing.
In Paris, you can choose between BigBus and Tootbus. Frankly, they are both the same, but Tootbus runs on eco-friendly e-busses, so I would go ahead and book with them.
Budget Tip: Book a Combo Tour
A bus tour offers you a convenient and informative way to explore the city's highlights, making it an ideal choice if you seek a memorable and hassle-free introduction to Paris for you and your kid.
#33 Play Video Games: Meltdown
Another geeky place in Paris, with a high focus on video games and e-sports. Just note that the Meltdown is a regular bar that serves alcohol, but obviously, your child won't be allowed to drink any of under 16. However, if you want to avoid the nightlife scene, simply come early.
They are openopening at 5 pm and at this time you don't have to fear encountering any party people.
They have several gaming PCs, different consoles, and arcade machines – all are free to play as long as you are buying drinks/food.
#34 Shopping Malls in Paris
Like everywhere, shopping malls are a popular meeting point and hang-out spot in Paris for teenagers. The biggest shopping mall is the Westfield Forums des Halles in Châtelet. Even though it's a newly renovated shopping paradise, Les Halles has a long history.
Since the 11th century, this spot in the very center of Paris started out as a market, and it stayed a place of trade until today. For a long, it even had the nickname "the belly of Paris" because the market was significant for the whole city.
But Les Halles is not the only mall in Paris. Here's a list of our favorite shopping malls in Paris:
Les Passages des Havre (109 Rue Staint-Lazare)
Bercy Village: outdoor mall in an old wine depot
Beaugrenelle: 12 Rue Linois
Westfield Les 4 Temps: in la Defense at the Grande Arc
#35 Escape Room with your Teen in Paris
Book your English language Escape room here
One of the coolest things to do in Paris with teens is certainly an Escape room. Ok fine, it's not really something related to Paris, but sometimes all that counts is the fun you have. An Escape Room is ideal to loosen up a sightseeing program with museums and landmarks. It works as a bribe as well, haha.
Anyway, good for you, some Escape Rooms in Paris are offered as well in English! So, the language barrier is no excuse if you don't make it out in time.
Here are your best options:
See the complete list of free museums in Paris here
For the history buffs or just to add a bit of European history to your Paris itinerary, I can strongly recommend the Musée Carnavalet. Firstly, because it's free and Paris is expensive. It can never do any harm to lighten up your daily spending.
But also, of course, because it is a cool museum in the Marais that deals with the history of Paris. You find tons and tons of artifacts from Roman times until the French Revolution and beyond, for a very vivid display of how things were in Europe throughout the centuries.
Budget traveler? Don't miss these posts:
#37 Visit the Paradox Museum
Reserve your time slot here in advance to avoid waiting times
It's one of the newest additions to the Parisian museum landscape. Opened only in spring 2023, this museum is a fun place to explore when looking for things to do in Paris with teenagers.
Countless Optical Illusions, cool photo opportunities, and visuals that let you scratch your head. Because.. what?! Book your tickets here.
I've been there a few weeks ago with my tween, and we utterly enjoyed it. It was fun to experience this together, and we were both pretty hyped. My older son was even a bit jealous and told me that he had many friends who spent a good time there.
#38 Visit the Japanese Quarter
Is your teenage kid a fan of Japanese culture? Mangas, Ramen, Mochis? Then you should head to Rue Sainte-Anne near the Palais Garnier.
The area is known as the Japanese Quarter and is a haven for ramen and sushi lovers. You also find a K-Mart there, countless bubble tea stores, and, of course, shops with Mangas and teas, herbs, and Japanese home iteams and decor.
For some culinary delights, make sure to visit Aki Boulanger, a delicious French-Japanese bakery known for its scrumptious melon bread. Just nearby, the Passage Choiseul awaits, offering one of the most mouthwatering bubble teas: Boba Milk Tea Crème Brulée at Pablo.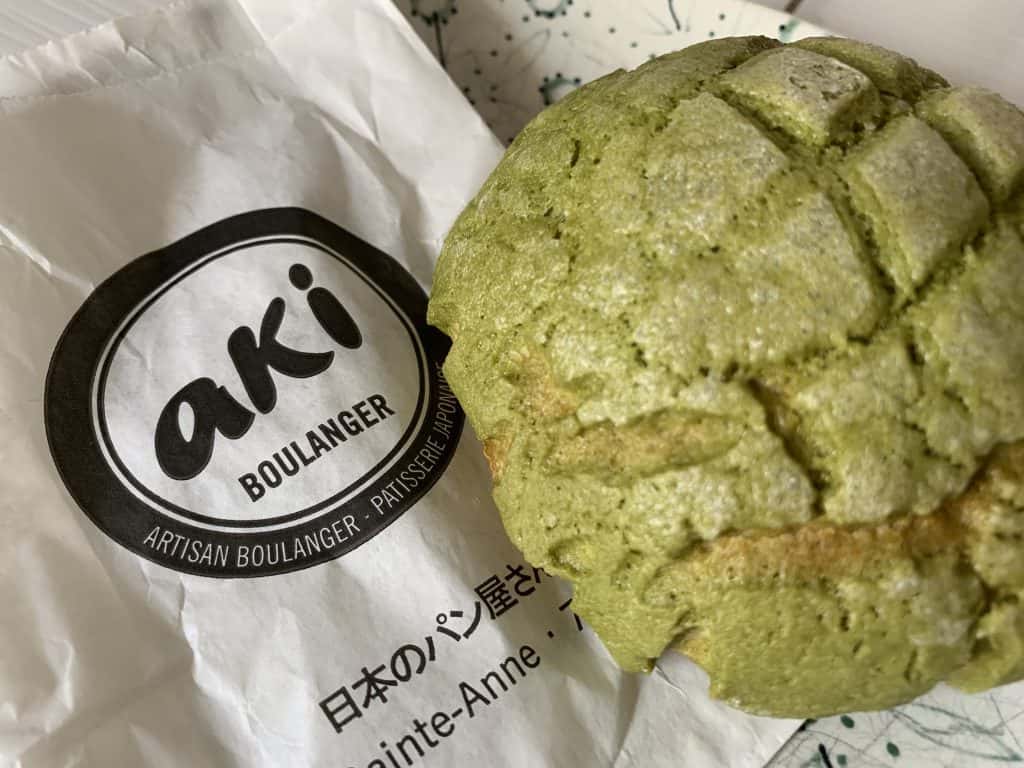 #39 Space Invaders (free)
Download the app and start hunting
Have you heard about Space Invaders? They are small mosaics inspired by video games from the 80s that are hidden throughout Paris. Created by the anonymous Street Art artist known as Invader Art. There are over 1400 of these mosaics scattered across the city, waiting for you to find them.
What makes it even more exciting is that you can collect these Space Invaders using a dedicated app called Flash Invaders and earn points as you find them. It's a fun and interactive way to make exploring Paris on foot even more interesting and enjoyable.
Especially if you have someone in your travel party who isn't that eager to walk miles and miles.
#40 Explore Paris by bike
Safe time researching: Here's for you the most popular and best-rated bike tour in Paris
Are you keen to do a sightseeing tour, but do you fancy something more active than just sitting on a bus for hours? I got the perfect solution: Join a bike tour. Ride with an experienced guide through Paris and enjoy the beauty of this town while learning tons of facts about Paris.
Good to know: Cycling through Paris may sound a bit frightening, but don't worry – most big streets have bike lanes, and you're with an experienced guide.
If you are an experienced cyclist, rent a bike from a bike-sharing service like Vélib. Read our guide to know how to rent a Vélib in Paris!
#41 Explore Montmartre & Rue Abreuvoir
Read my local Montmartre Guide to know about the best things to do there
You have probably heard of Montmartre. It's the cute artist district in the North of Paris. Plenty of cobblestones, quaint houses, the majestic Sacre Cœur and a plethora of charming boutiques and cafés to explore.
Best Walking Tours in Montmartre:
If your teenager is an Emily in Paris Fan or overall keen on exploring the very Instagrammable side of Paris, then Montmartre is definitely a must. The highlights are:
Rue Abreuvoir (the most beautiful street in Paris)
La Maison Rose
The Musée Montmartre with the cute Renoir Café
Place de Tertre
My Tip: Enjoy lunch at Maison Rose (reservation needed) and head to Bachir for ice cream for dessert. It's a Lebanese ice cream parlor with very delicious flavors.
#42 Le Café des Chats – The Cat Café
It is what it sounds like – a tea house that is home to a few cats. 13 of them, to be precise! It's a classic Parisian tea house with a good choice of teas and coffees and, of course, cake, and pastries.
They do serve also classic French brasserie dishes like Croque Monsieur or a salad with goat cheese. If that's nothing your kid would possibly eat – they do serve burgers as well, even veggie burgers! Certainly, an interesting address if you're looking for eateries in Paris for teenagers.
If you are seeking fun restaurants in Paris, don't miss our post about the most quirky restaurants in Paris!
#43 Get a Professional Photo Shooting in Paris
Book your personal photographer now to take your pictures at the Eiffel Tower
Capture unforgettable memories of your family's trip to the Eiffel Tower with a professional photo shoot. If you're not confident in your photography skills or uncomfortable asking strangers to take your photo, hiring a professional photographer is the perfect solution.
Different Photo Shootings available:
They will skillfully capture stunning pictures of you and your family against the backdrop of this iconic landmark. It's a wonderful and lasting memory of your visit, and an exciting experience to be part of an outdoor photo shoot.
#44 Explore the Petite Ceinture
See my guide of the different sections of the petite ceinture as a reference
If you are looking for unique things to do in Paris with your family and teenage kids, consider exploring the petite ceinture. It's an abandoned railway loop around Paris that lately got partially rehabilitated as parks and walkways.
It's perfect if you are keen on visiting parts of Paris that are under the radar of most visitors. Heading to the rails is also a great starting point to venture through the Parisian arrondissement far off the tourist center.
#45 Walk on the Paris Highline: The Coulée Verte
Check my article on the Coulée Verte for insider Info and visitor tips
The Coulée Verte in Paris, akin to New York's High Line, traces the path of a former railway that linked the heart of the city to its periphery. For the best experience, start your trail near Bastille on the charming Viaduct des Art and simply keep on walking.
This picturesque promenade meanders through the Park de Reuilly and the Coulée Verte René Dumont. Along the way, you're not only getting a glimpse of the Paris of the Parisians but are also granted splendid vistas of the enchanting Parisian cityscape.
Tip for the athletes: If you or your family are up for a run, the Coulée Verte is perfect. From Bastille, follow the track until Piscine Roger Le Gall and head back to Bastille. Voilà, you've done a 6.5 km run.
#46 Tour Paris in a vintage 2CV
Book your unforgettable sightseeing Tour in the iconic Citroën here
#48 Food Court Lafayette Gourmet
Best things to do in Paris with teenagers that are hungry? Visit the Food Court at Lafayette Gourmet. It's THE perfect place if you are eager to try all the good food, but are unsure where to start and where to go. Lafayette Gourmet is a food court where the best caterers in Paris come together, all in one place.
Macaron from Pierre Hermè, Pastries from Meunier, delicious Babka and Sabiche Sandwiches from Babka Zana… plus countless little eateries and restaurants to choose from.
#49 Picnic near the Eiffel Tower
Paris, with its abundance of enchanting parks, lush green spaces, and picturesque banks of the Seine, naturally lends itself to the popularity of picnics. Known as "Apéros," these outdoor gatherings bring people together to relish in delicious snacks, nibbles, and drinks.
What makes picnics in Paris so delightful is their effortless simplicity. Which means you can have a picnic of your own without any hassle. All it takes for you is a quick visit to a nearby deli or supermarket to gather an array of treats, and then you can head to your favorite spot.
A few ideas on where to find your perfect picnic spot:
On the Champs de Mars in front of the Eiffel Tower
In the Jardin du Luxembourg
Along the Seine
or: along the Canal St. Martin
Whether it's a leisurely afternoon in the park or a riverside meeting, picnics are a lovely way to enjoy the Parisian life and spend a relaxed time among locals.
#50 Visit the Pantheon
Buy your entrance ticket to the Pantheon here
The Pantheon in Paris, renowned for its architectural splendor, is not only a remarkable structure and pretty cool viewpoint but also the final resting place of notable French figures. Among them is Marie Curie, whose tomb is made from a unique material due to the high radioactivity of her body. Crazy!
Since 2021, the Pantheon is also home to the remains of Josephine Baker, making her the sixth woman to be honored in this prestigious mausoleum.
#51 Explore Paris by Night
Read my extensive guide about the best things to do in Paris by Night
And lastly, one thing that you and your teenager should not be skipping in Paris is to set out for a nighttime adventure. Because Paris is the city of light and simply beautiful after nightfall.
Whether you are visiting the Eiffel Tower by night, heading to hidden speakeasy bars (they serve nonalcoholic drinks as well), or just browsing the streets for a nighttime walk: it's magical.
These are the best and most fun night tours in Paris:
Where to Eat in Paris with Teenagers
Wow, this article got way longer than intended, and I am glad you're still here. To avoid adding another massive chapter, I will just sum up in short bullet points our favorite places to eat out in Paris. It's not fancy high-end places because my children hate those, but eateries we all enjoy as a family:
Here we go, our favorite restaurants in Paris:
That's it. I believe that is everything I have to share when it comes to things to do in Paris with Teenagers. My brain is empty, I gave it all. I hope it helps you that you will have an absolutely fantastic time with your family in Paris. Enjoy & Bon Voyage.
FAQ Paris with Teenagers
►▷ Like it? Pin it for later!
Disclosure: This page contains affiliate links. This means – at no additional cost to you – I will earn a small commission if you click through and make a purchase. I am independent, and the opinions expressed here are -if not stated otherwise- my own.