This article may contain compensated links. Please read disclosure for more info.
If you are reading this, you are probably planning a trip that brings you for the first time to Paris! Isn't that exciting?
Paris is stunning, especially if it's your first to Paris .. I remember spending my very first Parisian night at the hills of Montmartre and I was just blown away.. sitting up there at the Sacré Coeur and looking down to the millions lights of this wonderful city, the Eiffel Tower lightening up at the horizon in an ocean of million lights … it was magical!
But a great trip often requires some bits of planning.. and planning your first trip to Paris can be overwhelming. Not only are there a trillion things to do and to see (and plan), it's already challenging to find the best location to set up your base.
How great would that be to know a local that can help you, right? And here I am! *bows*
Plan your first trip to Paris ahead of time!
This is actually right away my most important tip. Even if you are more of the spontaneous traveler that prefers to go with the flow, you should plan a trip to Paris ahead of time. To help you with some key elements, I put together a little list of things you should definitely check before you arrive in Paris:
[amazon_link asins='1631218344,0847861252,1640970649′ template='ProductCarousel' store='fouronaworl0f-20′ marketplace='US' link_id='3ef281a8-ef93-4989-80e2-8ae063b58cbe']
Travelling to Paris for the first time… what's the best time to go to Paris?
Any.
Ok, that's not helping, right? I'll drill it down a bit 🙂 
There is not really a low and high seasons when it comes to the best time to travel to Paris. There is just something going on year round and each season has it's selling points. Be it the Christmas markets, Fashion week in February/March or plenty of outdoor activities in summer. You can be sure that you find loads of things to do, no matter at what time of the year you'll be coming to Paris for the first time. 
Lucky, most activities in Paris are independent from the weather – the Louvre, a cruise on the Seine, the Catacombs… you can visit it at any time. However, keep in mind that it's always busy in Paris and book your tickets in advance to save some time and yourself from disappointment. Click here to know more about the most popular activities in Paris!
Paris in Winter
As said, most sights in Paris can be visited year round but winter in Paris clearly has it's features. The Christmas markets and Christmas decorations at the big department stores, enjoying winter walks through the empty parks and Jardins, drinking hot tea or chocolates in the cozy tea houses. Downside: it can be really cold. 
Do you want more tips on how to make your Winter vacation in Paris unforgettable? We've got you covered! Click the link to know more about 30 Winter activities in Paris!
Paris in Summer
Summer in Paris is the time to be outside – join hundreds of Parisians and have a picnic at the Seine or around les Invalides, enjoy a glass of wine on of the countless terraces, join the Fete de la Musique or one of the many summer festivals in Paris.. Downside: Paris can be pretty full
Pro Tip: Come in August! You will find quite a few restaurants and shops closed as many Parisians are on vacations, but the city is significant emptier and way more laid back 🙂 (no worries, sights are open!) Are you looking for a few off the beaten path activities and hidden gems for your first trip to Paris? Don't miss our popular article Paris hidden gems – 80+ tips and well kept secrets around Paris
What's the best place to stay in Paris for the first time?
If you don't know Paris, it might be a bit confusing how the city is organized.. So let's start at the beginning. How is Paris actually arranged? Paris consists of 20 neighbourhoods or districts, called Arrondissement.
The 20 arrondissements are arranged clockwise like a snail shell, starting with the 1st arrondissement in the centre. The areas in the north are called rive droite (right banks) and the ones in the south are rive gauche (left banks), referring to the flow direction of the river Seine.
So whats the best place to stay in Paris for first time visitors?  There are thousands of hotels within the Parisian city limits and I strongly suggest you stay within this circle (everything that is not within an arrondissement and not on the map above is not Paris anymore). Not that there isn't anything wrong with setting up base in the suburbs, you just won't get so much of that Paris feeling that you are probably looking to have when traveling to Paris for the first time. (or simply click here to know the top 3 locations to stay in Paris!)
Read our post about the best romantic AND affordable hotels in Paris!
It's not a surprise if I tell you now that as more central you are, as more you have to pay for your accommodation, right? The good thing about Paris is though, that the city is quite small and very well connected by Metro. Don't be worried if you hotel is not exactly in the centre: no matter where you stay in Paris, you won't need longer than 20 minutes to the heart of Paris. In short: The best place to stay in Paris close to everything is basically anywhere in Paris 🙂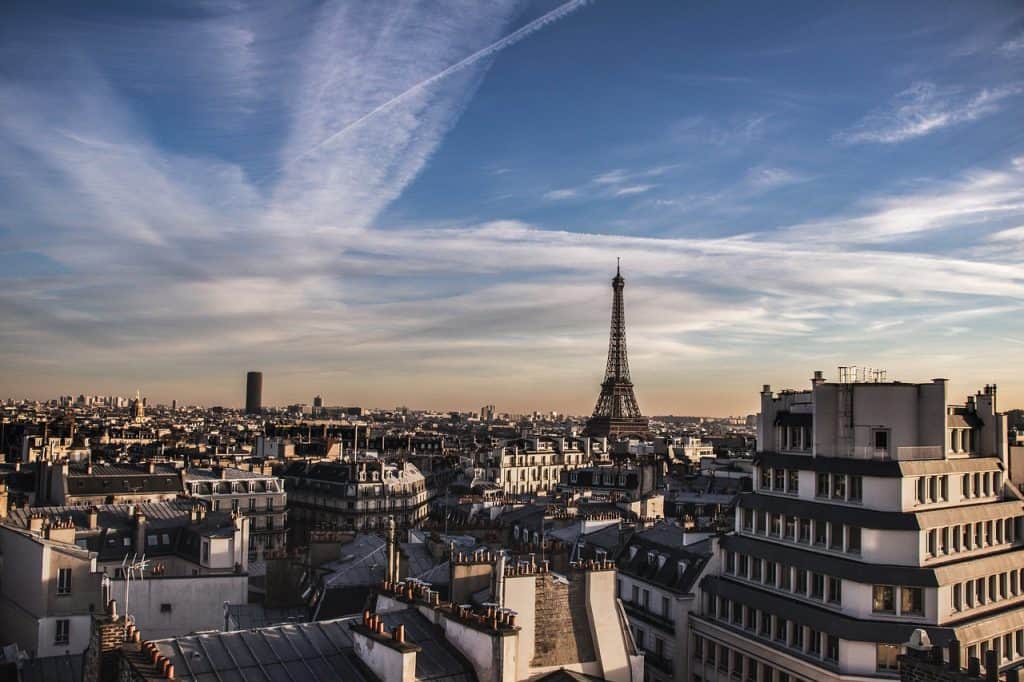 The best areas in Paris to stay!
The best areas to stay in Paris – If you want to be central and don't mind that it's generally lively and busy – are the 1st to 11th arrondissement. Most sights are within these districts, you have an endless choice regarding bars and restaurants, and many activities can be reached by feet!
Paris know how
Do you want to know how to find out easily in which arrondissement a hotel or an attraction is located? Check out the last 2 digits of the zip code!
For example zip code 75003 – 75 stands for Paris and 03 indicates that it's an address in the 3rd arrondissement
Alternatively you can also book a – probably cheaper – accommodation in the 12th to the 20th arrondissement. Don't expect calm neighbourhoods though – there are still lots of people and also bars and restaurants, but you can be sure to meet more locals and less tourists (Montmartre excluded though.)
Regarding safety, keeping in mind that Paris generally IS safe, you can stay anywhere. However, if I had to pick, I'd say to avoid the outskirts of the 18th, 19th and 20th arrondissement. It's not bad but it can be a bit rough around the edges . For complete opposite reasons, the 16th isn't the best place neither to spend a few days in Paris. There aren't many stores, bars nor restaurants and it's rather boring. You'll be very safe though 😉
How to get around in Paris?
Before you head to Paris, take a few minutes to study a map of Paris – know where your hotel and the closest Metro station are, whats around your hotel and also where you will be arriving when arriving to Paris.
Arriving to Paris
Paris has several train station and 3 airports – Charles de Gaulle (Roissy) in the north, Orly in the south and Beauvais 90km north west. While Roissy and Orly are connected to Paris via a direct train line (RER B) , Beauvais requires to book a shuttle service.
We have a pretty extensive guide on how to get from Charles de Gaulle airport to Paris, check it here.
Editors Tip: Transportation from and to airports is not included in the Paris City Pass. If you don't want to worry about transportation after your long flight upon arrival, consider booking private transportation. It's actually not much more expensive than taking the train but can be significant cheaper than taking a taxi or an Uber. Click here to compare all private transportation options.
Getting around in Paris
The most convenient (and cheapest) way of getting around is the Metro. The metro coverage in Paris and the adjacent suburbs is very good – the more than 300 metro stations and 16 lines are present all over town and making it really efficient to move around. One Metro ticket is valid for 120minutes and allows you to make as many transfers between Metro and RER (suburb train) lines as you want – but looses it's validity as soon as you leave the station through the turnstiles.
You don't have to worry about it if you are getting the  Paris City Pass – the pass includes more than 60 sights and activities and also free transportation. If the pass is not valubale for you, do have a look at Paris by train, it's a very complete and up to date page about everything related to public transportation in Paris and helps deciding which travel card is the best for your needs.
However, Uber is working also well in Paris. Be also prepared to walk a lot and pack comfy shoes!
Safety in Paris
Many international visitors are asking: "Is Paris safe"? In a nutshell: Yes, it is! There are no "no-go areas" and you do not have to worry about your personal safety. This being said, there are of course a few areas in Paris that are favourable over others and you should be – either way – always weary of pickpockets and tourist scams (you can read more about it here). As as a reference and according to the international crime index, Paris is as safe as Malmo in Sweden, Rome or London. However, apply common sense. If you walk through a dark alley, at 3am drunk as a skunk with an expensive watch and waving with your iPhone 10,  yes, you might get into trouble. 
If you have any questions about Paris or need some advice and how to plan your trip, don't hesitate to reach out!  I created a Facebook group for this matter and I am available to help you out! Click here to join the private Salut from Paris Facebook group!
If this post helped you, share it around!
Disclosure: this page contains affiliate links. This means – at no additional cost for you – I will earn a small commission if you click through and make a purchase. I am independent and the opinions expressed here are -if not stated otherwise- my own.
Sharing is caring!
Prepare your trip to Paris