This article may contain compensated links. Please read disclosure for more info.
This article about the Best Affordable Hotels for Couples in Paris was last updated on 22nd August 2022 by Lena
When traveling to Paris as a couple, you can choose approximately between 2000 hotels – and countless Airbnbs. The choice is H.U.G.E. and you'll most likely suffer on one point from decision paralysis on your hunt to find the best of the best within your budget range.
The problem is when it comes to hotel booking in Paris, many options are having a catch: the rooms are more nay than yay, the location isn't great, or you even have to share a bathroom. The latter is probably the last you want to do when planning a romantic vacation in Paris.
Also read: 
What are the best affordable hotels in Paris?
So, I went ahead and checked all the options for you and came up with a list of hotels that are as good as catch-free:
private bathroom
good and safe location
appealing interior (not installed in the '80s and not updated since 🙂 )
| Name | Area/Metro | Breakfast | Price |
| --- | --- | --- | --- |
| | Belleville | 14€ p/P | |
| | Batignolles | 11€ p/P | |
| | Montmartre | 12€ p/P | |
| | Opéra/Pigalle | 12€ p/P | |
| | Jardin du Luxemburg | n/a | |
| | Alésia/Montparnasse | 12€ p/P | |
| | Parc des Exposition | included! | |
| | Marais/République | 16€ p/P | |
If you need an overview of where the romantic Paris hotels on a budget below are located, I added a map at the end of this post.
Disclaimer: The prices of the hotels below might vary depending on the demand and availability. Consider as well, that many Hotels in Paris (and elsewhere) had to rise their rates after shutting down during Covid peak times.
---
If you want to discover Paris off the beaten path and explore hidden gems, Hotel Scarlett is the perfect place for you. It is located in the heart of quirky Belleville, just a few steps away from Place Fehel, a spot famous for its street art and urban culture.
Belleville is not directly in the center of Paris, but it takes only about 20 minutes by public transportation to Rue Rivoli and most of the major sights. Belleville comes with plenty of restaurants and bars, a multicultural atmosphere, the famous Père Lachaise cemetery just around the corner. Belleville has a unique spirit that you won't find elsewhere in Paris.
Hotel Scarlett is one of the nicest Hotels in Belleville, and one at a very reasonable price. You can have breakfast in the Hotel, but even if you don't opt-in for this option, there are many cafés and bakeries around. The hotel is very clean, and the staff is known to be helpful and friendly. The rooms are modern and nicely decorated, and it is one of the best hotels for young couples. Check here for the latest quotes and availability. 
---
Situated in the laid-back Batignolles district, the Hotel Le Mireille is a perfect base to explore Paris. You are within 20 min at the major sights, but you can also bow out of the busy city life for a good night's sleep. The area around Le Mireille is a typical Parisian living area, with a few bars and restaurants, while also some village vibe.
Montmarte (don't miss our Montmartre location guide!) and the Sacre Coeur are within walking distance (1.2 km) and so is Pigalle, the famous entertainment area with the Moulin Rouge and a high variety of bars, pubs, and restaurants. To get a better feel for the Batignolles area, click here and check out our location guide with a free walking tour itinerary!
Montmartre is a good district if you are looking for budget hotels in Paris. Check our guide about Hotels in Montmartre to see all options.
The rooms of the Hotel Le Mireille are decorated contemporary, and like many rooms in Paris, are rather small. However, guests are super happy with the cleanliness and the comfort of the beds. You can also have a good breakfast at the hotel, but if you decide not to, there are plenty of food options just around. The Hotel is just 200 m away from the next Metro station, with good access to the city's major sights and points of interest. Click here to see the latest prices and special offers!
My budget traveling friends, you surely are interested in these posts as well:
---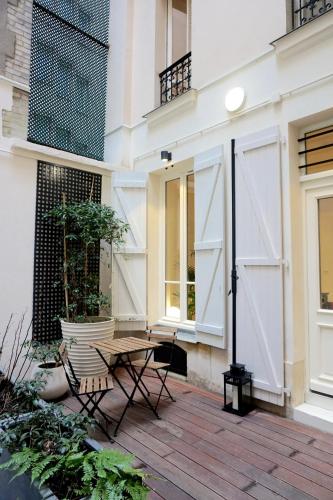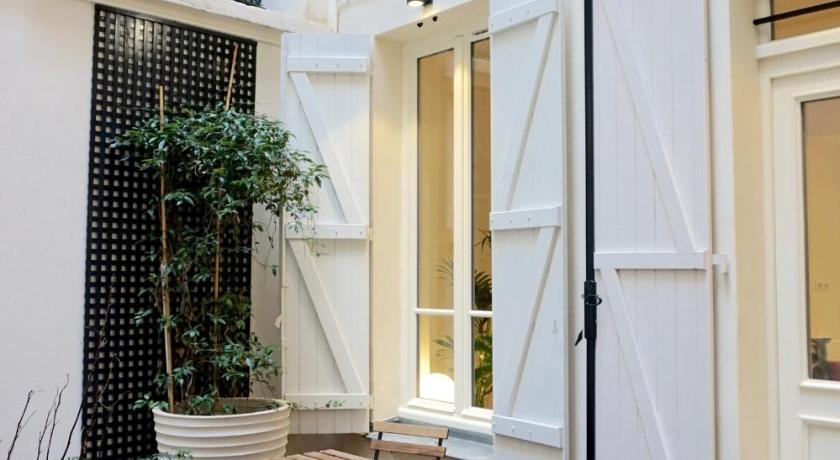 If you just want to dive a bit deeper beyond the surface of Parisian life, this apartment in the heart of Paris is your place to be. Experience Paris as a local by renting the Appartement Le Rennes as you're coming for a weekend to Paris.
It's a typical Parisian studio with timber floorboard, white double-wing doors and – also typical Parisian – rather small. However, you're not forced to stay inside though: the studio comes with a cozy patio! The perfect place to enjoy a Parisian Apéro with some chilled white wine, cheese, olives, and a delicious baguette. Check here for quotes and availabilities if a Parisian lifestyle sounds great to you!
The Appartement Le Rennes is ideally located for every activity you want to do in Paris and many sights are within walking distance: Montparnasse, St. Michel, Notre Dame, Jardin du Luxembourg to name a few. You also have plenty of shopping possibilities just around the corner on Rue de Rennes.
---
With just a 15-min walk away from Sacre Coeur the Hotel Prince Albert Montmartre (it was one of the Best Western hotels in Paris before) is located in a good spot to explore Paris.  But also to get to know the lesser touristic Paris.
The area north of Montmartre comes with plenty of bars and restaurants that are definitely not targeted to tourists and is – compared to many other parts of Paris – rather budget-friendly. To know more about Montmartre, don't miss our Montmartre location guide and know the best places to visit in Montmartre!
As the closest Metro is only 300 m away, you have also quick access to the rest of Paris: you'll need roughly 20-25min to be in the center at St. Michel.
The rooms at the Hotel Prince Albert Montmartre are equipped with Air Condition, a feature that you won't find too often in Paris and will come especially handy during the hot summer month. The hotel also offers a breakfast buffet, but no worries if that is not your style; there are plenty of cafés around to get a typical Parisian breakfast with fresh croissants and a café (usually an espresso). Check here if the hotel is available on your travel dates.
---
One of the Cutest Hotels in Paris for Couples: Hôtel Villa Bohème
If you want to live in Paris the Bohemian way, this Hotel delivers! Located in a cobbled stone cul-de-sac, the colorful Hotel Villa Bohème has one feature most hotels can't provide: a balcony! Some rooms come even with a view over the roofs of Paris! It's one of the best affordable hotels in Paris for couples that are traveling on a budget. The interior is lovely – cozy and colorful – and you get free wifi! Check here for the latest offers for your travel dates! 
The 9th arrondissement is an interesting place to explore Paris from. It's quirky and central, lively and fun but it's not too crazy neither. Even though there are some very busy parts, you have a lot of streets that are resembling more a village than a metropole. However, if you stay in this area, you can reach the big department stores Galleries Lafayette (and the awesome food market!) and Printemps by a quick 10 minutes walk. Exploring Paris by foot is generally a good idea a the Hotel Villa Bohème is a really good base to start walking – it's not too far away from anything!
---
Hotel Max is in the lesser touristic south of Paris – but it's not missing shopping, dining and entertainment options and neither super quick access to the rest of town. Metro Line 4 is just a few steps away and connects you directly with major sights like Montparnasse, St. Michel, Notre Dame, or Montmartre. Line 4 also has intersections with basically every other Parisian Metro line, so you can easily transfer and go wherever you want.
The rooms of the Hotel Max are equipped with AirCon and many amenities like hairdryer and satellite channels. However, the real selling point is the unique design of the rooms. All rooms are decorated with big artwork and hardwood floors. A few rooms even come with a private terrace – and there's simply nothing cooler (and more romantic) than enjoying a glass of wine or fresh croissants with a view over Paris! Click to make your reservation!
---
The Sweet Room 15 is indeed a very sweet room. A typical Parisian apartment with timber floorboards, bright furniture, a chimney, and classic double-wing windows. A perfect place to spend a romantic weekend in Paris.
If you imagine a Parisian flat, you probably had something like the sweet room 15 in mind, I, personally, like the interior very much 🙂 a Big plus for this bed and breakfast: it comes with a free breakfast! Be quick to book, it's easily sold out!
The hotel is located in the south of Paris and even though it's not super central, you have an excellent public transport connection. Metro, Tram, and regional Trains are just a few steps away. It takes 10 minutes to walk to the direct train to Versailles (RER C) or St. Michel in the center of Paris.
The Eiffel Tower is roughly 2km away and it takes a 30-min Metro ride to the Louvre. The 15th arrondissement (where the Sweet Room 15 is located) is a nice and cozy neighborhood—especially if you are interested in the Parisian day to day life.
If you want to know more about the area, you'll be interested in our post about the Petite Ceinture or the Vanves flea market! 
---
As the name indicates, the Marais Hôme lies on the northern limits of the Marais, not far from Répubique. The Marais is one of the most popular areas in Paris, and choosing it as a base for your stay is an excellent idea.
You can reach Notre Dame, Centre Pompidou, Rue Rivoli, or the Seine easily by foot or Metro. The Marais is a quirky, energetic neighborhood, with a large Jewish community, but also the LGTBQ quarter of Paris. If you like restaurants, bars and enjoy a stroll through little cobblestone roads, the Marais is a perfect place for you.
As an addition, the Marais Hôme is located very close to République, a cool spot to go out and to experience a bit of the more alternative side of Paris. Check here for prices and bookings.
The Marais Hôme has a gorgeous and unique interior design. Furthermore, and this is really outstanding: a rooftop terrace and a spa and wellness center! The Hotel offers a breakfast option, but if you prefer to eat out, there are plenty of places around to get a fresh Parisian croissant and a café!
TLDR; Best affordable hotels for couples in Paris:
| Name | Area/Metro | Breakfast | Price |
| --- | --- | --- | --- |
| | Belleville | 14€ p/P | |
| | Batignolles | 11€ p/P | |
| | Montmartre | 12€ p/P | |
| | Opéra/Pigalle | 12€ p/P | |
| | Jardin du Luxemburg | n/a | |
| | Alésia/Montparnasse | 12€ p/P | |
| | Parc des Exposition | included! | |
| | Marais/République | 16€ p/P | |
Click here for more hotel ideas!
Pin it now and find it back later!
Disclosure: This page contains affiliate links. This means – at no additional cost for you – I will earn a small commission if you click through and make a purchase. I am independent and the opinions expressed here are my own.
Sharing is caring!
Prepare your trip to Paris