This article may contain compensated links. Please read disclosure for more info.
Last updated on 02 February 2022 by Lena
Even though visiting Paris for the first time is fairly easy, there are a few Paris mistakes you easily can make. Rookie mistakes that either cost you money, time, or comfort. But I am here to help you out. No matter if you spend one day in Paris or one week, read on and know how to avoid the pitfalls in Paris and learn all the things to know before visiting Paris.
If you have further questions, want to meet other Paris travelers, or locals, feel free to join our Salut from Paris Facebook community! (it's free!)
Enough of talking, here are my absolute best tips:
Paris Mistake #1 – Wanting to buy tickets for the Eiffel Tower on the day
---
→Click here to see all available tickets for Paris' landmarks
I fully understand that you want to stay flexible and not stress out about schedules while being on vacation. But when it comes to admission tickets for sights and activities in Paris, you simply have to reserve your spots in advance because they sell out quickly.
The Eiffel Tower, but also the Catacombs, and the Louvre are usually sold-out weeks ahead of time. This is, even more, the case in 2021. Because of COVID-19, only a limited number of visitors are allowed to sights, and tickets are often not sold on-site. Hence, it is absolutely necessary to reserve your time slot.
I had to learn this the hard way as well – I wanted to organize a spontaneous mom-and-son day to the Eiffel Tower and there were absolutely no tickets available for the 10 days to come! (you can purchase them online here)
You can buy your tickets in advance here or click directly on the landmarks below. I added the direct links to the most popular sights for your convenience.
Good to know: most activities booked with Get your Guide (click here to know more) can be canceled free of charge (!) up to 24h before!
You also need to plan ahead and pre-purchase your tickets if you plan to get "skip the line" or "fast pass" tickets – most sights are not selling them on-site, and you have to book them in advance with a tour operator. But there is still room for flexibility if your plans change, many tickets can be canceled up to 24h before, free of charge! Check here for tickets for the most popular sights
Pro Tip: If you plan to visit multiple sights, check if the Paris Turbopass is valuable for you. It grants free skip-the-line admission to more than 60 sights (amongst other the Louvre and Arc de Triomphe), attractions and tours and includes also a boat ride on the Seine.
Paris Mistake #2 – Travel with too much luggage to Paris
---
Paris is known to be the fashion capital, and it's just very tempting to bring many outfits. But you should not make the mistake and travel with an oversized suitcase – especially if you plan to use public transportation. (Don't miss our Paris packing guide for traveling light!)
Most Metro and train stations are not barrier-free. This means: you have to carry your luggage up and down the stairs, and you can really trust me here: there are LOADS of stairs.
Public transportation is very frequently very packed, especially around rush hour. You easily run into difficulties squeezing yourself AND your luggage into a train. Save yourself from stress and travel light.
TIP: profit from a private driver – depending on your group size, it can be cheaper than a taxi! Take a look at the quotes here
Consider as well that you will probably shop a bit, right?  For example, famous French pharmacy products!  Best to have some free space in your luggage! Alternatively – and that's what I always do – you bring an additional foldable duffle bag to be more flexible.
Also read:  The best Airport to Paris guide
Paris Mistake #3 – Not using the Metro
→Click here to buy a Paris Pass
Public transportation can be very intimidating when having the option and/or the funds of taking a taxi or an Uber. But you really miss out on something, especially if you want to see a bit of the non-touristic Paris. Check our guide on public transportation if you need more info.
In a nutshell: the ticket machines are multilingual and you just need the base ticket if you stay inside Paris.
If you plan to move around a lot and visit many sights and landmarks, the Paris City Pass might be a great option for you – aside from granting you free admission to Paris' most popular sights and tours, it also includes free admission for the public transportation in Paris.
Paris Mistake #4 – Book a hotel in the suburbs 
---
Even though there is nothing really wrong with staying outside the city limits, it's just not as if you'd be staying in Paris. If you see yourself in a typical Parisian setting with little cafés, iconic streetscapes, and the cosmopolitan flair – then you better take a hotel in Paris. I promise you won't regret it, especially when visiting Paris for the first time.
If you are on a budget but don't want to miss out, I recommend checking my post about the best budget hotels in Paris because you don't need to spend much to stay in exciting locations.
I know it can be a bit overwhelming to find the perfect hotel in Paris. There are more than 2000 hotels, after all, not to mention countless Airbnb!
For more input, maybe those posts will help you through the jungle of Parisian Hotels and offer you some guidance:
If you're unsure regarding safety – on the bottom line, there is no really bad area in Paris, but if you can pick, I'd skip the areas in the very north and northeast of Paris.
Looking for good deals? Check out the offers below and get some nice reductions:
Paris Mistake #5 – Throw away your Metro or train ticket
I read often something along the line of "I bought a ticket but got fined anyway, they ripped us off knowing we're tourists!"
A horrible feeling, isn't it? But what happened? 
Visitors experience this when they either bought the wrong ticket or lost/trashed it. It is not a Paris scam, you just did not use the ticket correctly.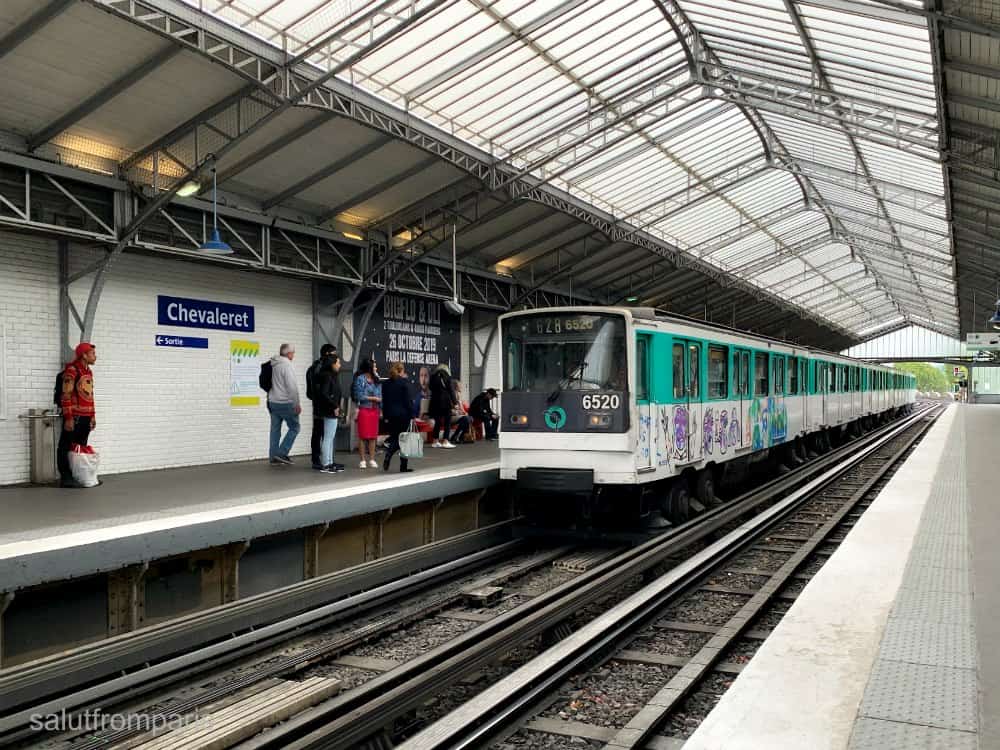 Even though buying the wrong ticket can be seen as an honest mistake, you'll still be fined when controlled. But there are some simple guidelines on how to avoid it:
purchase an adult ticket for everyone from the age of 10 (means: if your child is 10 years old, they need an adult ticket)
purchase a child ticket for every kid from the age of 4 (means: if your child is 4 years old, you need a child ticket, you won't get fined if you purchase an adult ticket, but starting from 4, kids don't ride free)
only buy tickets from official vending machines and NOT from vendors offering you a cheaper price (those tickets are often child tickets and you guessed right: you'll be fined). It's a popular tourist scam by the way – read more about Paris tourist scams!
Keep in mind that the base tickets are only valid in Paris and direct suburbs.
And the No.1 rule: do not throw away your Metro ticket!
Just do not throw it away. Not after you passed the turnstile, not when being in the Metro or RER, and not before you left the station at your destination. As a passenger, you are obliged to carry the proof of purchase a.k.a. ticket at all times with you while using the service. Depending on the station, you might even need it for leaving the station. If you get caught without a ticket, you'll be fined. No exceptions.
For more information on how to use the Parisian public transport system, check our guide on the Parisian Metro
Mistake #6 – Assuming, you are beyond getting scammed in Paris
---
Spoiler alert: everybody can get scammed. Read our article about popular Paris scams here
You know the drill: if you arrive somewhere beautiful, you can be sure that scammers and thieves have been there before you. Paris is, unfortunately, no exception to this vexatious matter. The basic rule is to be wary – in public transports and generally in crowds. But also if someone approaches you for whatever random reason, wants to sell tickets on the streets, or tries to knot friendship bracelets around your wrist.
But don't get paranoid; I am sure that you'll be all fine if you just take care of your belongings. I am living in Paris for more than 15 years and in all those years I had my wallet stolen once: When I stupidly placed my wallet carelessly ON my bag when trying to navigate a stroller through the metro's turnstile. Learned a life lesson there.
I asked other travelers recently about scams that they have witnessed or experienced, and we could assemble a decent list of Scams in Paris that I really think you should know about. Click here to see the entire list!
Paris Mistake #7 – Focus only on visiting the top sights
---
Eiffel Tower, the Louvre, Montmartre, the Champs Élysées… those are the sights you absolutely MUST see when visiting Paris –  But don't do the mistake to stop there. Plan in some time to discover Paris off the beaten paths.
You don't need to find Paris' most hidden street or Paris' smallest Café to discover the unusual. It is already enough to sit down in a café that is NOT located in a tourist area and enjoy some people watching. Soak up the atmosphere. I'll promise you to see more of the real Paris in this short time than a walk up the tower could ever grant you.
Are you wondering where to find those non-touristic areas? Lucky you! We have a post about it! Check out our Paris' off-the-beaten-path list or head straight to Belleville! Also, take a look at our Paris insider tip section!
Mistake #8 – Skip the audio guide at the Louvre
---
→Click here to buy tickets for the Louvre!
Really. Unless you are an art and Louvre expert or a tourist guide, don't miss out on this wonderful tool. I know that reflex to immediately back off and say "thanks, I am good" if someone tries to sell me a little extra. Most of the time it's indeed just the extra that pulls the bucks off your pocket. But this does NOT apply for the official (!) Audioguide of the Louvre.
I have been to the Louvre a few months ago and I am by far not passionate about art – rather the opposite. The Audio Guide of the Louvre made me enjoy this museum so so much, that I am planning to go there even a 2nd time. The Audioguide comes as a Nintendo DS and guides you through the Louvre. You'll know where to look, and what not to miss. It provides you with interesting facts about the masterpieces and if you want, you can get extra info on whatever exhibit you're looking at (well, most of the pieces). It was really engaging and transformed art from something abstract to something interesting and fun.
Up for a sneak preview of the most beautiful paintings in the Louvre?
Paris Mistake #9 – Underestimate how much walking you will do
---
→Click here to see our guide on the best walking shoes for Paris!
Paris is THE fashion metropolis and if you're following just a wee bit what's going on catwalks and fashion week, you know there are heels all around. However, what's happening during fashion week, stays in fashion week. As soon as it's over, Parisians slipping back into their comfy shoes: sneakers and flats.
Check our post about the best walking shoes for Paris with a selection of shoes that I see frequently in Paris. Trust me, you can't do anything wrong by going comfy.
(Tip: Stan Smith sneakers are the classics and will probably remain all-time favorites of the Parisians – Click here to see all models
)
You might also like: What to wear in Paris? Pack for a trip in style!
Paris Mistake #10 – Eat close to the St. Michel fountain
---
There are a trillion restaurants in Paris, choose one that is not close to St.Michel. I am talking especially about these:
The little street Rue de la Harpe looks cozy and Parisian, the food is cheap (a 3-course dinner for 12€!!) and the menu is written in English, German, Spanish, Japanese, Hindi…. it might sound like a pretty good deal. But just do not go there, trust me.
There is no place more touristic than this one in Paris, and none where you can be as sure as hell to get the worst food for the price.
If you want to eat out are on a budget, have lunch in a traditional Brasserie. Lunch menus are usually cheaper than dinners if this matters. For 12€ – 16€, you get at least a Starter/Main or Main/Dessert. Furthermore, you can be sure that you get better food at any average Brasserie than at St.Michel.
If you are unsure which place is good to have lunch, take the number of people that are obviously on lunch break as a reference for the quality. If the food was bad, people would have their breaks elsewhere 🙂
If you're not up only for lunch but a whole range of different foods from Paris and culinary highlights, a food tour will be fun (and yummy!). Click here to treat yourself  ♥
Good to know: 
Follow my Facebook page for frequent Paris updates and travel tips!
Paris Mistake #11 – Skip the Seine river cruise
---
→Click here for Seine cruise schedules and bookings!
This stands probably in big contrast to the popular attempts to discover Paris off the beaten path and not fall for too touristic activities. But well… sometimes it's worth throwing those principals overboard and just do what's good.
Taking a Cruise on the Seine is one of those things that's worth it. It is, of course, touristic and maybe even cheesy. But let me tell you that you can't have a nicer view of Paris than from a boat. It completely changes the perspective on everything you explored already by feet and shows you more than you have not seen, yet. Plus: it's even a quite inexpensive activity to do! Read our full review here!
Paris Mistake #12 – Pay for water in restaurants – or anywhere!
---
"Can you drink tap water in Paris?" It is one of the most frequently asked questions from people from all over the world that are coming to Paris? In short: Yes, you can drink the tap water in Paris and most Parisians (if not to say all) are doing it every day.
If you go out for dinner, do it like the locals and ask for a "carafe d'eau" (pronounced: "karaff doh")  instead of buying expensive bottled water. The waiter will bring you a pitcher of tap water that is free of charge, and absolutely safe to drink. Maybe you'll notice a faint chloral smell or taste but don't worry about it, it is spotless and safe! To get additional information on drinking water in Paris, take a look at the paper given out by the town hall.
I advise that you bring your bottle and use the publicly accessible water resources: Paris has a huge number of fountains that provide free potable water and is a paradise in this regard for everyone who tries to avoid plastic waste – and that is traveling on a budget!
Talking about zero waste… it's luckily becoming a thing and there are tons of products out there, that help you to reduce plastic waste. Want to know more? check here for sustainable travel products
From my personal experience, bamboo toothbrushes are great!
You might also be interested in our Vegan Paris post! – Don't miss our restaurant guide for vegans and vegetarians!
Paris Mistake #13 – Enter the Metro before people had the chance to exit
---
…unless you want everyone to hate you. Honestly, there are many Parisians that do not follow this rule. like everywhere else. But just don't be one of those people. (Oh, and if there happen to be musicians in your train, don't clap unless you want everyone to roll their eyes on you 😉 )
Paris Mistake #14 – Refuse to speak a little French
---
→Click here for tips on how to brush up your French in no time!
The French are owning the reputation of not speaking any other language than French and if they do, they refuse to use it. For no apparent reason.
While I have to admit that some Frenchies might be a little special in this regard, there are tons of people who are happy to speak English with you and won't even make a fuss about it.
But how much French should you know in Paris?
No matter what, you will certainly have a better Paris experience if you bother to learn a little French. People might likely even change their attitude completely towards you – and with it, their willingness to help you, serve you, speak English, or simply be friends with you – if they hear as much as a "Bonjour". It can be a real magical door opener.
If you want to pick up some words for your Paris vacation, join our free Paris trip planning challenge! It includes the necessary vocabulary to get around in Paris!
Don't think you need to be fluent – often a "Bonjour" (Hello) and a friendly "Merci" (Thank you) paired with a smile can work wonders. If you're too ambitious for the low-hanging fruit, there are plenty of ways to brush up your French skills! Check here for a few of them!
Paris Mistake #15 – Expect to find free tables in restaurants without a reservation
---
If you are interested in food or looking to celebrate a special occasion in Paris, you surely checked already which restaurant would suit the occasion and your taste.
If I can give you one piece of advice: Reserve a table, grab it while it's available. Even if it's just a normal restaurant and not a Michelin Star place – chances are they are booked out either way, and they'll turn you down. A lesson Emily from Emily in Paris learned quickly.
If you know your place, book! You can book a lot of restaurants at La Fourchette – the french version of The Fork – ONLINE – WITHOUT SPEAKING FRENCH and if you're lucky, you get a nice reduction as the cherry on the cake.
Do you want to know what to eat in Paris? Click here to check our Paris Food Guide! 
That's it, you know all my pro tips now. Browse a bit around my page to get insider information on where to eat, where to stay, and what to see and if you have more insider tips, I'd love to hear them! Just leave a comment below 🙂 À bientôt!
For any clarifications about Paris or if you need some advice and how to plan your trip, don't hesitate to reach out!  I created a Facebook group for this matter, and I am available to help you out! Click here to join the Salut from Paris Facebook group!
Pin it now – find it back later!
Disclosure: This page contains affiliate links. This means – at no additional cost for you – I will earn a small commission if you click through and make a purchase. I am independent and the opinions expressed here are -if not stated otherwise- my own.
Related posts
Prepare your trip to Paris