This article may contain compensated links. Please read disclosure for more info.
This 4 days in Paris guide was last updated on the 10th of December 2022 by Lena
If you wonder what to do in 4 days in Paris, don't look any further, we've got you!
4 days in Paris are not an eternity, but the good news is:  it's enough to see the highlights, check out some hidden gems, and try the quintessence of French cuisine. With our "Paris in 4 days itinerary" you are all set for an epic trip, read on to get all the info you need and know what to see in Paris in 4 days.
Disclaimer: I am recommending in this article the Paris Pass. However, this pass is at the moment not available. An even better solution is the GoCity Pass.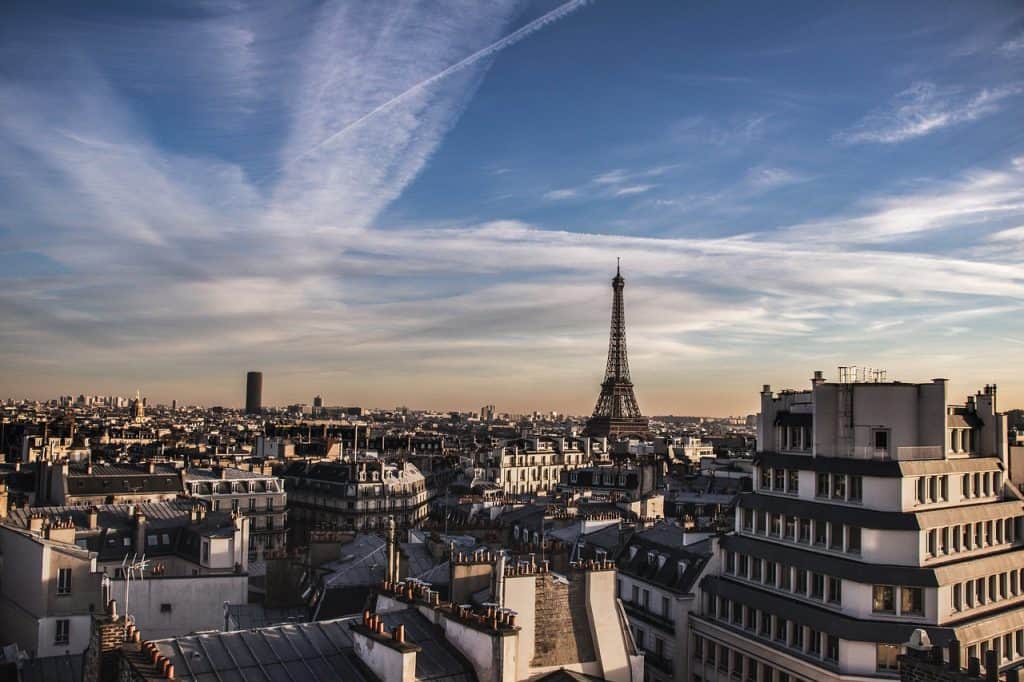 CHECKLIST for your Trip to Paris
Paris is a dream destination. Paris has more bucket list items and must-see attractions than many other cities and is – after London – the most visited city in Europe. Hence, it's full in Paris, and queues for sights can be quite long. With only 4 days in France's capital, time is precious.
Standing around waiting is NOT what you should be spending your time in Paris with. But there is a simple solution: The Paris Pass!
The Paris Pass
The Paris pass grants you free priority entrance to more than 60 sights and museums in Paris. It includes also a sightseeing cruise, a hop hop off bus tour, and also free public transportation. It is available for 2, 3, 4, or 6 days and helps you to save time and money – and loads of hassle.
The price can be a wee bit intimidating, I know. But considering the valuable time, you won't waste waiting, it's money well spent. Check here for more info on the Paris Pass!
---
Is this your first trip to Paris? Here are some great posts you shouldn't miss:
---
Paris Map of your 4-day itinerary in Paris
Want to know where you'll be going to? Check the map below to see your destinations per day. You can click on each star to know more about the landmark, or click the little square in the upper right to see the map on full screen.
⊗ – Day 1 ⊗ – Day 2
⊗ – Day 3    ⊗ – Day 4
Paris in 4 Days: Day 1
---
You have arrived, you are in Paris! Bienvenue! Today, you are going to check off a sightseeing tour, the Eiffel Tower, The Arc de Triomphe, and the Marais from your bucket list.
Start easy with a Sightseeing Bus Tour
(included in the Paris Pass)
Start your first day in Paris slowly: take a classic sightseeing tour by bus.
It's the best way to recover from travel fatigue and jetlag, lean back, relax and get a very good first impression of Paris.
The big advantage of a bus tour is certainly that you'll cover Paris in a very short amount of time. Knowing that you have at least seen everything in Paris will take away the pressure for the 4 days to come. Plus, their audio guide provides more information than you ever could get while walking around with your guide at hand.
Visit the Eiffel Tower
Reserve your ticket to the Eiffel Tower here
Get off the bus at the Eiffel Tower and get ready to visit one of the world's most famous sites.
To avoid losing time waiting and potentially not getting a ticket at all, I strongly recommend getting a skip the line ticket in advance to get up straight to the 2nd floor without queuing for hours.
Just keep in mind that skip-the-line tickets are not skipping the security lines.
Opening times of the Eiffel Tower:
14th of June to 31st of August: daily from 9:00 am to 0:45 am (stairs and elevator)
rest of the year: daily from 9:30 am to 23:45 pm (stairs are only open until 18:30)
Note that the last exit is roughly 1 hour before closing time (2hours if you plan to visit the summit)
Lunch around the Eiffel Tower
If you are looking for a nice place to have Lunch near the Eiffel Tower, consider taking your Lunch actually on the Eiffel Tower. On the first floor of the iconic landmark, you find the Restaurant Madame Brasserie.
This restaurant is run by chef Thierry Marx, who is quite famous in France. Not only did he receive a Michelin Star for a previous restaurant, but he also was the judge on Top Chef. Just to name a few of his accomplishments.
Anyway, if you are lucky to score a reservation at Madame Brasserie for lunch, you'll be surprised to find this restaurant on the affordable side of things. Plus, you get skip-the-line access to the 1st floor, and can enjoy a 3-course menu with a fantastic view!
You can check if they have free tables on your travel dates right here.
Get a budget lunch around the Eiffel Tower
In case you're looking more into a lower-priced lunch option, try Galettes! Yes. I am a fan of Galettes – a french specialty typical for the region Bretagne (Brittany).
Galettes are hearty Crêpes made from buckwheat flour that is coming with different fillings like cheese, ham, or a fried egg. Traditionally you have a cup of cider with it, and a sweet Crêpe for dessert.
There are a few good Crêperies within walking distance of the Eiffel Tower. For example Le Crepsule or Les Frères Bretons.
Arc de Triomphe
(included in the Paris Pass)
From the Eiffel Tower, it's a short 25min walk or a quick Metro ride to the Arc de Triomphe.
The Arc de Triomphe is a major sight in Paris. It got commissioned under Napoleon to honor those that fought and died for France. Standing just on top of the Champs Élysée, it's one of the world's largest arcs, and the view over Paris from the visitors' platform is stunning.
The Arc de Triomphe is one of the most important sights in Paris. If you want to know why check our post with 35 fascinating Facts about the Arc de Triomphe.
The Arc de Triomphe is built on an axis with the Place de la Concorde in one direction and the Arc de la Défense in the other, which makes a great motive for the avid photographer.
However, if you are visiting the Arc de Triomphe, you might wonder how to actually get there. The arc stands in the middle of one of Paris' biggest roundabouts, the Place Charles de Gaulle, also known as Étoile (star). Do not try to cross the street! There are underground passages for saving crossings!
If you are holding a Paris Pass, admission to the Arc de Triomphe is free. You need to get a ticket at the ticket booth though, but queues are usually short, though. Otherwise, you also can prepurchase your ticket here.
Le Marais
After you took in the sight of Paris and the traffic craziness around the Arc de Triomphe, take Line 1 until Hôtel de Ville.
If you have enough time, you can also walk down the Champs Élysée until Hôtel de Ville, the Town Hall of Paris. It's a 5km walk in total but you can shorten it by catching Metro Line 1 along the way as well.
From the Hôtel de Ville set off to explore the Marais. The Marais was the aristocratic district of Paris until the french revolution. Today it's known to be home to one of the biggest Jewish communities in Paris and also the center of LGTB culture.
The Marais is the perfect place for roaming – cobbled stoned alleys, little designer boutiques, second-hand stores, and countless cafés and bars.
The Picasso Museum
The famous Picasso Museum is also located in the Marais. With more than 5000 pieces and tens of thousands of personal items and notes, it's one of the biggest Picasso Museums worldwide. If you have enough time, make sure to visit. The entrance is included in the Paris Pass!
Dinner in the Marais
The Marais is one of the areas of Paris that is known for its bars and restaurants. Being the Jewish quarter of Paris, it's not surprising that it's the go-to area if you want to eat a superb Falafel.
"L'As du Fallafel" is probably the most famous food stall within the area, and it's known to be the favorite Falafel place of Lenny Kravitz. If you're up for something casual, you really don't want to miss this place – you can either eat in the restaurant or get a sandwich to take away.
Do you prefer to enjoy some classic French food in a cozy Parisian restaurant? No problem! Have dinner at the Camille and try typical french cuisine with snails (they have other starters, too, no worries), Magret de Canard, and a yummy Crème brûlée.
Alternatively, pick one of these restaurants:
Make sure to book a table in advance: restaurants in Paris can be very busy at times and it's not assured that you're getting a table if you just show up. Click here to make a reservation online and secure your spot.
4 Days in Paris: Day 2
---
After a good night's sleep, start your day traditionally French: have a coffee and a croissant (or baguette with jam and butter) at a nearby café. If you are on a budget, stay at the bar – it's more expensive if you sit down!
Don't miss our Paris Mistake post to avoid the most popular tourist traps and silly Paris mistakes!
The Louvre (Fast Track Included in the Paris Pass)
Once you're ready to start the day, head over to the Louvre. If you are not holding a Paris Pass, get a skip-the-line ticket in advance and head straight to the exhibitions. If you do hold a Paris Pass, you're covered 🙂
Frankly, you could probably spend the entire 4 days of your Paris vacation in the Louvre without having seen even half of it. This being said, I strongly recommend getting the official audio guide.
Besides loads of information about many exhibits, the best features are tailored tours. I enjoyed very much the "masterpieces" tour. You can either download it on your own mobile device or lend a Nintendo DS at the Louvre for 5€.
I am not really into art and don't know a thing about it, but the audio guide made my visit to the Louvre very enjoyable. The most important was, that I actually understood what I was looking at!
How to enter the Louvre as fast as possible?
To get into the Louvre as fast as possible, avoid the entrance through the pyramid in the courtyard. The entrance through the shopping mall "Carrousel du Louvre" is always less frequented. Just know, that no matter which ticket you purchased, you always have to go through security checks.
I got the Paris Pass. How do I reserve my ticket?
Even if you hold the Paris pass and won't have to pay for admission, you need to reserve your timeslot in advance. It's pretty easy though imply reserve your timed slot through this link.
Opening times of the Louvre
Daily (except Tuesdays): 9 a.m.–6 p.m.
Wednesday, Friday: 9 a.m.–9:45 p.m.
Closed on Tuesdays, January 1, May 1, and December 25
Rooms begin closing 30 minutes before museum closing time.
Tip: check this post and know which museums in Paris are free!
Lunch near the Louvre
After spending the morning enjoying breathtaking art at the Louvre, it's best to have lunch nearby. The Louvre is very centrally located in a very busy and rather expensive area of Paris. If you're not on a shoestring budget, you'll find easily a restaurant to have lunch and to rest a little.
Otherwise  – or if you want to plan ahead – just have a look at TripAdvisor to find the best restaurant deals around the Louvre  – many restaurants are also bookable online directly over TripAdvisor!
My tip: Have Lunch at Baguett'Café. It's a quite hip brunch and lunch place with delicious pancakes and french toast.
Afternoon: Sainte-Chapelle, Latin Quarter & Panthéon
After you visited one of the most-rated sights in Paris and enjoyed a good lunch, it's time to visit the beautiful Sainte Chapelle. The gothic chapel is one of the most impressive buildings in Paris and one of the most visited as well. The entrance is included in the Paris Pass, in case you were wondering about that 🙂 Otherwise, pre-purchase your ticket here.
Now it's time for strolling. From Sainte Chapelle, it's just a few meters from the famous Notre Dame Cathedral. Due to the incident in 2019, the cathedral can't be visited at the moment but the outside is still good for a picture stop.
However, the area is closed off on a larger scale, but there are still some good-picture opportunities around. For example, from one of the bridges nearby or from the window on the upper floor of the famous English bookstore in Paris Shakespeare and Company.
From Notre Dame, cross one of the bridges that are connecting Île-de-la-cité with the left banks of the Seine. The area around the fountain of St.Michel is a good starting point to explore central Paris, the Latin Quarter at your own pace.
This area is definitely one of the top places to visit in Paris in 4 days.
The Latin Quarter is great to tick off top items from your "must-see in Paris in 4 days" list. The map below gives you an idea of what you can see by just strolling around the Latin Quarter
One of the highlights of the Latin Quarter is the  Jardin du Luxembourg. It's one of the biggest parks in Paris and one of the most iconic as well. It's inviting to just grab one of the green chairs and read a book or enjoy a sandwich from a nearby bakery.
The Jardin du Luxembourg is as well the perfect place for a game of Pétanque. Even though this traditional French boule game is not known to be a fast ball game, it can get very heated! It's fun, to watch and to play!
And did you know that there are beehives and even a Statue of Liberty within the Jardin?
The Panthéon
From the Jardin du Luxembourg it's just a short walk to the beautiful Panthéon. The temple is built on Mount Sainte-Geniviève and you can see its dome from all over town – it's a significant landmark in the Parisian skyline. Besides this, the Panthéon is the mausoleum for the remains of distinguished French citizens. Amongst others Voltaire, Jean-Jacques Rousseau, and Marie Curie. The entrance to the Panthéon is free for Paris Pass holders, everyone else can get their ticket here.
For everyone interested in history: the Middle Age Museum of Paris –Musée de Cluny is amazing! It lies right in the heart of the Latin Quarter, constructed on the remnants of an ancient Gallo-Roman bath and, you might have guessed it, the admission is free with the Paris Pass!
Even though it's convenient and cheap, avoid the little, cute, and inviting-looking restaurants next to St.Michel. The places around Rue de la Harpe and Rue de la Huchette are not absolutely horrible but they are purely for tourists and you get better quality food for not much more at many other places just a few streets away from there.
Read more about popular Paris mistakes and silly tourist traps here!
Evening: Dinner at Rue Mouffetard
Not far from St.Michel is one of the best areas to go out and to have dinner: Rue Mouffetard. This pedestrian street in the Latin Quarter is one of the oldest roads of Paris – it has been there already in roman times.
As it's located on a hill – the hill Sainte-Genevieve – it remained untouched by Baron Haussmann, who created the famous Haussmann buildings that are big parts of the Parisian cityscape. Knowing this, it's not surprising that the Rue Mouffetard has the flair of old Paris – with cobbled stone roads and almost medieval buildings.
However, today rue Mouffetard is known for its daily market and for the many specialty shops. If you plan on bringing back home some french treats and gourmet food, the rue Mouffetard is a great place to buy cheese, cold cuts, wine, pastry, and other yummy treats.
Very conveniently, the Rue Mouffetard (and the entire Latin Quarter actually) is a very lively neighborhood with loads of bars and restaurants. It's a popular place for Parisians to go out for dinner or drinks; you find something for every taste.
What about going for a special treat on your last evening to end your 4-day trip to Paris with a delicious meal? Book yourself a table at the restaurant au bon coin! This excellent restaurant serves french classics like Foie Gras, Terrines or Scallops in a typical Parisian setting. Click here to reserve your table online
If you are searching for more offbeat tips for Paris, check out our secret Paris guide and learn about 80 hidden gems.
4 Days in Paris Itinerary: Day 3
---
After you enjoyed your obligatory breakfast croissant and café, start your day by visiting the Musée d'Orsay.
Musée d'Orsay
The museum is located in an old Belle Époche railway station and holds one of the world's largest collections of impressionist and post-impressionist art. Get ready to see world-famous paintings from Monet, Renoir, Sezane, van Gogh and many more. I found the replica of Dante's Gate to Hell more impressive!
But while the main reason to visit the Musée d'Orsay is of course art, the building itself is well worth a visit. Especially if you are looking for a great photo spot opportunity: Through the old clock of the railway building, you can see the Louvre!
If you are holding the Paris Pass, admission to the Musée d'Orsay is free. Otherwise, you can purchase your entrance ticket here
Opening times of the Musée d'Orsay
Daily (except Mondays): 9:30 a.m.–6 p.m. (room clearing starts at 5:15 pm)
Thursdays  9:30 a.m.–9:45 p.m. (room clearing starts at 9:15 pm)
Closed on Mondays, May 1, and December 25
Cruise on the River Seine (free with the Paris Pass)
After enjoying fabulous art, head over to Ponte Bir Hakeim and take a cruise on the Seine. The river cruise leaving Bir Hakeim is covered by the Paris Pass and is a wonderful activity that opens up a completely different perspective on Paris. If you are not holding a Paris Pass, you can reserve your spot on a Seine riverboat here.
A Seine river cruise is a lovely way to take in beautiful views of Paris. You'll sail along the Eiffel Tower, the Grand, and the Petit Palais, the Louvre, Notre Dame, Pont Neuf, and Pont Alexandre III, and many more. Don't worry if the weather is not great, you can sit inside as well and admire Paris through the panoramic windows.
If you are traveling to Paris with kids, you can be sure they'll love a cruise, and it's a good and fun way to start your Paris family trip!
Cemetery Père Lachaise
The afternoon is reserved for an activity a bit outside the center, but don't worry. It's just a short Metro ride. The cemetery Père Lachaise is one of the oldest cemeteries in Paris, and also biggest. The place has a very atmospheric vibe but that's not all: The number of famous people that are buried at Père Lachaise is insane: Chopin, Edith Piaf, Oscar Wilde, Jim Morrisson, Molière and many more.
You find a map with the exact locations of every famous person's graves at each entry. Best you take a picture with your phone to avoid getting lost. But don't only watch out for the famous ones – many tombs are special, from creepy to beautiful and a wee bit morbid.
Discover Paris Speakeasy Bars
After your journey to Père Lachaise, take the Metro and head over to either Bastille or République. Both are just a few Metro stations away from the cemetery Père Lachaise and you find plenty of restaurants and eateries in both areas. Both are very lively areas and rather close to each other.
However, after dinner, the fun starts! Set off for a mission to find Paris hidden bars! There a quite a few between Bastille and République and it's a cool barhopping occasion to just check them all! Read our post about speakeasies around Bastille and République to know how to find them!
Interested in knowing where to find the best Cocktails in Paris?
4 Days in Paris: Day 4
---
It's your last day in this beautiful city, and no trip to Paris is complete without a stroll around Montmartre.
By the way – Montmartre is also a great location to stay in Paris!
Back in the days, Montmartre was the hotspot of the French art and artist scene. There is barely a big name that did not spend a significant amount of time here: Monet, van Gogh, Picasso.. you name it. Even though these times are long gone, Montmartre still has a very arty flair. Not only due to the painters around Place de Tertre and the Galeries.
However, Montmartre became very touristic and by now there are more souvenir shops than galleries but there is a secret weapon to get close to an authentic Montmartre: Come early in the morning!
Montmartre and the Sacre Cœur
And that's when your Montmartre journey should start: as early as possible, best before 10:00 a.m. Before the souvenir shops are opening and before the tourist busses are aiming for this little micro arrondissement in the north of Paris.
The cute cobblestone streets, the painters, the view over Paris and of cause: the Sacre Coeur.. you surely don't wanna miss that and it's double as beautiful if you don't have to share it with thousands of other visitors.
When you are roaming through the alleys up to the Basilica, take some time for a break at one of the little cafés around Place des Abbesses (I recommend the Le Templier de Montmartre, good food and very good service) and watch the lively and busy Montmartre life. Just around you also find the "I Love you: the wall", a popular sight in the area and a cool photo spot if you are traveling to Paris with your loved on.
From there you can either walk up until the Sacre Coeur or you take the Montmartre Funicular that is nearby.
The Montmartre Funicular requires a regular Metro ticket or travel card, but you don't have to worry about it if you are holding a Paris Pass – it's included. (click here for more information about the Paris Pass)
I advise leaving the hill of Montmartre by taking the little streets and steep stairs behind the Sacre Coeur. While the front side is busy and touristic, the back is the opposite; laid back, calm and almost offbeat. Very few visitors make it out there and it's worth experiencing this part of Montmartre as well.
However, for the perfect Montmartre experience, join a walking tour! Discovering the area with a local at your side is just the best you can do. There are so many hidden areas and corners, that you won't find on your own. And no surprise: if you are holding a Paris Pass, it includes a Montmartre walking tour! If not, book it here.
Opéra Garnier
From Montmartre, the Opéra Garnier isn't very far. You can either walk – it's a 30 minutes walk from the Sacre Coeur – or you simply hop on the next Metro to be there in a couple of minutes.
The Opéra Garnier got built under Napoleon III and is also known as the Palais Garnier – due to its extraordinary opulence. The 19th-century neo-baroque building has one of the most beautiful interiors of Paris and it inspired many plays – for example the Phantom of the Opera!
Galeries Lafayette
The last point on your ultimate 4 day in Paris itinerary are the Galeries Lafayette. The giant department store in direct proximity of the Opéra Garnier is famous for being the shopping paradise of Paris – if you want to buy perfume, makeup, a handbag from Longchamp or some designer fashion, the Galeries Lafayette is your place.
Even if you did not come to Paris for shopping, don't miss this place! The Galeries Lafayette has an amazing rooftop terrasse that is free to visit and that grants an excellent view over Paris.
Where to stay in Paris?
Paris is an expensive destination, and this applies especially to accommodations.
However, Paris is small, after all. The excellent public transportation system grants you to move around quickly and hassle-free, regardless of where you stay in Paris. If your hotel or Airbnb is within the city limits of Paris, you can be sure to have a Metro station close by.
You might also like these articles:
Read here why you shouldn't stay in Paris' suburbs on your first trip to Paris – and learn about 14 other mistakes Paris visitors make!
"Budget" Hotel option for 4 days in Paris: Montmartre 
If you are traveling to Paris for 4 days on a budget, I suggest staying around Montmartre. The district is beautiful and iconic but luckily not as pricey as other nice locations in Paris. Montmartre lays a bit outside the center but with good public transportation access. If you're moving around by Metro, it takes around 20 Minutes to reach St.Michel, the center of Paris. Montmartre is a good starting point to explore the city during your four days in Paris.
Click here to find a hotel close to the Sacre Coeur in Montmartre.
Central Hotel Option: Marais or Latin Quarter
If your budget is less tight, a Hotel in the Marais or the Latin Quarter is the perfect base when visiting Paris in a short time. Both areas are very central and close to many sights, restaurants, and bars. They are also directly connected to both airports and the train station Gare du Nord. Personally, I stayed at the Hotel Monte Cristo for 3 days and it was absolutely fantastic.

Voilà. That's my suggestion on how you could spend 4 days in Paris without missing a thing. Even though Paris in 4 days is not the longest vacation, it gives you enough time to explore the most important sights and have a wonderful time.
PS: Check out these posts, they will help you plan your trip to Paris
Pin it now – read it later (and find it back!!)
Sharing is caring!