This article may contain compensated links. Please read disclosure for more info.
Last updated by Lena on the 13th of September 2022
It's quiet on New Year's Day in Paris. You will find a sleepy city, recovering from the past year and the last night. Many restaurants and sights are closed, but don't worry, there is still plenty you can do to spend a fabulous New Year's Day in Paris 2023!
In a nutshell: you can book the following sights for New Year's Day in Paris. Be quick, they sell out quickly because most other things are closed!
Well, but that's of course not all. Read on to know the best activities for Paris on the first of January – and more important: know what is open on January 1st in Paris!
For more ideas for December and January, check our post on Winter activities in Paris!
CHECKLIST for your Trip to Paris
Best Travel Literature for your Trip
---
Visit the Eiffel Tower on NYD 2023
→ Click here for tickets, they sell out quickly!
When traveling to Paris, it's almost obligatory to visit the Eiffel Tower, and luckily this is possibly year-round! The Eiffel Tower remains open even on the first of January!
As it's one of the few landmarks in Paris that is open, tickets sell out much in advance, and you should absolutely make sure to reserve.
Click here to get your tickets for the Eiffel Tower in advance.
Reservation is needed, especially if you want to take the lift to the summit or want to avoid waiting for hours in the queue. It's winter after all, and it will be cold! Click here to see all ticket options for visiting the Eiffel Tower
Take a tour on the Grand Roue – The Ferris Wheel
The Ferris Wheel in the Tuileries Garden grants you an excellent view over Paris, and it's open on New Year's Day! It's located on the Christmas Market at the Tuileries and you can't miss it!
Enjoy a show at a Cabaret on New Year's Day
verify here if tickets for New Year's Day are still available
Paris is renowned for its Cabaret Shows and many of them are performing their shows also on January 1st!
Check here to know which shows are staging on the first of January!
---
However, if you plan to visit more than just the Cabaret on New Years Day, you can easily book a combo tour. The most popular tour includes these treats:
Visit the Eiffel Tower
Enjoy a Seine River Cruise including a 3-course Dinner
See a show at the famous Moulin Rouge Cabaret while sipping Champagne
That's definitely a treat to start the New Year appropriately, 🙂 You can get all information about this activity here!
---
Or you opt in for a lighter version with a sightseeing cruise and a glass of Champagne at the Moulin Rouge! Click here to check, they still have spots!
Tip: be quick about it, some are already sold out!
Attend a classical concert
You probably know that Paris has many very beautiful churches, but did you also know that many of them host classical concerts? Attending a classical concert on the first of January is actually a great way to welcome the new year! Check here for events.
Take a cruise on the Seine
Click here to reserve your seat on a Bateau Mouche
And another classic Paris activity that is very enjoyable on the first of January: A sightseeing cruise on the Seine!
It is one of the best things you can do on the first of January in Paris: It's laid back, relaxed, and it's simply wonderful to see Paris from the perspective of a riverboat. Especially if you're cruising during nighttime.
However, you can simply take a basic tour and have the best time, or you treat yourself to something special on this New Years Day: A Dinner Cruise on the Seine – enjoy a fancy gourmet dinner (or lunch!) while taking in the stunning view of Paris.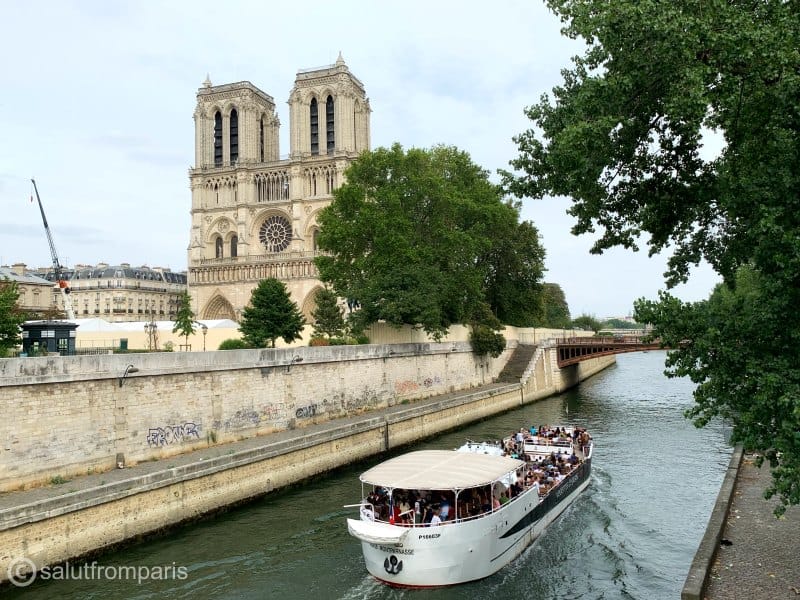 Visit a museum on the 1st of January in Paris
Click here to buy the Paris Museums Pass
Many museums are closed on January first, the Louvre for example. But many are also open!
Below you find a list of museums that you can visit in Paris on the 1st of January and for your convenience the link to my most trusted ticket provider:
Tip: You are probably visiting a few museums while in Paris, check if the Paris Museums Pass is beneficial for you! Click here to know which museums are covered!
Eat Seafood on New Year's Day in Paris!
If you decide on spending New Year's Eve in Europe and pick Paris, you're not getting around Seafood, Oysters, in particular. Surely, they are surely not for everyone, but for most french, they are an absolute delicacy! They are eaten especially around Christmas and New Year – it's also the best season for getting the best seafood!
Check our Paris Foodie Guide for more culinary input for your Paris-Must-Eat list!
Visit the Père Lachaise Cemetry
The Père Lachaise Cemetry is one of the oldest cemeteries of Paris and certainly the most famous. Not only is it a truly beautiful place, it's also the last resting place of many famous people, both French and international. You can see the graves of no one less than Jim Morrison, Molière, Chopin, Edith Piaf, Oscar Wilde, just to name a few.
However, strolling on the old cobbled stone lanes, along with overgrown and weathered graves, it's really a very atmospheric New Year's Day activity in Paris.
Have a fancy afternoon Tea
Afternoon tea is not a typical Parisian – or French – thing to do. Yet, more and more luxury hotels are offering this treat, and it's surely a nice thing to do on the first day of the year in Paris! Have a look at the afternoon tea offers at Le Maurice, The Four Seasons, Shangri-La, or the Hotel Ritz.
For the more casual location, you also can enjoy an excellent hot chocolate and cake at Angelina or at the Cat Café, surrounded by cats!
Go ice skating on the world's biggest indoors rink (Not announced for 2023 yet)
During Christmastime in December, there are many ice skating rinks installed in Paris and many of them are open until January. The most beautiful – and biggest – is located in the amazingly beautiful Grand Palais.
It's not the cheapest activity to do, but if you see the place, you understand! Fun Fact: It's the biggest indoor ice skating rink in the world! Click here to get further information on the Grand Palais Ice Skating rink
Go for a walk in the historic neighborhoods
The Marais, the Quartier Latin, Saint Germain… the historic districts of Paris around the Notre Dame Cathedral are usually packed with people. They are popular neighborhoods among locals and tourists alike.
However, New Year's Day in Paris is rather quiet – most people recover from New Year's Eve and you have the chance to explore those very nice areas without the crowds.. You won't be alone, don't have wrong expectations, but it won't be as full as usual.
Enjoy Disneyland or Parc Asterix
Disneyland is open year-round and a great thing to do on the first of January! Parc Asterix is also open for a few days around New Year and Christmas.
Stroll around Montmartre and the Sacre Coeur
A classic! And perfect on New Years Day! Some shops might be close, but it's likely that the district is less crowded as well. Many points of interest are freely accessible in Montmartre and therefore completely independent of bank holidays and access hours. Click here to know what to do in Montmartre!
If you wish to attend a mass in the Sacre Coeur Basilica, they are scheduled at 7:00, 11:15, 18:30, and 22:00.
Visit the Aquarium de Paris
The Aquarium de Paris is located just across the Eiffel Tower in the gardens of the Trocadero. It has more than 10000 fish, a touch pool, sharks, stingrays and many more. Click here to buy your ticket for the 1st of January.
Go for a walk in the Tuileries Garden
The Tuileries is the public garden between the Louvre and Place de la Concorde in the center of Paris. The gardens belonged originally to the king's palace and are open to the public since 1667.
On New Years Day the Christmas market in the Tuileries is still open and a perfect occasion to try some delicious French food, relax in a wine bar, or heat up with a typical Christmassy cup of hot wine. The entrance is free.
See a movie
Most theaters are broadcasting original film versions, look out for the label "VOST" – Version Originale Sous-Titrée: Original version with subtitles. Check here for schedules.
Eat a Galette des Rois – the King's Cake
That's a classic, and you can't miss it. Traditionally, it's eaten on the 6th of January, but you find a Galette des Rois already in December everywhere. It's a puff pastry with a marzipan filling and, and that's the special about it: a little fève. The fève is a little figurine baked in the cake, and the one who finds it in his slice is the king or the queen. Very convenient, the crown is delivered with the cake.
If you are traveling over a certain season, check our seasonal Paris guides!
If you need any clarification about Paris or need some advice and how to plan your trip, don't hesitate to reach out! I created a Facebook group for this matter, and I am available to help you out! Click here to join the Salut from Paris Facebook group!
Like it? Pin it!
FAQ Paris on New Year's Day
Is Paris closed on New Year's Day?

Many sights, shops, and restaurants are closed on New Year's Day in Paris, but some aren't! If you are in for sightseeing in Paris on NYD, head to the Moulin Rouge, Disneyland, the Musée d'Orsay, or even the Eiffel Tower because those famous sights are open!
What is there to do in Paris on New Year's Day?
If you are in Paris on New Year's Day, you can visit the Eiffel Tower or the Musée d'Orsay, have fun in Disneyland Paris or simply stroll along the empty streets of Paris.
Are shops open on New Year's Day in France?
New Year's Day is a regular bank holiday in France and shops are mostly closed.
Disclosure: this page contains affiliate links. This means – at no additional cost to you – I will earn a small commission if you click through and make a purchase. I am independent, and the opinions expressed here are -if not stated otherwise – my own.
Sharing is caring!
Prepare your trip to Paris