This article may contain compensated links. Please read disclosure for more info.
Last update on 21th of September 2021 by Lena
So… here we go, you've got one day in Paris! ONE day! Admittedly, that's not a lot. But you'll be glad to hear that 24h in Paris are enough to get a good first impression and to check quite a few things off your Paris bucket list.
If you google "Layover in Paris" or "one day in Paris", you find quite a few guides and itineraries on what to do in Paris in one day. Honestly, I am always a bit baffled by how stuffed they are. To be fair, my itinerary suggestion is sportive as well, but doable!
You can, of course, visit the Louvre, but if you have only one or two spare hours, what's the point? And you can also just walk from one sight to the next on your Paris in one day tour, but if you don't have time to even stop and enjoy a glass of wine on a patio?!? Visiting Paris is not a race – it's about enjoyment, about taking it in, about being fully there 🙂
Also, read our first-timers guide to Paris to get lots of useful info for your first stay!
A realistic itinerary of what you should do on one day in Paris
I am living in Paris for many years and I put together a – realistic – itinerary of things to do in Paris – everything you could and should do if you only have one day. There will be room for strolling and lingering and for adapting your 1 day in Paris to your own needs.  For a café on a patio and even a glass of wine at sunset. You will also see some of Paris' most iconic sights and I can assure you it won't be the most stressful day of your life 🙂 (and you most likely wanna come back!)
Paris one day itinerary walking distance: approximately 10.5km ≡ Duration: 8h to 10h
The itinerary below can be followed as it is. But it also can be taken as a modular building set. Depending on your time, your motivation and/or your personal needs, you easily can just skip the Pyramid of the Louvre or Montmartre. You also could start with Montmartre and skip the Marais. The different modules are interchangeable and adaptable to whatever you feel like doing to spend a day in Paris to remember
How to visit Paris in 1 day!
Many visitors are in town due to a long layover in Paris between international flights or as a little stopover on the way to the south. But Paris is also a great destination for day trips from London, Brussels or Cologne. Visiting Paris for one day is a great trip.
If you need precise information regarding your arrival point, for example how to get into town from airports, where to park your car, etc, please read also the last section of this article
Know about those 15 common mistakes Paris visitors are doing and travel smarter!
Start your one day in Paris tour the center: Châtelet
Paris is a great city if you have only a limited time: Paris is not very big and most sights are located in the center. I chose the Metro and train station Châtelet as a starting point of this compact Paris tour because it's the main public transport junction and you'll easily find a connection from wherever you arrive in Paris.
Châtelet is connected via a direct line with the airports Charles de Gaulle and Orly, and the train stations Gare du Nord, Gare de l'Est, Gare Saint Lazare, and Gare de Lyon.
Once you are at the Metro station head east. If you are unsure where east is, look out for the Tour de Saint-Jaques. The 52m high tower is the only remains of a gothic 16th-century church that got destroyed following the French Revolution in 1797.
Heading down the Rue de Rivoli, you will soon see the Hôtel de Ville, the Parisian mayor house on your right. I suggest paying a visit to the tourist office that is located on the left side of the building. Maybe you wanna buy some Paris knick knack as a memory of your one day trip to Paris,  but the real reason why it's worth to step in is the free temporary exhibitions!
♥ if you have a bit more time, don't miss our 4 days in Paris guide and get some inspiration! 
24 hours in Paris – visit the Marais! 
Lenght: 5km
≡
 Duration: 1h30
From the Hôtel de Ville, you head north into the heart of the Marais. Until the french revolution, the Marais was the aristocratic district of Paris and many historic buildings are relics of this time. After the downfall of the French aristocracy, the Marais became a popular commercial district and home to one of the biggest Parisian Jewish communities. Today it's also the Parisian center of LGTB culture and one of the main locality for galleries, hip restaurants, and bars.
So if it comes down to what to see in Paris in one day, the Marais is definitely high up on the list. If you have a bit more time in Paris.. the Marais is an amazing district to take a  walking tour for foodies!
If you follow the itinerary below, you will come across the most interesting and representative sights within the Marais area. The pure walking time according to google is 1h03 but you should allow at least 1h30, if not 2 hours – the Marais is full of nice stores, little galleries, and I promised you will have time for a café, right?
To save time, I suggest having (an early) lunch in the Marais. Due to strong Jewish influence, the Marais is a good place to eat kosher – and to eat Falafel! A really good address is the L'As du Falafel in Rue des Rosier – the most famous Falafel store within the Marais is known to be the favorite of Lenny Kravitz! If that's no selling point! (but honestly, it IS good!). You can't miss it, by the way, the shop always has a queue but don't worry; they're quick!
Check out our Paris Food Guide to know the best things to try in Paris!
Île Saint-Louis 
Length 300m
≡
Duration 15min (if you make an ice cream stop!) 
When you're past the Shoah Memorial in the Marais, cross the Pont Marie to get on the Île Saint-Louis. It's tempting to just head right to the cathedral of Notre Dame as it's just there, but that's not our direction just yet, be patient!
Just when you set foot on the Île Saint-Louis, you'll pass by Berthillon. It's the most famous (and best) glacier in Paris and their ice creams and sorbets are knowingly amongst the 10 best ice creams in the world. And isn't time for a desert anyway? Treat yourself!
If you have a bit more time and you're not tired of walking yet, I suggest to plan in an extra 15min and take some detours at Île Saint-Louis. It's a quite nice island!
Quartier Latin – a must-see on your all in one Paris tour!
complete loop 4km ≡  Duration 1h30 – 2h
short walking tour 1.2km  ≡ Duration 40min (if getting some pastries at Odette and spending a bit time at Shakespeare and Company, otherwise you're done in 20 min)
The Quartier Latin is traditionally the university district of Paris and until today you can find most educational establishments within this area. Hence the name: Latin was the university language back in the days!
Today the Latin Quarter is a lively student quarter with loads of pubs and bars, but also markets, shops, and cute cobbled stoned alleys.
Considering that you already walked quite a bit today, I am suggesting to keep your Latin Quarter tour rather short. However, the complete loop in the map below is for the motivated Paris visitors. If you are more up for the shortcut, head straight to Odette, point G (on the map).
The Latin Quarter shortcut itinerary includes a few iconic Parisian must-do's. First Odette. The tea house is famous for its choux à la crème – filled puff pastry – and a perfect place to either sit down and enjoy some people watching with your pastry, or just get some for taking away.
From there it's just a few steps to the famous bookstore Shakespeare and Company. The bookstore of English and American literature is an institution in Paris and one of the most original places in Paris. If you don't have much time, it's one of the places to visit in Paris in one day. Even though it's not a secret tip anymore, you definitely need to step in and have a look around. Don't forget to check the view on Notre Dame from the first floor, and give the cat a cuddle that lives up there (in the store, not in Notre Dame). If you are up a special souvenir, all books purchased in the store get a nice little stamp on request 🙂
If you have not eaten yet, there are many lunch options in the Latin Quarter. However, I advise not to eat at the restaurants around Rue de la Harpe. The restaurants are cheap and it's tempting but you get better food in any other restaurant for not much more.
Seine River Cruise – the best plan for a layover in Paris! 
After exploring the Marais and big parts of the Latin Quarter, it's time for a well-deserved break! The last point of the Latin Quarter itinerary leads you to the Fountain St. Michel. From there you just need to cross the bridge Saint-Michel and on the left lays the pier of the Seine River Cruise that you can just hop on to!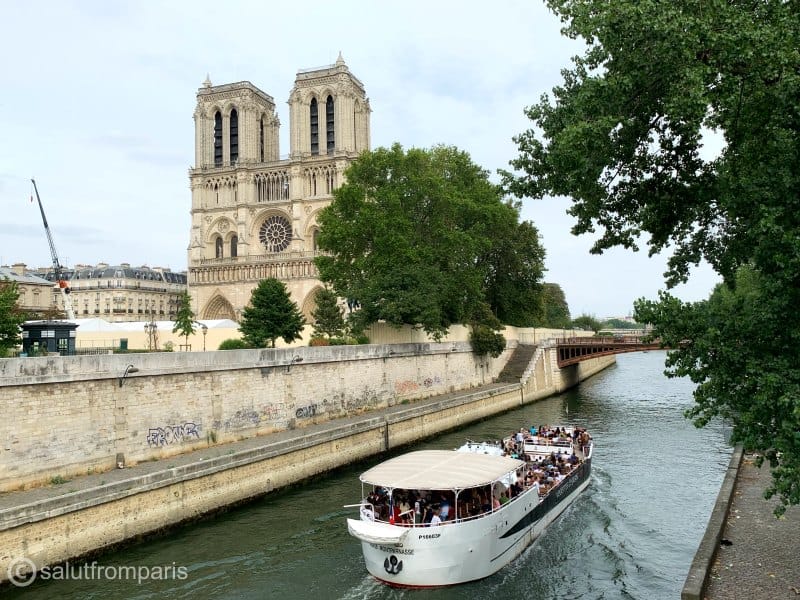 Taking a cruise on the Seine will not only let you relax and stretch your legs a wee bit after quite a busy day, but you will also see most of Paris' important sights (at a very fair price!) :
Tour Eiffel
Musée d'Orsay
Musée de Louvre
Notre Dame
Île de la Cité
Grand Palais
Petit Palais
Pont Neuf
Pont Alexandre III
Click here to get a full description of what to expect from a cruise on the Seine!
There are many companies in Paris that are offering Cruises on the Seine and one is usually as good as the other, but most of them are leaving at the Eiffel Tower!  If you are visiting Paris only for a very short time, it's best to choose a central pier for your Seine cruise, and that's where the selection becomes smaller.
I strongly recommend booking your Seine cruise in advance, as some time slots are very popular and super fast sold out. Check here for availabilities, schedules, and rates.
Île de la Cité
Length 1,8 km
≡
Duration 40 min (if you visit the Hôtel Dieu)
From the bridge Saint-Michel and the landing pier of the cruise,  you can finally head over to Notre Dame. Since the horrible incident earlier this year, Notre Dame can obviously not be visited at the moment and some blinds are put in place, so you can not get even close to Notre Dame. However, you can still snap some pictures and the Île de la Cité has a few nice places to discover, for example, the Hôtel Dieu just left from Notre Dame. It's not a very time-consuming activity but a real secret tip and definitely worth it! Check out our post here and know more about visiting.
Editors advice: if you are around Notre Dame, be extra wary of pickpockets and do not stop if some girls ask for your signature for something.
The pyramid of the Louvre
Length 1,1 km
≡
Duration 14 min 
The Louvre is the world's most visited museum and is located in the former king's palace, the Palais du Louvre. It's also the 3rd largest art museum of the world with more than 38.000 exhibited objects on 72.735 square meters. But bad news first: you won't have time to visit the Louvre if you are on a one day trip to Paris.
That being said, if you skip one or two of the suggested itineraries, you could make it. Just think about purchasing your tickets in advance, as even a museum like the Louvre can be sold out! Click here to reserve your spot!
The good news is however,  you have time to see the famous glass pyramid of the Louvre! The glass pyramid is located in the main court of the Louvre and got inaugurated in 1988. Even though it wasn't very popular at first, it's one of the main landmarks of Paris today. It's actually not only one pyramid but two – one on the outside and an inverted glass pyramid on the inside, as you probably know if you saw the film (or read the book) The Da Vinci Code from Dan Brown!
Montmartre and the Sacre Coeur – the big final of every day trip to Paris
Length 700m
≡
Duration 25min – if you linger
Montmartre is one of the nicest areas in Paris and if you have a teeny tiny bit of energy left, take an Uber and head up north. (You obviously can take the Metro as well, it's 30 min ride) If you get out at the Metro station Abbesses, make a stop to have dinner in any of the restaurants around the metro station. My personal favorite is Le Templier de Montmartre – rather a place for locals, with good food and reasonable prices 🙂
Just next to the Metro station is the first highlight of Montmartre, "le mur des je t'aime". Stop for a quick picture and then head uphill! You'll have a few stairs to climb but you soon will reach the "Place du Tertre", the well-known square where many painters are waiting to take your portrait! And then you're there, at your final destination of your Paris in a day adventure – the famous Basilica Sacre Coeur …. and isn't it a great end to an awesome day in Paris to see the city illuminated by night?
PS: don't forget to get beers or some wine to sip while taking in the view!
Editors advice: when you take the stairs down at the Sacre Coeur, be wary of guys that want to knot a friendship bracelet around your wrist. You best just ignore them and walk quickly past them. They are not dangerous, just really annoying.
1 day in Paris – Where will you arrive and where to stay for one night in Paris?!
♥ are you wondering what to pack for your Paris trip? don't miss our packing guide!
Arriving by train
If you are coming from London, Brussels or Cologne, you will arrive at Gare du Nord in Paris. If you arrive from the south of France, you will most likely arrive at Gare de Lyon. Either of those 3 train stations is connected by a direct line to Châtelet and the travel time is around 10 minutes.
A single ride Metro ticket costs 1,90€ at the time of writing. If you are traveling in a larger group, you also can purchase a "Carnet" of 10 tickets at a reduced price of 1,49€ per ticket.
Paris by Train
You can reach Paris from many European cities by train:
London – Paris: the Eurostar train connects both capitals and needs only 2h20 to cross the channel and a London to Paris one day tour is a popular getaway! 
Brussels – Paris: the Thalys train needs 1h22 from Brussels to Paris
Cologne – Paris: the train needs a bit over 3h
if you are in the South of France, know that the TGV needs only 3h30 from Marseille to Paris and 2h from Lyon to Paris!
Arriving by plane
1 day in Paris – the Paris layover tour
If you are traveling internationally in or out of Europe with a connection in Paris, you might have some waiting time between flights. Paris isn't very far from the airport and it's possible to use a layover by visiting Paris. However, you can also plan in a layover tour that includes accommodation and hence gives you more time to explore Paris
where to stay in Paris when traveling by plane
If your layover requires to reserve a hotel, you can either check in to a hotel close by the airport or spend the night in Paris. However, it depends on your flight departure time. If your plane is scheduled before noon, I suggest staying close to the airport. Traffic in Paris can be VERY busy – both on roads and public transportation – and it's best to keep ways short to be on the safe side.
---
My personal favorite near the Charles de Gaulle airport is the CitizenM Hotel 
It's a very modern hotel with a living room like lobby and self-check-in. I stayed in a CitizenM Hotel in Amsterdam and I wish to go back ever since. The rooms are very special – I obviously loved the kingsize bed and the rain shower, but my highlight was the mood pad! It's a tablet that allows you to control the lighting in the room (up for violet light? or rather a soft blue?), the music, the TV… it was pretty cool 🙂 It's also within walking distance to public transports and the airport. Click here to check for rates and availabilities!
If you are leaving from Orly in the south, I suggest staying at the Mercure Paris Orly Hotel. It is close to a train station with a connection to Paris, but also easy to get to the airport. The hotel offers also a free airport shuttle. Check here for your travel dates.
---
How to get to Paris from the airport?
Paris has 2 airports; Roissy/Charles de Gaulle (CDG) in the north and Orly (ORY) in the south. Both airports are connected to Paris by RER B (Parisian express train) with several inner-city stops.
The train from the airport, whether it's Orly or Charles de Gaulle takes around 45 minutes to Châtelet, the center of Paris. However, if you arrive in Roissy, I suggest getting a Paris Day Pass for public transportation. The Paris Day Pass grants you unlimited usage of public transportation in Paris, the airport CDG included. Check here our very extensive guide on how to get from CDG airport to Paris!
If you arrive in the south at the Orly airport, you still can get the Paris Day Pass for public transportation but you need to take the Orlybus to Paris as the one day Paris pass is not valid for the Orlyval Skytrain, that connects the airport with the train to Paris.
If you are wondering if a quick trip to Paris is worth it – and doable, please consider the following:
To be on the safe side, please calculate at least one hour of transportation from the airport to the center – and another hour to head back to the airport
if you are arriving on an international flight, it might take up to 2 hours until you are through customs
you need to be back at the airport well before your departure. Please check with your airline when gates are closing
Arriving by car
If you are on your way to the south (or north?) or a road trip through Europe, you will probably arrive by car and a car in Paris… that's not the handiest thing to have. I strongly advise against driving into town and parking somewhere on the street. Not only is there a lot of traffic. It will be also difficult to find a parking place at all. Also, leaving all your luggage in your car while you are off to explore Paris.. just don't do that.
There are many paid and surveilled parking places all around town and close to public transportation. You can find your convenient location and even book a parking place ahead of your arrival. You can do that for example here, but there are many parking place providers in Paris.
If you are following our "Paris in a day" tour and parking in Paris, it's not necessary to buy a special one-day train ticket for Paris. You are good to go with normal Metro tickets. You can purchase them at the machines available at every Metro and train station.
Where to stay one night in Paris when you arrive by car
The parking place situation won't cause any problem if you stay one night in Paris and reserve a hotel that offers private parking places. I suggest having a look at the following hotel options in Paris – all Hotels below are close to Metro stations to grant you quick access to the center, but far enough out for not to get in lost Paris' traffic madness. However, parking is not free and all hotels charge minimum 20€ per day.
Mama Shelter East –  ultra-modern hotel with iMacs in each room. The hotels also have an in-house restaurant, a Pizzeria, and a bar.
Le Mireille – The nice french hotel lays within walking distance to the Sacre Coeur. The location is perfect for everyone that is following our one-day in Paris itinerary, as the Sacre Coeur is the end of the tour!
If you have any questions about Paris or need some advice and how to plan your trip, don't hesitate to reach out!  I created a Facebook group for this matter and I am available to help you out! Click here to join the private Salut from Paris Facebook group!
Check out our Paris itineraries for more inspiration.
If you find this post useful, share it! 🙂
Disclosure: This page contains affiliate links. This means – at no additional cost for you – I will earn a small commission if you click through and make a purchase. I am independent and the opinions expressed here are -if not stated otherwise- my own.
Related posts
Prepare your trip to Paris