This article may contain compensated links. Please read disclosure for more info.
---
If you are wondering about the best souvenirs from France for either yourself or a loved one, then this post is for you. I put together this list of more than 45 things that absolutely have you covered and will answer your most pressing questions: What to buy in France?
Traveling to France is a truly memorable experience and there's no denying the charm of shopping while you're away! However, with so many offers being waved in our faces, it can often be hard to differentiate between true souvenirs that will act as lasting reminders of an incredible trip and the random tourist twaddle.
You might also like these articles
What are the best Souvenirs from France?
Here's for you and without further ado the list of the best things to buy in France that make wonderful Souvenirs from France. I added as well many items that make best Souvenirs from Paris.
#1 A Lampe Berger
If your want to add a bit of French lifestyle to your home, treat yourself to a Lampe Berger. This French diffuser makes an excellent souvenir from France. It's not only a very pretty and exquisite object that will look great in your living room. Moreover, a Lampe Berger is a functional device that will improve the air quality in your home.
A Lampe Berger is a catalytic lamp that is not overlaying unpleasant odors but eradicates smells on a molecular level. Perfect, to remove smells from cooking, and pets, or to generally freshen up your indoor air.
You can choose between many different fragrances, like french lavender fields, oranges or just go simple with neutral scents. You sure can order a Lampe Berger as well from home, but they cost less in France.
#2 Scarves
Whether you're shopping along the famed Champs-Élysées in Paris or strolling along the iconic Promenade des Anglais in Nice, a scarf is a perfect accessory for any ensemble. And a scarf is also the ideal souvenir from your trip to France!
Scarves are one of the quintessential elements of a French wardrobe – for both men and women. In the summer, choose a lightweight fabric to add a pop of color to your outfit. In the winter, choose a heavier material to add a layer of warmth against the chill.
Scarves come in an incredible variety of colors, patterns, and materials. As well as prices!
For budget shopping, head to the street and souvenir vendors around the popular sights. For good quality scarves at a moderate price, you find a large choice at the Galerie Lafayette, which you find in many French cities. And of course, if you want a luxury scarf for a lifelong memory, you'll surely find your happiness at Dior, Chanel, or Hermès.
So you may have a hard time choosing just one to take home with you. Scarves make excellent souvenirs since they are both beautiful and functional. Every time you wear it, you'll remember the great times you had on your trip to France.
Even if you only travel with carry-on luggage, it is easy to make room for a scarf. They're generally light, can be packed into a cranny of your bag, and come out ready to wear. C'est parfait!
#3 Marseille Soap
If you are staying in Marseille the best souvenir you can bring back with you is obviously the Savon de Marseille! Popular all over the world, this cube of soap has made the city famous since the 12th century. The real recipe is based on very strict manufacturing rules in which olive oil is heated for 10 days before being poured into molds and then cut.
Marseille soap is a high-quality product. 100% natural and is appreciated for its many virtues. It is particularly recommended for sensitive or oily skin, bathing, or even for washing clothes and making homemade cleaning products. This soap is so iconic to France that every French household has at least one bar at home.
You will find many small stores in Provence that sell Marseille and Provençal soaps so you should buy a few of your favorite scents, but be careful not to be fooled by the counterfeit.
If you are not in Provence and desperately want to buy some, go to one of the Fer à Cheval or Maison du Savon de Marseille stores, there are some almost everywhere in France.
# 4 A traditional French Beret
A great souvenir from France is a traditional french beret. These soft, round, and flat-crowned hats are usually made from wool or felt and are an icon of French fashion items.
While you might think that nowadays it's more of a tourist thing to wear a beret, I can assure you it's not at all the case. As soon as it gets colder outside, you see many French women wearing a beret as completely normal day-to-day attire.
Well, of course, you find them as typical items to buy at souvenir vendors, but also in French stores like Monoprix or the Galerie Lafayette. Look at the latter two stores if you are keen on getting a quality beret.
#5 Sardines or meckerel from La Belle-iloise
A nice souvenir from France that you can keep long and that tastes delicious are Sardines from La Belle-iloise.
This French company from Brittany exists for almost 100 years and is specialized in "putting fish in cans". And they are doing it well.
You can choose between different fish like sardines, tuna, mackerel, and even seaweed. I tried many of them and they are all delicious. We are usually eating them for Apéro, but sometimes, my husband and I are just getting a baguette and eating a can each for lunch.
My favorites are mackerel "Aux Graines de Paradis". They are sold in gourmet supermarkets and stores, but mostly in their own shops, which you find all over France.
#6 A Vintage Book from the Bouquinistes
A vintage book purchased from the bouquinistes of Paris makes for a memorable souvenir from France. The word bouquinistes is French for "booksellers" and refers to a series of the open-air book stands along the Seine River in Paris.
The bouquinistes have existed in Paris since the 16th century. However, their popularity grew immensely during the French Revolution. Printing of books came to a halt then and printers focused solely on creating revolutionary newspapers and political materials. The bouquinistes were one of the only places where Parisians could purchase books during the revolution.
If you are an avid book lover, you might also like these articles:
The books sold here were acquired from aristocratic libraries that had been pillaged. Due to their important history and cultural significance, the bouquinistes were declared a UNESCO world heritage site in the 1990s.
Today, there are over 200 bouquinistes that line the Seine River. The bouquinistes sell secondhand books, and other unique items, such as vintage posters and postcards.
A secondhand book or other item bought from the bouquinistes is unlike other souvenirs purchased in souvenir shops. A souvenir purchased here has important cultural and historical significance, making it a very unique keepsake to bring back from Paris, France.
Suggested by Amber from Get Lost in Wandelust
Best Souvenirs from Paris and Gifts from France
#7 A Box of Macarons
While cupcakes are popular in the United States, France has dainty macarons. These delectable treats, which melt in your mouth, come in different flavors and pastel colors. While the sweets have migrated to other countries, family and friends can savor ones perfected in France for hundreds of years.
French bakeries make these bite-sized sandwich cookies from almond flour, sugar, and egg whites. After baking, pastry chefs fill the meringue biscuits with yummy centers such as jellies, buttercream, and ganache.
One of the most popular Macaron stores is Laduree. They sell traditional macarons such as lemon, chocolate, and pistachio. However, over the years, some new favorites were created. With choices like Blackcurrant Violet, Rose Lychee, Salted Caramel, and Marie-Antoinette Tea, do you buy two dozen or a box of 42?
Laduree has several storefronts in Paris, but you can't beat the location of the one on the Champs-Élysées. It's steps away from the Arc de Triomphe.
While traditional souvenirs collect dust, French macarons are meant for eating. One bite, and you're instantly transported back to a place of romance with the smell of lavender fields.
Contributed by Karen from Forever Karen
#8 French Tea from Mariage Frères
If you love a good cuppa, then the tea from the French Gourmet brand Mariage Frères is a great souvenir from France. The Paris-based company was founded already in 1854 and is one of the most prestigious teas in France.
They operate 30 stores and sales points in France and even five tea rooms in Paris. They are lovely spots for afternoon tea and breakfast. If you wonder which tea to get, my favorite is Marco Polo.
#10 A mini Raclette grill
Raclette is an aromatic, semi-soft cheese that has been made in the French-Swiss Alps region since medieval times. The most unique part of enjoying this French favorite is the way it is served.
"Raclette" comes from a French word meaning "to scrape." An electric heating device slowly melts away at a wedge or half wheel of Raclette and the consumer scrapes the melted layer off the block, drizzling it onto their plated meal.
When you order Raclette in France, the decadent cheese is typically served with a dish of cured meat, potatoes, and pickles. It's the ultimate wintertime comfort food and pairs wonderfully with Riesling, Pinot Noir, or a beer.
The dining experience is one that is so unique and exquisite, you'll want to replicate it at home! Fortunately, you can find small (suitcase-friendly) Raclette machines with miniature pans to melt Raclette at home.
Buy yourself a small Raclette machine as a souvenir from France and treat your friends to a delectable French meal.
Submitted by Catherine, a Family Travel Writer
#11 A yellow raincoat from Petit Bateau
Le ciré jaune is a great souvenir from France, especially if you've visited the Bretagne region in the west of France. The yellow raincoat is originally a functional piece of clothing for fishermen and sailors. Of course, it keeps you warm, dry, and most of all: visible on the grey shores.
Back in the '60s, when sailing schools became insanely popular along the Brittanic coastline, the style was adopted by amateur sailors as well. And then of course brought back to the cities after their sailing vacation was over.
Wonderful Souvenirs from France you won't regret buying
#12 Beautiful Art Prints
Whether you're on a solo trip in Paris, a family adventure through France, or even backpacking Europe, art prints are fantastic souvenirs. They will help you remember your trip without taking up too much space in your luggage.
France is known for being a powerhouse in the art world for centuries. From their stunning architecture to world-renowned sculptures, and beautiful paintings. Of course, when visiting France, you will see these pieces first hand not only in museums like the Louvre and Musée d'Orsay but even just wandering through city streets across the country.
What better way to remember this part of your trip than with an actual art print? It's a fantastic keepsake to display in your home and a great way to support local artists or museums.
You can shop art prints from gift shops if you're looking for a copy of a famous piece. Another easy way to find your perfect art print is from private vendors. In Paris, you can find them easily along the Seine and in popular tourist spots like Montmartre.
If you like art, you might be interested in these articles:
Art prints can range in cost depending on the size, originality, and medium but you can find affordable options if desired.
Finally, art prints are easy to transport because they can lie flat in a suitcase or in a laptop compartment of a backpack.
#13 Perfumes & Fragrances
If you are a fan of luxury fragrances, France is the place to stock up on the best French perfumes. They also make lovely gifts for the women in your life!
Grasse is a town in the south of France that is the epicenter of perfume-making in France. Many of the luxury French perfume makers source their perfumes from this small town in Provence.
Even if you don't visit Grasse, you can still buy French fragrances in Paris and take back a little piece of French culture with you. Which perfume is best to buy? Here are some ideas.
Chanel No. 5 is a classic French perfume that has been made in France since 1921. It was the first perfume created by fashion designer Gabrielle "Coco" Chanel. Marilyn Monroe was a fan and famously told reporters she wore nothing but this perfume to bed!
If you're looking for a more affordable French perfume, go with the Lancôme La Vie Est Belle, another tantalizing fragrance beloved by millions around the world. The bottle even has a little ribbon around its neck, just like French women wear them!
#14 Mustarde from Dijon
In the east of France lies the city of Dijon – one of the gourmet capitals of France. And it is from here where dijon mustard comes from! Dijon mustard is a very popular souvenir to bring home from France, especially for those interested in gastronomy!
Many people are keen to bring home a jar of mustard or even a small gift set selection of different dijon mustards for friends as they know the mustard sold in Dijon tastes so good! Dijon mustard has a unique tangy, strong and sharp flavor with an ever-so-subtle spiciness to it – so use it sparingly at first until you get used to it!
The two best mustard shops in Dijon are La Moutarderie Fallot (16 Rue de la Chouette) and Moutarde Maille (32 Rue de la Liberté). The Moutarde Maille shop lies on Dijon's main pedestrianized street and dates back to 1747. It is a fascinating shop with a great selection of mustard available, from mango to blackcurrant, fig, and coriander or white truffle – just pick the one that appeals to you the most!
suggested by Catrina from 24hourslayover.com
The most personal souvenir from Paris:
#15 Photos from a Professional Photoshooting
Book your Photo Shooting in Paris here
One of the best Paris souvenirs that you won't regret paying for is a professional photo shoot. While it's easy to snap a few selfies in the City of Light, nothing beats walking around with a local Paris photographer who can take you to all the secret spots with gorgeous views and minimal crowds.
There are tons of different routes you can take. So, you can get photos with iconic places like the Eiffel Tower or Sacre-Coeur or you can meander down little side streets or wander through gorgeous gardens. Your experience is completely personalized.
Whether you are doing a Paris family photo shoot, an engagement shoot, a girls' trip, or embarking on a solo journey, you will treasure these photos for years and years. Not only are they handy to put up on social media, but you use them for your holiday cards, create a photo book of your adventures in France, or print them and hang them in your home.
# 16 French Pharmacy must-haves
Read this post about the most wanted French skin care products to know more
For all the makeup and skincare lovers out there, take a side trip to a French pharmacy. You'll be in heaven. Here you find the best products from Avène, Embryolisse, La Roche-Posay, Vichy… at a way better rate than at home. That's your occasion to stock up on the best French skincare products.
#17 Cider from Normandy
When it comes to finding the perfect memento of your time in France, Normandy cider is hard to beat.
Normandy cider is made from a blend of different apples, and it has a distinctly crisp and tart flavor. It's the perfect drink to enjoy on a warm summer day, and it's also a great souvenir to take home with you from France. And If you are looking for the perfect gift for someone, this is it.
When buying Normandy cider, be sure to look for brands that use traditional methods of production. These ciders are usually made in small batches using locally-grown apples, and they tend to be less sweet than mass-produced ciders.
For the best flavor, try to find a Normandy cider that has been aged for at least six months. Ciders that have been aged for longer will have a richer flavor and more complex aromas.
Not only will you have a great reminder of your trip to France but because it is produced using traditional methods, it is truly a taste of French history in a bottle. Cider is best enjoyed with a Crêpes or Galette by the way!
Tip: If you want to bring cider, think about getting protection bags to prevent shards.
#18 A Marinère T-Shirt
The Marinière belongs to the French Atlantic coast of Brittany and Normandy like cider, crêpes, and the previously mentioned yellow raincoat.
In 1858 the Marinère became the official garment of the French Navy, but its history is even older. The striped shirt was since the 18th century part of the sailor's uniform, but only in early 1900, it became the iconic fashion item that it is today.
No one else than Coco Chanel created the women's version of the traditional menswear. A risky game, but it worked. And if you visit Brittany or any other coastal region in the west of France today, the Marinère is the number 1 thing to buy in France.
#19 Delicious French Chocolates
Chocolate makes a great gift, whether you're bringing it back as a souvenir or offering it as a thank-you gesture to someone who is hosting you. While in Paris, make sure to visit one of the city's famous chocolatiers, where you'll find artisan chocolates in a variety of flavors. Pierre Hermé would make a wonderful stop for souvenirs.
Pierre Hermé started learning to craft pastries at the age of 14 and, in 2016, he won an award for World's Best Pastry Chef. Vanity Fair even ranked Hermé as the fourth most influential French person in 2016. The pastries and chocolates you'll find in this chocolatier's shops are thoughtful, with deep flavors and excellent craftsmanship.
Pastries will not usually travel well, but truffles and chocolates should have a shelf life of at least a couple of weeks. Ask the staff at the shop if you have any questions about a particular item. If you're worried about temperature shock, wrap the chocolates in down or other insulating fabrics and pack them deep in your bag to keep them from melting in warm temperatures.
Contributed by Amber from Amber Everywhere
Lovely France Souvenirs that make you remember your trip
#20 A French Copy of "Le Petit Prince"
One of the most-loved French children's books, Le Petit Prince by Antoine de Saint-Exupéry, is the perfect souvenir to bring home from France.
Le Petit Prince is one of the most widely-read and translated books in the world- perhaps because it appeals to individuals in all age groups.
This book teaches adults and children alike that there is value in imagination and childhood and that growing up can be a difficult journey, but it doesn't have to be.

Although you can find the book in many stores in Paris, there is actually an entire Le Petit Prince store in the city! You can find the store in the St. Germain-des-Pres area of the city inside the 6th arrondissement. You could also pick up a copy at the world-famous bookstore, Shakespeare and Company, in the Latin Quarter.
While it could be difficult to translate the French copy should you need to, you will always be reminded of your trip to France and the fond memories that lie within the story of The Little Prince.
#21 Lavender from Provence
If you're going to visit the South of France, some of the best souvenirs you could bring home with you are lavender products from Provence. This picturesque region is famous for its fragrant lavender fields, which bloom between mid-June and mid-July and fill the entire countryside with a sweet floral scent.
If you're visiting the region in this period, make sure to include a stop at these stunning purple fields in your Provence itinerary!
Provençal lavender is cultivated for its essential oil and dried buds which are used in a variety of products. From soap, perfume, bath salt, and skin care products to tea, honey, candles, and cotton pouches for scenting clothes or linen. There's a wide range of lavender products available.
Lavender buds can even be used in cooking to flavor baked goods, ice cream, and savory dishes.
Lavender is known to have a calming and soothing effect. It is said to reduce stress, lower blood pressure, help with mood swings and improve the quality of your sleep. Thanks to its antimicrobial, antifungal, and anti-inflammatory properties, it also offers great benefits when used on the skin.
#22 A Watch from a French Brand
Read more about the most celebrated French Watch Brands here
If you are looking for a long-lasting souvenir to remember your trip to France, then a French watch might be what you need. The French have an equally long history in watchmaking than the Swiss. Actually, many popular swiss brands have their origins in Place Dauphine in the center of Paris.
But whether you are interested in prestigious watches or rather modern luxury pieces, you sure find them in France. Historic brands are Breguet, Cartier, or L.Leroy. If you are interested in modern designs, check out BALTIC, Bell & Ross, or BRM. You find a full list of the best French watch brands here.
#23 Gewürtzstraminer Wine from Alsace
The historical region of Alsace in the western corner of France is known for some of the best wines in Europe. The specialty of the area is AOC Alsace Grand Crus white wines and those are served in traditional Alsatian wine glasses with a green stem.
The wine is poured from a pottery jug a la fashion of the region. A set like this, with an aromatic Gewürztraminer or a medium-bodied Pinot Gris, makes for an excellent souvenir.
The glasses and jugs are available in quaint little stores, or they can be purchased on a visit to a vineyard along the Alsace wine route. Specific places where you can choose a lovely set include Colmar, Riquewihr, Ribeauvillé, Eguisheim and Kaysersberg-Vignoble.
Don't forget to get a few typical wines of the terroir with your glasses and jug. I highly recommend a lesser-known prestigious wine from the region, which is hard to get anywhere else, the Klevener de Heiligenstein from the Obernai area to complete your wine collection from Alsace.
Tip: If you want to bring back wine, think about getting protection bags to prevent shards.
Enjoy souvenirs of France at your next Apéro at home
#24 Crème de Cassis
If you were lucky enough to try a Kir for apéritif, then you should bring back some Crème de Cassis. The back currant liquor is usually added to white wine, to create the wonderfully sweet aperitif Kir, which is mainly home in the French Burgundy region. You find the basic (but good enough) version from L'Héritier-Guyot in every supermarket.
Tip: If you want to bring back Crème de Cassis, think about getting protection bags to prevent shards.
#25 Calissons
If you are looking for a tasty and unique gift to take home to your friends and family then don't miss out on buying some calissons. They are originating from the South of France but are available to buy all over France.
Calissons are a delicious treat that comes from Aix en Provence in France. They are made from almond paste and candied fruit, sometimes melon or orange. They are covered in a thin layer of royal icing which is spread onto a thin sheet of rice paper. Once the Calissons are cooled, they are cut into small diamond-shaped pieces and dusted with powdered sugar. Calissons are typically enjoyed as a snack or dessert.
Calissons are a popular souvenir to buy in France because they are delicious and unique to France and a local sweet delicacy in Aix en Provence. The Calisson d'Aix is the original and most popular type of Calisson. Another well-known one is Calissons du Roy Rene which come packaged in beautiful tin boxes, making them a popular souvenir for tourists.
#26 Chocolate Mix from Angelina
If you bring back one souvenir from France, it should be a hot chocolate mix from Angelina Paris. Located across from the Tuileries Garden, Angelina makes a great stop anytime you're visiting the City of Lights.
This historic café serves divine pastries like their signature Mont Blanc, delicious lunches like their Croque Madame, and the absolute best hot chocolate. Thick, rich, creamy, and dreamy. You will definitely want to have some when you return home because it's a fabulous souvenir from Paris.
Luckily they have a small shop at the front of the café where you can purchase their famous hot chocolate mix. Surely they have hot cocoa in grocery stores wherever you live, and it will be cheaper—but the one from Angelina is on a completely different level.
The best part is that you can have a seat in the luxurious dining room and try it before you buy it. Don't be surprised, you will probably get then some for yourself, and every chocolate lover on your gift list.
#27 Gingerbread from Alsace
Buying the perfect souvenir can be challenging but unique souvenirs in France are very easy to come by. From beautiful wines to gourmet food, you will be spoiled for choice, and one perfect choice when you visit the Alsace is the Forwenger Gingerbread.
The quaint original store is located in Gerwiller. Here the Fortwenger brand was established over 200 years ago and these days you can easily spend a couple of hours wandering the small museum and learning about the story of the Fortwenger Gingerbread. This is also where the gingerbread is made.
If you are unable to visit the original store you can also find smaller stores in Colmar, Strasbourg, Roppenheim, Kaysersberg, Riquewihr, and Paris on the Champs Elysees. You can also have a look in supermarkets like E le Leclerc to see if they are stoking the gingerbread and what flavors they have!
Find ideas on what to buy from France
#28 Praline Rose from Lyon
If you're traveling through France, and can't bring back a bottle of wine from the famous Lyon wine region, an alternative souvenir to pick up is a bag of praline roses. These are essentially small caramelized almonds covered in a hard sugar coat. And what makes these pralines roses special is their eye-catching neon pink sugar coat.
It's believed that the idea of giving the pralines a bright pink color came from a pastry chef based in Lyon. The chef was inspired by rose gardens and wanted to craft something reminiscent of these gardens. As a result, the candies became known as praline roses and have been a specialty of Lyon for many years.
What's more, the sweet and delicious candies are fairly small, so you won't have to worry about them taking up too much space in your suitcase. Thus, if you're looking for a unique and tasty souvenir from France, consider picking up some praline roses next time you're in Lyon.
My Tip: Try them baked in a Brioche. My favorites are from Pralus.
#29 French Saucisson
A nice souvenir from France is to host a French Apéro once you're back and serve French specialties. If I had to name one item that can't be missing when taking the Apéro at my house, it's certainly saucisson.
The dry-cured sausage, mostly made from porc, is perfect to go with a beer or a glass of wine. Together with olives, nuts, and maybe a few chips you are all set for a traditional French Apéro.
#30 Something from a Flea Market
There are countless Flea Markets and Antique Markets in France and a decorative item or a collectible is one of the most unique things you can buy in France. It makes just such a nice souvenir from your vacation.
If you visit Paris and wonder where to find the best fleamarkets, you have 2 prominent options. The big fleamarket halls in the north of Paris, the Puces de Saint Ouen, or the smaller flea market in the south, the Puces de Vanves. Personally, I prefer the one in the South. It is less crowded and less intimidating and there are many nice things in the area that make your trip there worthwhile. (read my post about it to know more)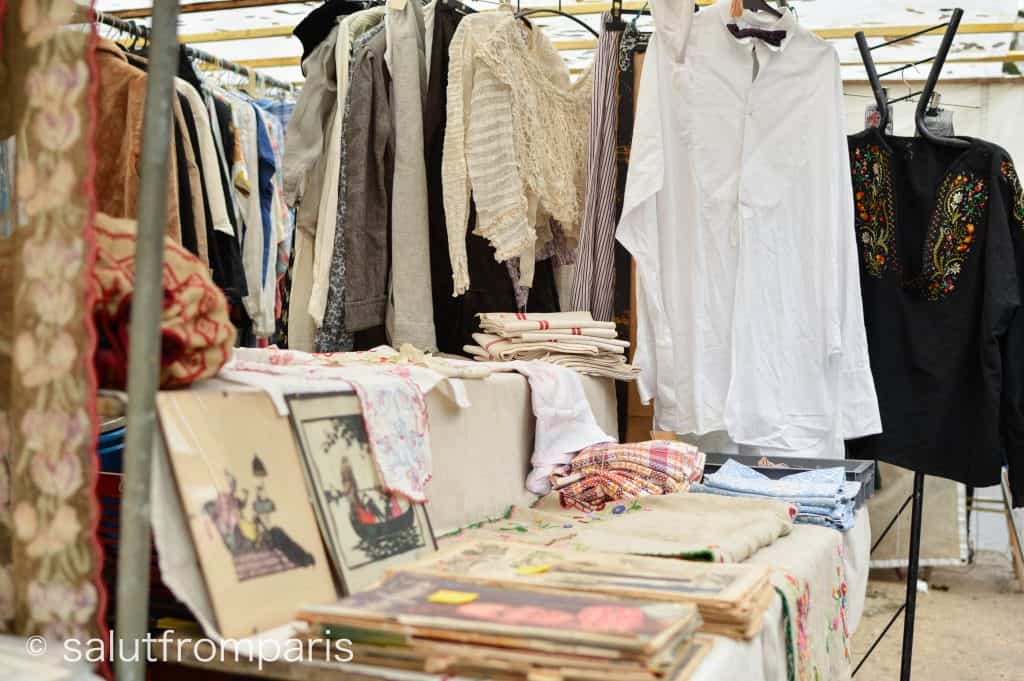 #31 French Wine
One of the best souvenirs from France is a bottle of wine. Whether it's a souvenir for yourself as a memory or a gift for someone who loves France, you can never go wrong with French wine.
First of all, it's wine so that's one reason you should buy it (if you love wine, of course). But secondly, France is one of the top wine countries in the world, it's like bringing a part of the French culture home.
Tip: If you want to bring back wine, think about getting wine protection bags to prevent shards.
Of course, you can buy a bottle of imported French wine at home. But it's not the same as a bottle you bought directly from the vineyard after a full day of wine tasting (or from any other French seller).
You might also like these articles:
Another great thing about wine as a souvenir is that when you decide to open your bottle of wine, you will be transported back to France once again. It's like having another mini vacation to France when you're home. And once you've finished the bottle, you could even use it as a candle holder, so you'll have a physical memory of your trip to France every time you light a candle.
#32 A French Knife from Laguiole
Read my Laguiole Guide if you are keen on exploring the Aubrac Region
If you buy a knife that is made in Laguiole, you know that you are opt-in for quality, that lasts a life long. Even longer. Laguiole knives are handed down through generations and are a perfect souvenir from France. Either as exclusive cutlery or for outdoor lovers, who need a pocket knife handy at all times.
If you browse online stores, you see many Laguiole knives that have a significant bee emblem but come at a surprisingly low price. Truth be told, they are counterfeit. You can already see it on the teeth on the knife. Surprise: Laguiole knives don't have teeth!
#33 Sea Salt from Guérande
In France, salt is highly prized and in particular, the salt of Guérande Brittany is the perfect souvenir gift to bring home. The lagoons in Guérande have been harvested for their salt since the 3rd century.
Guérande fleur de sel is recognizable by its grey crystals and its delicate almost violet scent. Fleur de sel is not meant to be cooked with but used as a garnish and is renowned for the flavor it brings to salted caramels and gourmet dishes.
You can find Guérande fleur de sel all over Brittany but the best place to buy some to take home is the Salt Marshes on the coast of Brittany in Guérande. Here you can visit the marshes, watch the workers harvesting salt and visit the shop where you can learn about the uses of fleur de sel and its history.
The perfect souvenir of France is a bag of Guérande fleur de sel and of course some of the famous salted caramel to take home.
#34 Gateau Breton
Gateau Breton is a traditional cake from north-western France and one of the most famous baked goods in Brittany. This might not be the first thing you think of when taking home souvenirs from your trip to France but Gateau Breton is a fantastic option for those who love anything sweet. You can buy packaged cakes that will last as long as a week so you can take the cake home with you and share it with your loved ones.
Gateau Breton is a buttery cake served with caramel that dates all the way back to 1863 when it won first place in a renowned pastry competition in Paris. The cake is similar to shortbread with its dense and sweet dough. You can't find authentic Gateau Breton outside of Brittany so it makes for the perfect thoughtful souvenir for someone who loves sweet treats. Just make sure to eat it quickly so it's still fresh and delicious.
#35 Fois Gras
Fois Gras is one of the most popular delicacies in France. It's a paté made of duck or goose liver. Often served for Christmas Dinners or other festive occasions, but you find it as well in restaurants.
It is clearly not for everyone, but most French are getting tears in their eyes at the prospect of getting to eat Fois Gras. You can eat it with a fig or onion chutney, simply with a dash of salt but surely with a slice of bread. It can be farmhouse bread or brioche, but it's best with slightly sweetened bread with dried fruits or nuts.
Even though I might be a spoilsport here, I do think everyone who's enjoying foie gras should know that the liver gets so fat, because the ducks and gooses are forced-fed. (My French husband has to listen to this sermon every time he eats foie gras, I just don't want to do otherwise)
#36 Chutneys and Confitures
Chutneys and Confitures are wonderful souvenirs from France. You find tons of lovely chutneys in Frances, the most common are onion and figs. While they are mostly eaten with foie gras, fig chutneys are a great match with cheese as well, especially with hard cheeses like Comte. If you pair black cherry confiture with Brebis cheese from the Basque Country, you are even one of their specialties.
#37 Christmas Ornaments
One of the best souvenirs you can buy in France, or anywhere for that matter, is an ornament for your Christmas tree. It's fun to buy something to associate with the memory of your travels; however, sometimes interesting souvenirs from another country can look out of place in your home, and over time you just aren't sure what to do with them anymore.
An ornament is a perfect option because it's not something you have to display, or dust, throughout the year. They are pretty easy to find anywhere you travel and typically cost less than €20.00 each to purchase.
The best part about buying ornaments as souvenirs is that you get to reminisce over each experience once a year while you decorate your tree. Discussing the memories from your trip to France, while you decorate your tree, will be a lovely Christmas tradition and something you look forward to passing down to your children.
If you travel to the same location multiple times, then use a fine-tip sharpie marker to discretely write the date on the ornament so you can remember which year it was purchased.
#38 Terrines and Paté
Another so French souvenirs are Terrines and Paté. Terrines are slow-cooked in a pot and are usually made from different kinds of meats and/or insides, but sometimes even from fish. You eat it cold on bread and it's often served at Apéros with a slice of baguette and cornichons. But you can even eat a terrine as a quick lunch.
Paté is slow-cooked meat as well but in its consistent way finer and smoother. Almost like a mousse. It can be made from different meats or livers, and you eat it with bread and cornichons.
The good thing about this Souvenir idea from France is, that you can keep them for years and don't have to worry that they go bad.
Find the best Parisian Souvenirs and Gifts from France
#39 A book from Shakespeare & Company
One of the loveliest and best Souvenirs from Paris is a book that you bought at Shakespeare & Company. It's a beautiful and quaint Anglo-American bookstore right across the Seine from Notre Dame, with an outstanding book selection.
You find here new editions, but also vintage books, and often, they even host events like author readings.
On-demand, they add their stamp on the first page of your new book, so it's no longer a simple book, but a souvenir from Paris.
#40 An Eiffel Tower Replica
Eiffel Tower is the most famous visited landmark in Paris. The "Iron lady," as they call it, was the symbol of Paris and all of France.
If you are looking for a nice souvenir in France, an Eiffel Tower replica is an excellent choice. The replica is often made of metal and durable materials that will last for years. So you can put it on display at home or take it out with you on your next trip wherever you go. This souvenir is also a nice way to remember your memorable trip to Paris.
It is a perfect souvenir for anyone who loves traveling, and this is an ideal present for a loved one, a friend, or a family who's never been to Paris or France.
The Eiffel tower replica souvenir may be a little cheaper, but depending on its design as a keychain, paperweight, or small monument design, you can use it as an ornament in your home.
Contributed by Imee Magbag from Journey To France
# 42 Piment d' Espelette
Piment d'Espelette is a chili pepper that comes either in flakes or as a paste and is a specialty coming from the northern territory of the Basque Country. It has only a grade of 4000 so it's a rather mild paste. It's a perfect condiment for chicken, but also for white fish or simply with bread.
In some cheese stores, you find cheese with Piment d'Espelette added, which gives it a nice tangy touch.
#43 A bottle of Pastis
Pastis is one of the most consumed alcoholic drinks in France, and still, you hardly find it in stores anywhere outside France.
This anise-flavored spirit is a typical aperitif from the south of France, especially around Marseille. If you order a Pastis in France, you get a glass with the spirit served together with a jug of water, sometimes ice, to prepare your own mix. It makes a great refreshment on hot days, which are so typical for the Provence region in France.
Tip: If you want to bring back a bottle of Pastis, think about getting protection bags to prevent shards.
#44 A Designer Handbag
If you are traveling to Paris and happen to have a soft spot for Luxury, then you definitely need to consider getting a luxury handbag from Dior, Louis Vuitton, Chanel, or any other of the big Luxury Stores. It is not only a memorable thing to buy in France, but it is also even beneficial financially!
Believe it or not, many bags are way cheaper in France than elsewhere, and depending on where you're from, you might even be eligible for Tax refunds.
#45 Vinegar from Orléans
What Dijon is for mustard is Orléans for Vinegar. This wine-based vinegar has a very long tradition. It reaches back to the Middle Ages, but today only the vinegar from Martin Pouret is still produced after the same method as back in the day.
So if you take a day trip from Paris by train to Orléans, a bottle of this traditional vinegar makes a great souvenir.
#46 Anis de Flavigny Pastilles
A box of Anis de Flavigny is a great souvenir of France, especially if you visited the Burgundy region. Because that's where they are from.
These anise-flavored candies are each contain a real anis seed that slowly but surely covered with layers of sugar syrup. It's a receipt that is followed since 1591, but the history of the Anis de Flavigny goes back to the 8th century.
But the candy itself is only one reason, why they make excellent French souvenirs. The other is the beautiful metal box they are coming in. The motives are gorgeous and the boxes make great gifts from France for friends and family back home.
#47 Crème de Marrons – Chestnut Spread
The French are crazy about Chestnut spread, called Crème de Marrons. The most popular brand is Clement Faugier and judged by the box, their receipt did not change much since 1882.
You can eat this sweet paste as you like: on bread, in yogurt, as spread on cakes, and in desserts. Or straight from the jar with a spoon.
Voilà, these are the best things you can buy in France, that make also excellent gifts from France. Whether you need some inspiration for nice souvenirs of France, or just want to treat yourself to something special. I am sure you know now what you need to be watching out for.
FAQ Souvenirs from France